While I'm a big fan of pulled pork it can be a bit heavy and fatty in the summer, and a big joint of meat can be expensive. My tangy slow cooker pork fillet is the perfect recipe to combat both of these problems, the meat is low in fat and pork fillets are quite cheap making this a frugal dish too!
Cook your pork fillet in this delicious sauce, it will be tender and easy to shred once cooked in the slow cooker. I like to finish this dish off in the oven so that you have those crispy chargrilled edges and the thickened sauce, mmmm!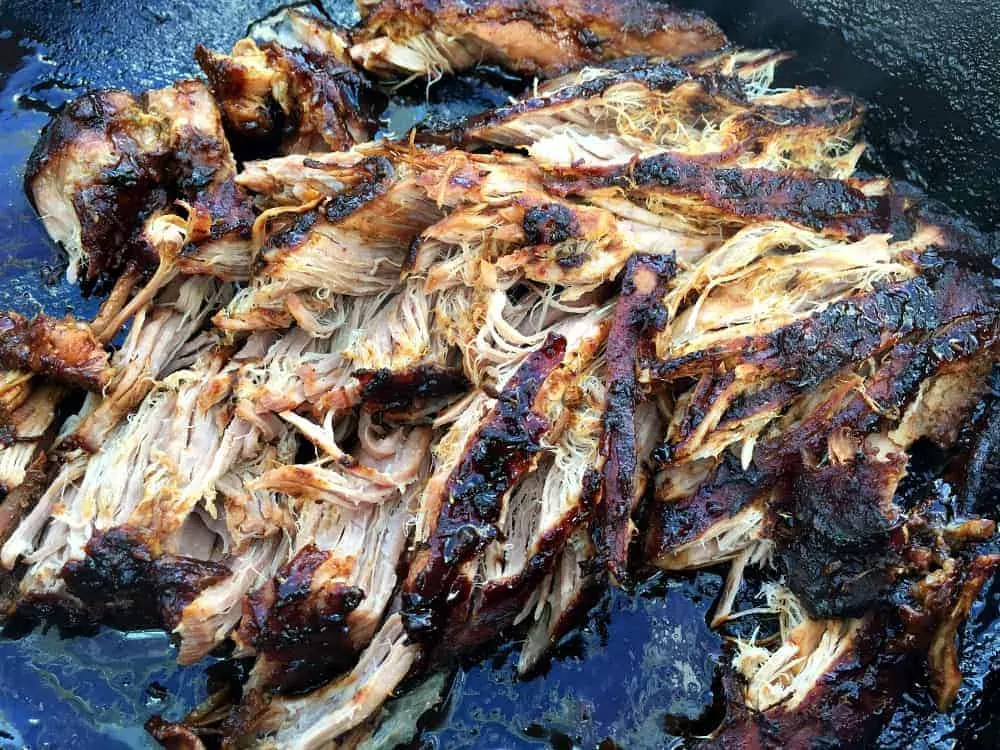 Jump to:
Pork fillet
Pork fillet or pork tenderloin is a lean piece of pork which you can buy either as a whole piece or sliced into medallions. It is very low in fat. It works well with strong flavours to add interest.
Even though slow cooking is often best with tougher pieces of meat marbled with fat that soften through long slow cooking, you can still slow cook lean meat like pork fillet with great results.
In this recipe the meat is cooked in a little water coated in a sauce to pack in the flavour, which prevents it from drying out.
This slow cooker pork fillet recipe is a good option for lighter meals during the summer.
Ingredients
Use this list as a checklist to gather together the ingredients or as a shopping list. Check the recipe card at the bottom of the post for the quantities you will need!
balsamic vinegar – adds tangy flavour. Try not to omit this ingredient as it is difficult to substitute.
Worcestershire sauce – adds that unmistakeable rich flavour.
maple syrup – to sweeten. You can replace this with honey if needed.
mustard – I use English mustard but you can substitute it with any other kind of mustard, the flavour will change accordingly.
smoked paprika – this adds a touch of smokiness.
dried thyme and oregano – you could replace these with mixed herbs or parsley or your preferred dried herbs.
pork fillet (pork tenderloin)
Step by step
This recipe is so simple to prepare.
Make up the sauce in a separate bowl and stir the ingredients together.
Rub the sauce over the meat then transfer the pork fillet to your slow cooker.
Pour 200 ml (one cup) of water around the meat and cook on low for 6-8 hours.
Transfer the meat to an oven tray and bake in a hot oven for 15 minutes to crisp it up
How to serve
There are a whole lot of ways you can serve your pork fillet, how about shredded in wraps with salad, or on top of a bed of salad with crusty bread on the side, or even as part of a roast dinner with roasted baby potatoes and vegetables. The options are endless!
There are loads of ways to use up any leftovers too, I like the pork cold with a rice salad with peas and spring onions, or you can shred it and top a pizza with it, or stuff it in a pitta with some hummus.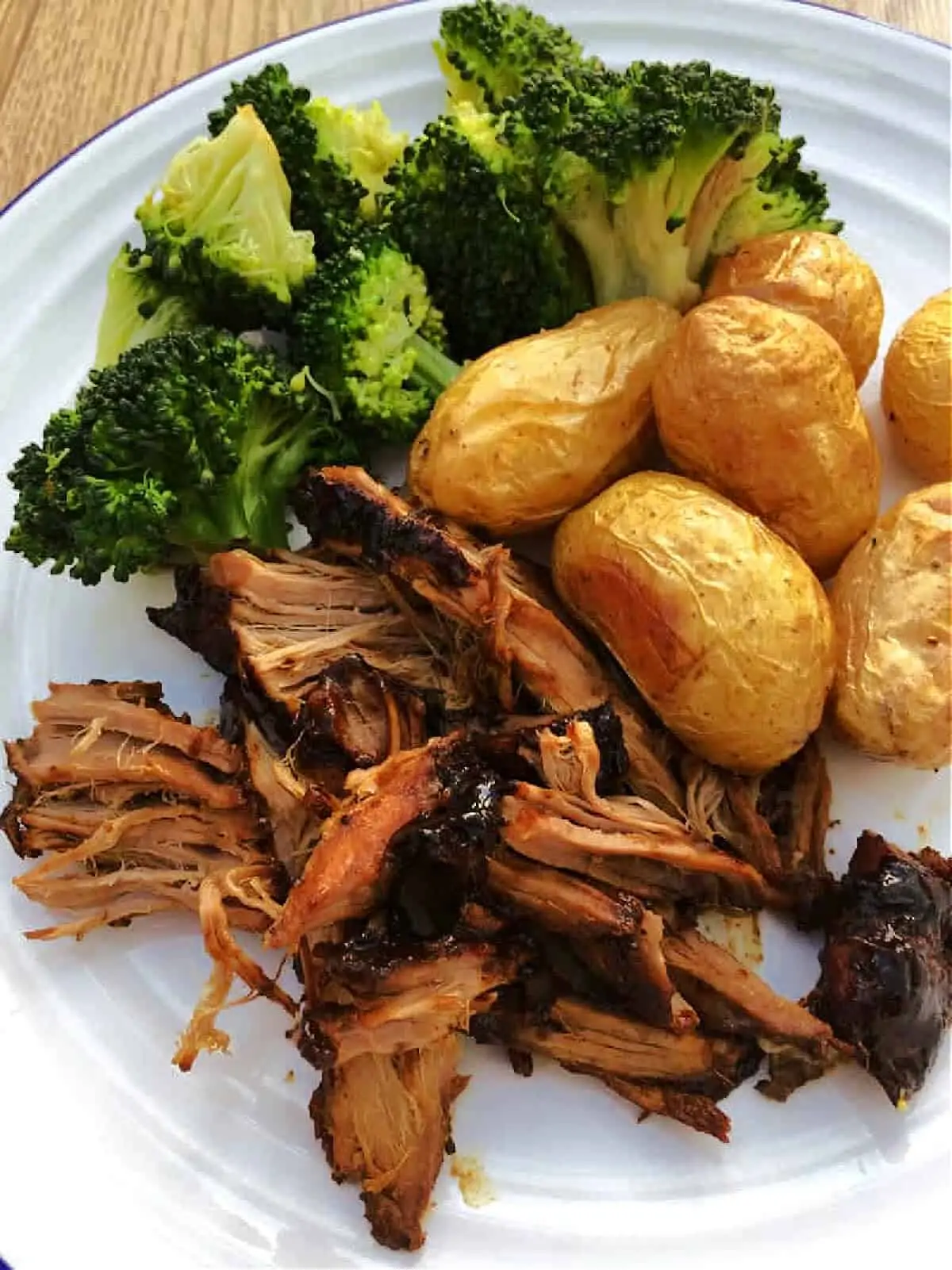 Summer slow cooker recipe
In the summer it is great to use your slow cooker so you aren't heating up the kitchen even more, and side dishes are usually so easy to put together making this an easy summer meal which is really adaptable.
The sauce is tangy with its mixture of balsamic vinegar, Worcestershire sauce (that British store cupboard staple!) and mustard, and is just made with store cupboard ingredients.
Use honey if you have no maple syrup and vary the herbs as needed. I find it sets off the meat just right, and once baked off it makes a tasty dark crust to the meat, yum!
Served here as part of a healthier summer Sunday roast, this tangy slow cooker pork fillet recipe is so flexible that I make it all the time!
Subscribe to my posts by email so you don't miss a recipe. I'm also on YouTube!
Pin for later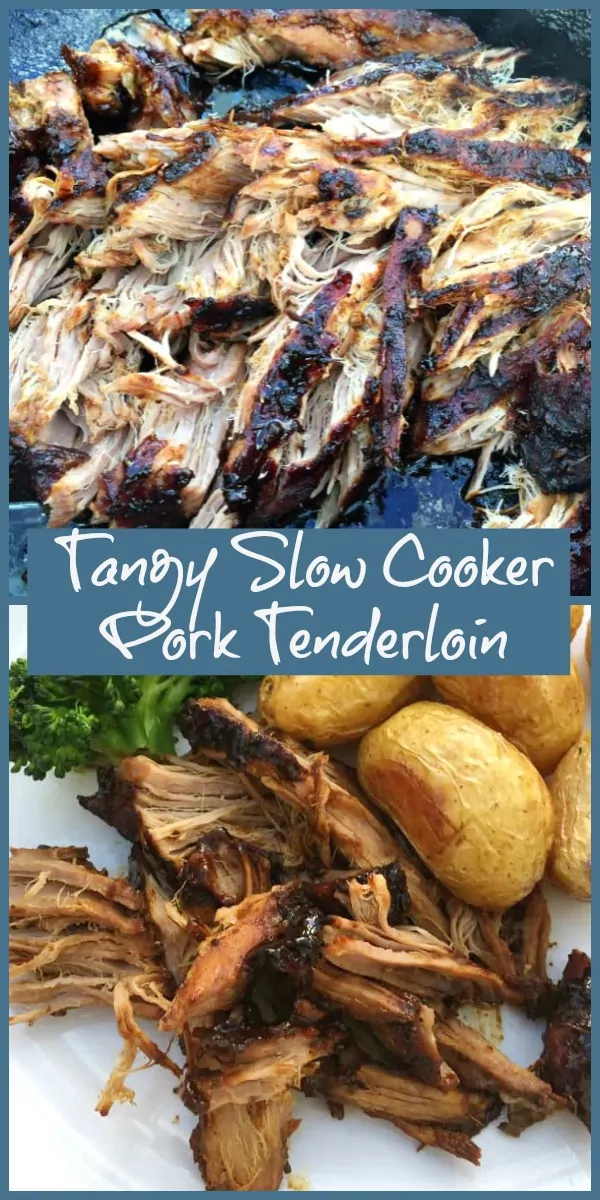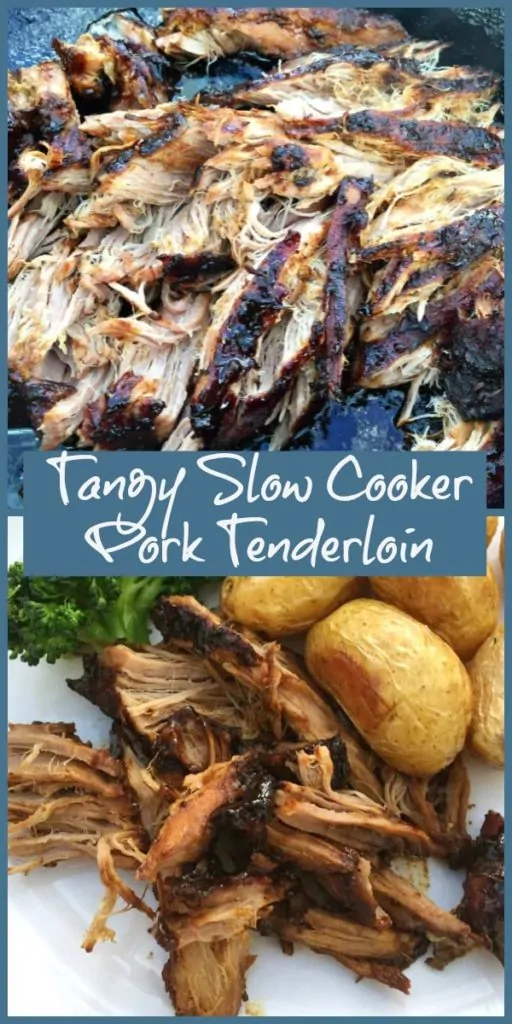 Recipe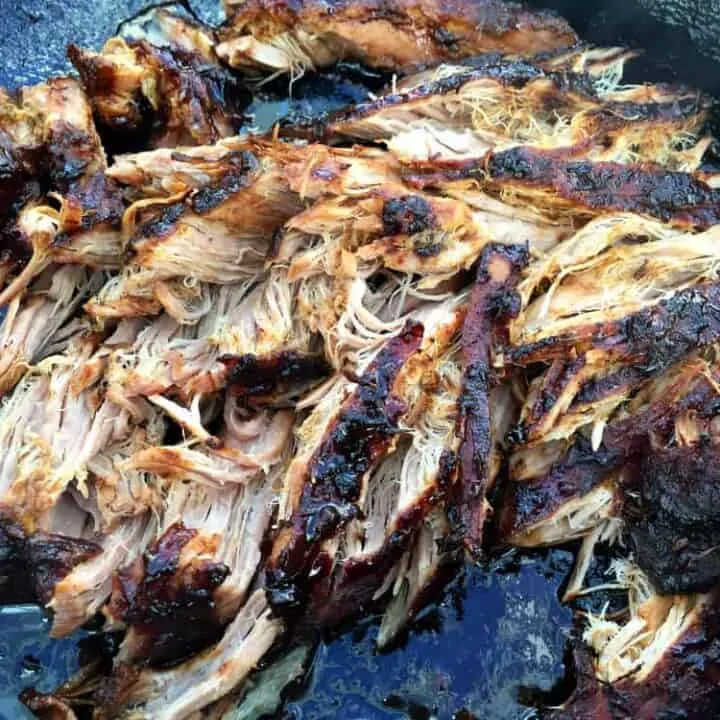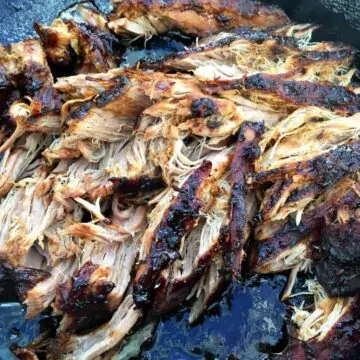 Slow Cooker Pork Fillet
A tasty way to cook pork fillet or pork tenderloin in your slow cooker with a tangy sauce rubbed over it. Great for summer
Print
Pin
Rate
Save
Saved!
Ingredients
4

tbsp

balsamic vinegar

2

tbsp

Worcestershire sauce

2

tbsp

maple syrup

1

tbsp

English mustard

1

tsp

smoked paprika

1

tsp

thyme

2

tsp

oregano

salt and pepper

200

ml

water

0.5

kg

pork fillet
Instructions
Combine the sauce ingredients in a bowl (don't include the water), rub over the meat.

4 tbsp balsamic vinegar,

2 tbsp Worcestershire sauce,

2 tbsp maple syrup,

1 tbsp English mustard,

1 tsp smoked paprika,

1 tsp thyme,

2 tsp oregano,

salt and pepper

Place the pork fillet in the slow cooker, pour the water around the meat.

200 ml water,

0.5 kg pork fillet

Cook on low for 6-8 hours. At the end, transfer the pork fillet to an oven tray and bake for 15 mins in the oven (at 200℃ / 390℉) to crisp it up.
Notes
I cook this in an oval 3.5 litre slow cooker. If using a larger slow cooker this could cause the liquid to boil off more quickly and lead to the sauce burning onto the slow cooker pot.
If you have a larger slow cooker, like 5.7 or 6.5 litre, then increase the water to 300 ml and check the dish regularly during the cooking time to look out for burning.
It is always a good idea to check your dish during cooking whatever the size of slow cooker you have, because all slow cookers cook differently.
Did you try and love this recipe?
Then please leave a review and rating in the comments at the bottom of the post. If you post your creation on Instagram, tag me @bakingqueen74 or use hashtag #bakingqueen74!