Following on from the chocolate scone round I made in my slow cooker earlier in the week (see this post), today I tried one out in the oven. They are so easy to make and are low in sugar and butter, so you don't need to feel too guilty making these to pop in your children's lunch boxes or for a quick treat with a cup of tea.
Today's flavour was dried cranberries and white chocolate chips. Even the dough looked good enough to eat!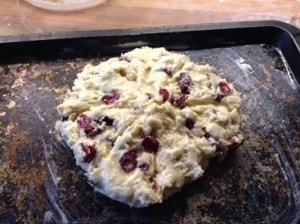 The basic recipe is as on the chocolate scone post linked above, with the dark chocolate chips replaced with 50g dried cranberries and 50g white chocolate chips. I also brushed a beaten egg on top of the round this time, after shaping it to a ball and pressing down on the greased baking tray to about 3 cm thick. I also scored lines on top with a sharp knife.
The scones took 20 mins in a fan oven at 200 degrees, until nicely browned. They came out lovely and moist in the middle with a lovely crunchy top.