I knew I wanted to make a cake with sprinkles on top for my daughter's sixth birthday, and when I saw this purple ombre cake with sprinkles by Raspberri Cupcakes here, I knew this was the sort of thing, but in pink and with sprinkles just on top.
I bought some cake colour gels from Bakers Toolkit recently (these, they are great) and wanted to try them out too.
Recipe and method used are as in the link above. I used red and pink to colour the four layers. I only did four layers as my tins were eight inch tins.
I cooked them in two batches and made the buttercream while the first batch was in the oven. Then I let all the cakes cool completely before assembling the cake.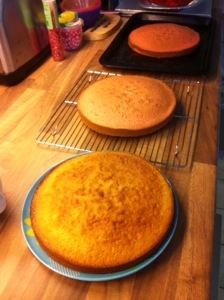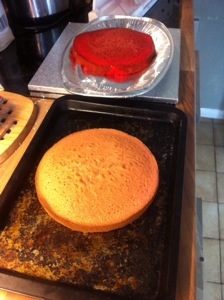 It was quite tricky to ice the cake, I did a crumb coat first and chilled the cake for 15 mins, then used a spatula which I kept running under hot water to apply the buttercream and smooth the sides. The next photo shows the cake just before finishing the icing, after I had added sprinkles on top. The sprinkles go everywhere! So make sure you do this over a tray if possible. I had to Hoover my work tops… .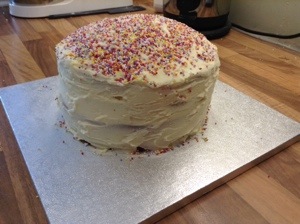 After cutting I could finally see how it came out – looked great and my daughter loved it! 🙂