My daughter chose this cake based on a picture she saw on my Pinterest baking board! We made up our own cake and tried to decorate it in the same way as the one she had seen. The cake is a basic sponge with added raspberries and red gel food colouring to make it pink, so really easy to make. We decided to make this together on World Baking Day 2014 (18th May).
Luckily my helper was on hand to help cream together the butter and sugar, crack the eggs into the bowl, and help me with the weighing out. The pink colour in the cake batter was her favourite bit. 🙂
We decided to make two layers so that we could use jam in between the layers and make it even pinker. Finally, we made a simple thick water icing and flavoured it with a little lemon juice, and coloured it with more red gel colour, topped the cake with it, then decorated with raspberries.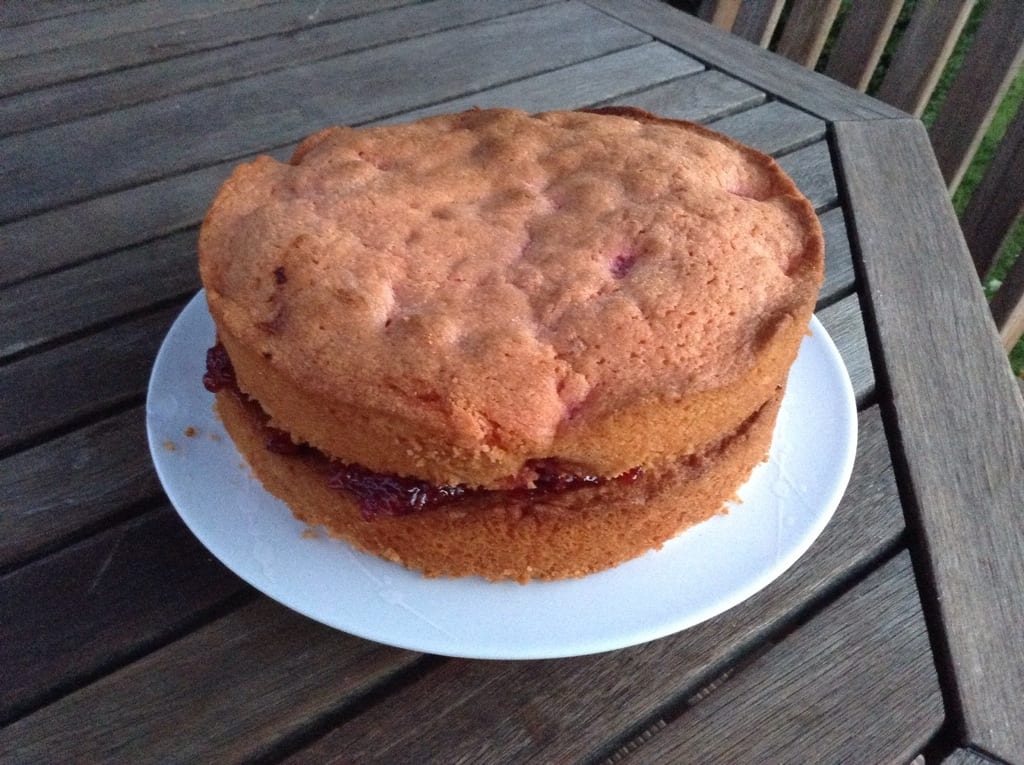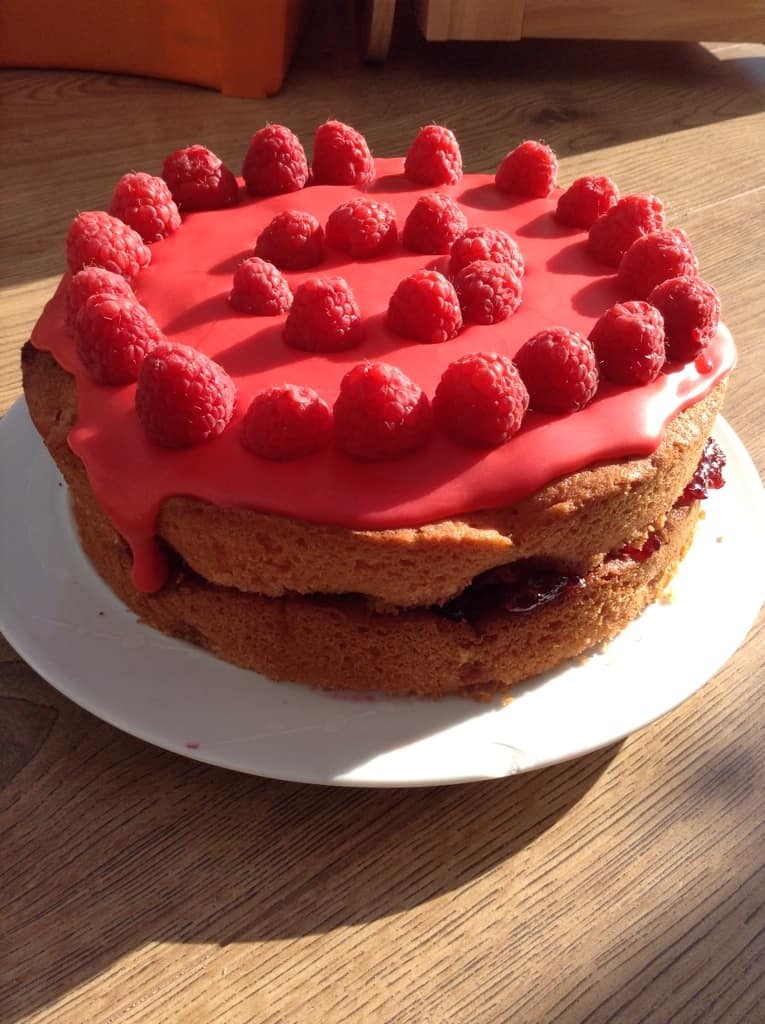 Recipe:
200 g butter
200 g caster sugar
3 eggs
200 g self raising flour
1 tsp of red gel food colouring, or enough to reach your desired shade of pink
Zest of a lemon
150 g raspberries
Filling: raspberry jam
For the topping:
A small bowlful of icing sugar
2 tsp lemon juice (freshly squeezed)
Enough water to make the icing your desired thickness, I use as little as possible to make it thick
1/2 tsp red gel food colouring
100 g raspberries
Method:
1. Cream together the butter and sugar until light and fluffy.
2. Add the eggs one by one. If it is a warm day and looks like curdling, add a spoon of flour after each egg and beat well.
3. Add the gel food colouring drop by drop until you reach your desired shade of pink.
4. Fold in the flour.
5. Stir through the lemon zest and raspberries.
6. Divide into two, pour into two prepared 8 inch/23 cm tins. Smooth the tops.
7. Bake for 25 mins until firm in the middle and golden brown.
8. Remove from oven and leave to cool in the tins for a few minutes.
9. Then remove from the tins and place on a cooling rack to cool fully.
10. When completely cool, spread jam on top of one cake and place the other on top.
11. Make the pink water icing by slowly adding liquid to the icing sugar and mixing until it is all incorporated and reaches the desired thickness. Add the colouring before it gets too thin.
12. Spread the icing on the cake and top with raspberries.