The lovely spring weather has made me yearn for tasty sweet berries and raspberry cake sounded perfect. This cake can be served as a warm dessert with custard but also cold in slices!
I found a nice raspberry cake recipe here at Life in Mud Spattered Boots, and adapted it to include blueberries, and to the slow cooker.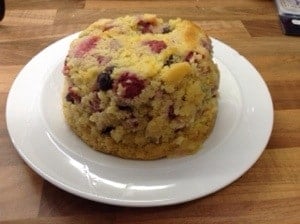 Read on for my recipe for slow cooker raspberry and blueberry cake, cooked like a steamed pudding. Delicious warm with custard!
How to Make Slow Cooker Raspberry and Blueberry Cake
Prepare the cake mix then layer up cake mix then a third of the berries until all the cake batter and berries are used up.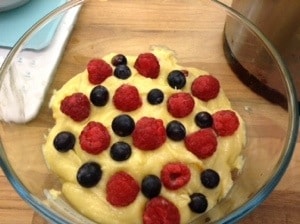 Place the Pyrex bowl in the slow cooker.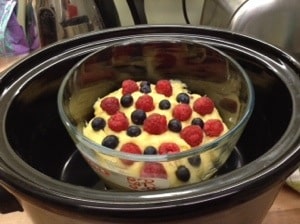 Put on the lid and you'll be able to see as the cake rises during baking in the bowl.
Turn out the cake onto a plate to serve.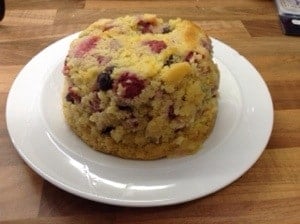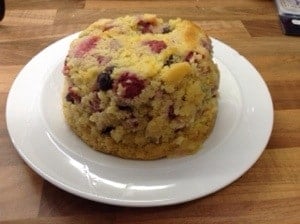 Slow Cooker Blueberry and Raspberry Cake
A steamed berry pudding cake which works well for dessert
Print
Rate
Save
Saved!
Instructions
.Turn the slow cooker on high to preheat for five minutes, with the lid on.


Heat the butter and sugar in a saucepan on low heat, until the butter has mostly melted. Remove from heat.



Stir in the lemon and orange zest and juice, then the eggs and vanilla extract.



Put the flour, baking powder and ground almonds in a bowl.



Pour in the mixture from the saucepan. Beat until smooth until you have a runny batter.



Pour one third of the mixture into a round Pyrex dish that fits in your slow cooker. Drop one third of the berries evenly onto the batter without pushing them in. Repeat this twice.


Place the Pyrex dish in your slow cooker, pour one to two inches of boiling water around the Pyrex dish, put the lid on the slow cooker, and cook on high for 2-3 hours until a toothpick comes out clean.

Did you try and love this recipe?
Then please leave a review and rating in the comments at the bottom of the post. If you post your creation on Instagram, tag me @bakingqueen74 or use hashtag #bakingqueen74!