The beginning of May already and the trees are growing their leaves, tulips are in full bloom, yet the weather here at least is still decidedly chilly. It hasn't really occurred to me to stop using my slow cookers yet, due to the cold winds and rain, and I am sure to continue using them for a while yet. With the seven great entries into April's Slow Cooked Challenge, you have plenty of slow cooked recipes featuring Spring Ingredients to keep you going. The Slow Cooked Challenge features recipes made using any slow cooking method, and we have a lovely array of different and exciting dishes this month.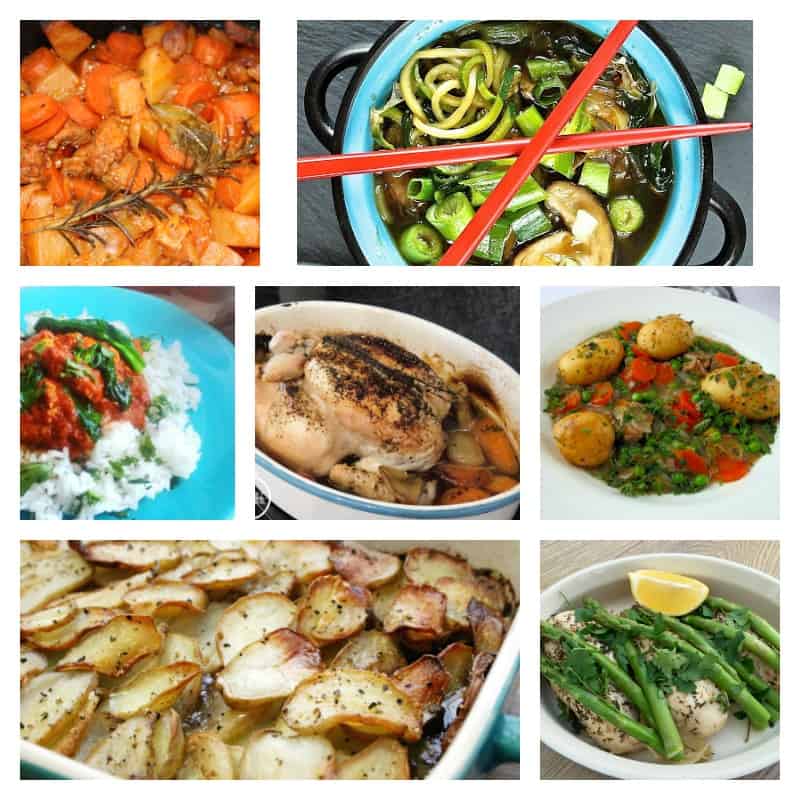 Slow cooker navarin of lamb from Jibber Jabber looks so comforting and full of flavour
Sprialized Oriental courgette noodle soup from The Gluten Free Alchemist, based on a homemade slow cooked vegetable broth, so bright and full of colour
Spinach and chicken slow cooker curry from Katy's Inspirations would be perfect to warm you up on a chilly day
My slow cooker lemon and herb chicken with asparagus takes the slow cooker into Spring
Slow cooked mushroom hotpot from Belleau Kitchen cooks for a whole three hours, accentuating the flavours of the large flat mushrooms, onions and carrots
Slow roasted lemon pepper chicken from Farmersgirl Kitchen, cooked in an enamel lidded roasting dish with a bath of liquid, sounds a wonderful way to cook a chicken and keep in all the flavour
Simple Spring lamb neck stew from Jo's Kitchen, a great family meal using seasonal ingredients
Thank you very much to those who entered this month's Slow Cooked Challenge. These recipes will certainly be inspiring me in the kitchen this month. Keep an eye out for the May Slow Cooked Challenge which will be over with Janice at Farmersgirl Kitchen soon.