How can it be the end of February already? Time is flying and the evenings are slowly getting lighter. There is still a coldness in the air though so using the slow cooker is a great way to come home to a hot meal. The entries into February's Slow Cooked Challenge are sure to inspire you to use the slow cooker this week (and month!). No need to settle for everyday stews or casseroles when you can try out some great new recipes from British food bloggers.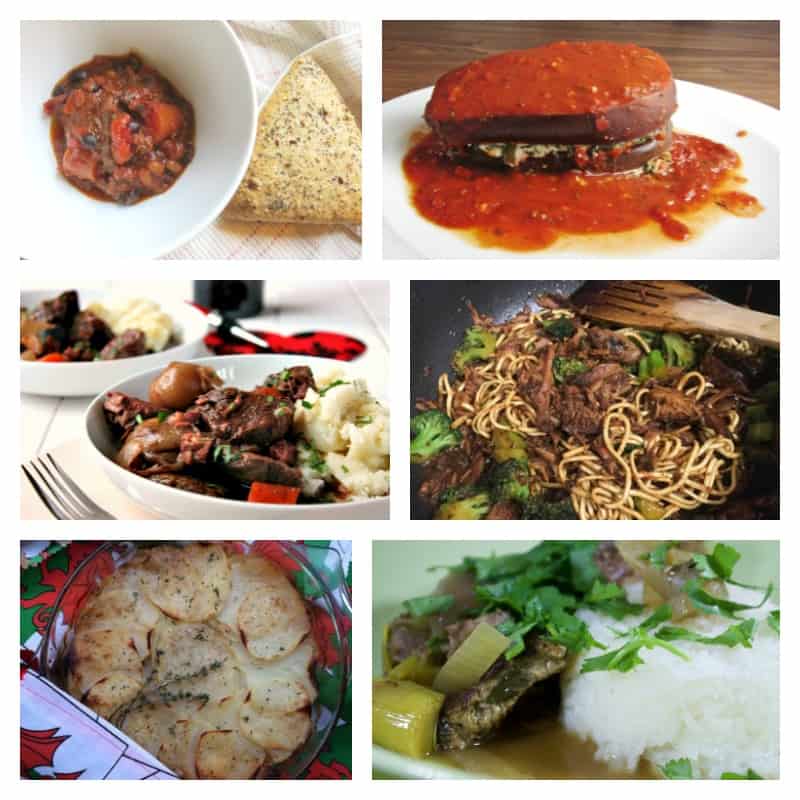 From Clementine Buttercup, a Mexican venison sausage and bean stew. Full of flavour and packed with goodness.
The spinach and ricotta aubergine stacks from Searching for Spice are really innovative and show that you can make vegetarian meals successfully in the slow cooker.
Beth from Jam and Clotted Cream sent over her slow cooker boeuf bourguignon, which looks so rich and deep in colour, and is the perfect way to a man's heart too apparently!
Janice, my co-host for the Slow Cooked Challenge, contributed her slow cooked honey and garlic chicken. I love how easy this is to make, marinading overnight and then simply adding to the slow cooker in the morning.
Allotment 2 Kitchen's vegetarian Welsh cawl hotpot is perfect for St David's Day and uses leeks and Welsh cheese for a regional spin on the traditional hotpot.
Last but not least, Deon from Foodjam made a delicious Thai beef curry in his slow cooker. Full of fresh herbs and spices, I bet the house smells magnificent while this is cooking!
Thank you so much for the entries into the February Slow Cooked Challenge. I love seeing your recipes and I am sure Janice would agree.  Look out for the March Slow Cooked Challenge which will be live on Farmersgirl Kitchen very soon.
If you haven't come across the Slow Cooked Challenge before, if you are a blogger this is the place to link up your slow cooked recipes, and if you are a slow cooker enthusiast, this is a great place to find the latest slow cooker recipes. You can find out more here.