Are you looking for a delicious way to serve beef brisket, that's also really easy to make too? Step in slow cooker pulled beef with harissa!
Harissa paste gives a gentle kick and cherry tomatoes and chopped green peppers add texture and colour to brighten up the dullest day.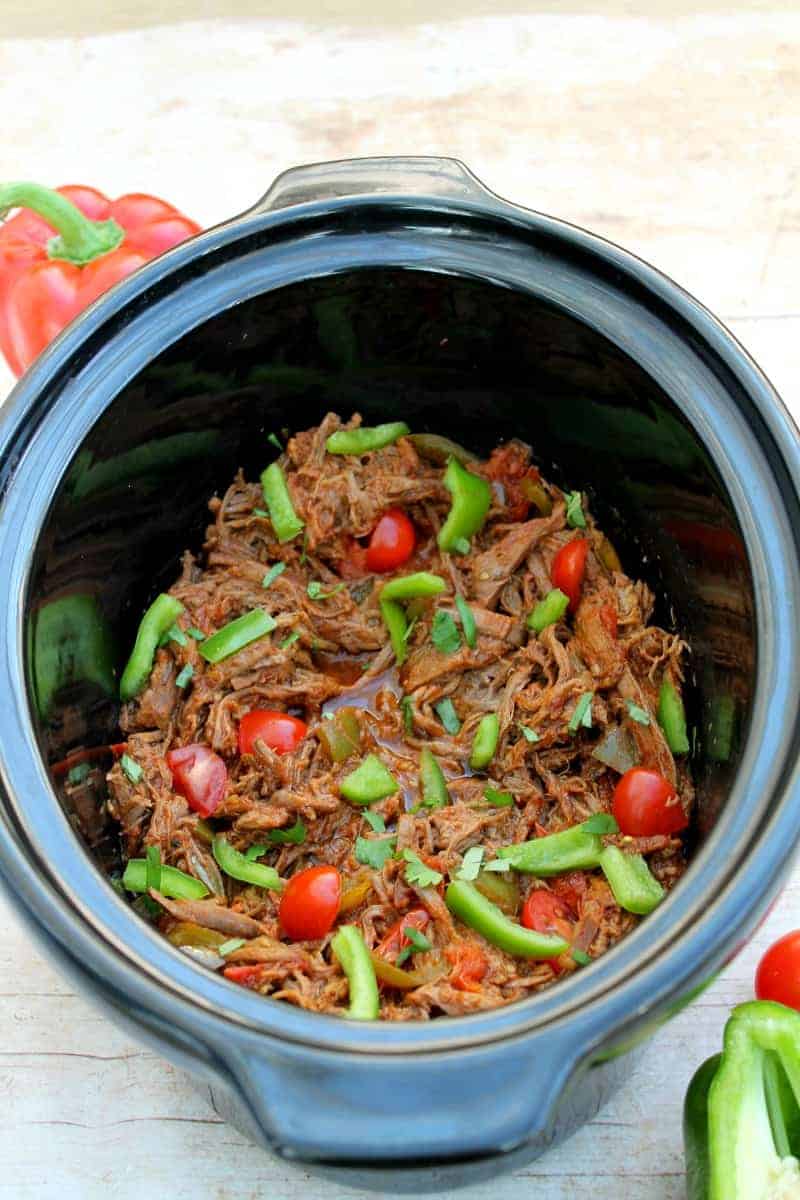 I was in need of a meal I could put into the slow cooker in a rush but that would still taste good! Since beef brisket was on offer that day in the supermarket, I decided that would be a great base to start from.
Then I could just sear the beef, pop it in the slow cooker all day, then do something nice with it later in the day when it was all tender.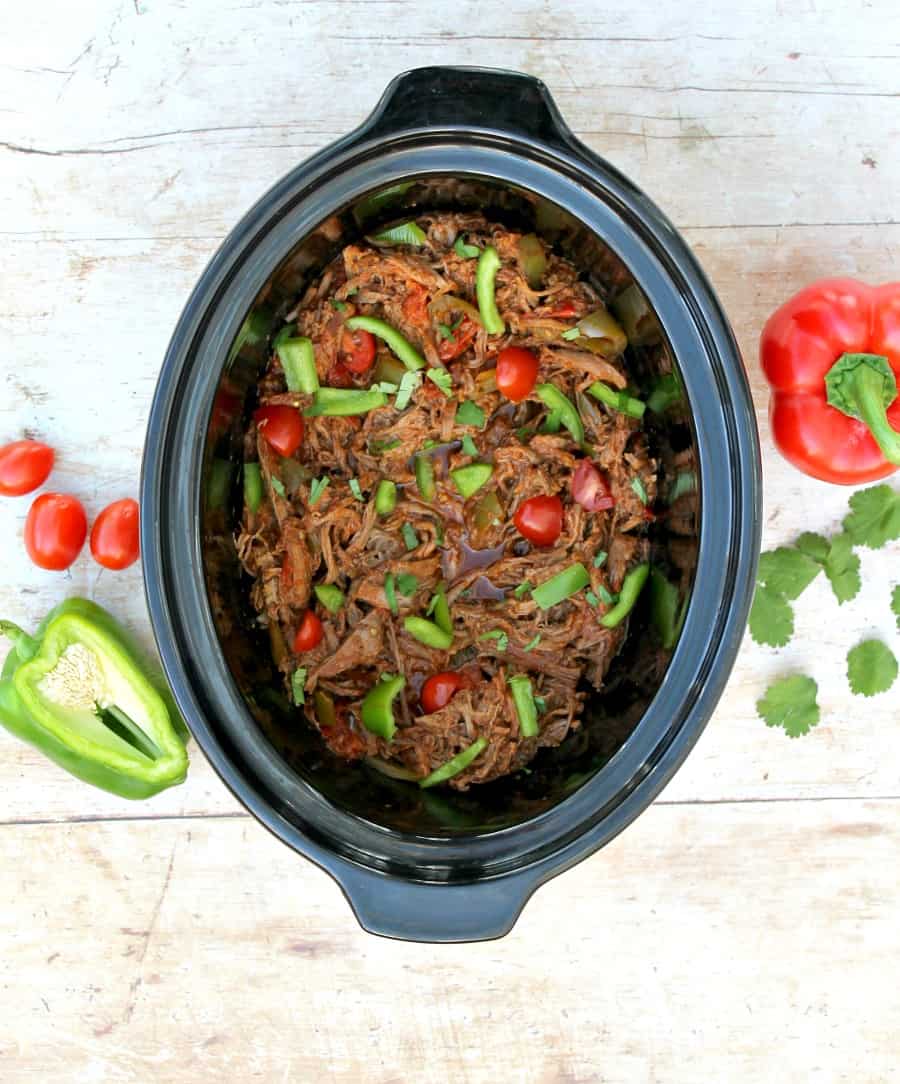 A quick look through the fridge yielded some harissa paste, baby plum tomatoes, green peppers that we grew in my veg plot in the garden, and some fresh coriander.
Adding in tomato puree and oil and seasoning from the store cupboard, this seemed to be perfect to make the brisket full of flavour.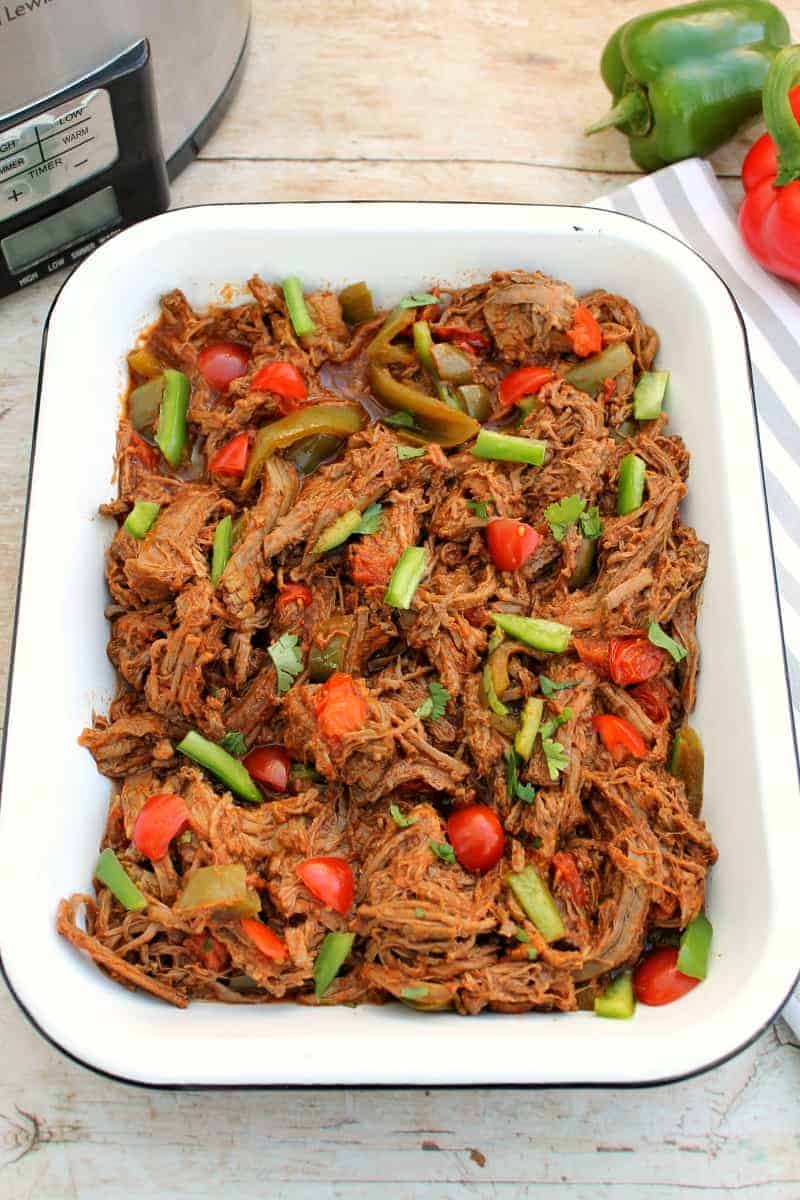 So I seared the brisket, put it in the slow cooker and then got on with my busy day of work and errands. At the end of the day, the brisket was so tender that it shredded really easily using just forks to pull it apart.
Then I added the pulled beef back into the slow cooker pot with the other ingredients to heat through and infuse with flavour.
If you have any questions about how to make slow cooker pulled beef using brisket I've tried to answer a few queries below!
How do you make pulled beef in a slow cooker?
Cook for 8 (at least) or ideally 10 hours on low. The long cooking time means this is a great recipe to use when you have a long day at work. It only takes minutes to throw the ingredients together and put it in the slow cooker in the morning.
When you return, all you have to do is shred the meat with two forks. It will be so tender it will just pull apart so easily. Mix in a few store cupboard ingredients and leave it for another hour or so to cook through, then serve!
What cut of meat to use for pulled beef?
Brisket works so well in the slow cooker, it is one of the best cuts of meat for slow cooking, as it just has to be cooked slowly to make it really tender.
The reason for this is that it is a cut which is high in connective tissue, which makes it tough. But when you cook it slowly with a little liquid, it gets really soft and ideal for shredding or pulling.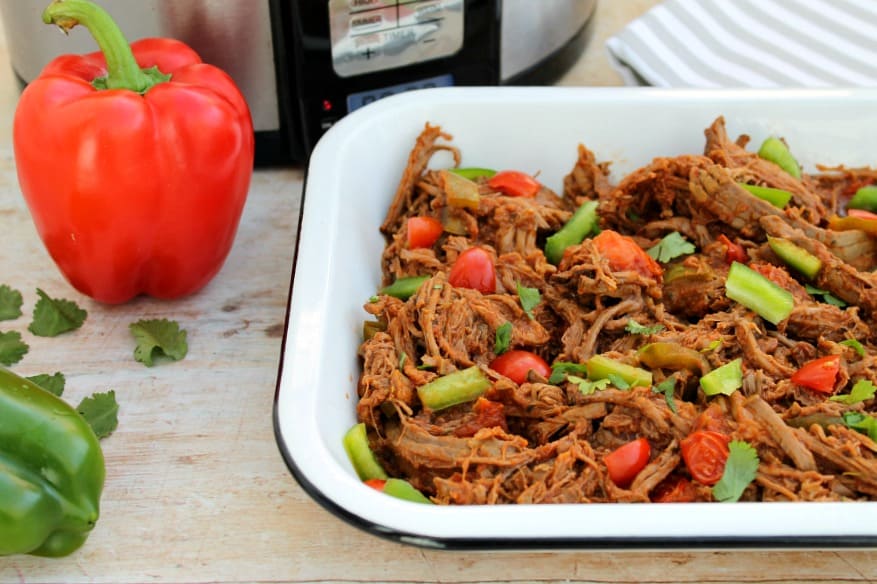 What to serve with slow cooker pulled beef?
So for that last hour or so after shredding, while the flavours mingle in your slow cooker, you can prepare whatever side you are going to have with your beef.
I love pulled beef with rice, but mashed potatoes, pasta or even crusty bread work well too. It's also great as a baked potato filling, in tacos or burritos or on a pizza! If you're going low carb, lettuce wraps are a good option too.
How else can I cook beef brisket or a beef roasting joint?
Sometimes a warm and comforting traditional beef brisket is just what you need, especially for a roast dinner with roast potatoes, vegetables and gravy. My slow cooker beef brisket is perfect for this.
Or you could make a chilli with your brisket – my yellow chilli brisket is spiced up with chilli sauce, taco beans and pickled chillies for a real hit of flavour!
If you're wondering how to make perfect roast beef, then Recipes from a Pantry has the ultimate roast beef recipe with a tutorial.
Fab Food 4 All has the ideal recipe to use up leftover roast beef with her Monday Pie.
Pin my slow cooker pulled beef with harissa for later!
Slow Cooker Pulled Beef with Harissa – The Recipe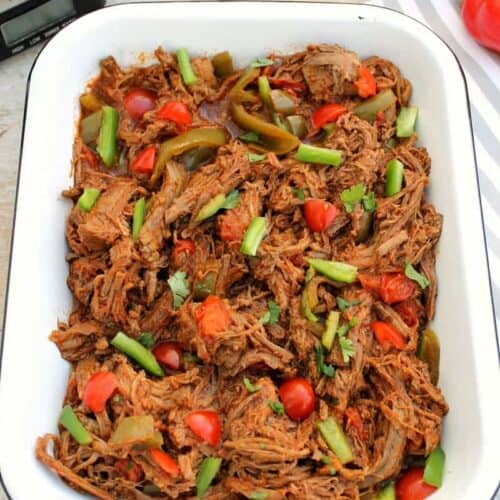 Slow Cooker Pulled Beef with Harissa
Make meltingly tender beef brisket in the slow cooker with a gentle kick from harissa paste to spice it up!
Print
Pin
Rate
Total Time:
10
hours
10
minutes
Ingredients
1

kg

beef brisket

1

tsp

olive oil

1

beef stockpot

(liquid stock in a small pot)

3

tbsp

tomato puree

1

tsp

harissa paste

150

g

baby plum tomatoes

about 20

1

green pepper (capsicum)

chopped
Instructions
Heat the oil in a large pan and sear the beef on all sides.

Boil 250 ml (1 cup) of water and mix with the beef stockpot. Pour the liquid into the slow cooker, then put the beef in the liquid.

Put the lid on and cook for 8-10 hours on low until tender.

After the 8-10 hours, remove the meat from the pot and shred it using two forks. Once it is tender it will shred or "pull" easily.

Discard half the liquid from the base of the slow cooker pot. Add 3 tbsp of tomato puree, 1 tsp of harissa paste, about 20 baby plum tomatoes, halved, and 1 green pepper, chopped. Stir well.

Cook on low for another hour or so.

Serve with rice/mash/pasta/bread.