I've been looking for a technical loaf to make to try out my breadmaking skills. This loaf, Croatian Povitica, which is typically filled with a walnut and cinnamon filling, seemed to fit the bill perfectly. It is a sweet dough, rather like a yeast-leavened cake in its ingredients (plain flour and yeast amongst others). The exterior looks rather unassuming but inside it is filled with swirls and loops, and the flavour is to die for.
Take a look.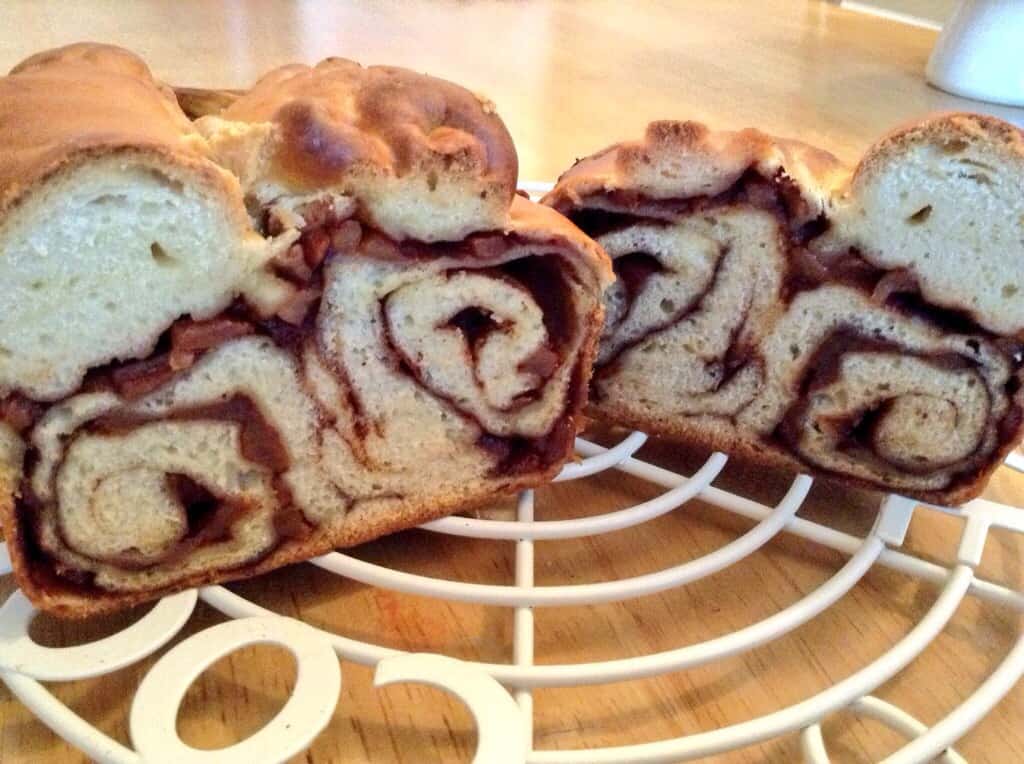 See what I mean? This was filled with an apple and cinnamon filling, as I am not keen on walnuts. The sweet, buttery apple and cinnamon filling was amazing. My children loved this too. If only I could make it all the time!
Having made one loaf, I was compelled to make some more. The first time, I made one loaf on its own. This was not enough! The second time, I made two loaves at the same time, dividing the dough before proving. This was better! I tried two different flavours for the second batch: blackberry cream cheese and chocolate orange.
I found the basic recipe on this site, by The Gingered Whisk. A group called the Daring Bakers made it as one of their challenges 3 years ago. If it was good enough for the Daring Bakers, it was good enough for me! I adapted the recipe slightly to fit what I had available.
The apple and cinnamon filling is adapted from here. The other two fillings were just devised from ingredients I had in my fridge and cupboards.
Here are the blackberry cream cheese and chocolate orange flavours. A delicious treat, just a slice served with a cup of coffee or tea tastes amazing.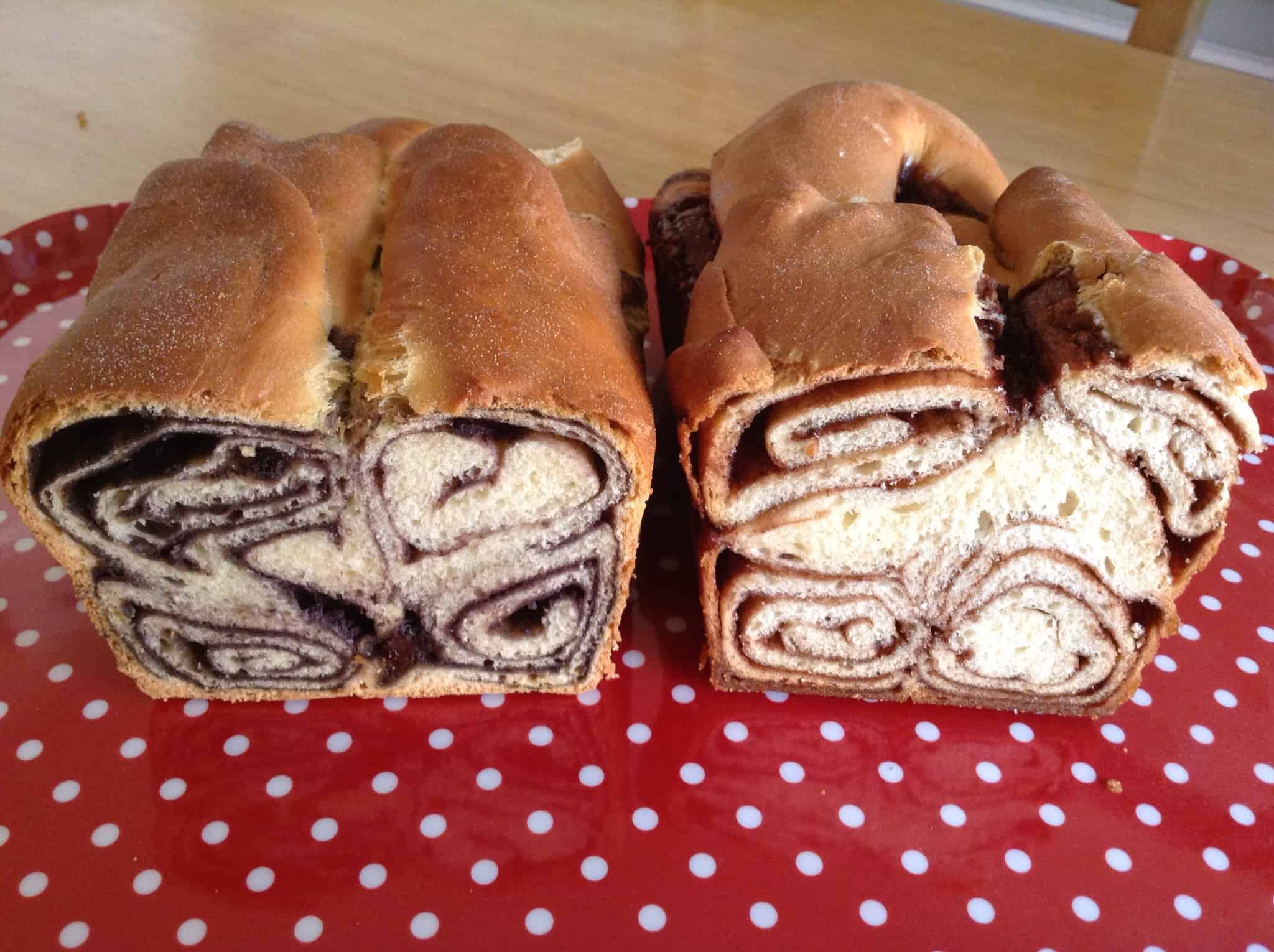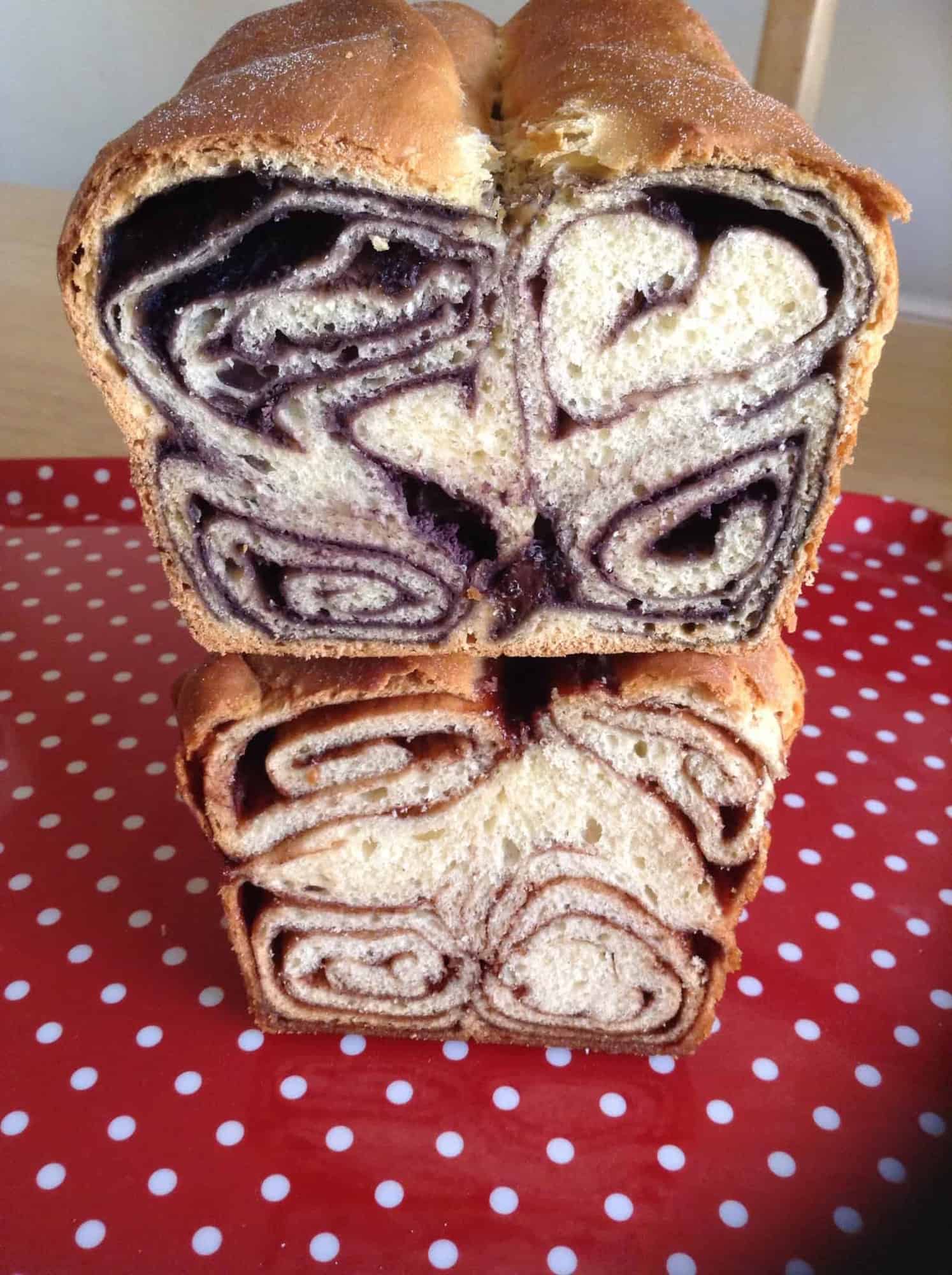 I have just discovered that they are making this very bake on GBBO tonight (Advanced Dough week), what a coincidence! May I point out I made the first loaf last Saturday and the others last night (Tuesday) before the show. 😉
Recipe:
(makes two loaves):
To activate the yeast (I think you could skip this step if using quick yeast, I did it anyway as you are adding hot milk to the yeast and I was worried it would get killed off if not activated first) –
1 tsp caster sugar
½ tsp plain flour
60 ml lukewarm water
1 sachet of yeast
For the dough –
240 ml milk, I  used semi-skimmed
85 g caster sugar
1 tsp salt, I used coarse salt
2 medium eggs
60 g unsalted butter, melted
560 g plain flour
Fillings:
Apple cinnamon filling
90 g butter
3 apples, peeled and finely diced
65 g  light brown sugar
3 tablespoons cinnamon
Put the butter, apples, light brown sugar and cinnamon in a small saucepan.

Cook on a low to medium heat, until the apples are soft, which will take 5-10 minutes.
Blackberry cream cheese filling
2/3 of a 280 g pack of Philadelphia
5 tsp caster sugar
4-5 tbsp blackberry jam
 Mix all the ingredients together in a small bowl until soft.
Chocolate orange filling
Half a jar of chocolate spread
1 tsp of orange extract
Put the chocolate spread in a bowl, add the orange extract and mix well until soft.
Method for the dough:
1. Put the ingredients to activate the yeast listed above in a small bowl, cover it and leave for 5 minutes. Bubbles should form.
2. Heat the milk in a jug in the microwave for about 1.5 minutes until very hot but not boiling. Leave it to cool for a few minutes.
3. Take a large bowl, and add the cooled milk, sugar and salt. Mix them together until dissolved.
4. Next add the two beaten eggs, the yeast and water etc from step one, the melted butter, and about a quarter of the flour.
5. Mix the ingredients together well, and slowly mix in the rest of the flour. The dough should start coming away from the sides of the bowl.
6. Place the dough on your floured worktop, and knead it. Add a little flour bit by bit, until the dough is no longer sticky.
7. Knead it until smooth and elastic.
8. Split the dough until two equal parts. I weighed mine to ensure they were the same size.
9. Place each one in an oiled bowl, cover with a tea towel and place in a warm place to rise for 1.5 hours. It should double in size.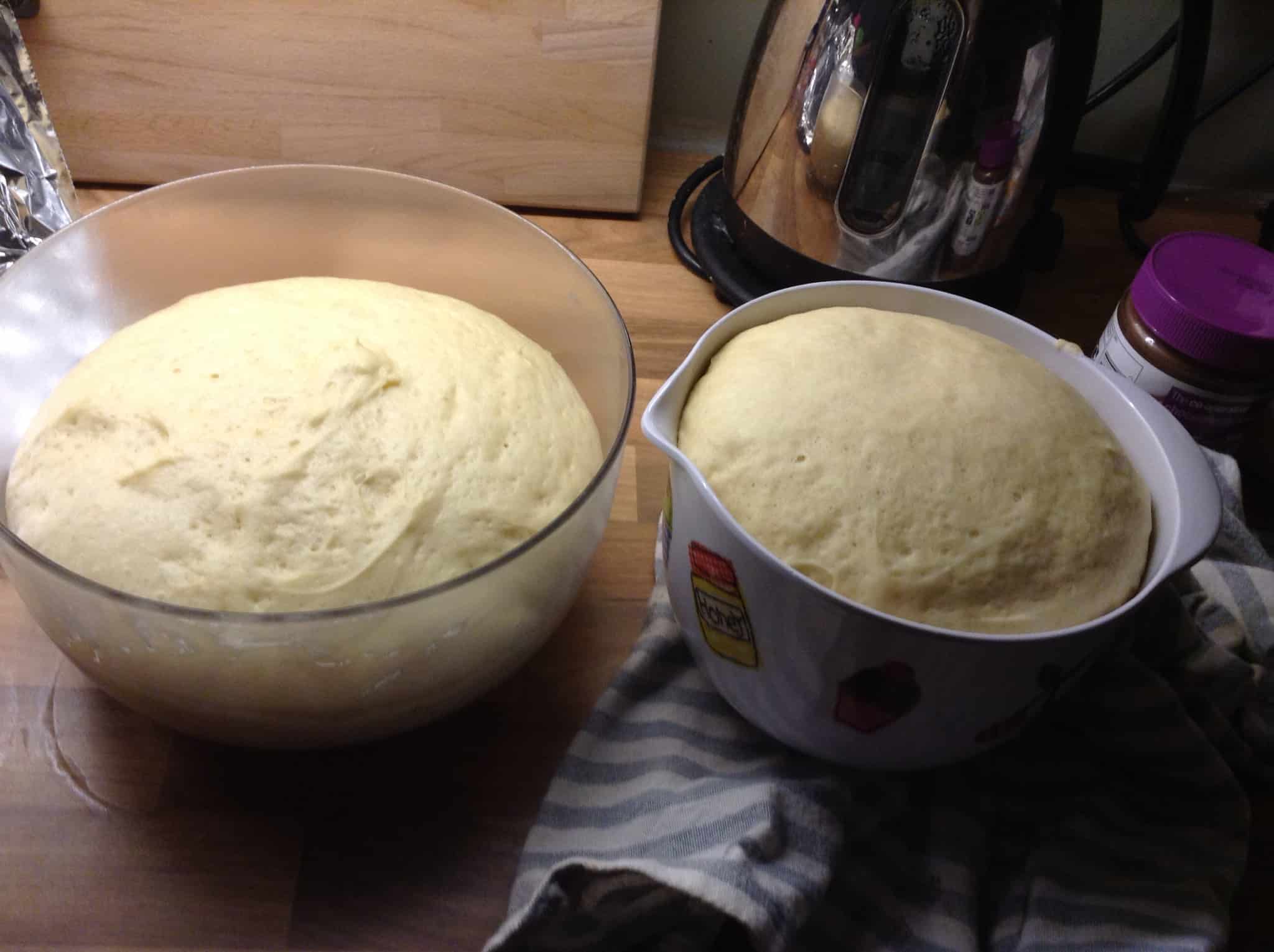 10. Spread a tea towel on your work surface and sprinkle it with a little flour to stop the dough sticking to it.
11. Put one half of the dough down and roll it out with a rolling pin. I made mine the size of my large tea towel.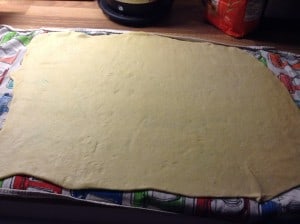 12. At this point you can spoon on some melted butter if needed, or just stretch by hand without the butter until the dough is thin and opaque.
13. Spoon your chosen filling (3 options given above) over the dough until evenly covered. Get it as close to the long edge as possible.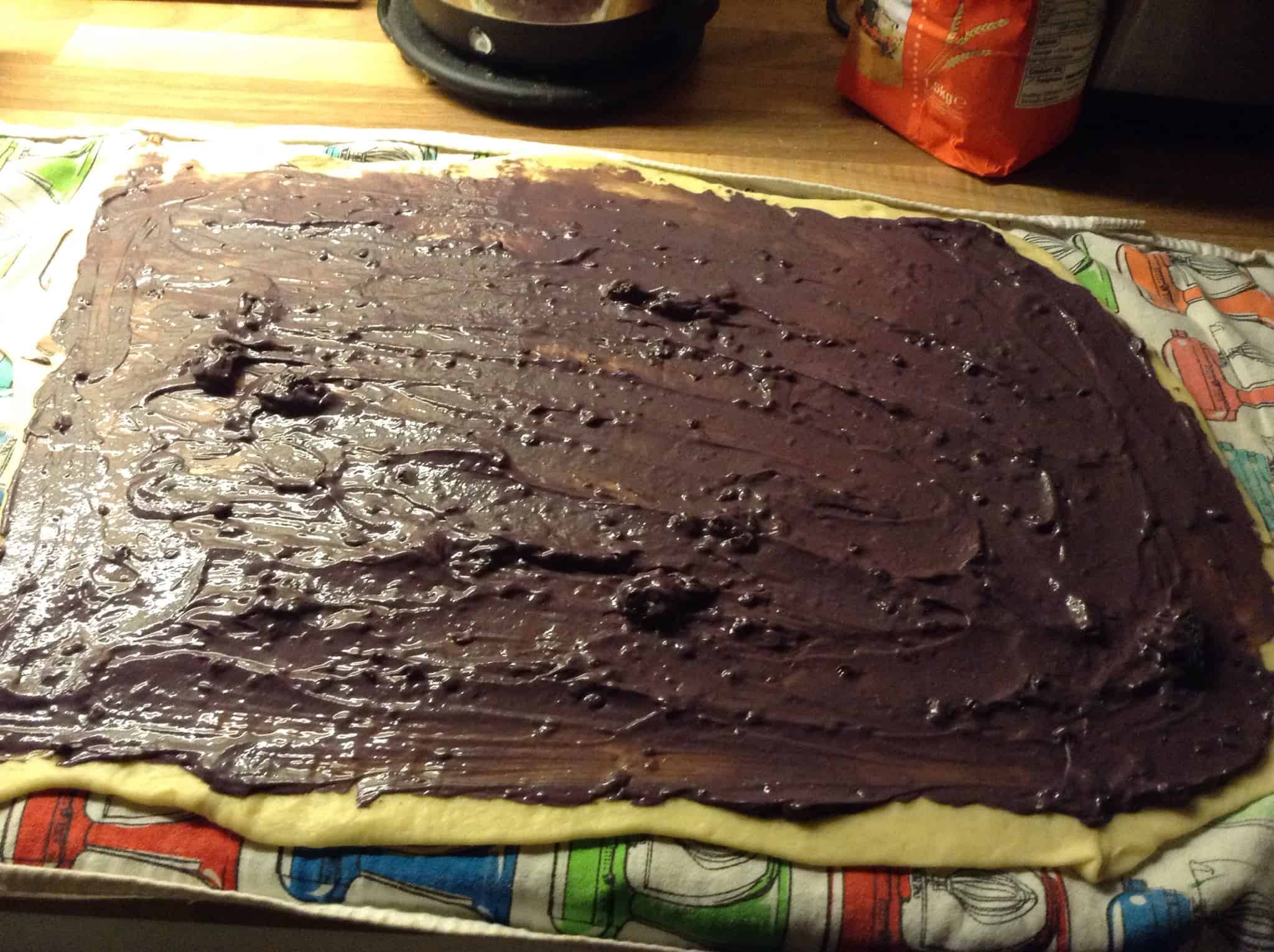 14. Lift the edge of the tea towel and roll the dough a bit like a Swiss roll. If it sticks, gently pull it off the tea towel.
15. Take the long roll of dough and put it in your oiled loaf tin in a U shape, with the ends coiling in on itself.
16. Repeat all the steps above for the 2nd loaf, with your chosen filling.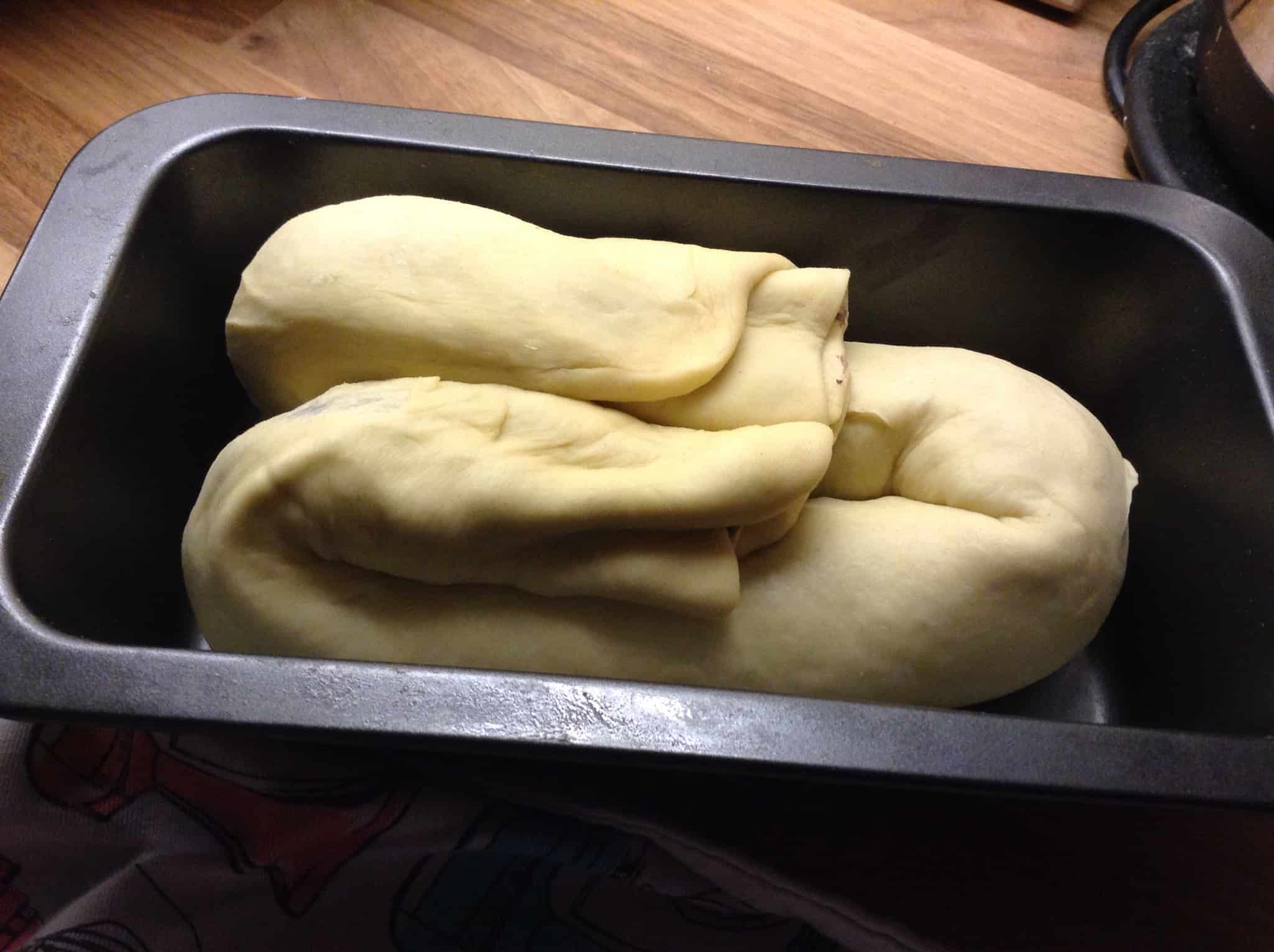 17. Brush the loaf with a little milk, then bake for 15 minutes at 180 degrees, then turn down to 150 degrees and bake for a further 45 minutes.
18. If the loaf goes too brown, cover the top with some foil. Make sure the dough is fully cooked before removing it, so you don't have the same problem with raw dough as the GBBO bakers today!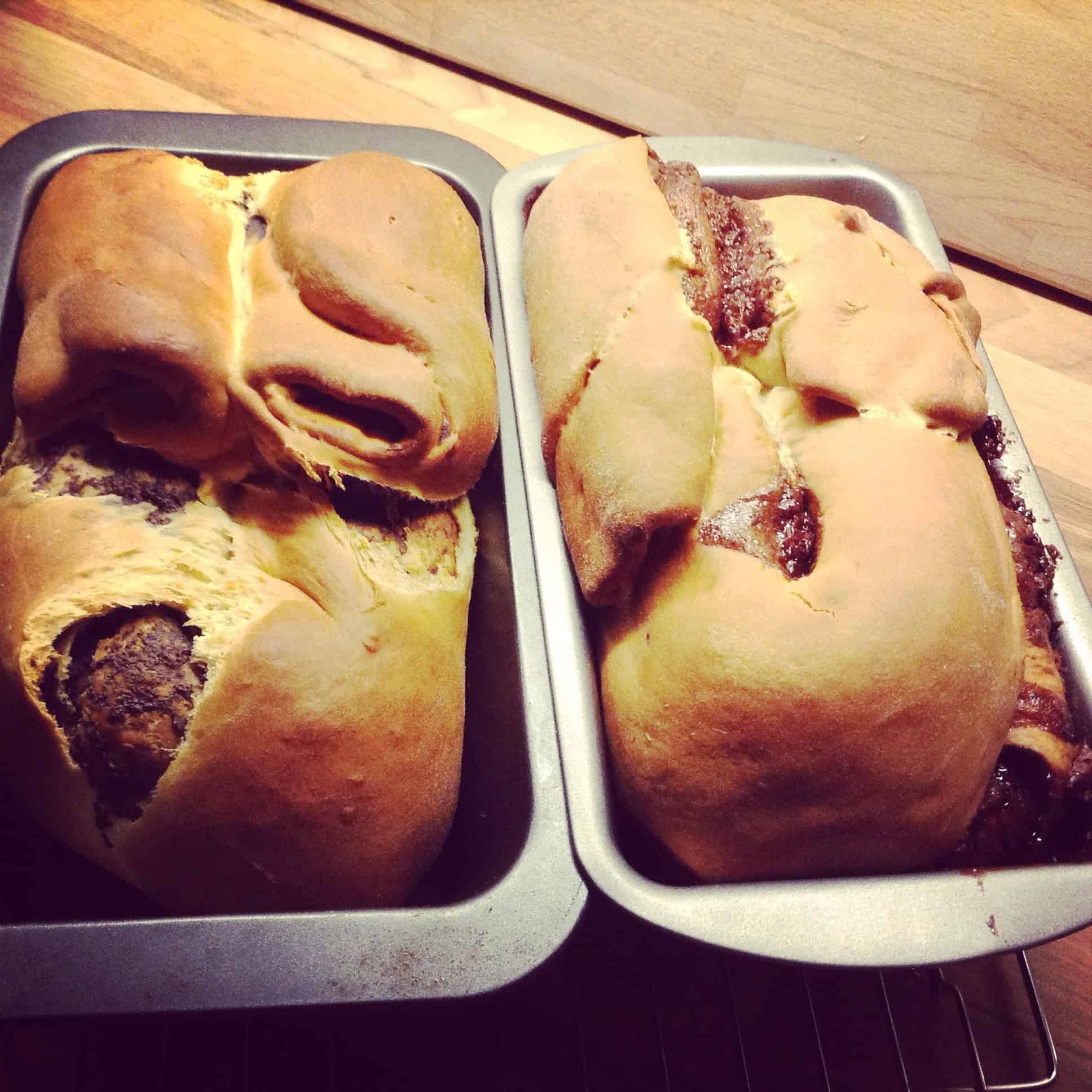 19. Allow the loaf to cool in the loaf tin.
20. When cutting, turn it upside down to prevent it falling apart.
21. When sliced, you should reveal the pretty swirling patterns as seen on GBBO!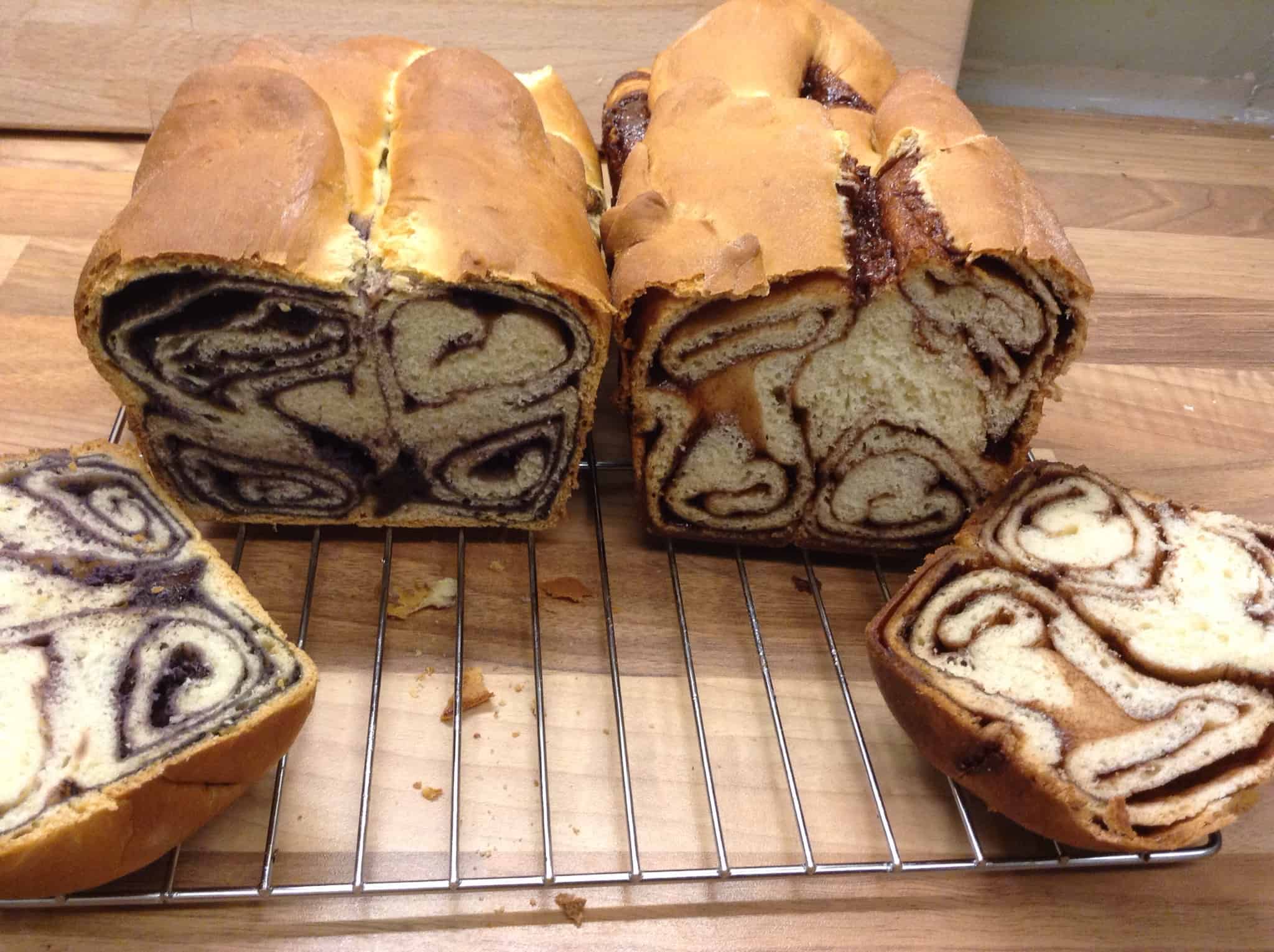 I am linking up with #GreatBloggersBakeoff2014 with Jenny Paulin: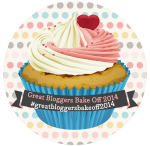 Also linking up with the GBBO Bake Along with Supergoldenbakes: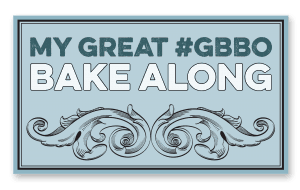 Also linking up with #CookBlogShare with Supergoldenbakes: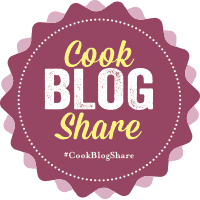 As usual, I am also linking up with Bake of theWeek, and #RecipeoftheWeek too.