These are lemon hot cross buns made with the zest of two lemons and lemon juice for plenty of zesty flavour!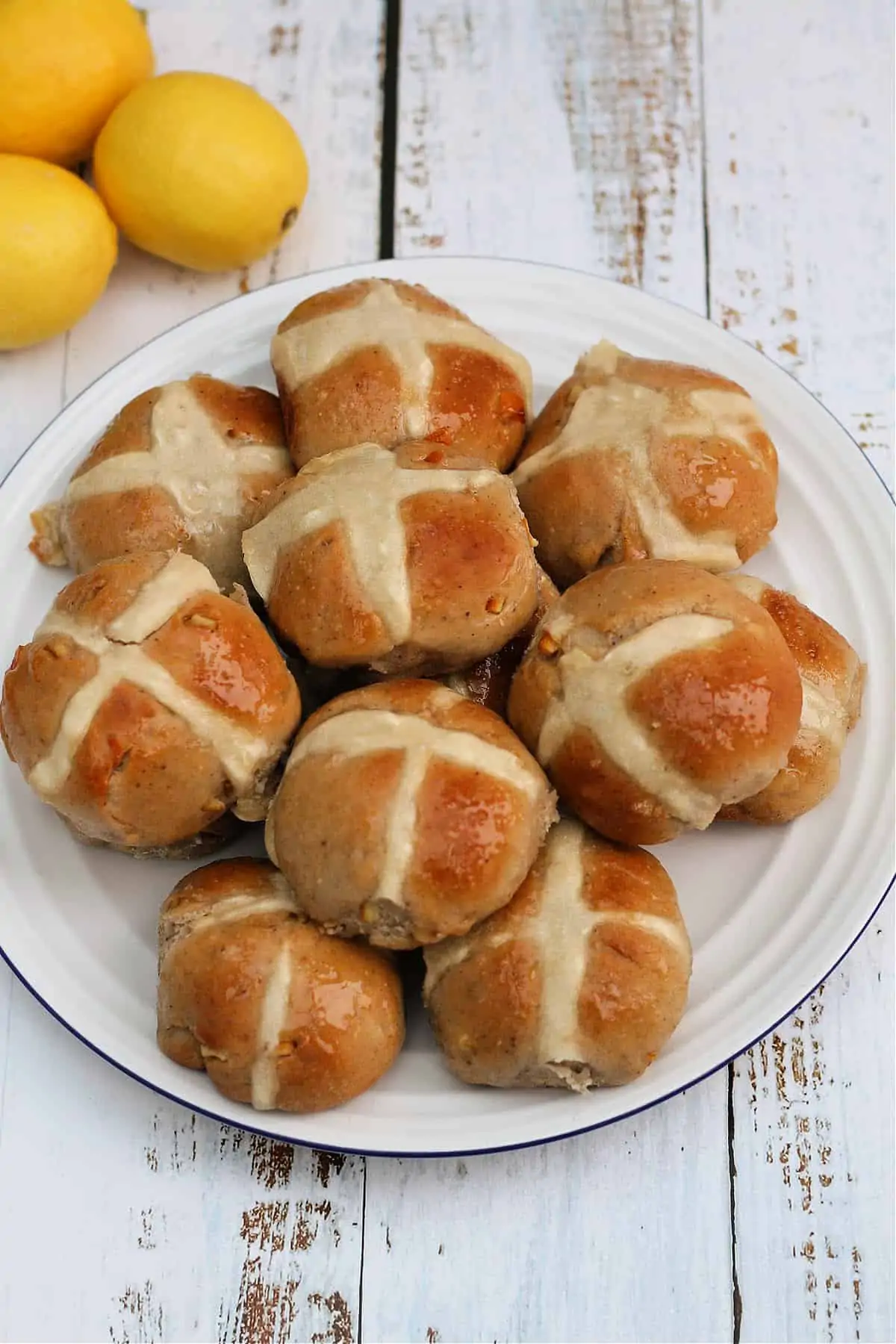 In these I have skipped the sultanas and dried fruit in favour of just mixed peel with its delicious orange/citrus flavour so this adds to the citrus aroma!
To make sure the hot cross bun dough itself is packed with flavour it still contains some spices as is traditional – cinnamon, a little ginger and some allspice.
But these spices just add to the warmth of the flavour and give these the traditional hot cross bun taste, just without the dried fruit.
I couldn't let Easter go by this year without making some hot cross buns. It is a lot of fun to bake your own at home and worth it when you have homemade hot cross buns to tuck into on Easter Sunday.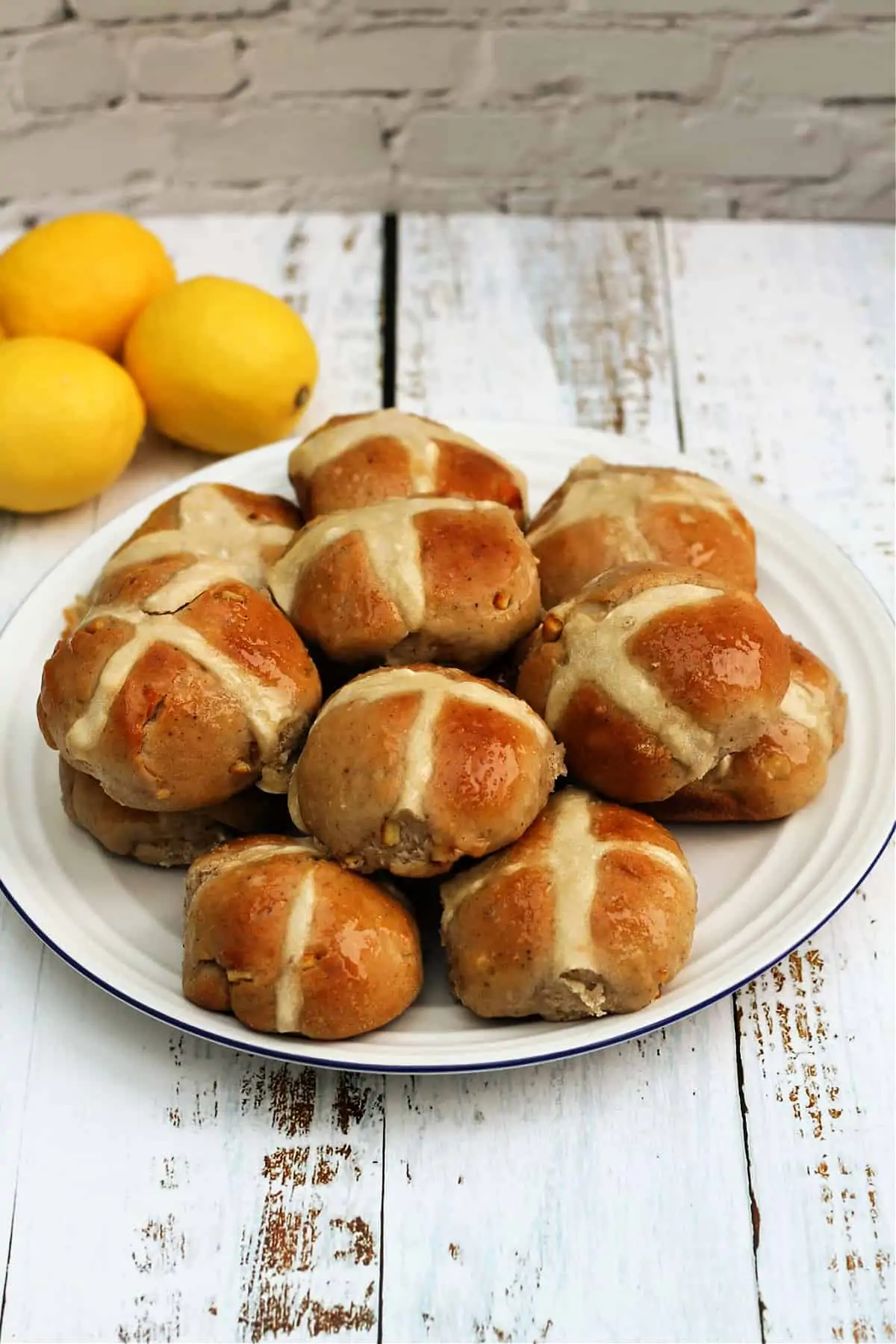 Hot cross buns are typically made to signify the end of Lent (during which some people fast) and the start of Easter, a time for feasting. The crosses represent the cross on which Jesus was crucified. They are often made and eaten on Good Friday and over Easter.
Jump to:
Ingredients
First. the ingredients you will need. This list should be used for getting your ingredients together or as a handy shopping list. See the recipe card below for the quantities needed.
strong bread flour – strong flour is needed when making yeasted recipes, through interaction with the yeast it forms strands of gluten.
yeast – make sure your yeast isn't old and out of date, as this could cause problems with the dough rising. I use the sachets or small tins of easy bake yeast.
sugar – to give this enriched dough sweetness.
cinnamon, ginger, allspice (or mixed spice) – these spices give the hot cross buns a lightly spiced flavour
lemons – you'll need the zest of two lemons and the juice of one.
salt – helps to balance the flavours.
butter – for rich buttery flavour.
egg – this is also to enrich the dough.
mixed peel (candied lemon and orange peel) – adds a zesty tang.
for the crosses:
to brush over and add shine:
honey – warm honey gently then brush over the baked hot cross buns to add shine. You could also use golden syrup, maple syrup, or the traditional apricot jam.
Techniques
I thought it would be useful to go over some of the techniques used in this recipe for readers who aren't used to working with yeast or making bread. I hope you will find the sections below useful.
Get the step by step process for making these lemon hot cross buns below in the recipe card after this quick look at the techniques you will be using.
Kneading
Once you have mixed together the ingredients for your hot cross bun dough you'll need to knead it for 10 minutes. Kneading helps the gluten strands to form.
To knead you bring the dough together into a ball then put it on the surface and push it down against the surface and away from you with the heel of your hand, then fold and turn it and repeat.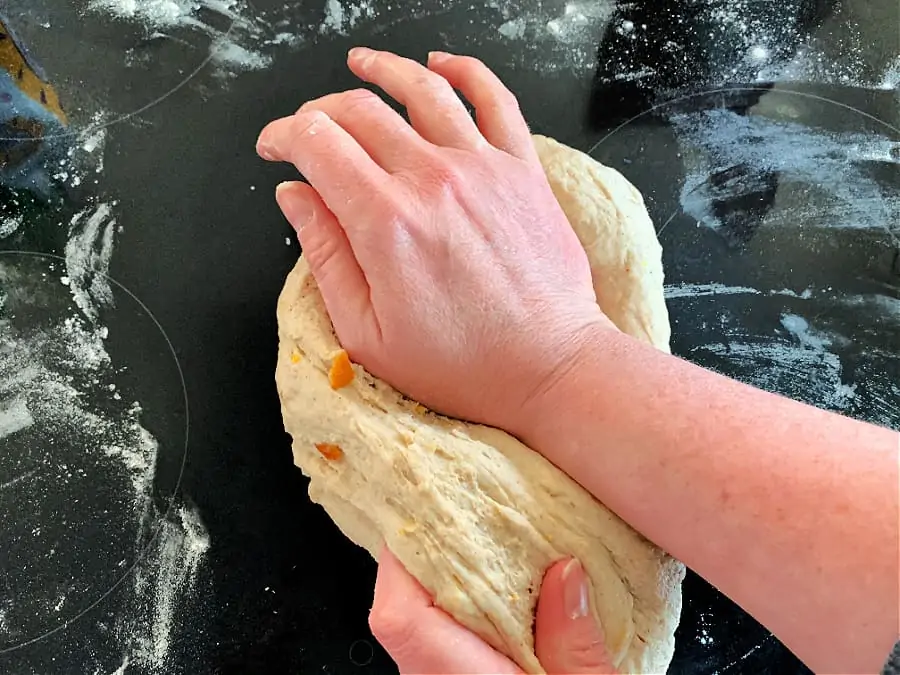 When you start kneading your dough may feel sticky and stick to your hands at first.
Sprinkle a little flour onto your work surface to stop the dough sticking to the surface, and this will also help with it sticking to your hands.
After ten minutes of kneading, the dough should feel much more pliant and elastic, it will be much smoother too.
Rising or Proving
These hot cross buns are left to rise or prove three times.
Twice as dough in a bowl, also known as rising (or bulk fermentation if you are getting technical!), and then one final rise or prove after forming the individual buns.
When leaving your dough to rise you should leave it in a warm place for the specified time and then check if the dough has doubled in size. If it hasn't doubled in size after the time specified, possibly it is not warm enough so you might need to leave it for a little longer.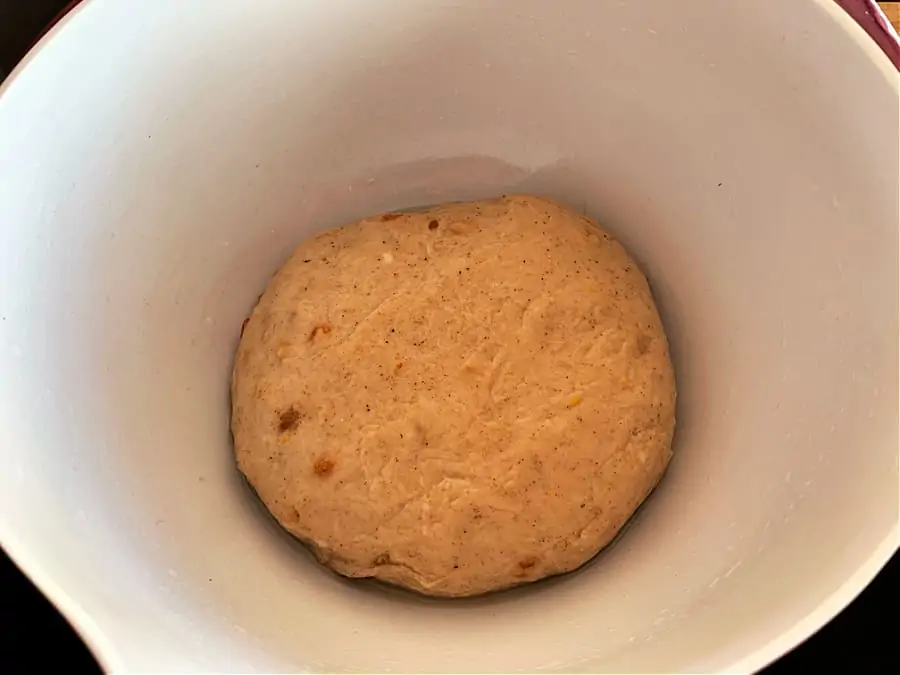 Knocking back
Knocking back the dough is when you poke your fingers or punch your fist into the dough to deflate it. Any large bubbles of air that have built up will deflate.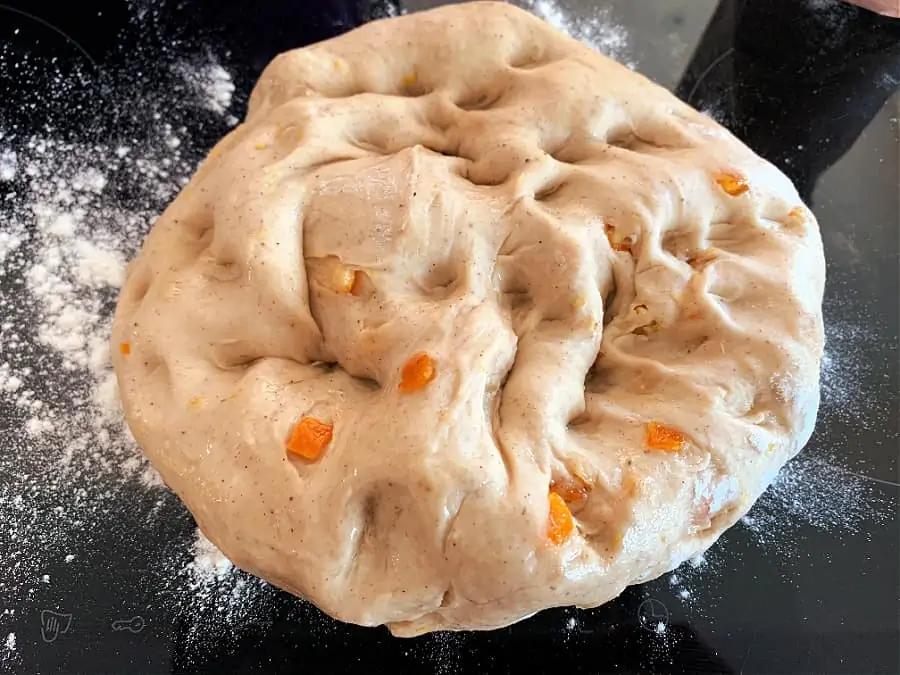 You then knead again for a few minutes before leaving it to rise again. Sometimes this is also referred to as punching down.
Shaping individual buns
After the second rise you will divide the dough into 12 equal pieces.
To do this I normally weigh the whole ball of dough and then divide by 12 to get the weight needed.
Then I use a dough scraper to cut the dough in half, then each piece into two to make four, and finally each of those pieces into three to make 12.
I will then weigh each piece to make sure they all weigh the same, and if not I will cut off or add small pieces using the dough scraper to even them out.
Finally shape each into a ball and place each hot cross bun in rows in a lightly oiled baking pan for the last rise.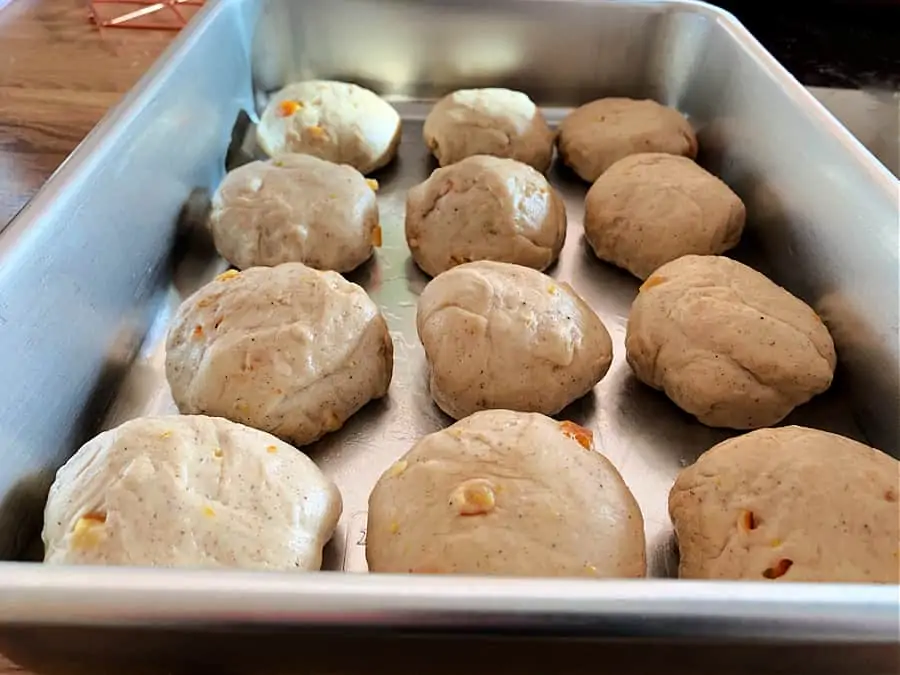 Piping the crosses
The white crosses on hot cross buns are made by mixing a little plain flour (about 30-50 g) with cold water until it forms a paste.
It is best to make the paste quite thick so it doesn't run out of your piping bag too quickly, then it will be easier to control.
Transfer the paste to a piping bag. A good tip when filling a piping bag is to put the closed end of it in a large glass (e.g. pint glass) then fold down the sides. You can then pour or spoon the cross mixture into the bag.
When ready to pipe the crosses (after the final rise of the buns) you will snip off the end of the piping bag and pipe the mixture across each row and then up and down each row in the baking tray so they all have square crosses on them.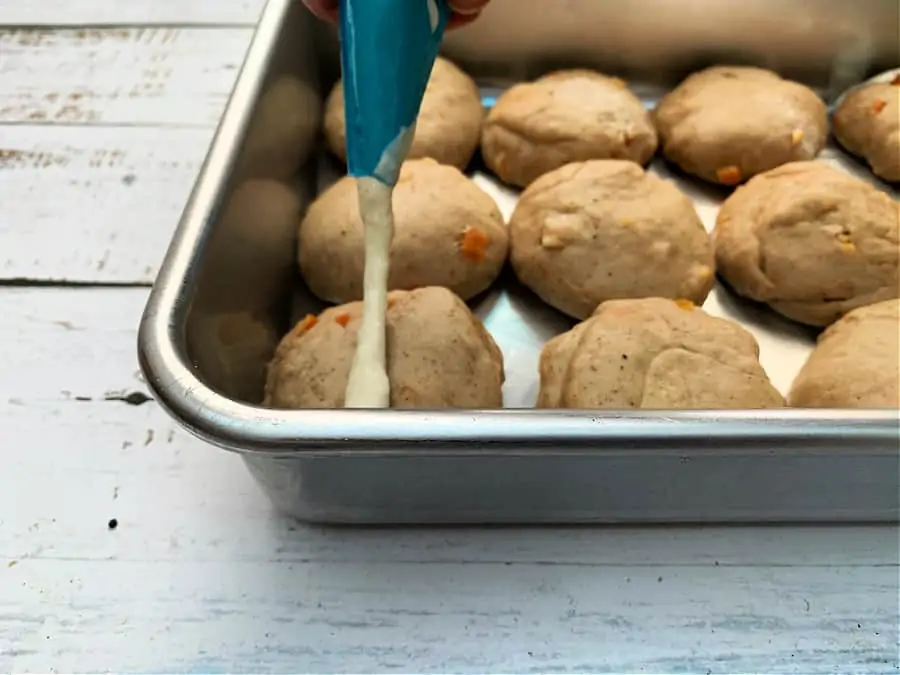 It can be quite tricky to get even lines of the same thickness but after baking the crosses do fade a bit so don't worry too much.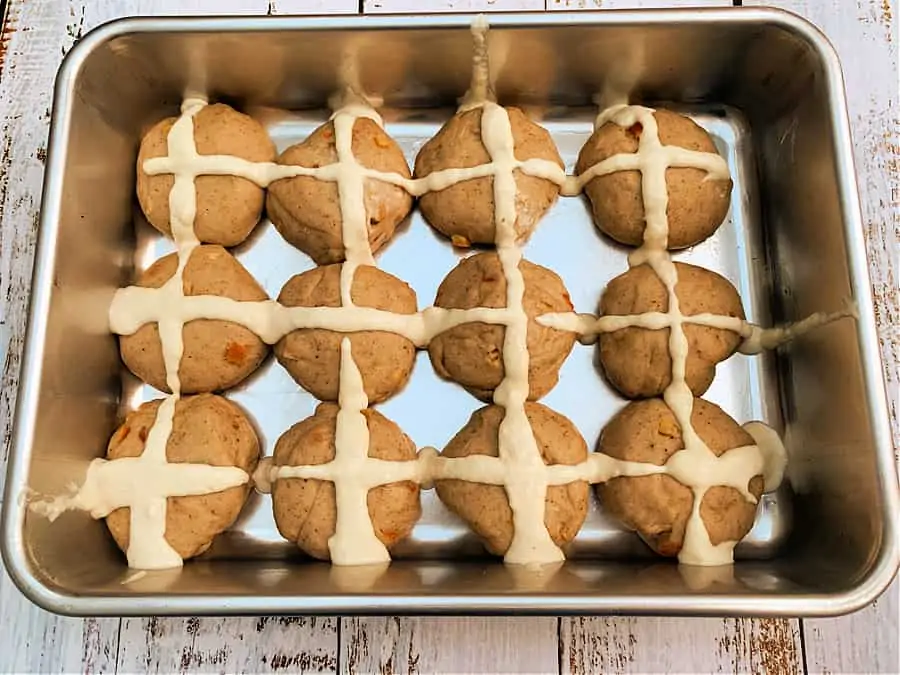 Serving
Well of course hot cross buns are typically an Easter treat but don't forget that without the crosses they would also make a delicious fruit bun! These Lemon hot cross buns are delicious warm with butter, lemon curd or jam.
They make a great Easter breakfast as well as a nice luxurious snack with a cup of tea.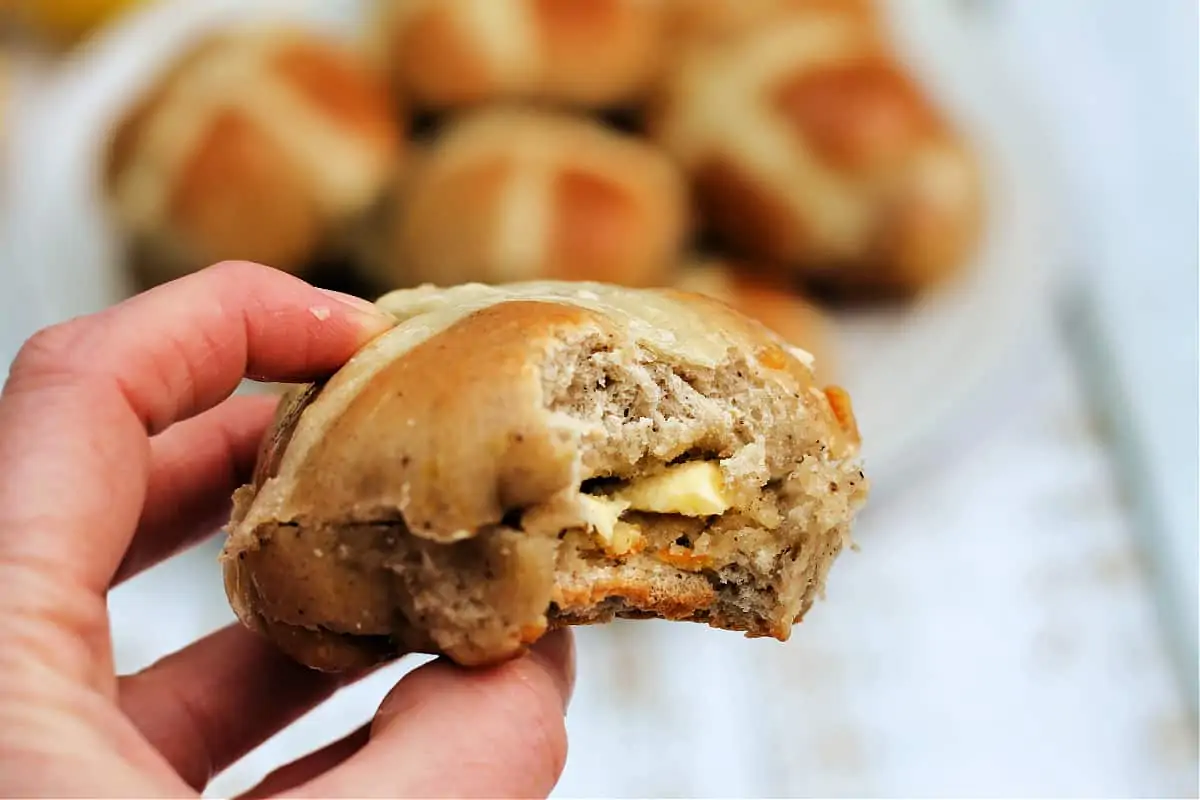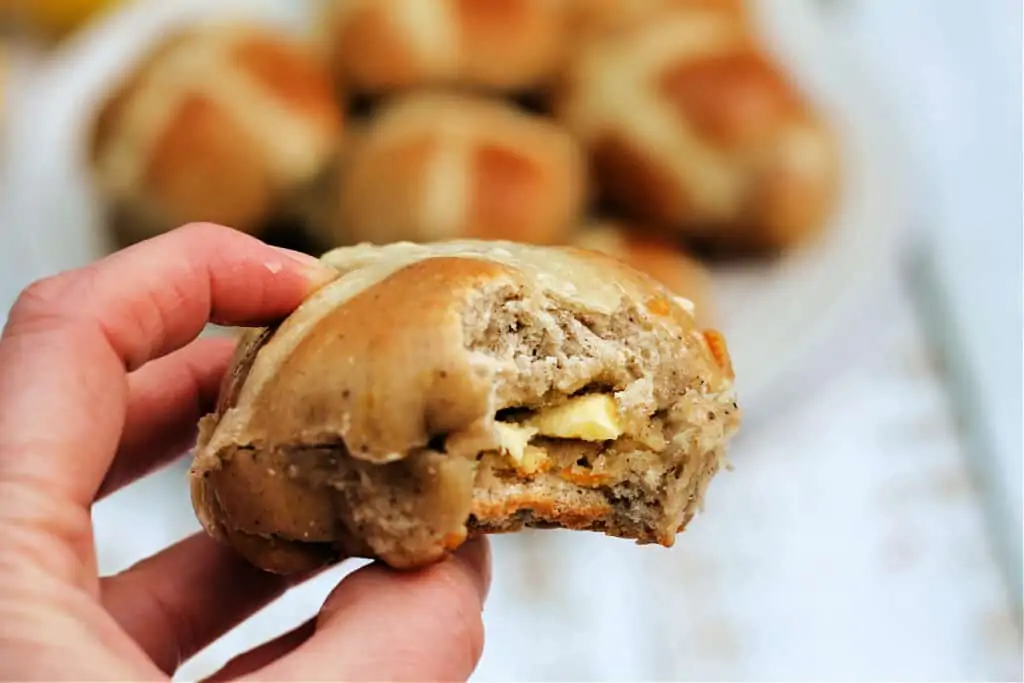 More Easter buns
In the mood to make more Easter treats? You might like these other hot cross bun and Easter bun variations:
Check out my other Easter recipes too.
Recipe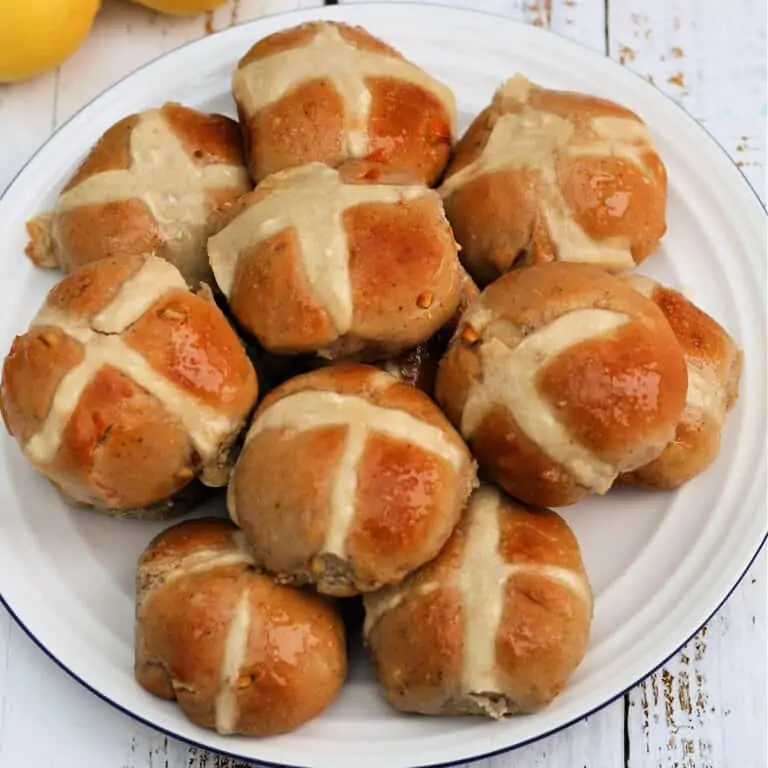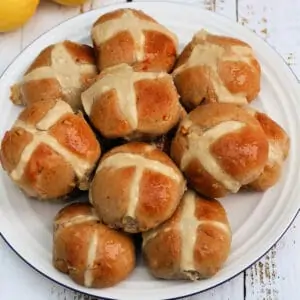 Lemon Hot Cross Buns
Delicious lemon hot cross buns made with lemon zest and lemon juice for plenty of zesty flavour and mixed peel for a citrus tang.
Print
Pin
Rate
Save
Saved!
Ingredients
500

g

strong white bread flour

80

g

caster sugar

1

tsp

ground cinnamon

0.5

tsp

ground ginger

0.5

tsp

ground allspice

lemon zest

the zest of 2 lemons

0.5

tsp

salt

7

g

easy-bake yeast

1 sachet/package

50

g

unsalted butter

1

medium egg

200

ml

milk

I normally use semi-skimmed

2

tbsp

lemon juice

the juice of 1 medium lemon

50

ml

water

75

g

mixed peel

candied lemon and orange peel
Instructions
In a large mixing bowl, mix the strong flour (500 g), caster sugar (80 g), cinnamon (1 tsp), ground ginger (½ tsp), ground allspice (½ tsp) and lemon zest (zest of 2 lemons), and stir.

500 g strong white bread flour,

80 g caster sugar,

1 tsp ground cinnamon,

0.5 tsp ground ginger,

0.5 tsp ground allspice,

lemon zest

Add the salt (½ tsp) and yeast (1 package/sachet/7 g) on opposite sides of the bowl.

0.5 tsp salt,

7 g easy-bake yeast

Melt the butter (50 g) and allow to cool.

Make a well in the centre of the flour and add the cooled melted butter. In a jug measure out 200 ml milk, then crack the egg into it and beat well.

200 ml milk,

1 medium egg

Pour the milk and egg mixture into the well in the centre of the flour too, then add the lemon juice (2 tbsp, approx. the juice of 1 medium lemon).

Stir the ingredients together with a spoon. Add as much of the water (50 ml) as needed to to form a soft dough (you may not need all of the water). Add the candied mixed peel now.

50 ml water,

75 g mixed peel

Transfer the dough to a lightly floured surface and knead for 10 minutes until smooth and elastic.

Lightly oil a bowl, put the dough in the bowl and cover with a clean tea towel. Leave the bowl in a warm place for the dough to rise for 1.5 hours or until doubled in size.

Knock back the dough, knead for a couple of minutes gently then leave to rise again for 1 hour or until doubled in size once more.

Turn out the dough and knead briefly. Split it into 12 pieces using a dough scraper or knife. Roll into balls and place the buns in a lightly oiled tin.

Leave to rise for 50 minutes or until doubled in size.

Preheat the oven to 190°C (fan oven).

Make the paste for the crosses by mixing the plain flour (50 g approx) with a little cold water to form a thick paste. Add more water if needed to adjust the thickness, or more flour.

50 g plain flour,

25 ml cold water

Transfer the paste to a piping bag and pipe crosses onto the buns.

Bake for 20-23 minutes until lightly golden.

Remove the tray from the oven and allow to cool.

Warm a little honey (or jam/golden syrup etc) and brush it over the hot cross buns using a pastry brush to add shine.

Serve warm or cold with butter and for added luxury, lemon curd.
Did you try and love this recipe?
Then please leave a review and rating in the comments at the bottom of the post. If you post your creation on Instagram, tag me @bakingqueen74 or use hashtag #bakingqueen74!