As I enjoy slow cooker baking so much, one recipe that I make over and over again is slow cooker fudge. It's so simple to make, turns out really well, and most of all tastes great!
Fudge is idea to make for gifts, whether it is teacher gifts at the end of the school year, or Christmas gifts for family and friends, and it is also great for bake sales. Making it in your crockpot just adds to the convenience!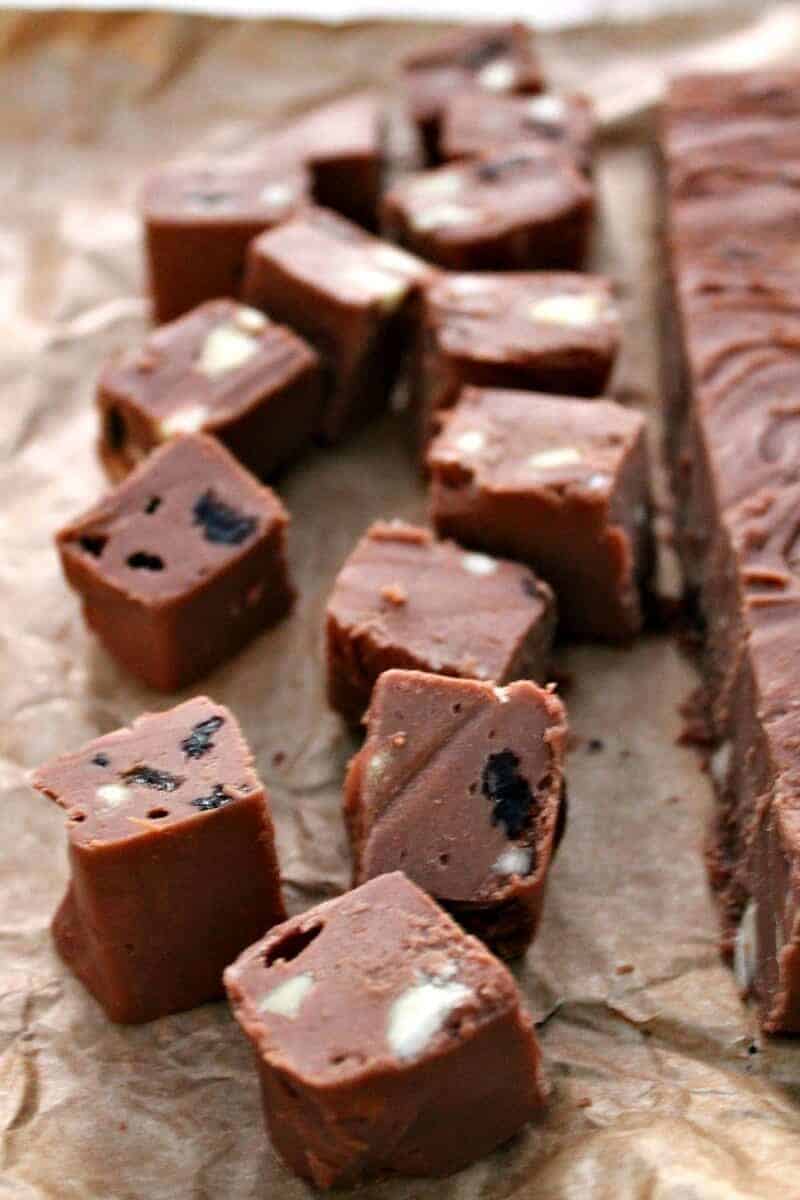 Jump to:
How do you make fudge in a slow cooker?
The basic recipe is to melt together 500 g of chocolate with a tin (397 g) of condensed milk in your slow cooker, on low, with no lid.
Stir every 15 minutes, and after around 1 hour it will be ready to pour into a lined container to set in the fridge.
You can add icing sugar (beat in well once the mixture is smooth) and flavourings before transferring it to another dish to set as well.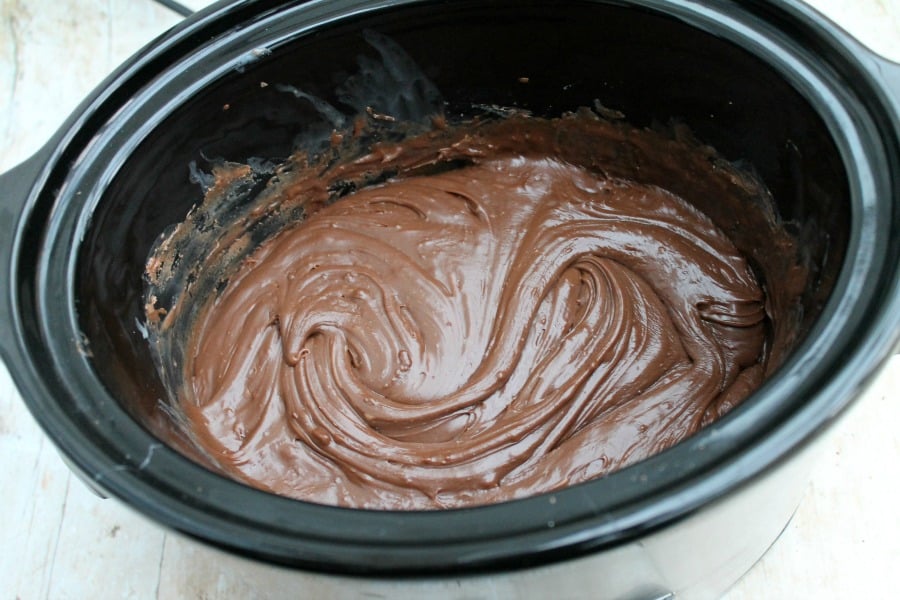 How do you set the fudge?
You can pour your fudge into a silicone baking pan or a baking tin lined with baking paper to set it in.
Chill the slow cooker fudge in the fridge for around 2-4 hours, until completely set, and then cut into chunks and eat or wrap for gifts!
Special tip for white chocolate fudge!
For white chocolate you need to use more chocolate, usually around 600 g to make sure it sets, with the same amount of condensed milk. You can combine milk and dark chocolate, or use milk, dark or white chocolate on its own.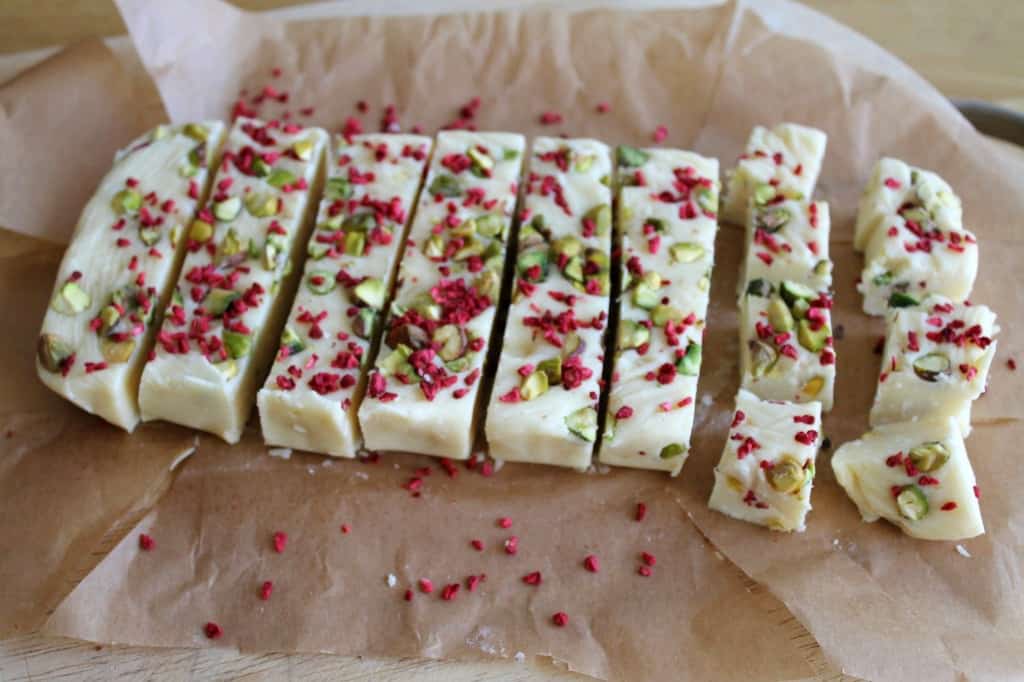 What varieties of fudge can I make in a slow cooker?
Since a slow cooker doesn't reach the high temperatures needed to make traditional fudge (the crumbly kind you get in sweet shops in seaside towns, made with just sugar, cream and butter), in your slow cooker you are making chocolate fudge.
Basic milk chocolate fudge is delicious. Get the recipe and method in the recipe card at the bottom of the post.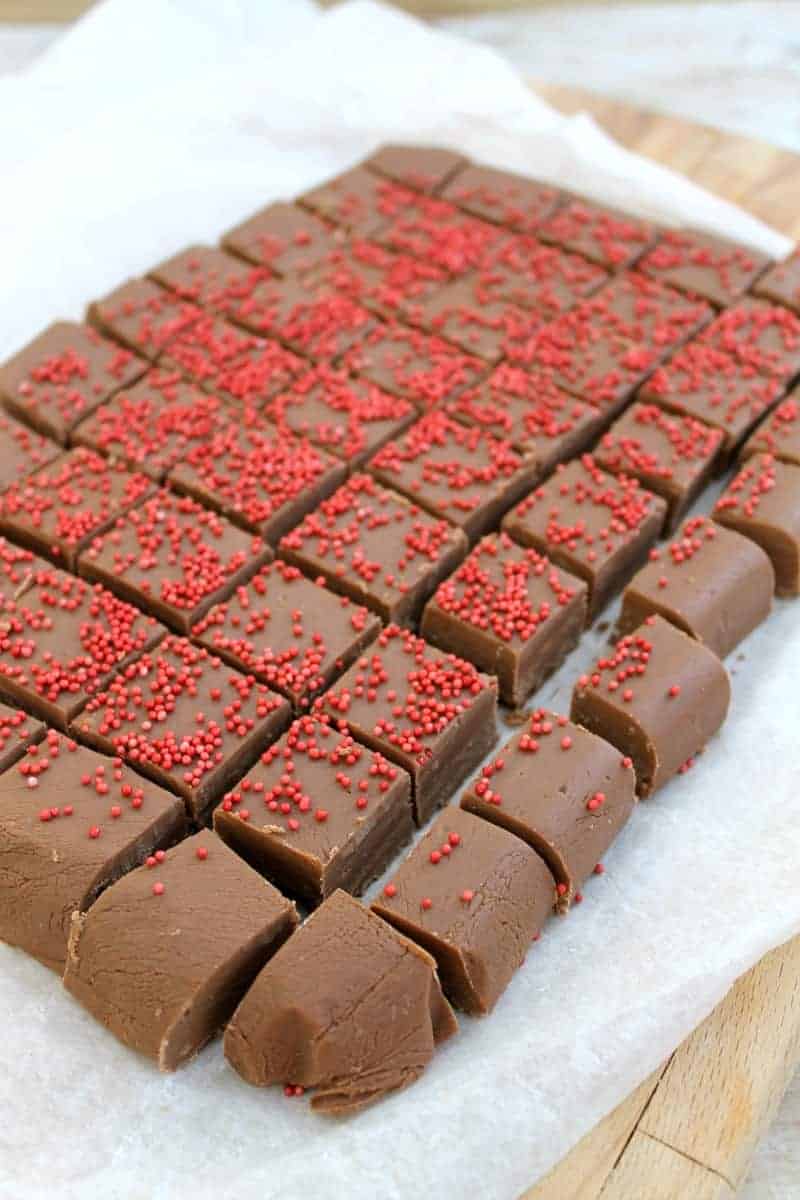 The only limitation to flavours and varieties is your imagination! You can add whatever fillings or additions you like, whether that is dried fruit and nuts, alcohol, flavourings, sweets/candy bars/chocolate bars, biscuits…
Slow cooker fudge-making is perfect for Easter as you can add your favourite chocolate eggs, whether that is Creme Eggs, Mini Eggs, Caramel Eggs, Golden Eggs, or even all of them together as in my slow cooker Easter egg fudge.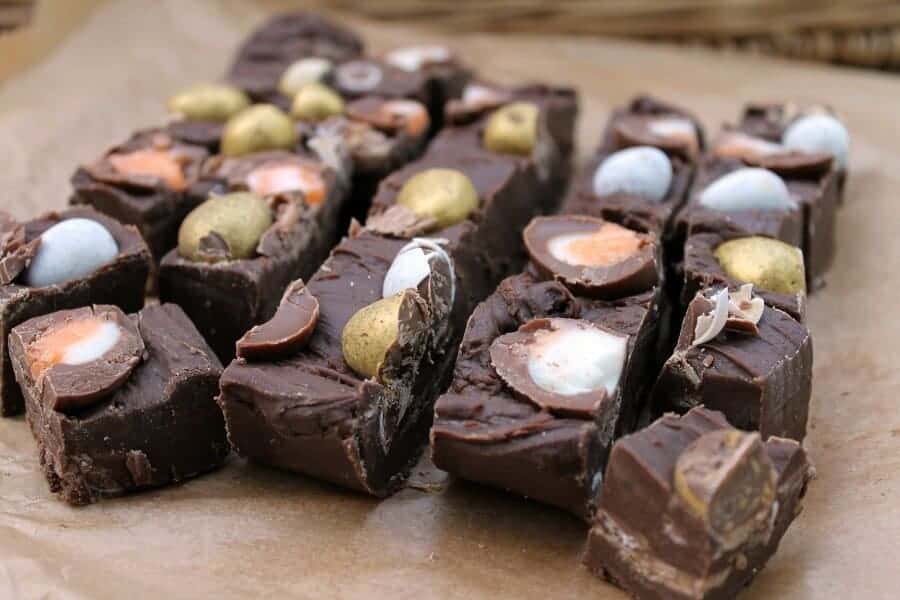 At Christmas get experimenting with your favourite tipple, whether that is amaretto, brandy, salted caramel liqueur, Baileys or something else! Salted caramel is my favourite, and this boozy salted caramel fudge is great for gifts.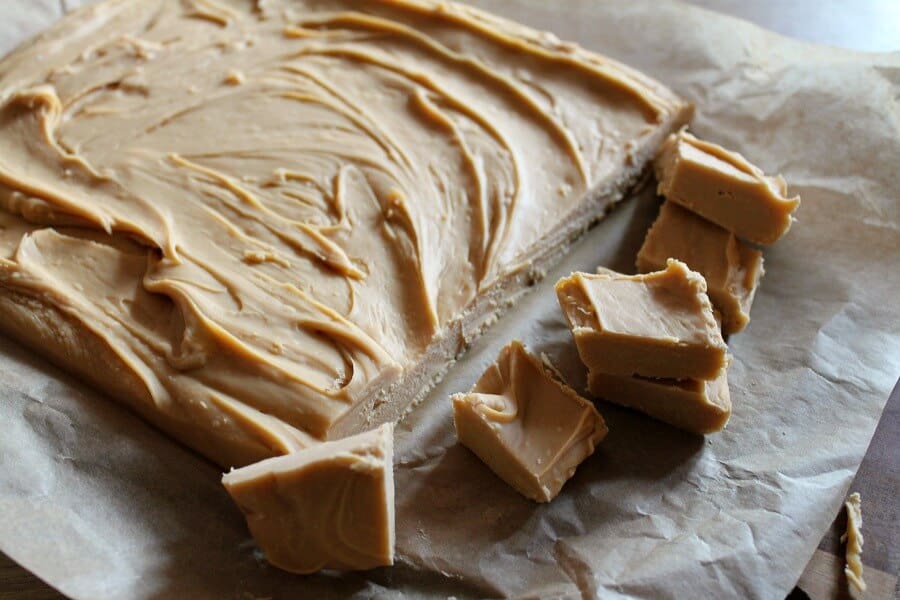 Or if you prefer amaretto at Christmas then amaretto raisin and almond fudge might be your preference!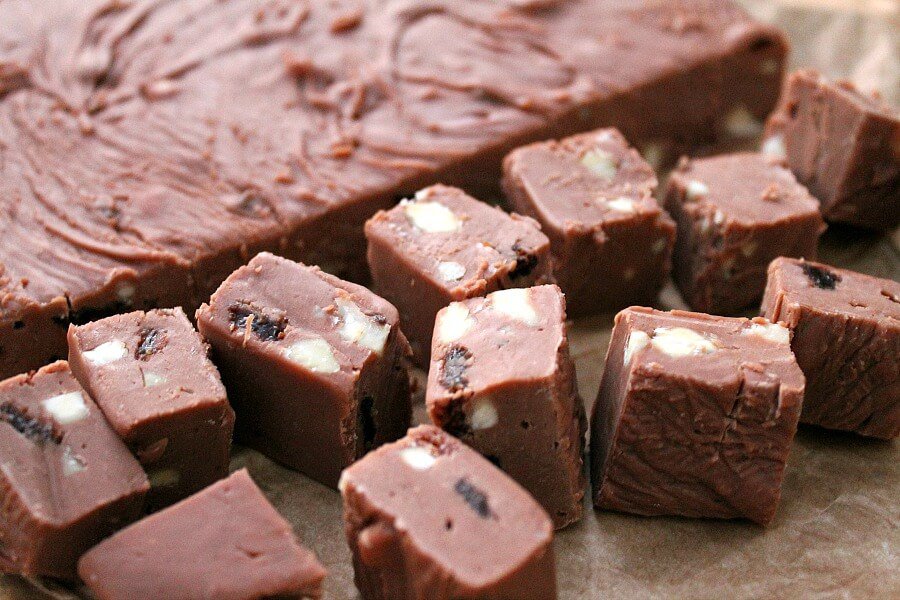 Another festive favourite of course is peppermint candy canes – crush them and add on top of your fudge to make candy cane fudge, a really Christmassy recipe that kids will love.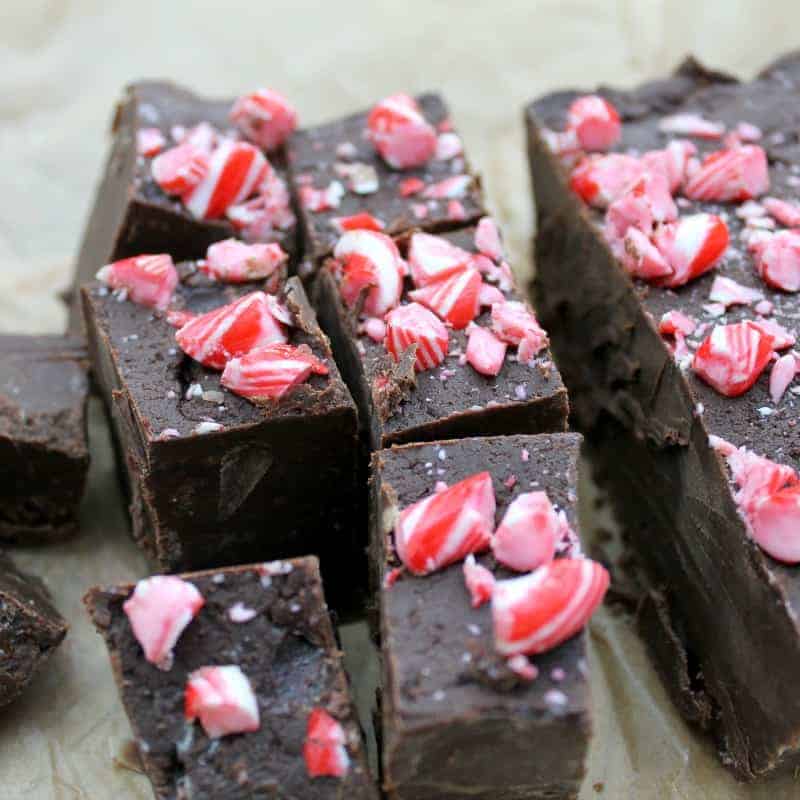 A combination with festive colours that looks really pretty is white chocolate fudge with pistachio and raspberry, using freeze-dried raspberry pieces.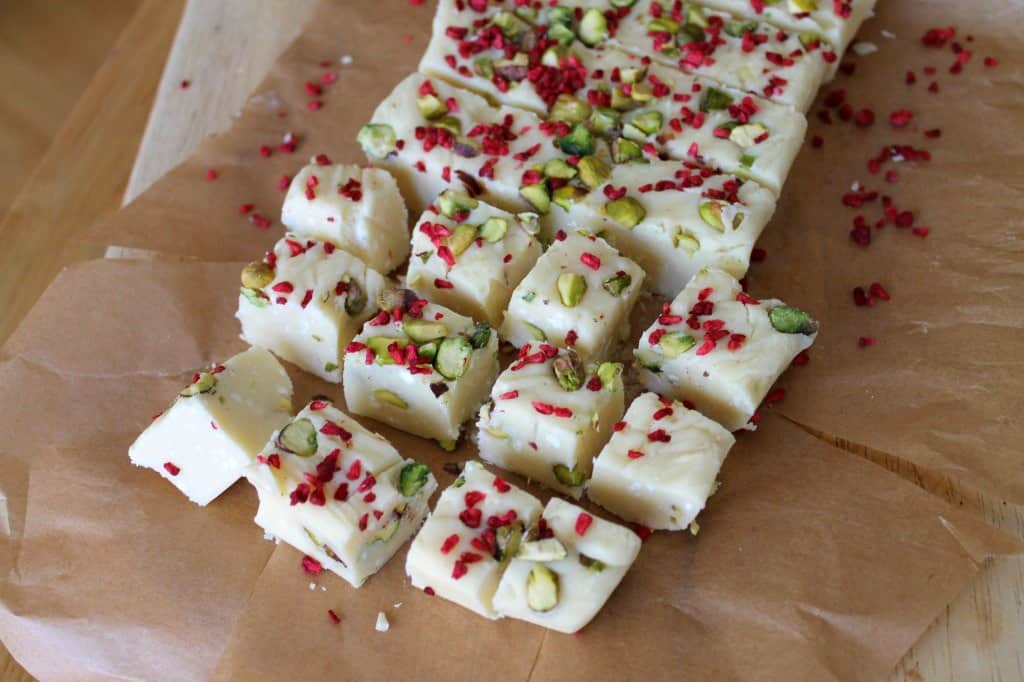 Or for cherry lovers, how about slow cooker black forest fudge, made with black forest icing sugar and glacé cherries.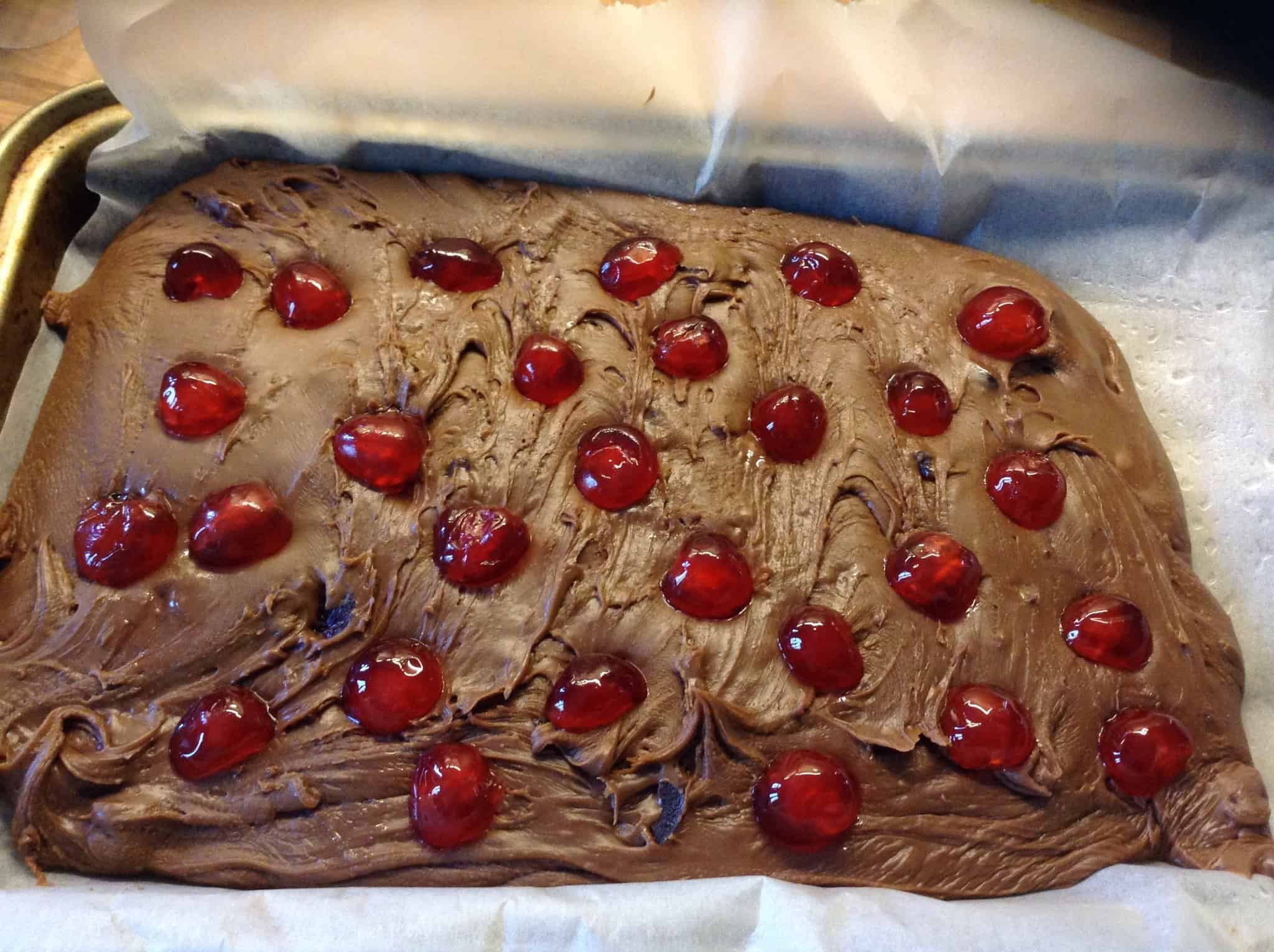 Why make fudge in a slow cooker?
If you have a slow cooker ready on your worktop then using it to melt your chocolate and condensed milk together is safer (especially if you have small children) and actually easier!
It takes a little more time but this means you can do something else while you are making it, you just need to remember to come back to it and stir every 15 minutes.
If you don't have a slow cooker then you can reach the same effect by melting the ingredients together in a pan on the stovetop/hob. Just make sure you stir constantly and don't leave it alone if you use a pan.
Similar recipes to try
Cookies and cream slow cooker fudge from Taming Twins
Slow cooker Nutella fudge from Greedy Gourmet
Chocolate orange slow cooker fudge from North East Family Fun
More ideas for slow cooker baking
If you have now caught the bug for slow cooker baking, your first stop should be my guide to baking in a slow cooker, with loads of recipes for cakes, giant cookies, brownies, giant scones, puddings, bread, oat bars and flapjacks, steamed puddings, crumbles and fruit pie!
Also make sure you look through my slow cooker archives for loads of main meal recipes to go with all those slow cooker desserts.
More Christmas baking recipes
If you would like more Christmas baking recipes, from steamed puddings to festive meringues and eclairs, make sure you check out my Christmas baking guide too.
Pin for later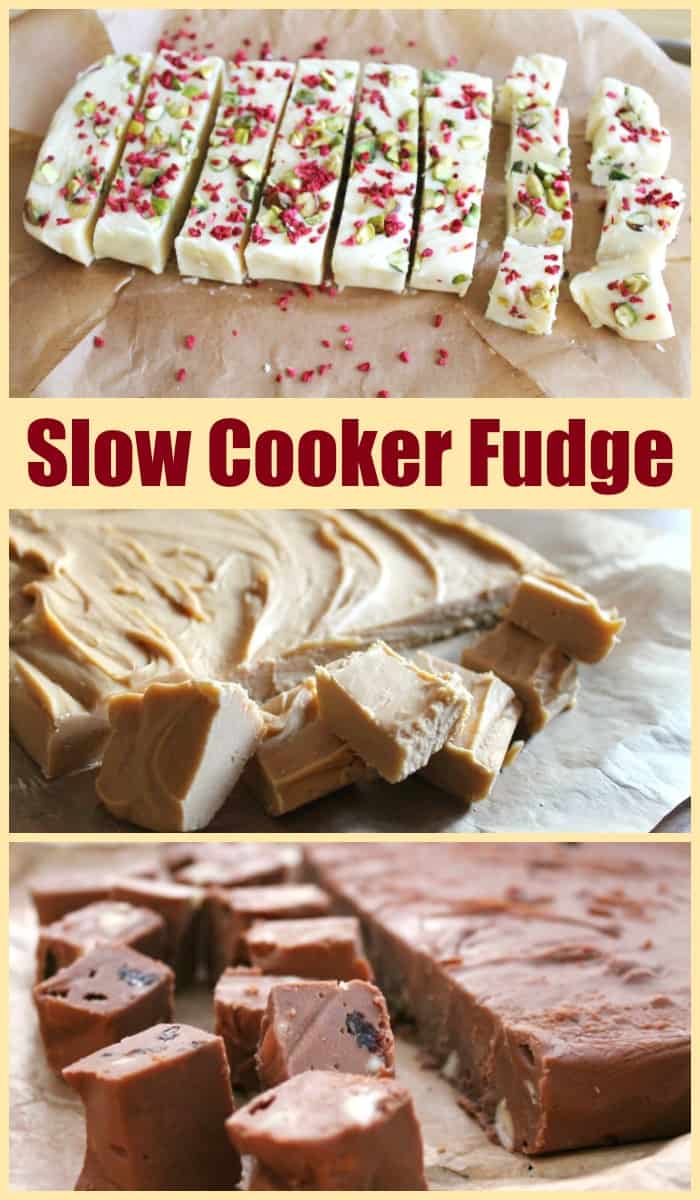 Recipe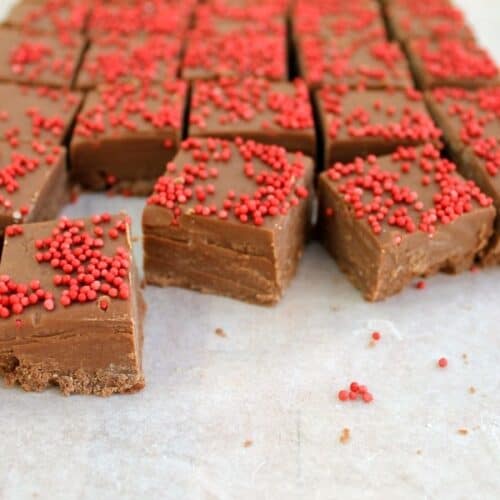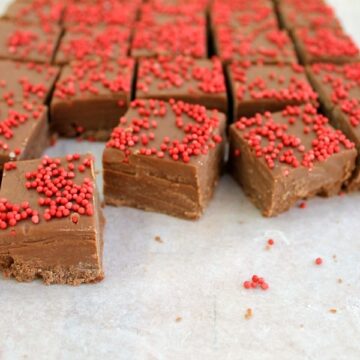 Slow Cooker Fudge
The basic milk chocolate slow cooker fudge recipe to use as a basis for your own additions - chocolate chips, candy bars, sweets, sprinkles, dried fruit and nuts or whatever you like!
Print
Pin
Rate
Save
Saved!
Instructions
Break up the chocolate and add it into the slow cooker pot with the condensed milk.

Leave the lid off and cook on low for 15 minutes. Then stir.

Repeat two to three times until the mixture is thick and smooth.

Remove the pot from the slow cooker using an oven glove.

Sift in the icing sugar and beat well until there are no lumps or specks of icing sugar remaining.

Pour into a lined dish, smooth the top with the back of a hot spoon and transfer to the fridge to set.

If you are adding sprinkles or other toppings, add these before you put the fudge in the fridge to set, so they will stick onto the fudge better.

Leave to set for around 4 hours or overnight, until solid.

Cut into squares and serve or put into presentation boxes for gifts.
Did you try and love this recipe?
Then please leave a review and rating in the comments at the bottom of the post. If you post your creation on Instagram, tag me @bakingqueen74 or use hashtag #bakingqueen74!