At the weekend, it is great to be able to do just a little preparation in the morning then go out, in the knowledge that you can come home to a Sunday roast all ready for you. Read on for my recipe for slow cooker beef brisket, perfect for a Sunday dinner!
One of the best things about using the slow cooker is that you can just leave it to work its magic while you go for a day out or get on with things at home.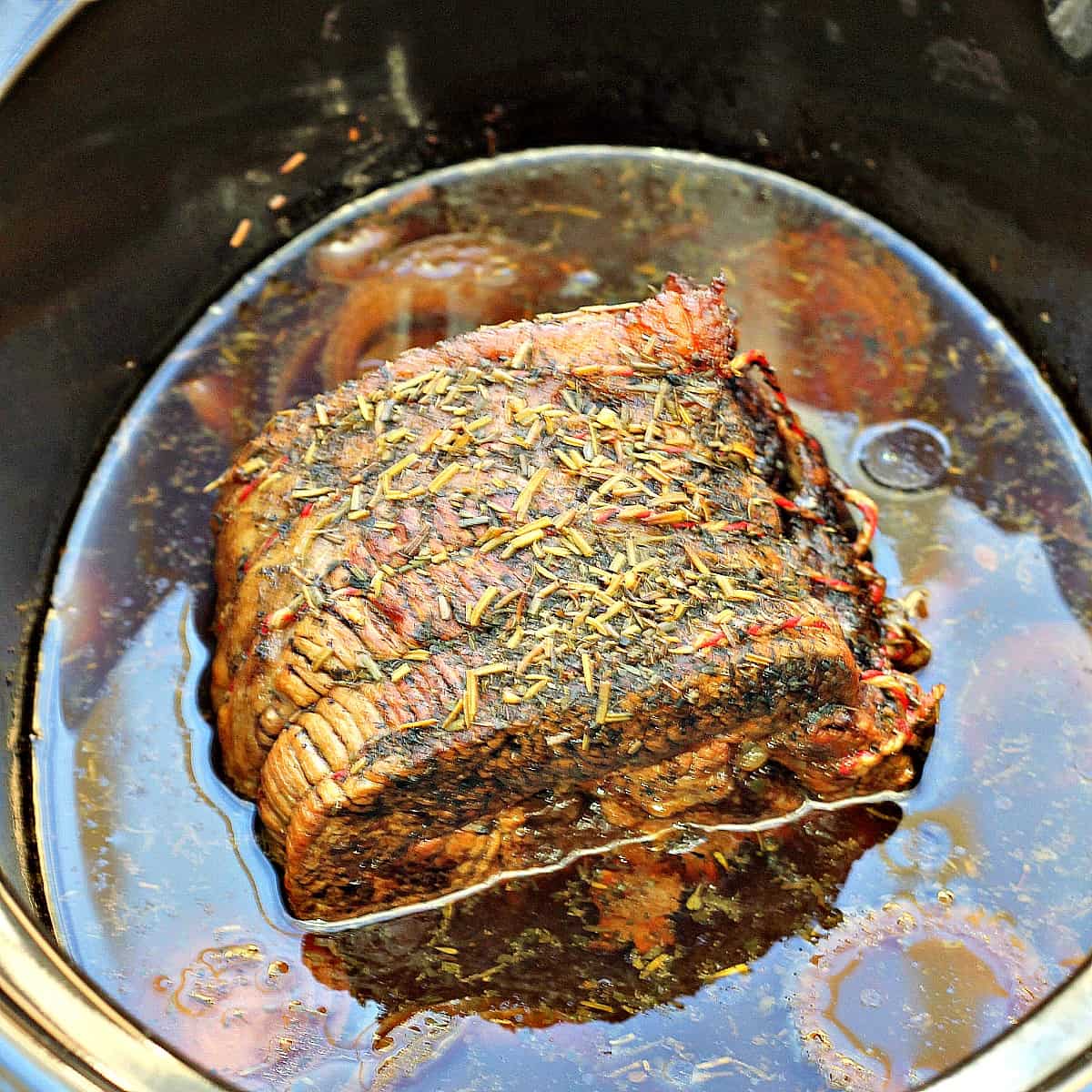 If you parboil your potatoes in the morning too, it won't take long to make roast potatoes and vegetables to accompany the slow cooker brisket. Wouldn't it be great to have a fun day out and come back to this?
Beef brisket is known as one of the less tender cuts of meat, this is why it works so well with a long slow cook, which allows the meat to tenderise. It is best not to cook it on high but to use low for as long as possible for really tender meat.
Jump to: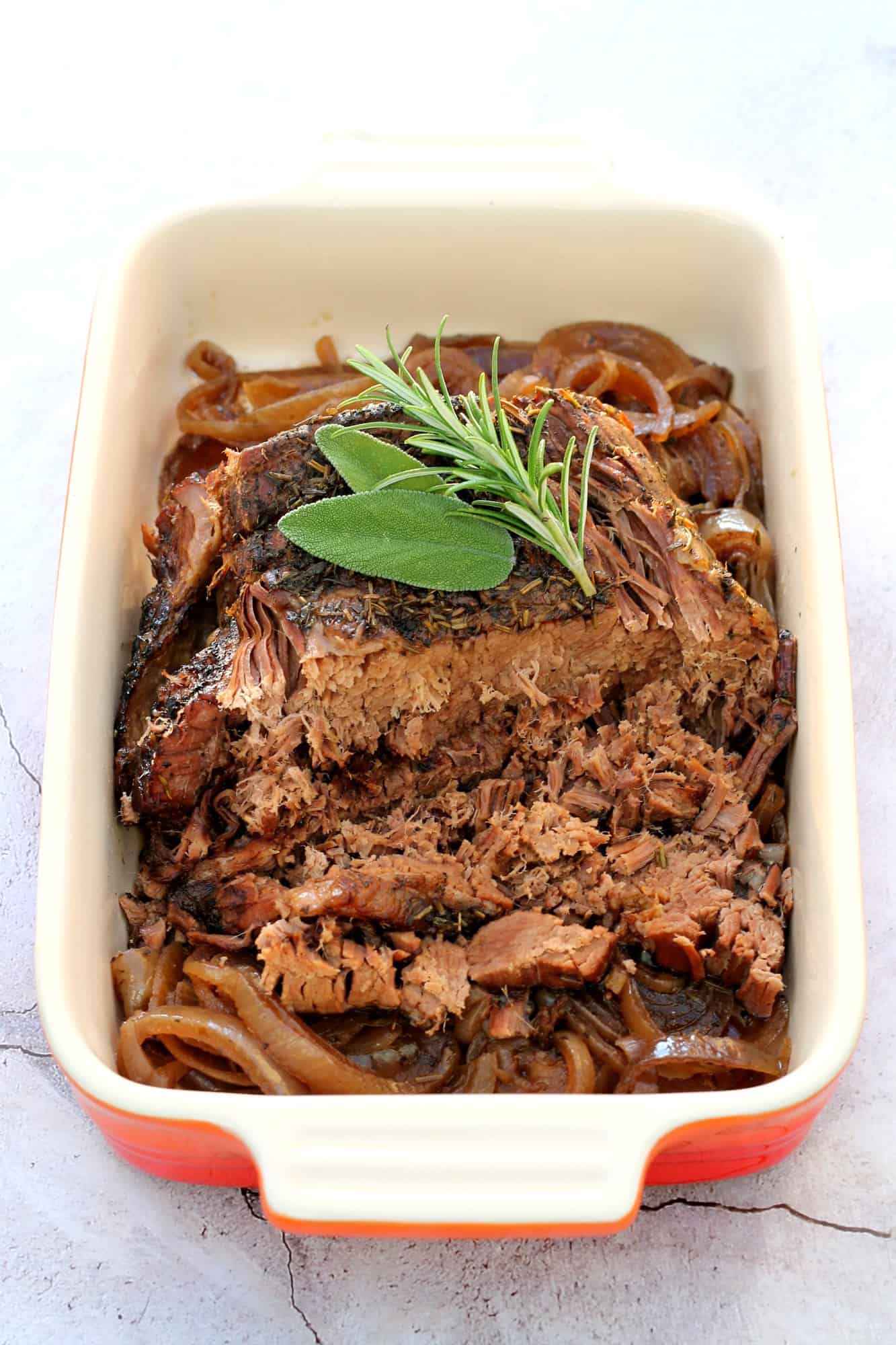 Step by step
Step 1. Brown the meat in a dry pan on a high heat.
Step 2. Place two sliced red onions in the base of the slow cooker. Put the beef on top of the onions.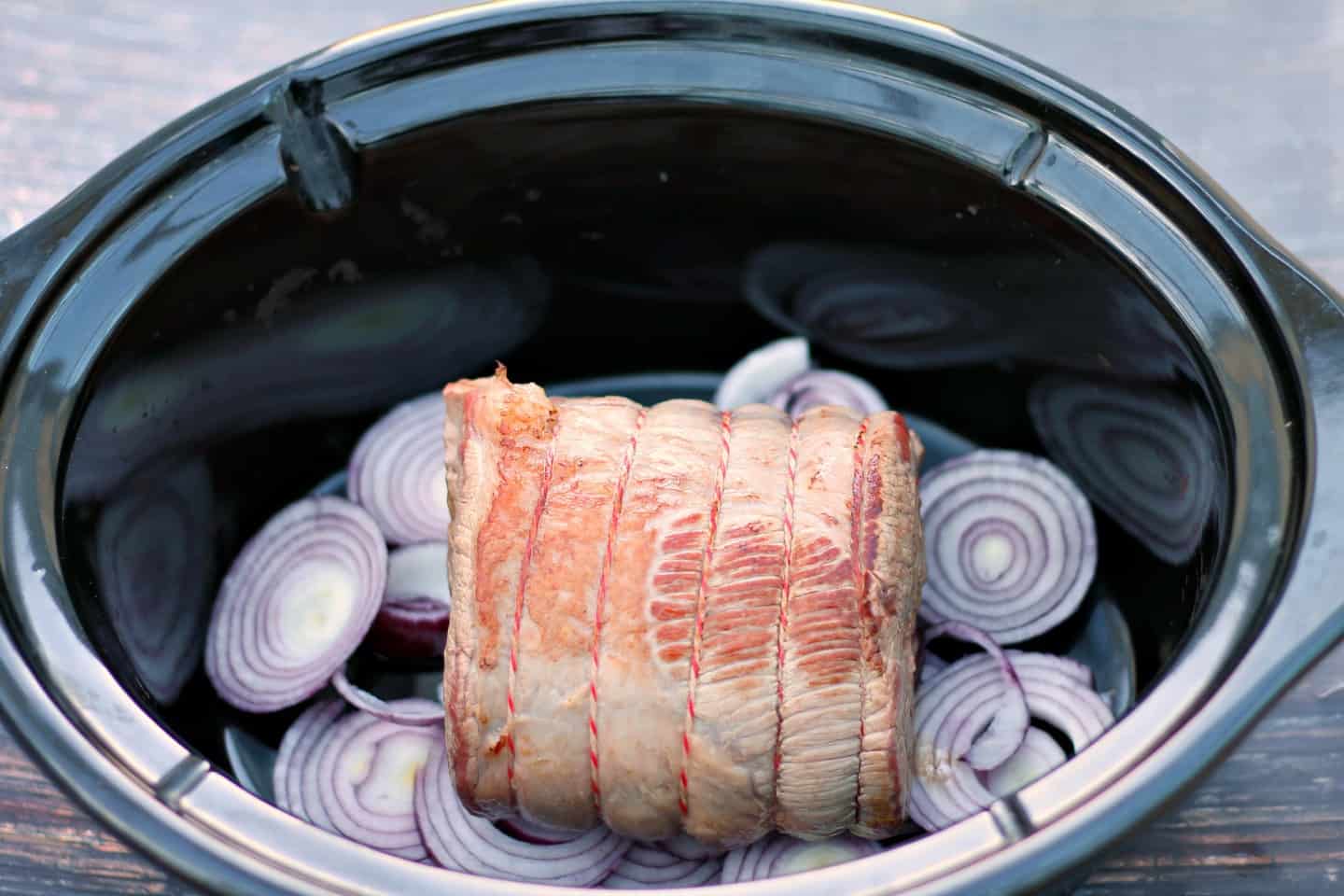 Step 3. Make 400 m (2 cups) beef stock (broth) using boiling water and pour over the beef. Add Worcestershire sauce, season with salt and pepper, add 2 tsp dried sage and 1 tsp dried rosemary.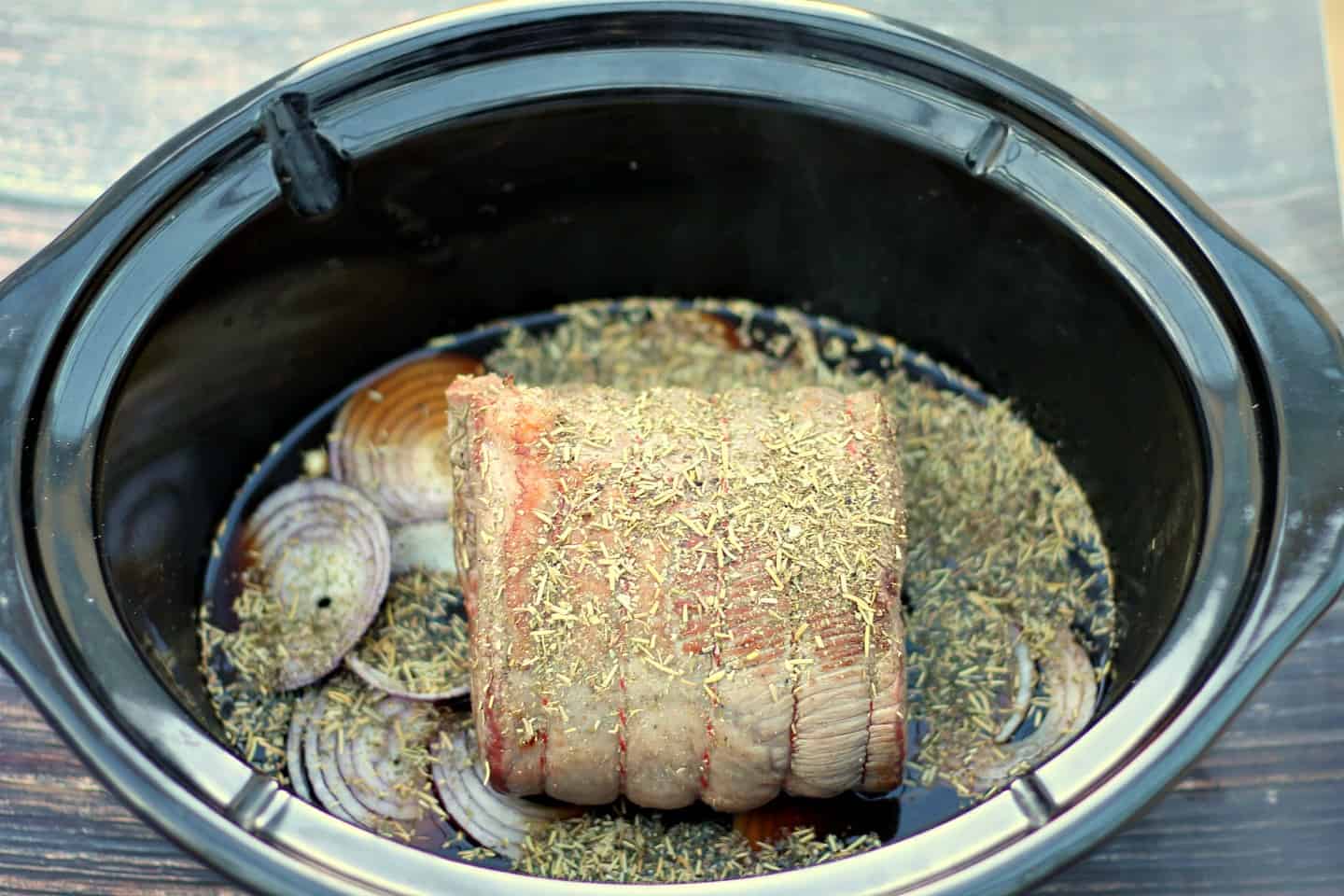 Step 4. Cook on low for 8-9 hours. To make gravy from the juices, thicken them in the slow cooker with a paste made from cornflour/cornstarch and a little cold water. Or make a roux in a saucepan using plain flour and butter, then transfer the juices into the pan and heat and stir until thickened.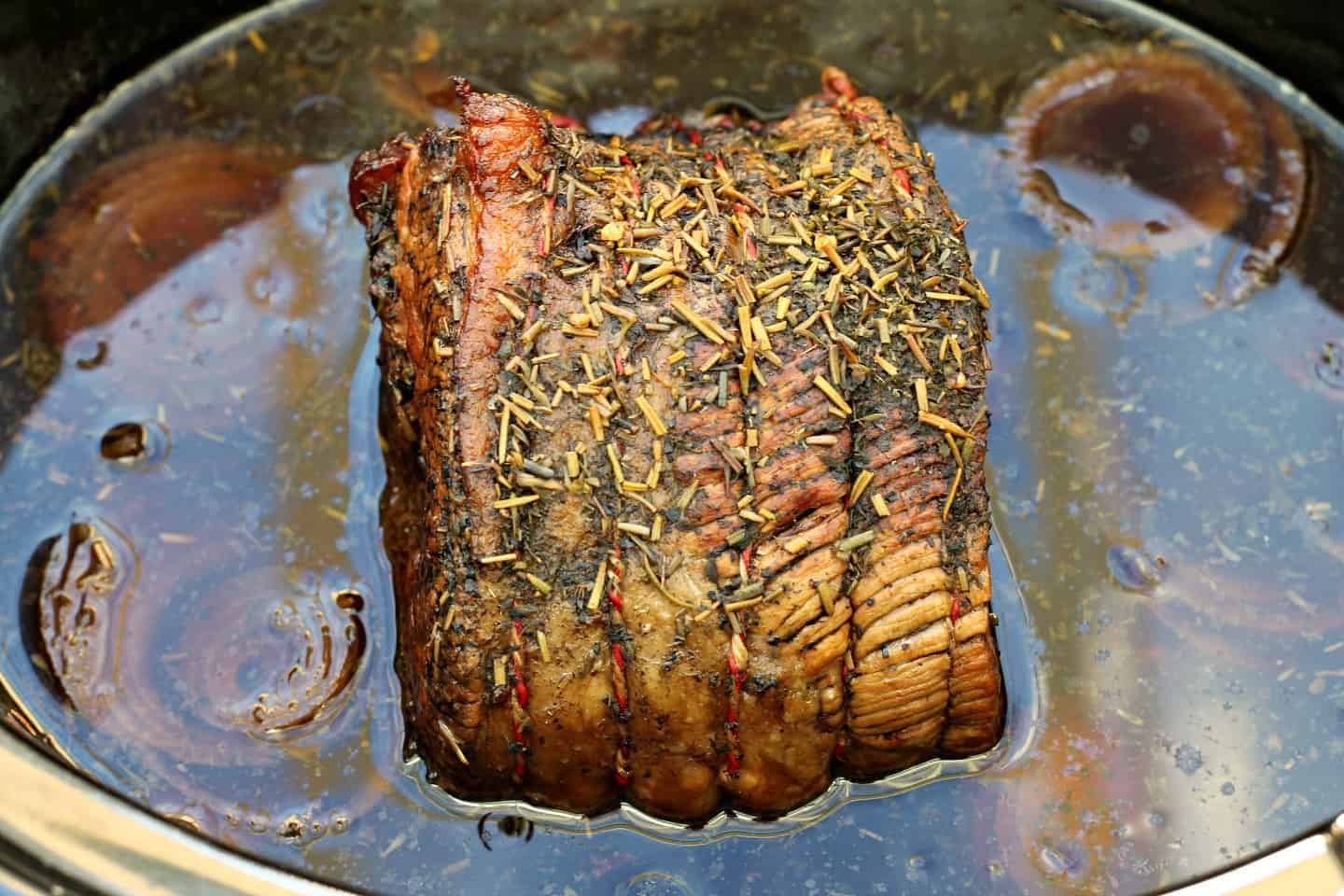 Do I need to add water?
With brisket which is a tougher joint with more connective tissue which needs long slow cooking to tenderise, a small amount of water (e.g 400 ml as in this recipe) is useful and helps your beef become very tender.
However with a roasting joint you can get away with using little or no water.
Can you dry cook?
Yes, it is possible to cook joints of meat (also cakes etc) in your slow cooker without adding water. Remember that meat tends to release juices as it cooks, and water does not evaporate from the slow cooker, so any moisture is retained.
Hot or cold water?
If your recipe calls for stock or water, as in the recipes, it is best to boil the kettle and use hot water when making up your stock cubes to use them in the slow cooker. In this way the water or stock is already hot and the joint will start to cook sooner.
Slow cooker Sunday roasts
This is my latest in a small series of posts with slow cooker recipes suitable for Sunday roasts. I love to make our roast dinner in the slow cooker as I put it on then just get on with my day.
Brisket recipes
More beef brisket recipe inspiration:
Recipe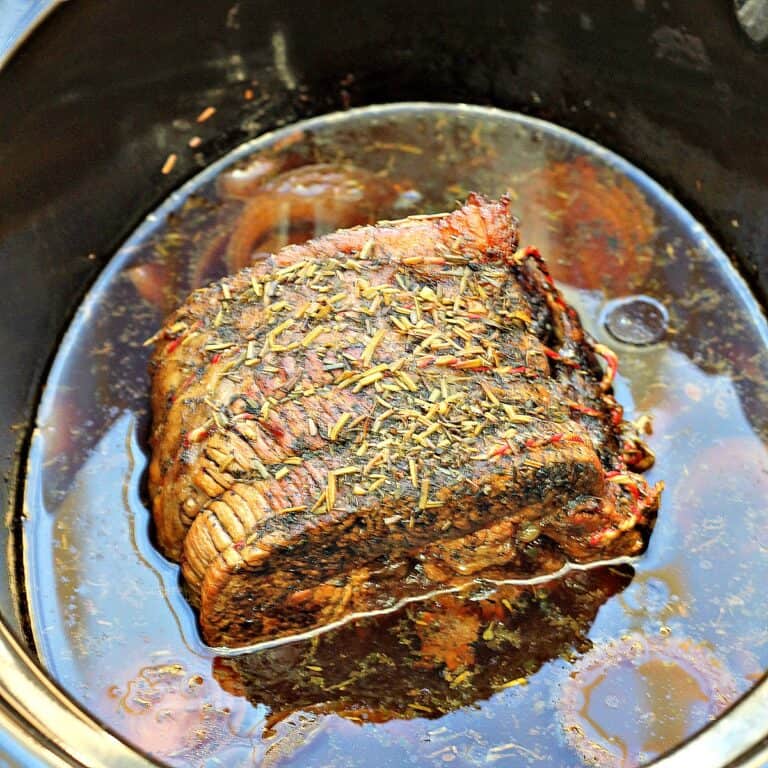 Slow Cooker Beef Brisket
Delicious beef brisket cooked in your slow cooker
Print
Rate
Ingredients
1

kg

approx beef brisket

2

red onions

sliced

1

rich beef stockpot

or stock cube

400

ml

boiling water from the kettle

2

tbsp

Worcestershire sauce

salt and pepper to season

2

tsp

dried sage

1

tsp

dried rosemary

cornflour

to thicken, if needed
Instructions
Brown the meat in a dry pan on a high heat, then place two sliced red onions in the base of the slow cooker. Put the beef on top of the onions.

Make 400 ml (2 cups) rich beef stock (broth) using a stockpot (or stock cube), pour into slow cooker.

Add the Worcestershire sauce, season the beef with salt and pepper, add 2 tsp dried sage and 1 tsp dried rosemary.

Cook on low for 8-9 hours. To make gravy with the juices, thicken with a paste of cornflour and a little cold water, or make a roux in a saucepan using plain flour and butter, and add the juices to that, then heat and stir constantly until thickened,