Have you cooked a joint of beef in your slow cooker yet? It is so easy to do, just add the meat and a little stock and cook all day. The meat simply falls apart when you shred it and goes perfectly with roast or mashed potatoes, vegetables and gravy. My slow cooker shredded beef was a hit with the whole family.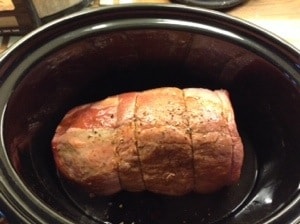 Here I have cooked a large beef roasting joint (1.1 kg) on low for nine hours with a rich beef stock pot plus about 100 ml of hot water, two or three tablespoons of Worcestershire sauce, and freshly ground pepper.
After 8 hrs on low I removed and shredded the beef, and put it back in with the gravy for the final hour.
It was delicious, with a good taste of Worcestershire sauce, and melted in the mouth. It went down well with both children who enjoyed it with lots of gravy. A really simple and easy slow cooker dinner. I will certainly be making slow cooker shredded beef over and over again.