Slow cooker chocolate flapjacks are tasty and more-ish, great for snacks too!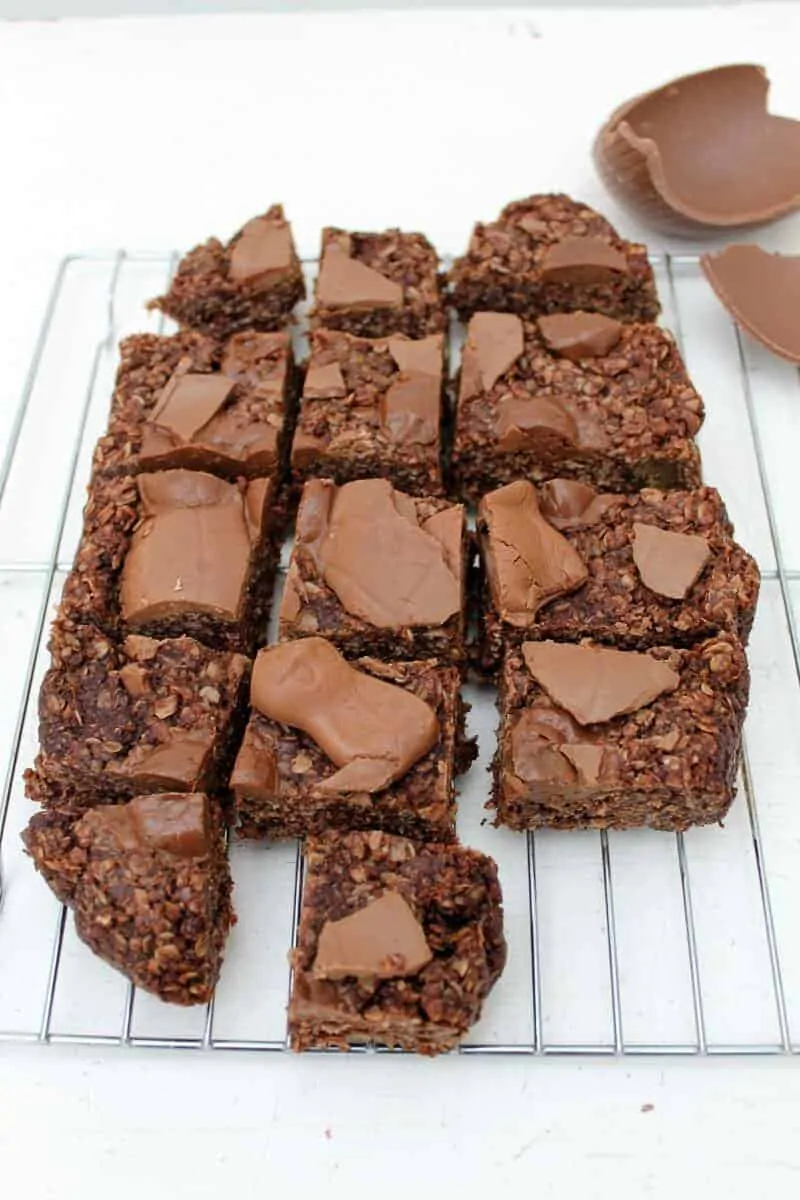 Its that time of year again when, if you have young children like me, your kitchen fills up with chocolate eggs that just don't seem to get eaten!
My children lose interest after the first couple of Easter eggs, so we end up with them in the cupboards sometimes for months!!
This year I've decided to do something about this and use some of them up in a snack that will get eaten.
These slow cooker chocolate flapjacks are the perfect way to use up your chocolate eggs or any other kind of chocolate really.
They are great for after-school snacks and lunchboxes whether for adults or kids!
Jump to:
What chocolate to use
You can see a chocolate rabbit has made his way in there – check out his expression too! He looks a bit shocked to find himself in this situation I think!
The rabbit was thrown in there along with some broken chocolate eggs and aero bubble balls. You can use whatever chocolate you like in there really.
Making flapjacks
The chocolate flapjacks themselves are made with cocoa powder, light brown sugar, butter and a little golden syrup to help it bind together.
You need to bake them and then let them stand for a couple of hours before slicing so they hold their shape. Then the mixture firms up as the butter/golden syrup coating hardens.
That's if the delicious chocolatey smell doesn't get to you before then so you have to try a corner warm!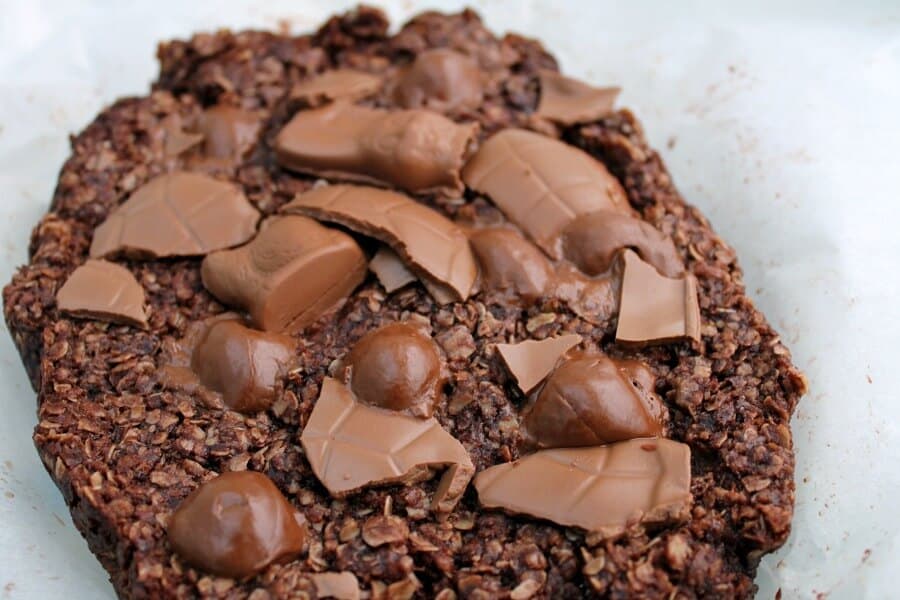 Why bake flapjacks in a slow cooker?
As usual I've made these in my slow cooker because I like slow cooker baking and the convenience of baking and not having to worry about it burning if I get waylaid or distracted by other jobs.
When it works as well as this why would you not use your slow cooker really!
It costs less too as running the slow cooker for a couple of hours only costs a few pence per hour, compared to 30 pence per hour to run an electric oven.
Plus if it is a warm day then it won't heat up your kitchen even more.
You could also make these in an oven instead if you prefer of course or if you don't have a slow cooker. And if you don't want to add all the extra chocolate on top the chocolate flapjacks taste great without as well.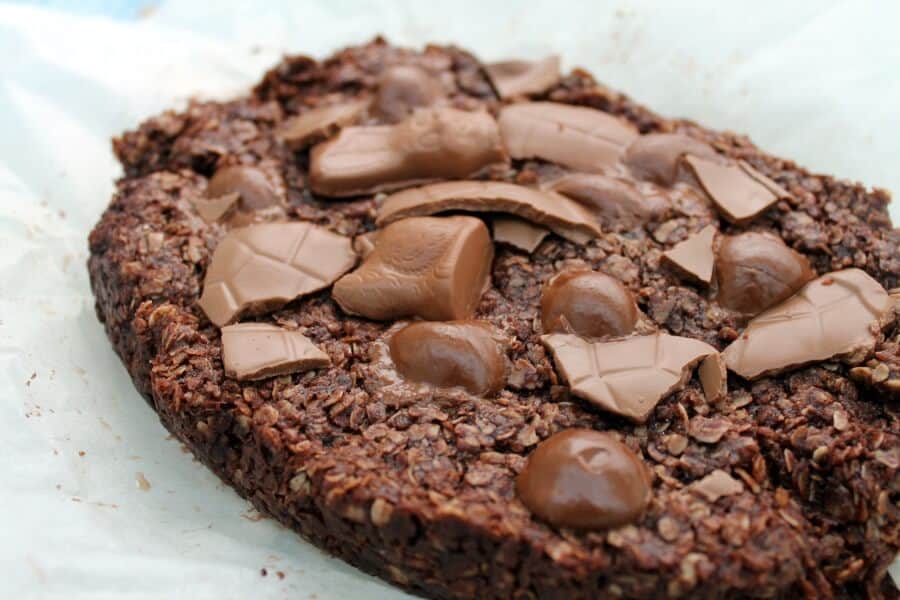 Slow cooker baking recipes
Did you know you can make this kind of thing in your slow cooker? Would you try slow cooker chocolate flapjacks?
I make all kinds of sweet and savoury bakes in mine, from brownies, blondies, chocolate shortbread, tea loaf, coconut and lime cake to giant cookies and delicious self-saucing puddings!
Check out baking in a slow cooker to get all those recipes and more.
Make sure you look through my Slow Cooker archives to find all of these. There are also plenty of main meal slow cooker recipes suitable for families there too.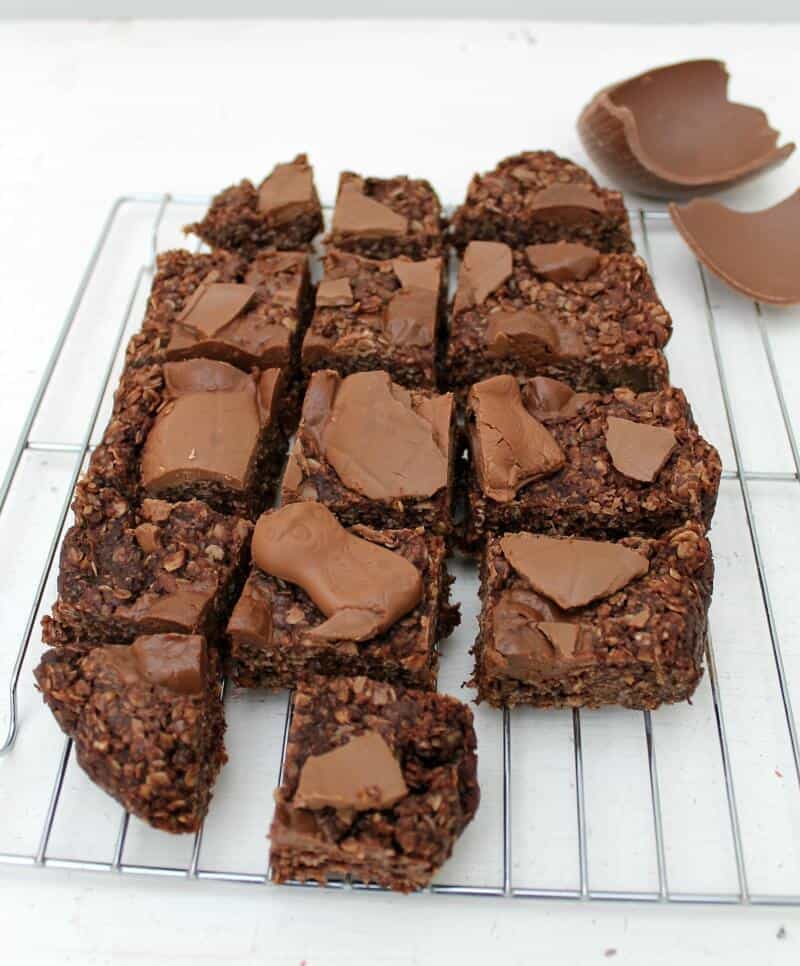 Tips for slow cooker baking
So if you are tempted to try baking in your slow cooker and love oaty bakes, then this could be the perfect recipe for you to try.
Slow cooker baking does require you to know your slow cooker and how it cooks – some slow cookers can be really hot and not really "slow" at all, while some can be extra slow!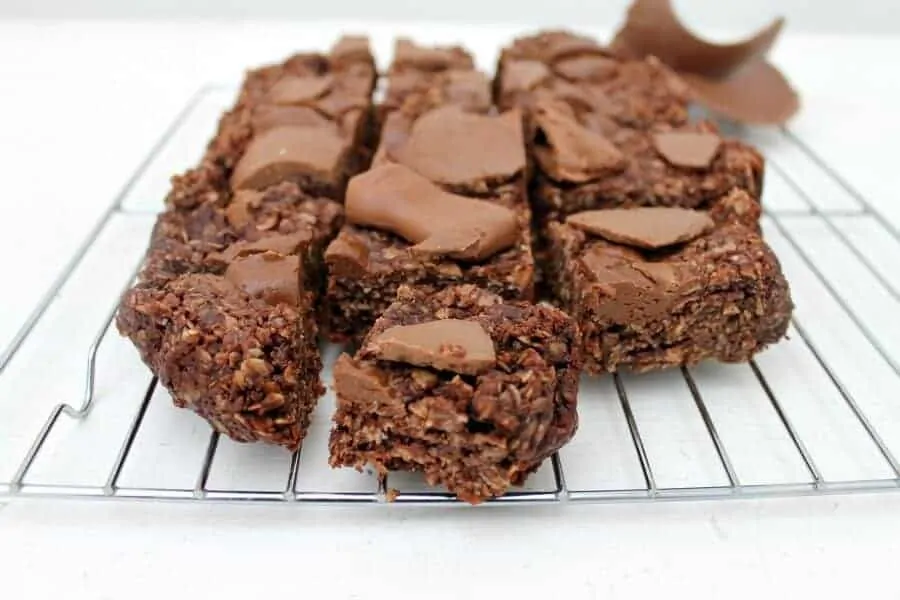 So make sure you've used your slow cooker before and know if it burnt the food before the time was up or took a couple of extra hours to cook through.
You'll need to know this to get the timings right.
There is such a difference in slow cookers that I give timings as a guideline only. You'll have to check your bake regularly so you know how it is getting on.
Take it out before it gets burnt!
In the case of these slow cooker chocolate flapjacks only the edges start to feel baked, the centre remains quite soft due to the butter mixture you coat the oats in, which will firm up as it cools.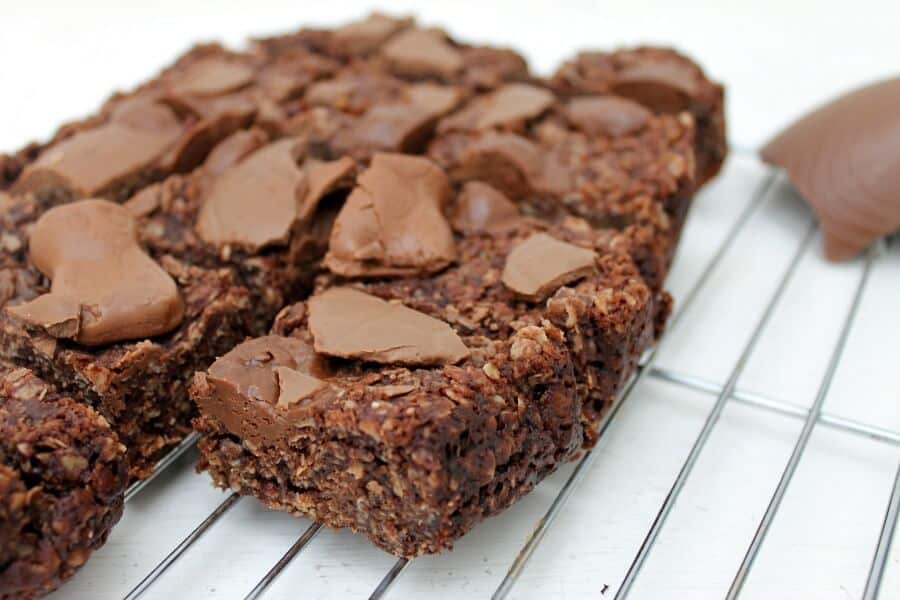 Pin these slow cooker chocolate flapjacks on Pinterest
Recipe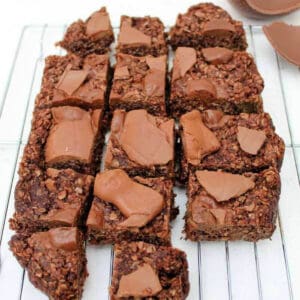 Slow Cooker Chocolate Flapjacks
A chocolatey bake perfect for using up leftover Easter eggs or chocolate bars, baked in your slow cooker so it saves energy
Print
Pin
Rate
Save
Saved!
Ingredients
250

g

oats

rolled

250

g

unsalted butter

200

g

light brown sugar

I used muscovado

2

tbsp

golden syrup

4

tsp

cocoa powder

chocolate

I used one large Easter egg shell, two small chocolate rabbits and a handful of Aero bubbles
Instructions
Melt together the butter, sugar and golden syrup in a pan over low heat.

250 g unsalted butter,

200 g light brown sugar,

2 tbsp golden syrup

In a large bowl, stir the cocoa powder into the oats.

250 g oats,

4 tsp cocoa powder

Once the butter, sugar and golden syrup is all melted together and smooth, pour it over the oats in the bowl and mix well until it is all combined.

Line your slow cooker pot with a couple of layers of baking paper (one to lift the flapjacks out with, one to protect from burning). I used an oval 3.5 litre slow cooker for this recipe.

Press the mixture into the pot, so it is an even depth and roughly smooth.

Place a tea towel or some kitchen rolls squares under the lid to catch drips and put on the lid.

Cook on high for two hours or until the edges have started to firm and the centre of the flapjacks bubble slightly.

After two hours, put your broken up chocolate on top of the flapjack mixture and cook on high for another half an hour, so the chocolate melts in slightly.

Remove from the pot using the baking paper edges to pull it out carefully, then place on a cooling rack and allow to cool and become firm for 2-3 hours.

Once cool and firm, slice into 12 pieces.
Notes
Slow cooker size:
I made this recipe in an oval 3.5 litre slow cooker.
If you have a larger slow cooker you may wish to double the recipe so it is not too thin.
If you have a round slow cooker then your mixture will be thicker too.
Did you try and love this recipe?
Then please leave a review and rating in the comments at the bottom of the post. If you post your creation on Instagram, tag me @bakingqueen74 or use hashtag #bakingqueen74!
Sending this recipe over to #WeShouldCocoa with Tin and Thyme