Slow cooker jerk pulled pork is my new favourite dish! So adaptable and full of flavour, also one of the easiest dishes to make in your crockpot.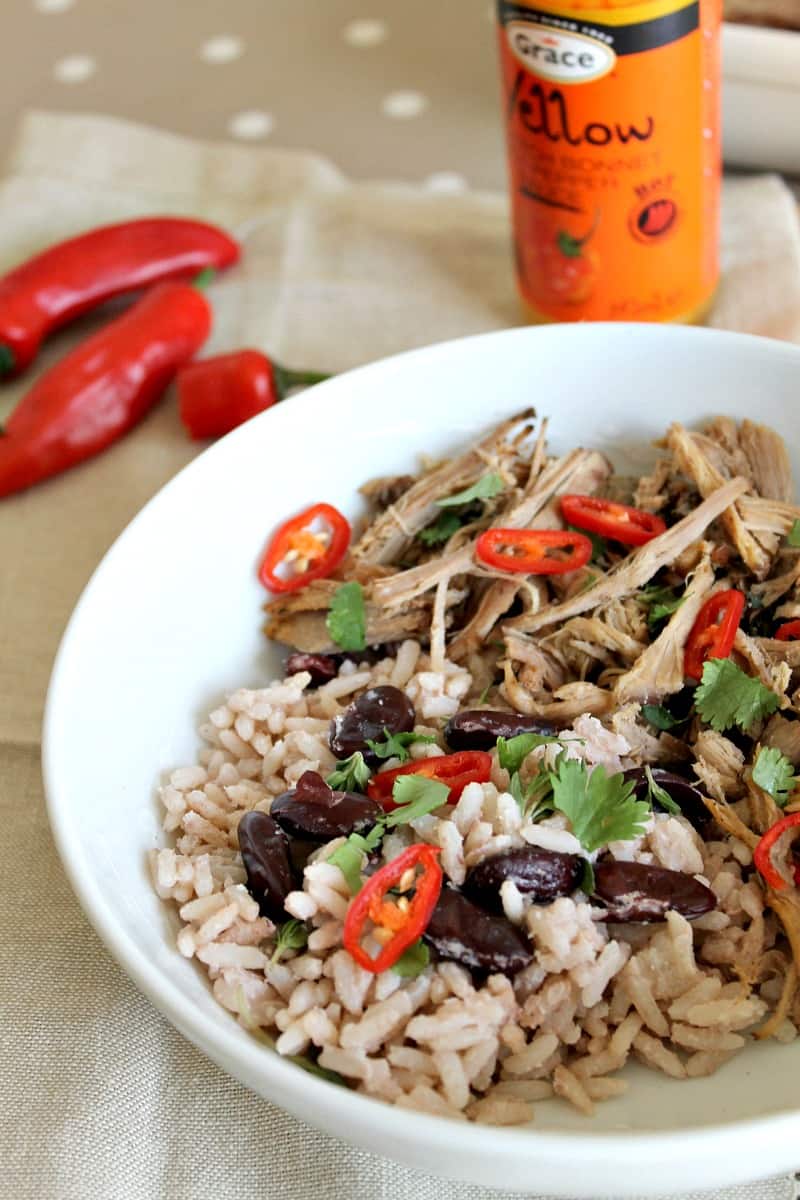 Pulled pork everything
Has the pulled pork craze reached you yet? It seems to be everywhere now, you can even buy it ready cooked in the shops, though that takes away all the fun, as well as costing a whole lot more than making it at home.
Pulled pork pizzas, burgers, sandwiches and more are all on offer. Why not go back to basics though and make your own jerk-spiced pulled pork in your slow cooker.
How to make slow cooker pulled pork
It's so simple!
Step 1. Make the herb and spice rub, and apply to the pork.
Step 2. Cook your pork all day in the slow cooker with a little water, and 8-9 hours later simply use two forks to "pull" and shred it in seconds.
Step 3. Garnish with fresh thyme, coriander and chilli and serve with West Indian rice and peas for an authentic side.
Jerk pulled pork
I've spiced my jerk pulled pork up with a rub of jerk spices plus sliced chillis, fresh thyme and fresh coriander to serve. Here I've served it with hot scotch bonnet sauce and West Indian rice and peas made using a family recipe.
Pulled pork is also great stuffed in soft bread rolls, especially brioche rolls, served with salads. Great if you can't be bothered to barbecue!
I can't believe this is the first slow cooker pulled pork recipe on my blog! Pulled pork is a real favourite of ours, either served with a barbecue sauce, or just plain with apple sauce, or jazzed up with extra flavours as I have done here.
The smell of the pork cooking in the slow cooker all day is amazing, and it does makes you feel very hungry the whole time.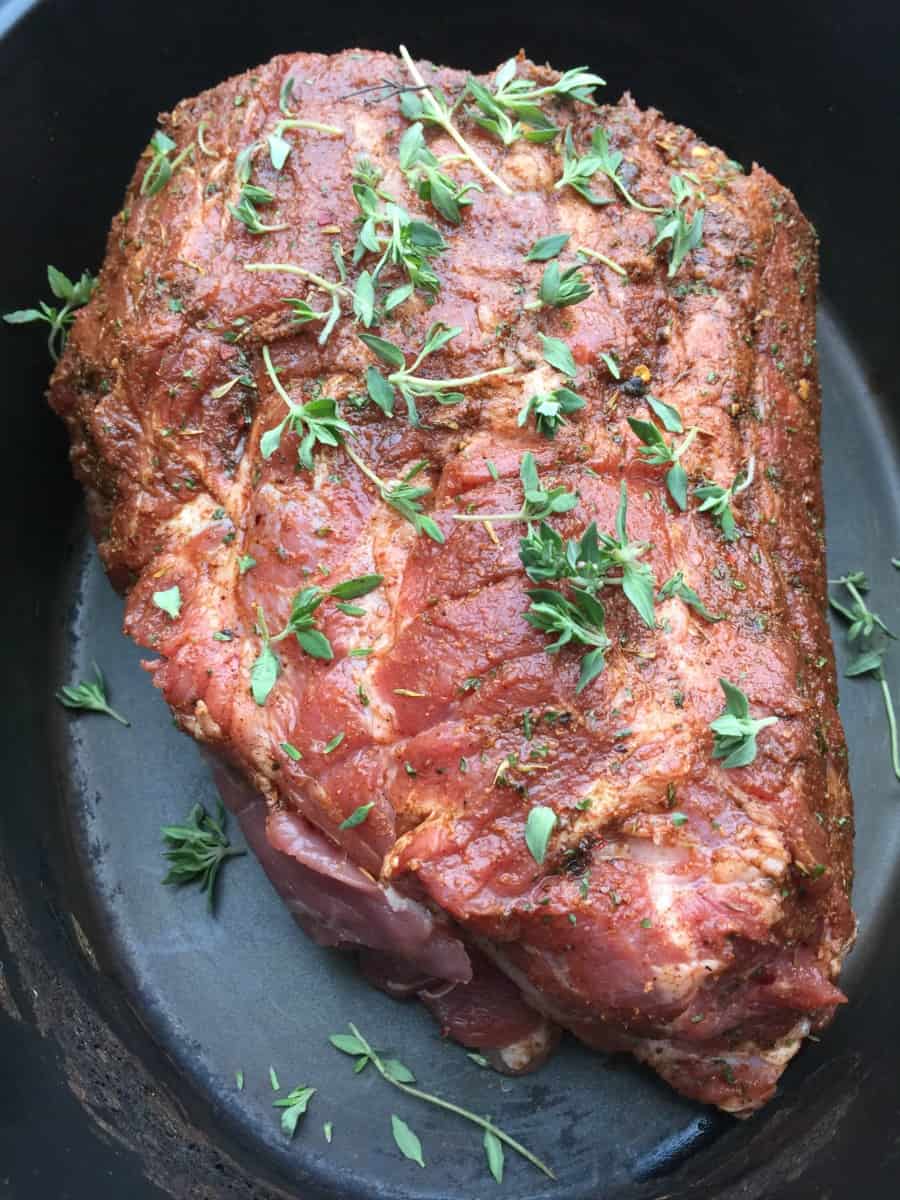 Once cooked, shred the pork with two forks, garnish with fresh thyme, coriander and chilli and serve with West Indian rice and peas!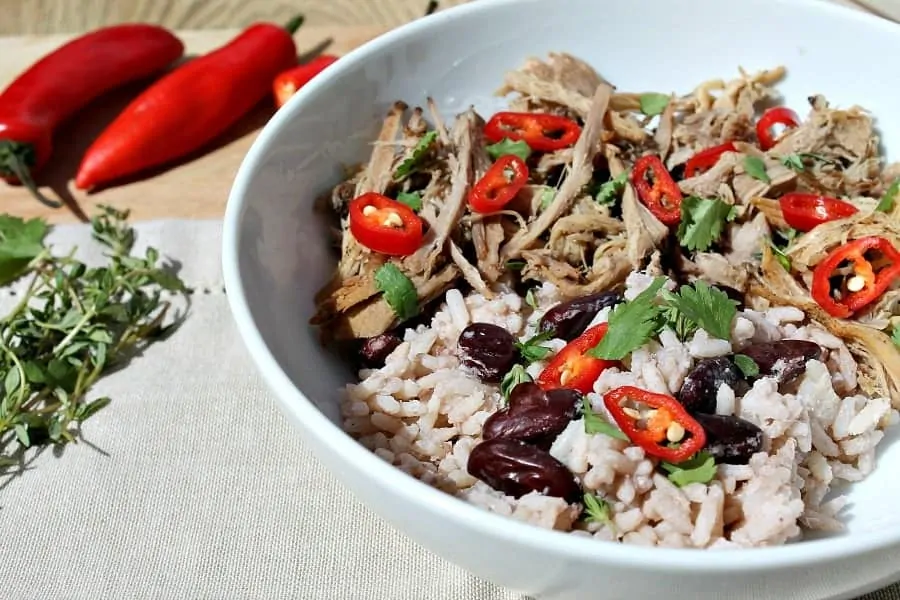 More pulled pork recipes to try
For more pulled pork ideas, you may like:
Also do check out 14 slow cooker recipes not to be missed and my all my other slow cooker recipes.
Pin my Slow Cooker Jerk Pulled Pork for later:

Recipe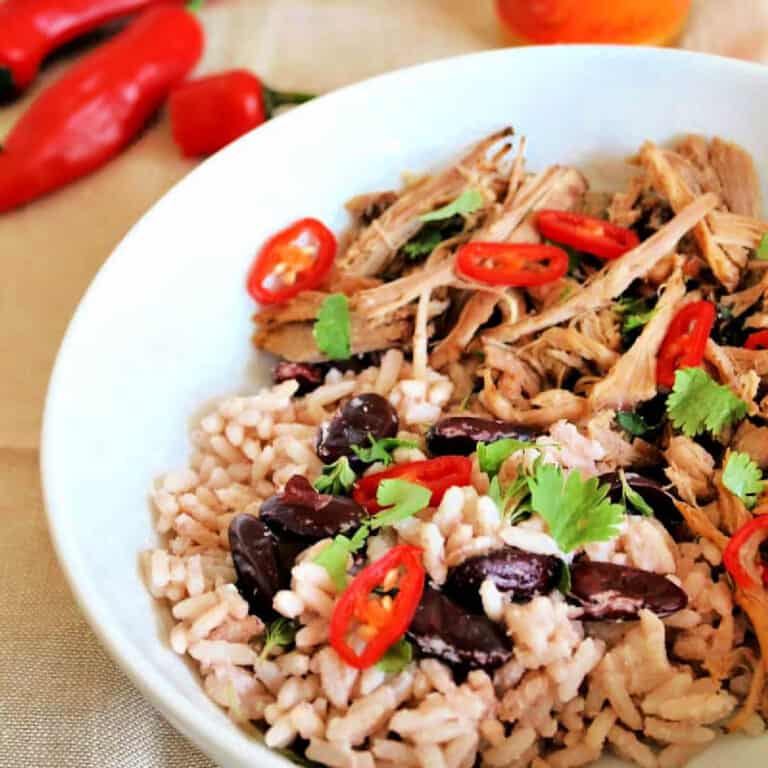 Ingredients
2

kg

approx boneless pork shoulder

0.5

tsp

coarse salt

0.5

tsp

freshly ground black pepper

1

tbsp

Jerk seasoning

2

tsp

Caribbean everyday seasoning

2

tsp

Worcestershire sauce

Fresh thyme

to serve

Fresh coriander

to serve

Sliced red chillis (or scotch bonnets)

to serve
Instructions
Remove the string and fat from the meat.

2 kg approx boneless pork shoulder

Make a paste using the salt, pepper, Jerk seasoning, Caribbean everyday seasoning and Worcestershire sauce. Rub it into the meat. If you have extra time you can leave the meat to marinate in the spice rub. I find with the slow cooking time the flavours are good anyway.

0.5 tsp coarse salt,

0.5 tsp freshly ground black pepper,

1 tbsp Jerk seasoning,

2 tsp Caribbean everyday seasoning,

2 tsp Worcestershire sauce

Place the meat in the slow cooker and add some thyme leaves on top.

Pour 250 ml boiling water from the kettle under the meat.

Carefully remove the meat from the liquid and shred with two forks. It will just fall apart without any effort.

Garnish with sliced chilli, fresh thyme and coriander and serve with rice and peas and hot sauce.

Sliced red chillis (or scotch bonnets),

Fresh coriander
Did you try and love this recipe?
Then please leave a review and rating in the comments at the bottom of the post. If you post your creation on Instagram, tag me @bakingqueen74 or use hashtag #bakingqueen74!