A frugal but delicious meal to warm you up in winter. This slow cooker lentil bolognese was a hit with my kids and is now on my regular meal rota.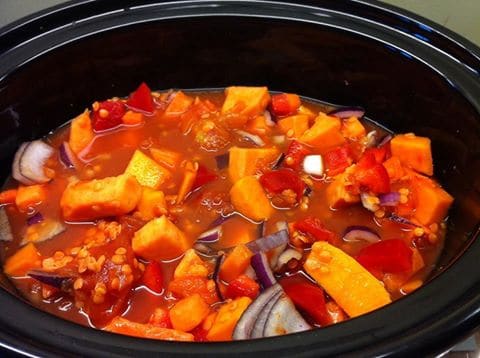 Recipe:
1 red onion, chopped
1 sweet potato, chopped
1 portion butternut squash, chopped (about 100g)
2 small carrots, diced
1 red pepper, sliced
1 tin chopped tomatoes
2 tbsp tomato purée
500 ml stock made with 1 veg stock cube
Approx 150 g red lentils
1 tsp Italian herbs
1 tsp dried basil (or use fresh and add it near the end)
Method:
Put all the ingredients in the slow cooker and cook for 2 hours on high then 2 on low.
Check the lentils haven't absorbed too much water during cooking.
Thicken by turning to high and leaving lid off if needed for last hour, or use corn flour made up as per instructions on pack if required.
Serve with pasta or rice, with some cheese grated on the top, and a green vegetable such as broccoli.
Freeze any extra in portions.
I'm linking up to Credit Crunch Munch from Fuss Free Flavours and Fab Food 4 All, hosted this month by Elizabeth from Elizabeth's Kitchen Diary. Using lentils to replace meat brings the cost of this bolognese right down, and using a slow cooker is cheaper than using an oven.