If you love fresh mango and red chillis and want a tasty spiced main dish I have just the thing. My slow cooker mango chilli chicken recipe is easy to make, full of flavour and wonderful served with rice and naan breads to dip in this delicious sauce!
When you can make this from scratch in no time at all, you'll have dinner on the go before you know it.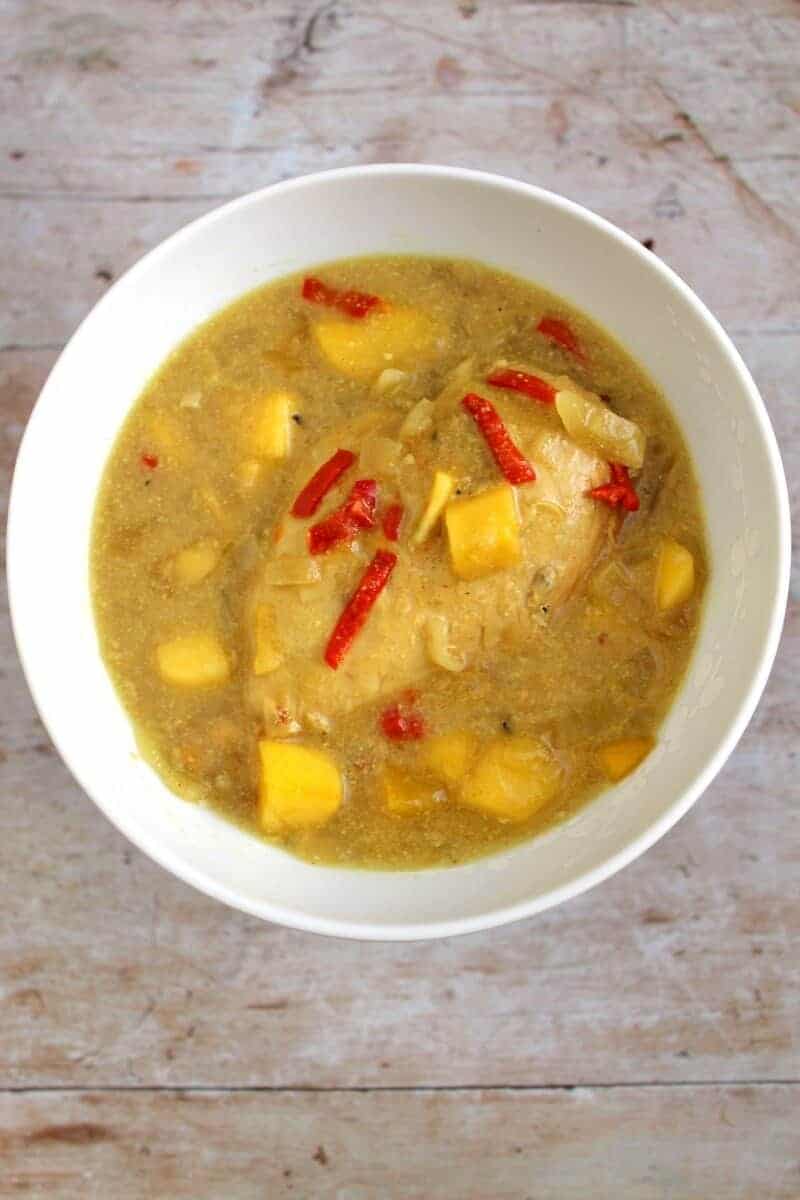 My slow cooker mango chilli chicken is full of flavour whatever the weather outside, which is good given that is nearly May and is absolutely freezing today. After those hot days in earlier in April when it was warmer than Greece in the UK I think we all just want the summer to be here now.
If we can't have the sun in the sky just yet then this summery yellow dish with its tropical fruit flavours is possibly the next best thing. I don't know about you but I still like to eat spicy food and curries in the spring and summer, I just might serve it with broccoli rice or stirfried vegetables instead of normal rice to lighten it up a bit.
As well as the fresh mango I've also used some mango chutney in this dish, which intensifies the mango flavour as well as adding a bit of heat. I also love that this looks so colourful during cooking!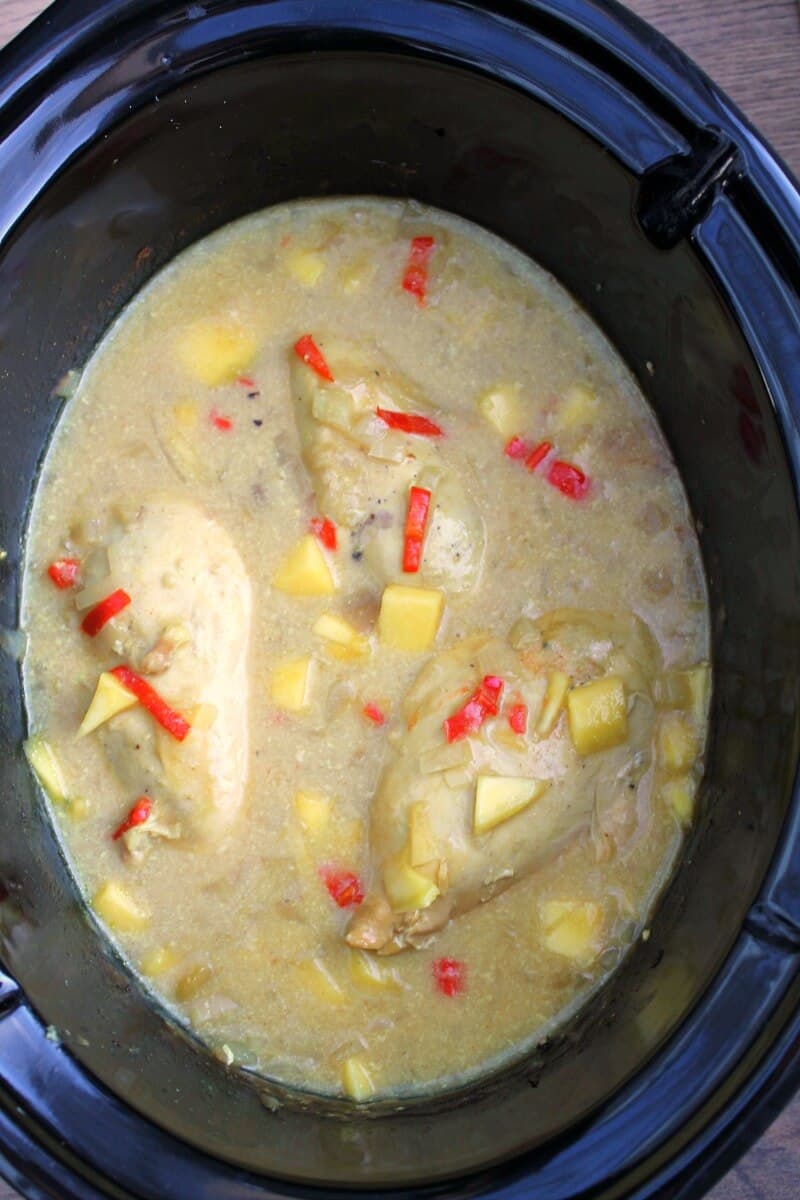 This dish is so easy to make, you just need to mix the sauce ingredients together in a bowl, and then pour the sauce over the rest of the ingredients in the slow cooker.
While I don't use cornflour in many of my slow cooker recipes, preferring other methods of thickening sauces at times like reducing the sauce in a pan first before adding to the slow cooker, adding sweet potato or butternut squash to a dish to create a naturally thick sauce, with this recipe I do use a cornflour paste to thicken up that tasty sauce during cooking.
That is because this technique is often used in Asian recipes of this kind to achieve a thicker sauce and it gives great results.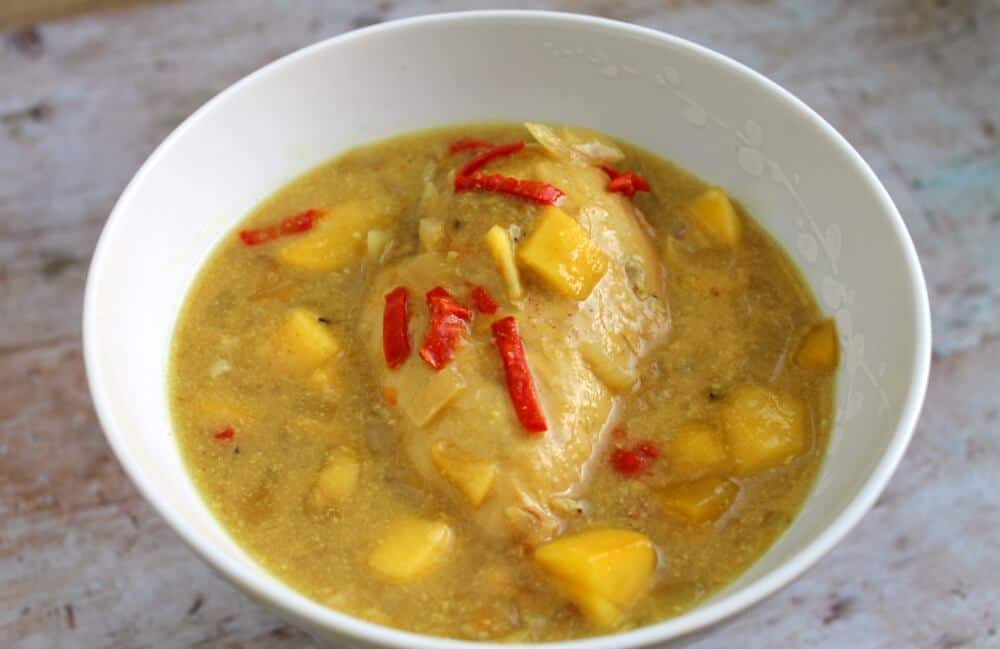 A Light Option
I think you'll love the sweet and yet at the same time spicy flavour of this slow cooker mango chilli chicken. Soft chunks of mango in the tasty chilli-spiced sauce are just divine. I use light coconut milk for the base of the sauce, to save on calories.
Based on the recipe below this works out at 8 SmartPoints per serving, you could also double the amount of chicken breasts and keep the same amount of sauce (there is plenty) which would make it 4 SmartPoints per serving.
More Recipes Using Mango
For more mango inspiration, I bet you'll love these recipes from my food blogger firneds:
Make sure you pin this recipe to Pinterest to save it for later!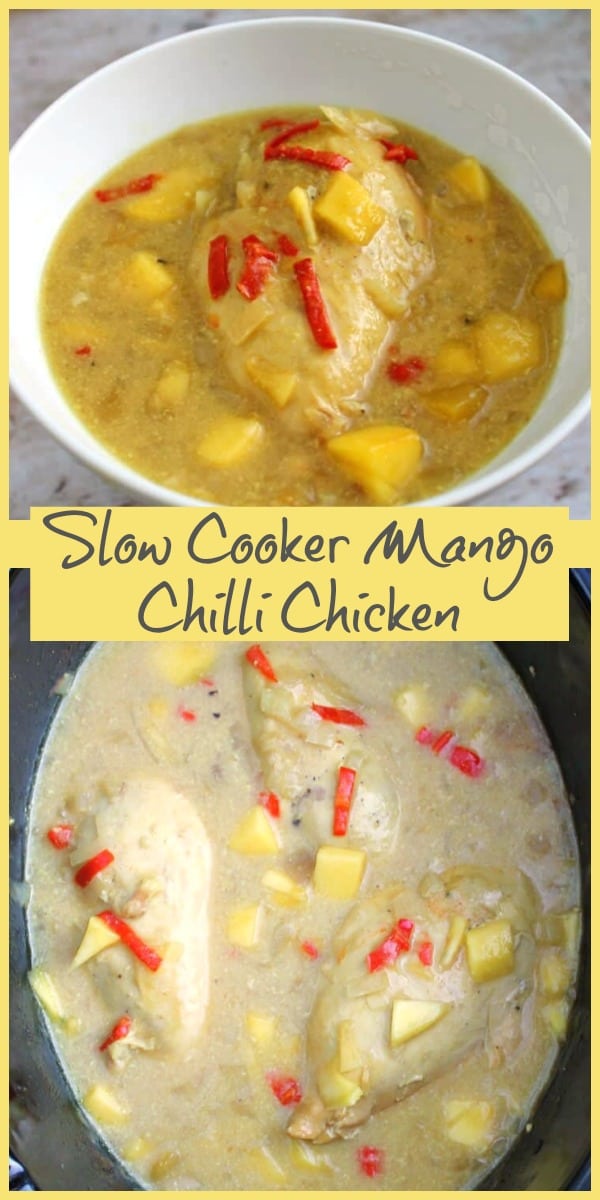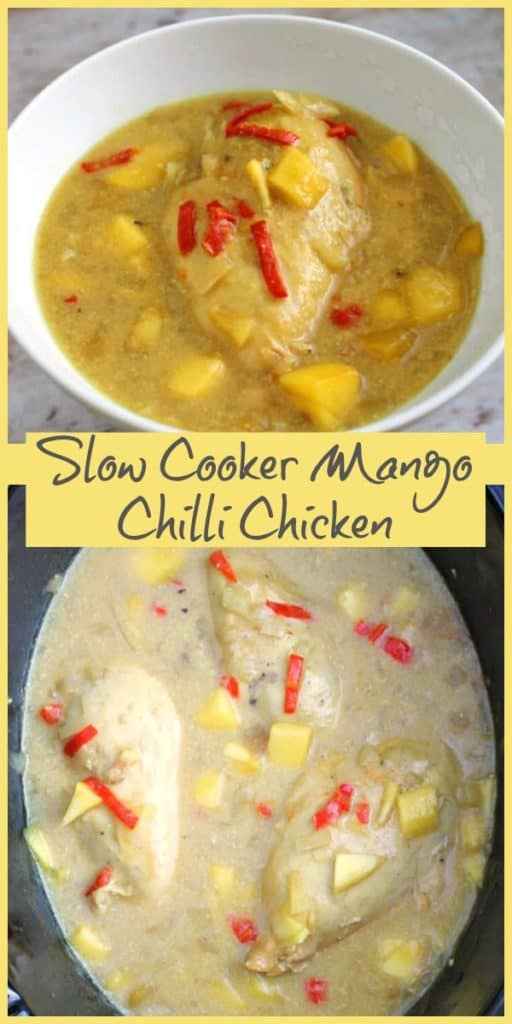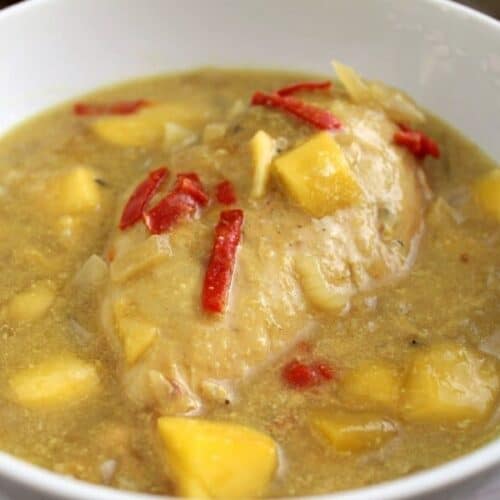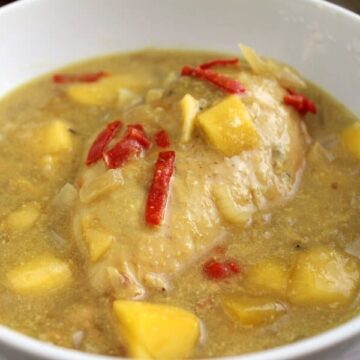 Slow Cooker Mango Chilli Chicken
A delicious fruity spiced curry with fresh mango, mango chutney and red chilli
Print
Pin
Rate
Save
Saved!
Ingredients
For the sauce:
1

tin

light coconut milk

400 ml

1

tsp

ginger puree

2

cloves of garlic

6

tsp

mango chutney

1

tsp

turmeric

0.5

tsp

cumin
For the dish:
1

large onion

diced

3

chicken breasts

1

mango

diced

1

red chilli

seeds removed and sliced finely

1

tbsp

cornflour
Instructions
Mix all of the sauce ingredients together in a large bowl.

Place the diced onion in the base of the slow cooker and top it with the chicken. Season with salt and pepper.

Put in the mango, pour over the sauce. Put the sliced red chilli on top.

Cook on high for 3 hours.

Make a paste from the cornflour and 2 tablespoons of cold water in a small bowl. Pour this into the slow cooker and mix well. This will thicken the sauce and also if the sauce happens to split due to the fresh fruit, it will bring it back together. Cook for another hour on high, then serve.
Notes
8 SmartPoints based on three servings.
If you use 6 chicken breasts instead of 3 and the same amount of sauce (as there is plenty) then it will be 4 SmartPoints per serving.
Did you try and love this recipe?
Then please leave a review and rating in the comments at the bottom of the post. If you post your creation on Instagram, tag me @bakingqueen74 or use hashtag #bakingqueen74!