My cherry Charlotte Russe has delicious layers of cherry jelly, vanilla bavarois and genoise sponge with the classic ladyfingers around the side. I've topped it with piped whipped cream and chopped cherries for an amazing dessert showstopper!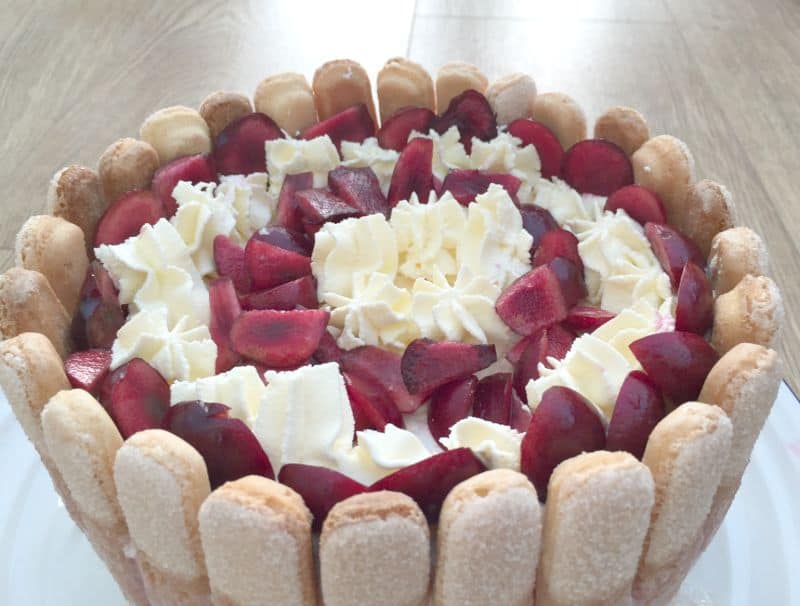 Charlotte Russe recipe inspiration
I would not normally attempt such a complicated recipe but since they made Charlotte russe on GBBO last week I decided to give it a try.
Having seen the way it was assembled, and that clear defined layers of bavarois and jelly were the aim, it looked like a fun recipe to make.
I looked into the history of this dessert, and found it was invented by a French chef named Marie-Antoine Carême, who named it in honour of his former employer George IV's daughter, Princess Charlotte, and his employer at the time Czar Alexander I ("russe" as he was Russian).
It always consists of a crème bavaroise set in a mould of ladyfingers or sponge biscuits. I am therefore also entering this recipe into my Perfecting Patisserie challenge for September.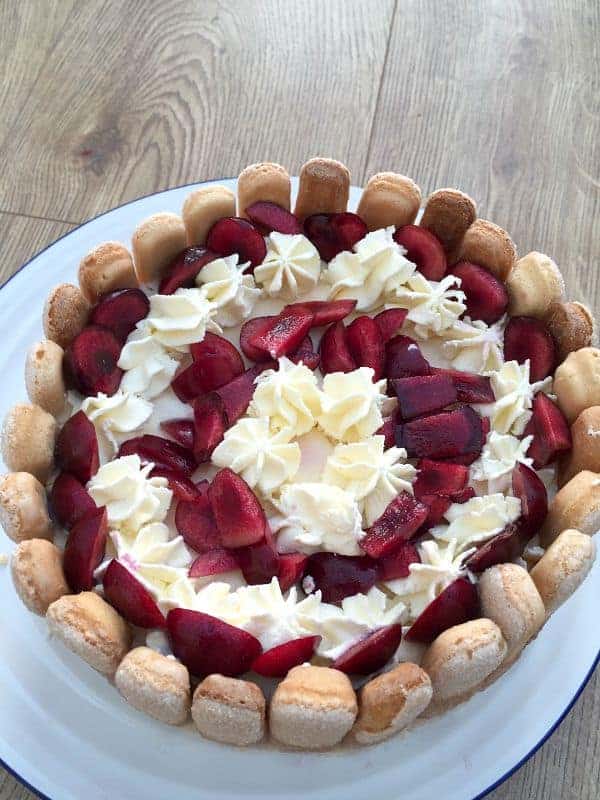 Recipe timings
Having now tried this out, I really am not sure how the GBBO bakers managed to make their Charlotte russe in such a short amount of time. Mine took all day, with the genoise sponge for the base baked first thing in the morning, then a vanilla bavarois before lunch, black cherry jelly added a couple of hours later and then decorating several hours later once fully set.
And I used shop-bought sponge fingers and jelly as quick shortcuts! So this would be a full day task if you were making everything from scratch I think (unless you are able to devote yourself to it all day and do nothing else, so no school runs etc unlike me).
Troubleshooting
I had several problems with my Charlotte Russe, firstly, when I thought the bavarois was set enough to pour the jelly on top, although it was extremely firm, as soon as I poured the jelly on top it went through the bavarois and combined into it. Perhaps the jelly mixture was still a bit too warm, or the bavarois not yet set enough.
Having never had bavarois before, I wasn't really sure of the texture to expect, and the recipe I was roughly following for the steps (Nadiya's recipe on BBC food) didn't really indicate how long would be needed for setting the layers.
My bavarois and jelly mixture then took an age to set, about four hours in the fridge. I don't have any room in my freezer so it couldn't go in there. I would recommend using a freezer for setting if you have room though, it might not take so long then!
When I removed the dessert from the cake tin mould, I could see the bavarois had seeped through the edge of the sponge biscuits. However, it did finally set and I am pleased to say it stayed in one piece as I removed it by pulling on the clingfilm! Moved to a plate I could decorate with cream and cherries.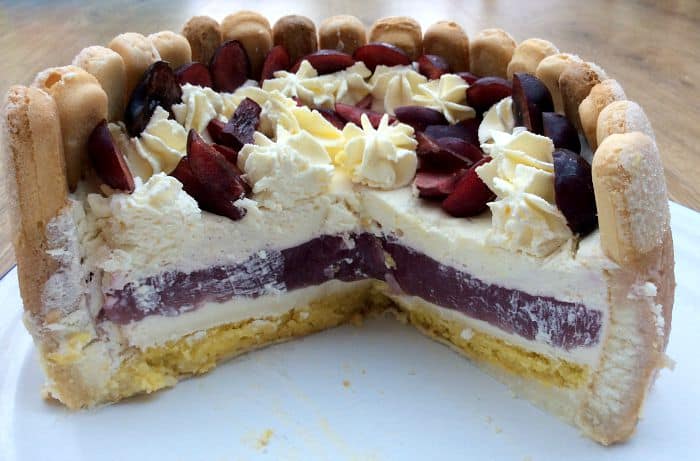 Very pleased with my layers in the end! The jelly sank below the top of the bavarois but formed a clear layer in the centre.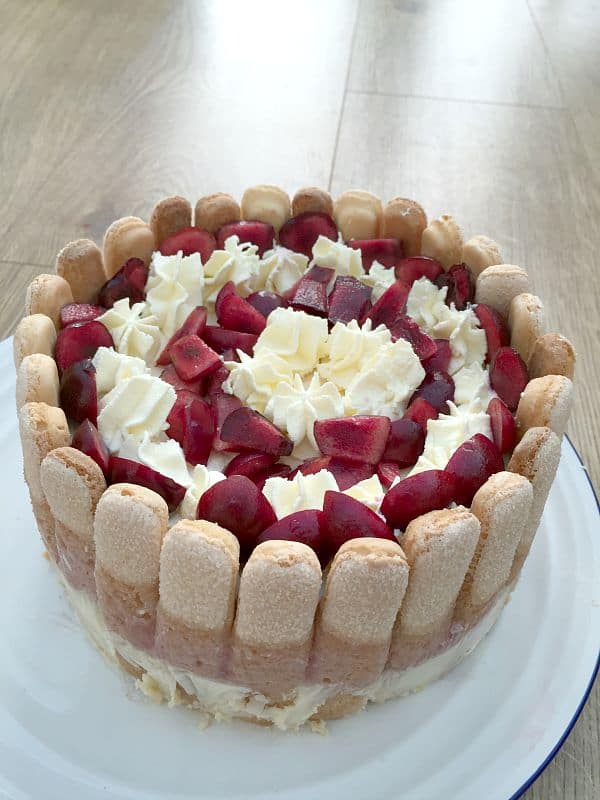 More Charlotte Recipes to Try
For more charlotte ideas, have a look at these:
I am linking up with the Great Bloggers Bakeoff 2015 from Jenny from Mummy Mishaps, this week hosted by Debbie from An Organised Mess.
Also linking up with my Perfecting Patisserie challenge.
Pin my cherry and vanilla charlotte russe for later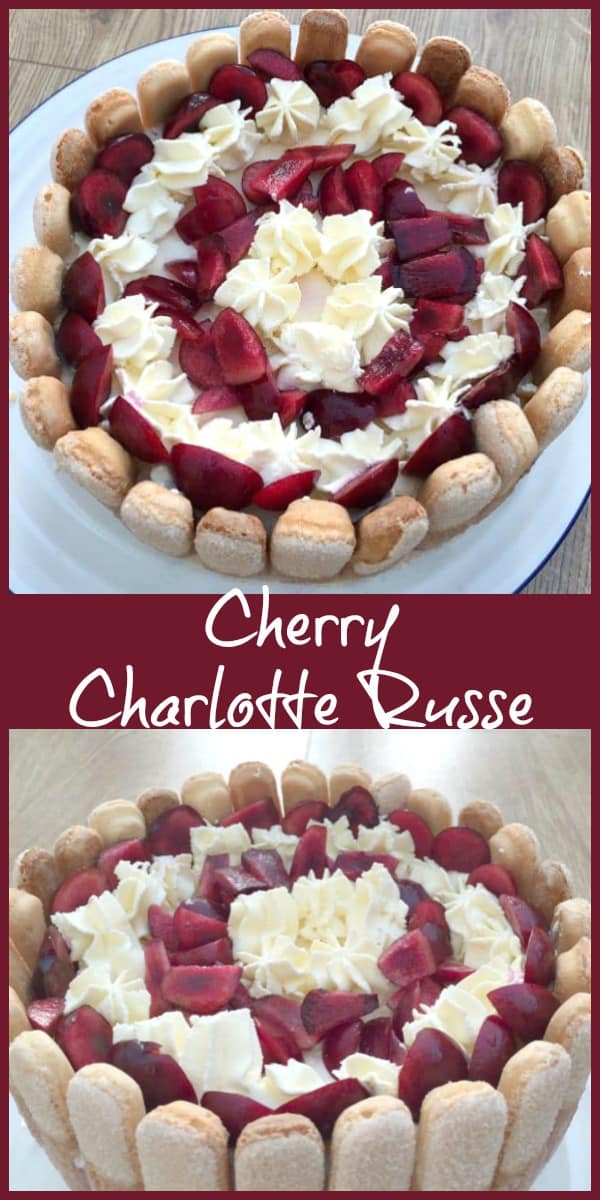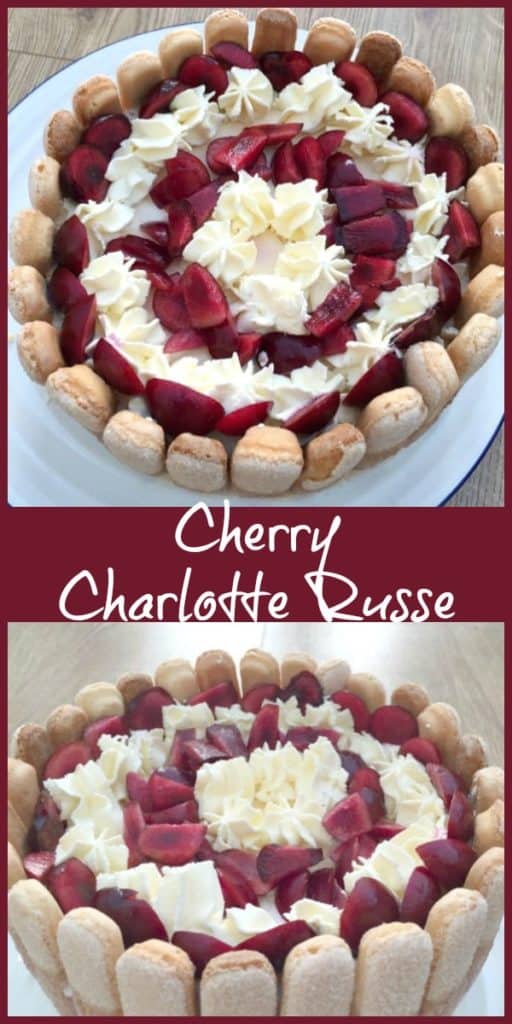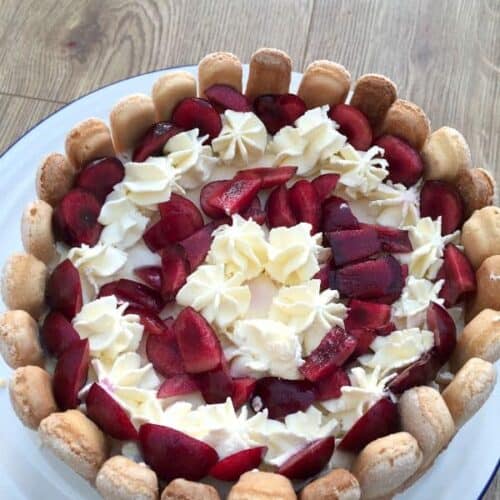 Cherry and Vanilla Charlotte Russe
A very pretty dessert worthy of a special occasion
Print
Rate
Save
Saved!
Ingredients
Instructions
First, make the genoise sponge. Whisk the egg yolks and sugar together using an electric hand whisk, until it reaches the ribbon stage.

Fold in the flour and melted butter.

Spoon the batter into a 7 inch square silicone pan, and bake for approx. 15 minutes at 180 degrees.

Allow to cool on a rack.

Cut out a circle just smaller than the base of your cake tin once it is completely cool.

Line your cake tin with clingfilm, I used a deep seven inch round tin I use for Christmas cakes.

Place your sponge circle in the bottom of the tin.

Stand the spong fingers around the edges of the tin.

Now make the bavarois.

Whisk the egg yolks and caster sugar in a bowl, until thick and doubled in volume.

Place the milk and vanilla bean paste in a large plastic jug. Microwave for two minutes approx on high, until it is nearly at boiling point.

Add the milk to the egg yolk and sugar mixture and whisk briefly.

Place the bowl in the microwave and heat on high for one to two minutes, stirring after each minute, until the mixture coats the back of a wooden sooon.

Drain the leaf gelatine and stir it in until completely dissolved.

Fold in the lightly whipped cream.

Pout the bavarois into the tin on top of the genoise sponge, and refrigerate until set.

Once set, make the jelly up as per the packet instructions. Wait until it has cooled down! (Which I obviously did not manage to do).

Pour the cool jelly mixture on top of the bavarois and place in the fridge to set. This took four hours for me.

Once set, use the edge of the clingfilm lining your tin to pull the Charlotte out. Remove the clingfilm and place it on your serving dish or cake stand.

Whip your remaining cream to soft peak stage, and pipe it on as desired using a piping bag.

Chop the cherries and place on top to decorate.

Serve and go for a long run afterwards!
Did you try and love this recipe?
Then please leave a review and rating in the comments at the bottom of the post. If you post your creation on Instagram, tag me @bakingqueen74 or use hashtag #bakingqueen74!