Today I'm sharing a recipe for Coconut Ice, a real childhood favourite, which is from the new book Living on the Veg: a kids' guide to life without meat.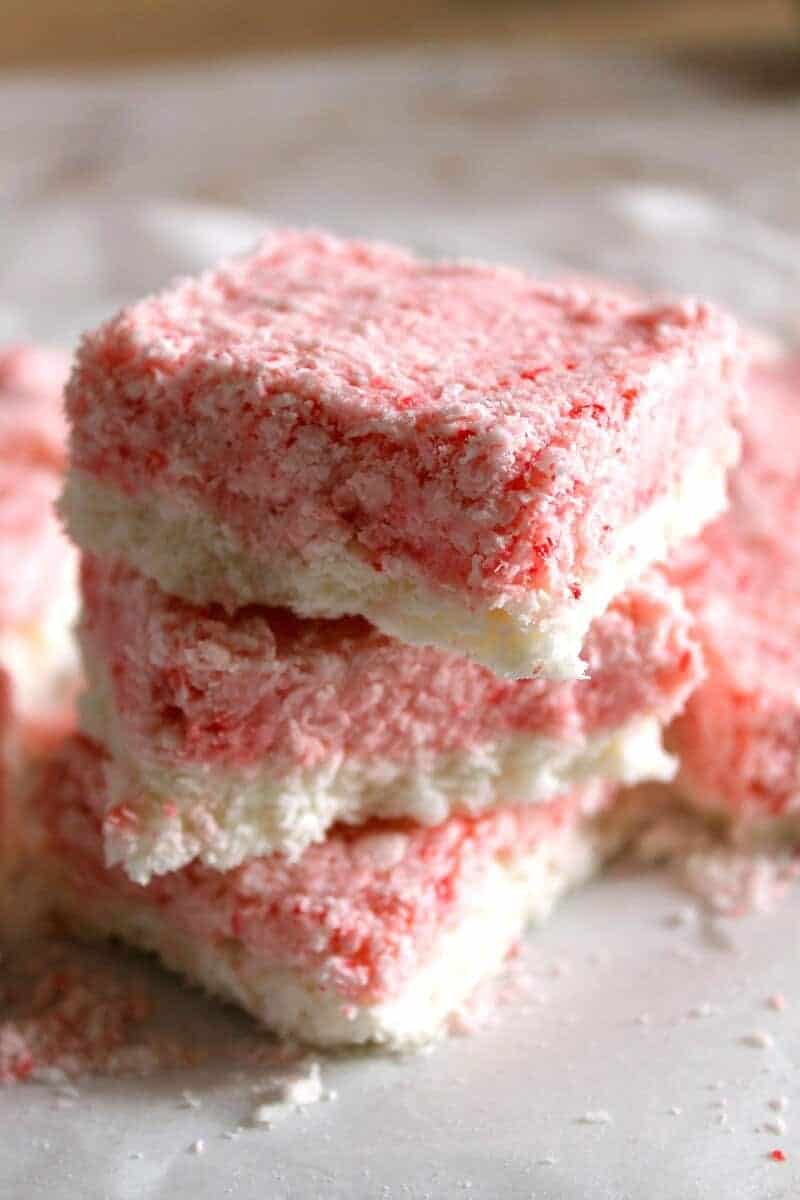 Living on the Veg was published recently and is written by Jacqueline Meldrum and Clive Gifford.
If you don't already know, Jacqueline Meldrum blogs over at Tinned Tomatoes and is one of the best known vegetarian bloggers in the UK.
Her blog has delicious vegetarian and vegan recipes from droolworthy desserts (the oreo and caramel cheesecake is a personal favourite) to main meals like kale and cashew pesto spaghetti.
Jacqueline wrote the recipes for Living on the Veg, which also contains a detailed guide to becoming vegetarian written by Cilve Gifford.
This covers topics such as vegetarians in history, reasons why people turn veggie, answers to questions people have about being vegetarian, a healthy diet, a look at ingredients, how to cope at school, out of the house, at restaurants and at barbecues and much more.
The book is aimed at children aged 9-11, and my ten-year-old found the book very interesting, its layout is fun and captures the attention. The recipes look great, with colourful photos which make them inviting for children, and all the recipes seem to be easy to make, with parental help if needed.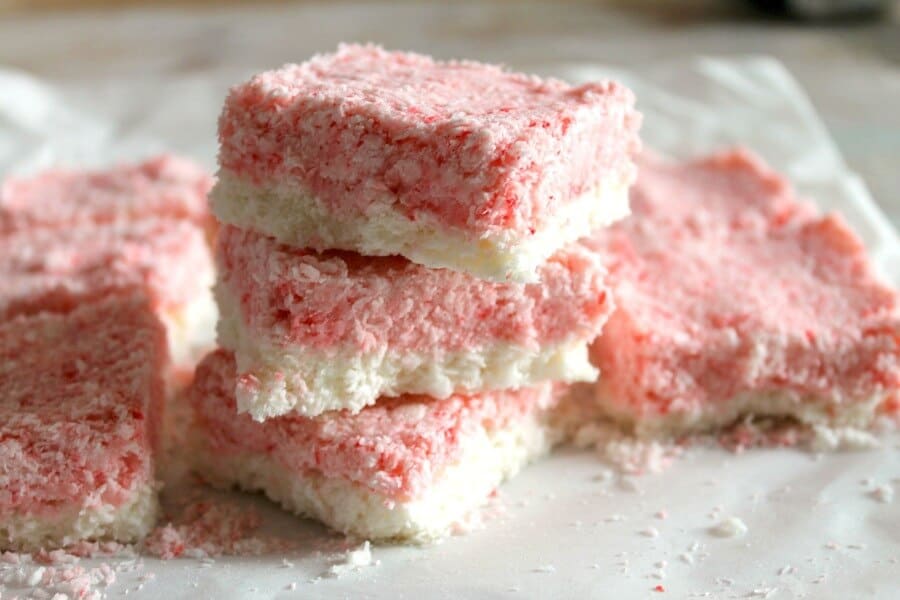 My only comment would be that as this is a guide to going vegetarian even more recipes to try out would be really useful, as there are only twelve. However, they do cover all mealtimes as there are options for breakfast, lunch, dinner and dessert/baking. All in all its a great place to start for a child thinking of becoming vegetarian.
I am pleased to be able to share the recipe for Coconut Ice from the book. We made this at home and it went down very well indeed!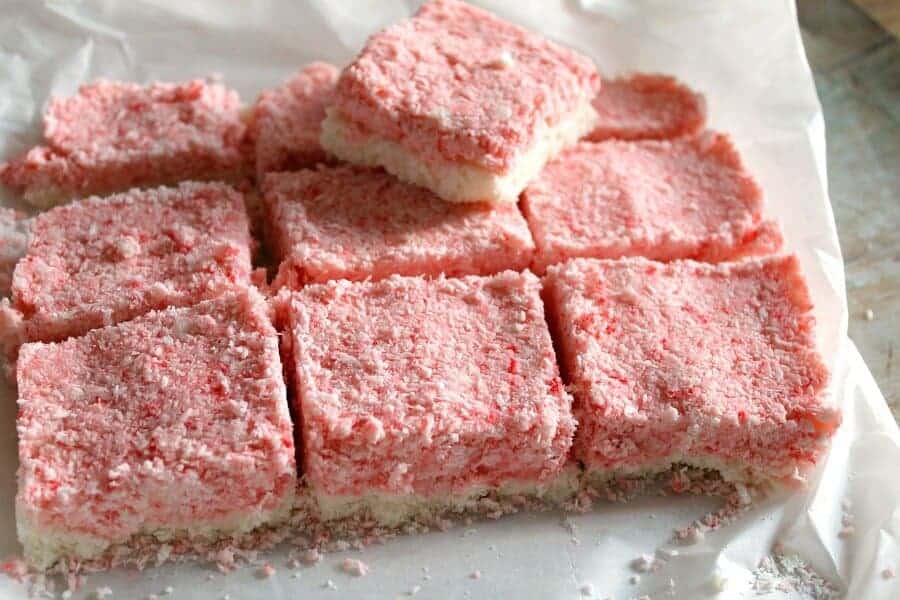 A real childhood favourite for me, however I have never made coconut ice before and in fact hadn't really thought of how it might even be made before! It was great to find how easy it is to make using Jacqueline's recipe.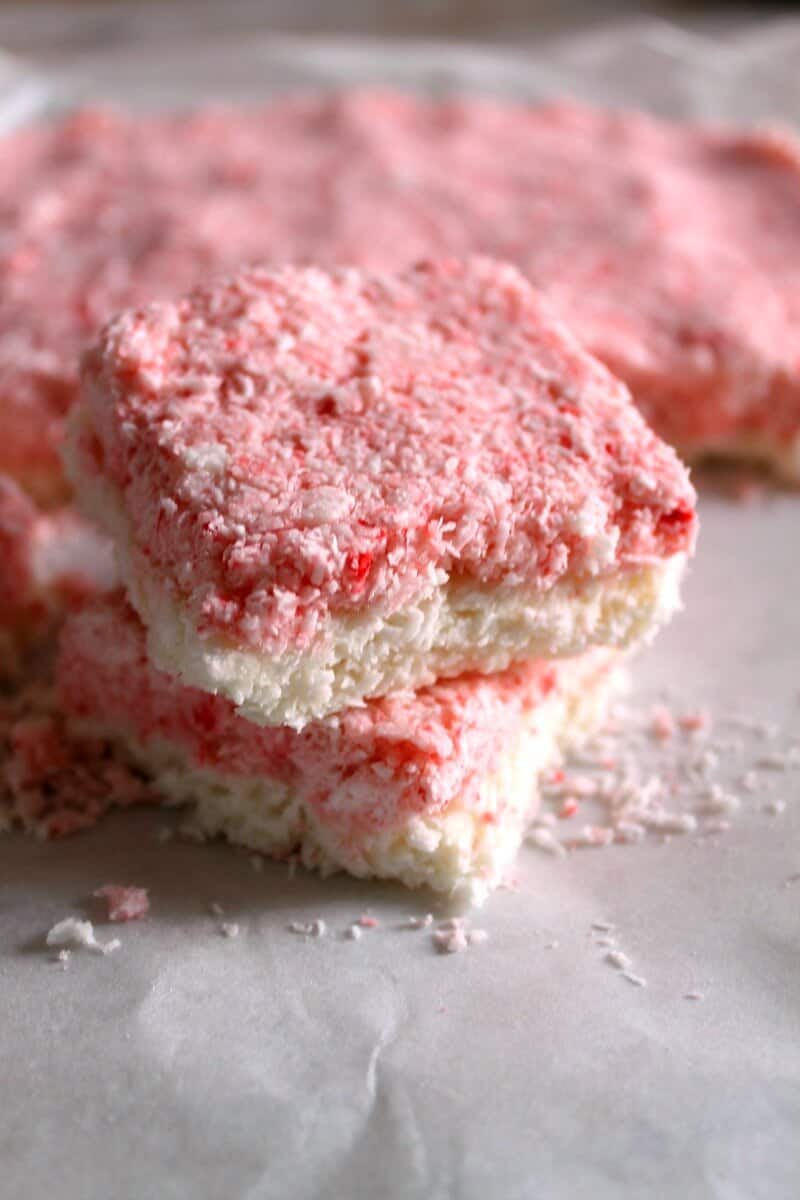 Those delicious white and pink layers of coconut sandwiched together in a delicious creamy slice. My idea of heaven and it really reminds me of trips to the seaside and buying treats from the food stalls on the pier or at fairs as a child.
It can be a bit messy to make but that just adds to the fun!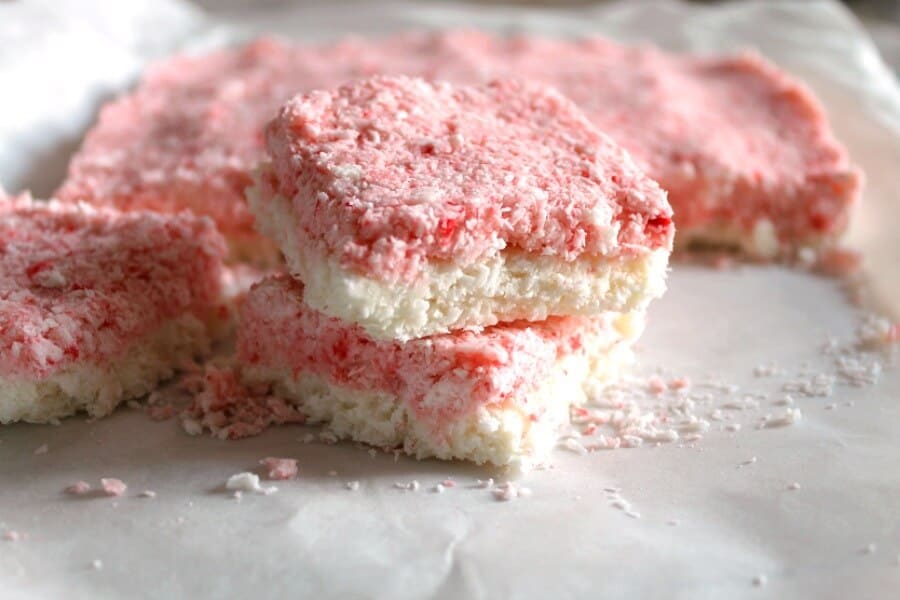 Living on the Veg was published by Wayland in 2018 and is available now – affiliate link.
More No Bake Treats
Pin this Coconut Ice recipe for later!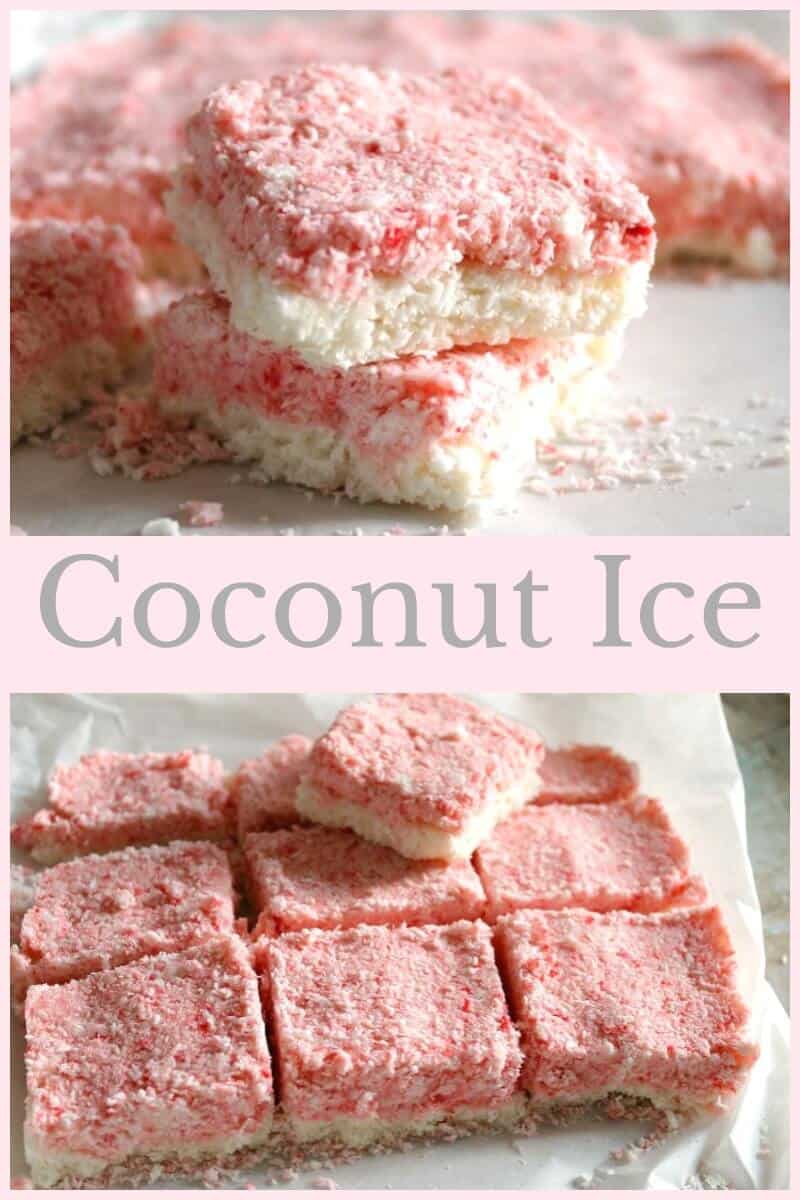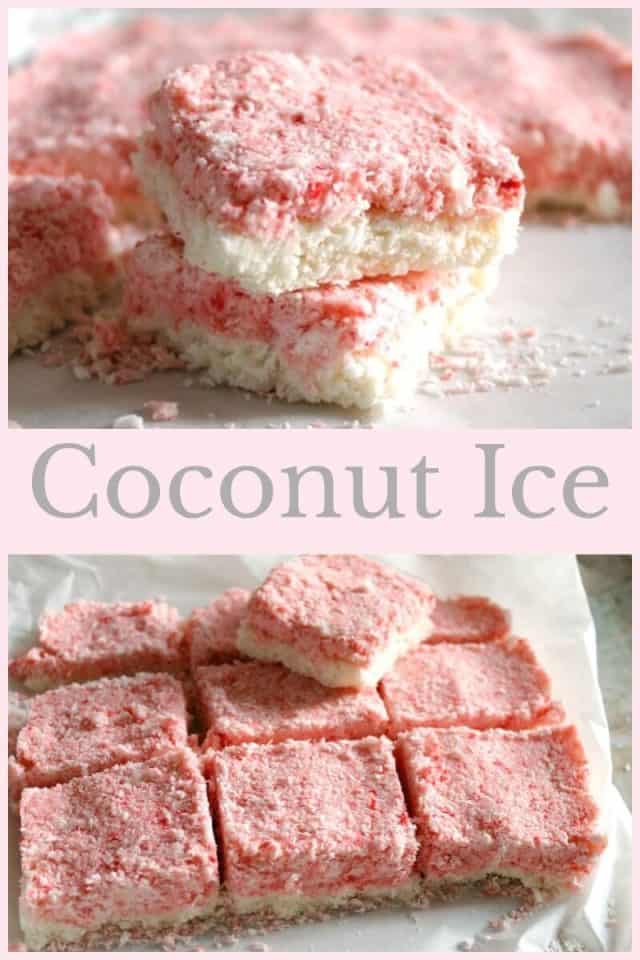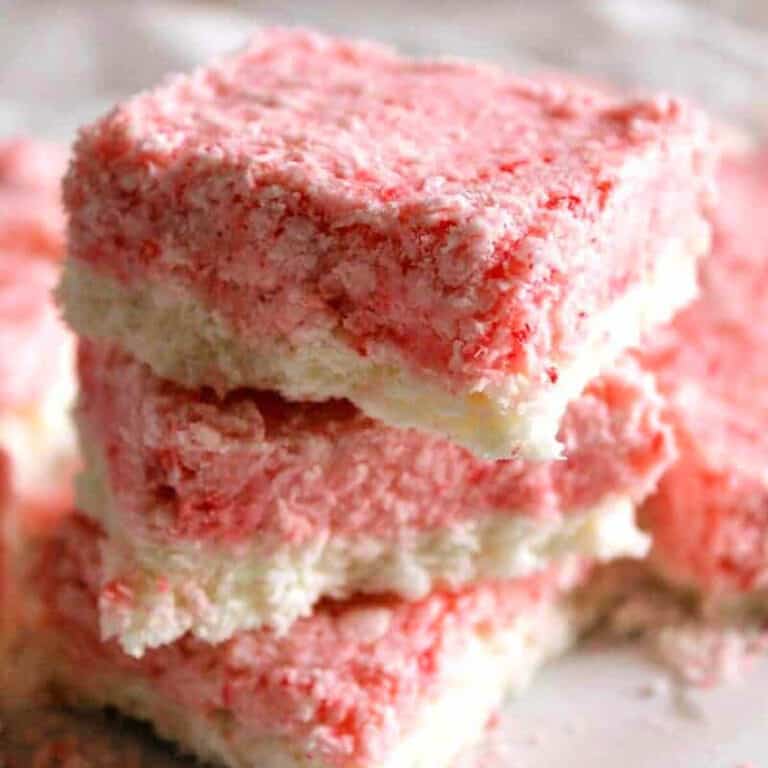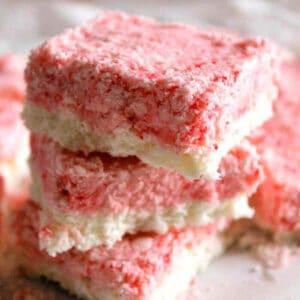 Coconut Ice
Coconut ice recipe from Living on the Veg - an old-fashioned sweet treat you can make at home
Print
Pin
Rate
Save
Saved!
Instructions
Line a 20 cm square baking tin with baking paper or foil.

Add 100 g of desiccated coconut to a sealable bag then add a few drops of pink food colouring. Shake until the coconut turns pink. Set aside until you are ready to make your pink layer.

Sift 125 g icing sugar into a large bowl, then add 100 g of white desiccated coconut and 100 g of condensed milk.

Stir well, then bring together the white mixture into a ball with your hands.

Press the white coconut ice into your tin. It should be between 1 and 1.5 cm deep. Smooth the top of the coconut ice with the back of a spoon until it is smooth and even.

Start your pink layer next. Sift 125 g icing sugar into a bowl, add 100 g of pink coconut and 100 g of condensed milk. Mix well, pull together into a ball and press into the tin on top of the white layer. Smooth this layer with a spoon.

Lift the coconut ice carefully out of the tin using the edges of the paper or foil you lined the tin with and move it to a baking rack to dry out for three hours. After three hours, cut into squares. Store in an airtight container, so it doesn't dry out any more.
Did you try and love this recipe?
Then please leave a review and rating in the comments at the bottom of the post. If you post your creation on Instagram, tag me @bakingqueen74 or use hashtag #bakingqueen74!
Disclosure: post contains affiliate links. I received a complimentary copy of the book to review, but all opinions are my own.