I'm not sure how more than half of May has already passed and I haven't posted yet this month. Blame all the kids parties and clubs as well as being really busy at work I guess. Even though I mostly work from home now this doesn't mean I spend all day popping in and out of the kitchen baking sadly! This M&M rocky road was popular when I posted a picture on Facebook so I'm posting the recipe at last.
Rocky road is perfect for a crowd so when I realised there was a school bake sale coming up, it was rocky road I decided to make.
It is an excellent choice to make when the weather is warmer, as of course no baking is required!
Cut it up into small squares, and as well as making these a bit less unhealthy for the kids (as they aren't so huge!) it means the school can sell more and raise more money!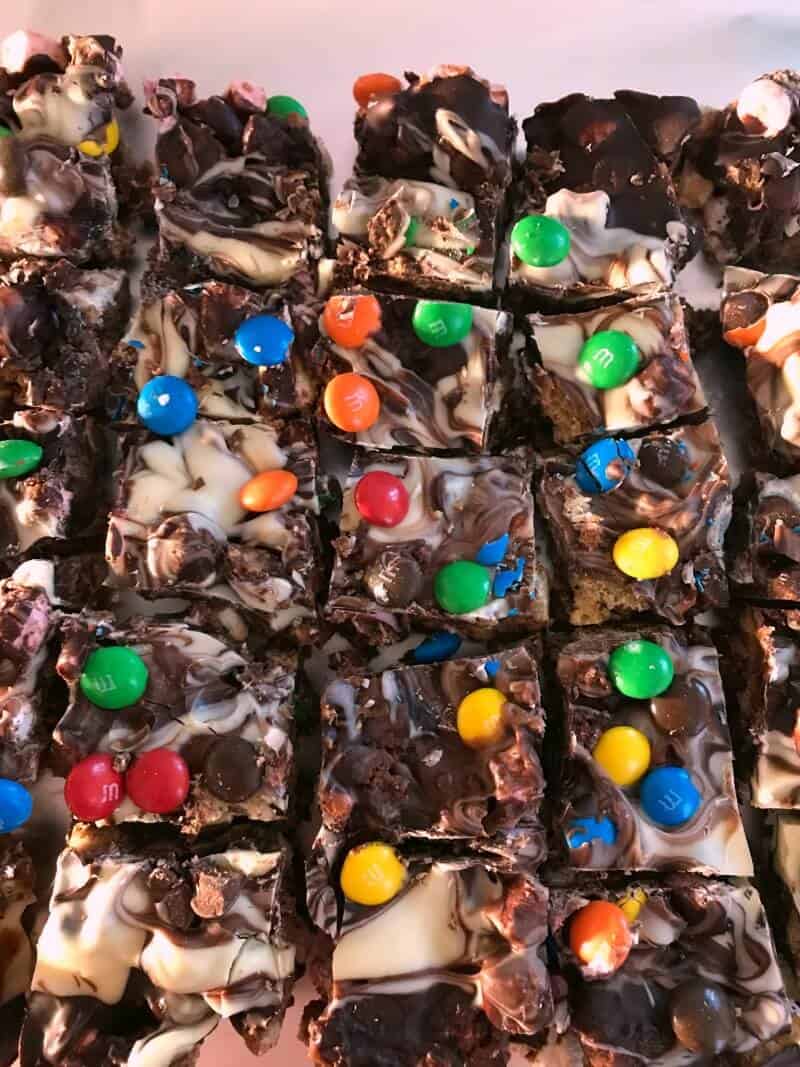 I have a well stocked baking cupboard naturally (!) and already had the dark, milk and white chocolate and the marshmallows to hand.
I just had to get the digestives and M&Ms so after a quick trip to stock up then I was able to get down to making the rocky road.
I chose chocolate M&Ms for their bright colours and of course as this was for the school it couldn't contain peanuts.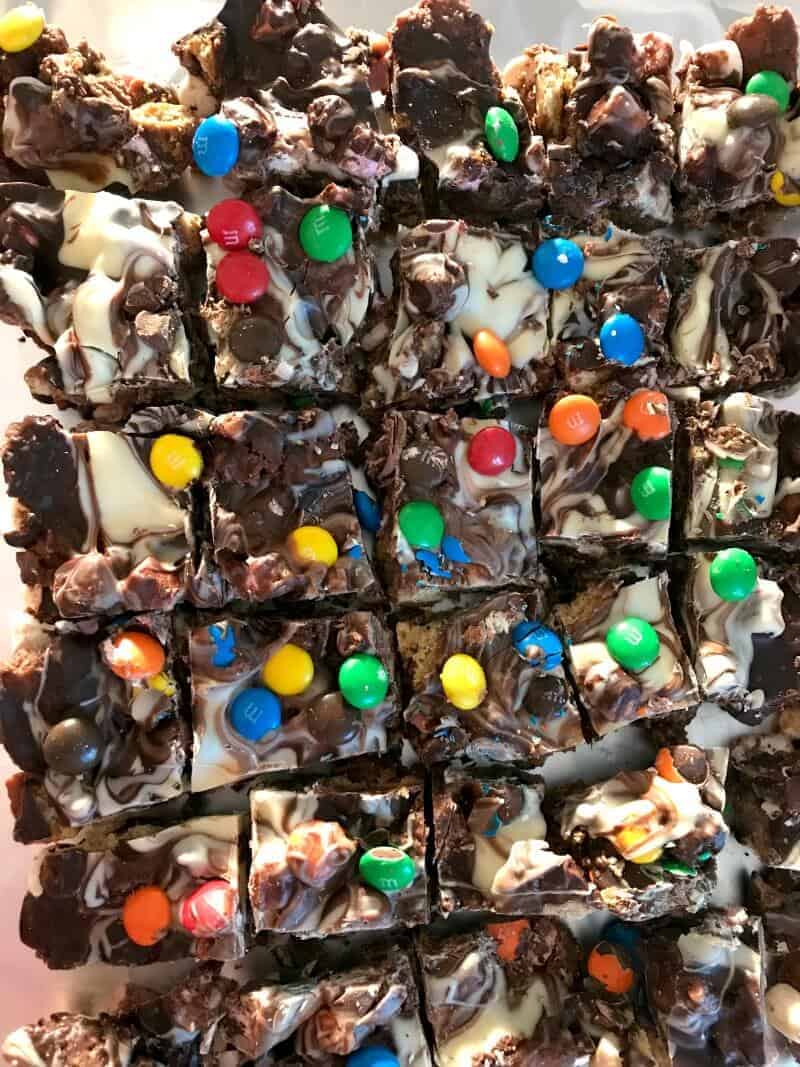 For the chocolate I used milk chocolate for the base layer mixed with the marshmallows and digestives, then topped it off with dark chocolate swirled with white chocolate to add a pretty effect.
This adds a bit more colour and decoration as well as being a great excuse to use more chocolate!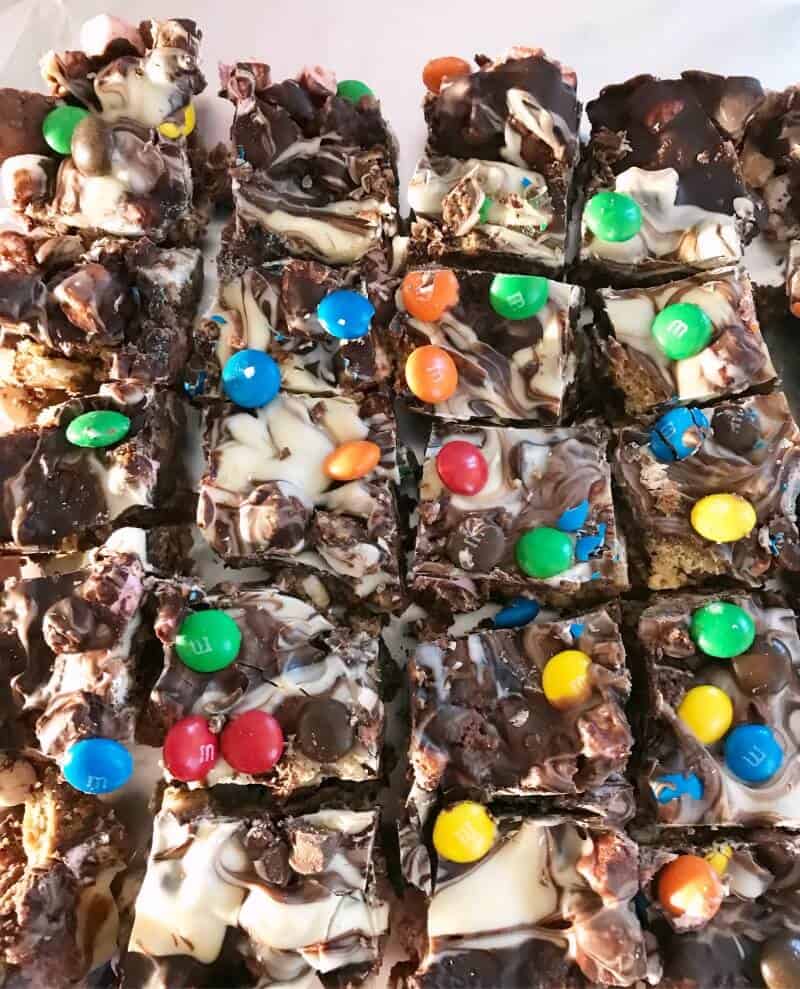 Get More Recipes Like This!
Don't miss any future posts, subscribe to receive my new recipes by email (I will only use your email address for this purpose and never send you anything else).
More Rocky Road Recipes to Try
For more rocky road recipes you might also like: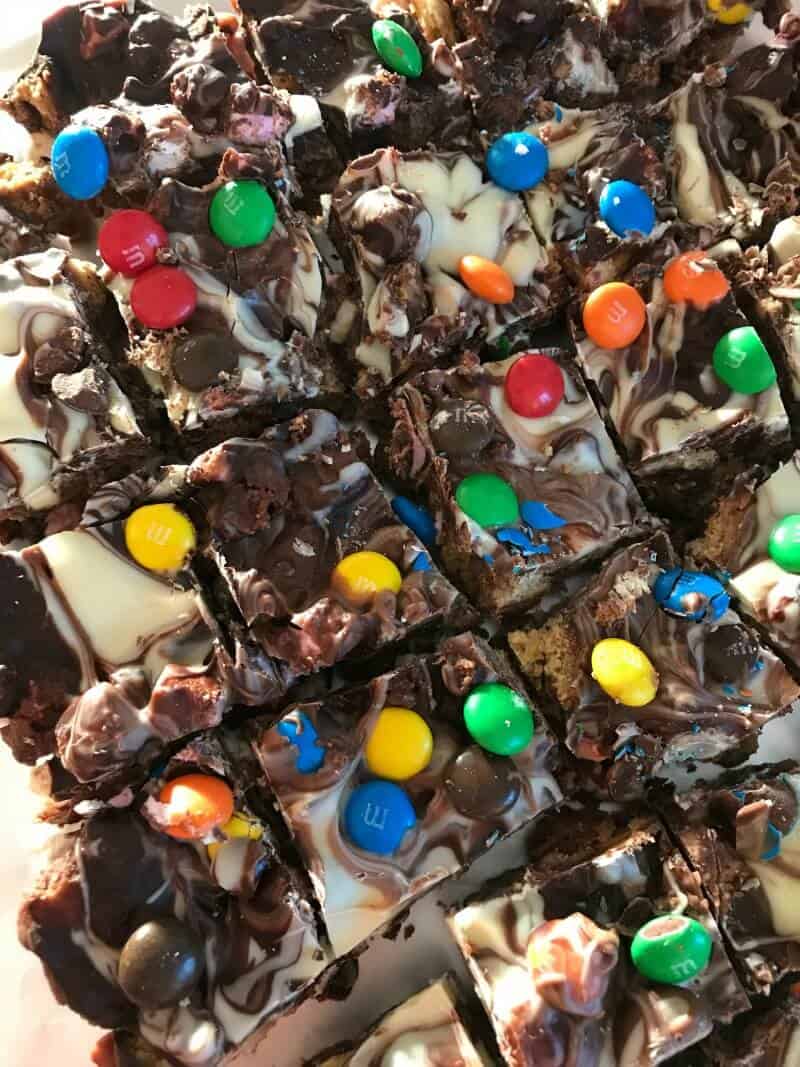 Joining in with the May #WeShouldCocoa with Choclette with this very chocolatey recipe! Make sure you visit for lots of chocolate recipe inspiration.
If you fancy making this M&M rocky road, make sure you pin it on Pinterest to save the recipe for later: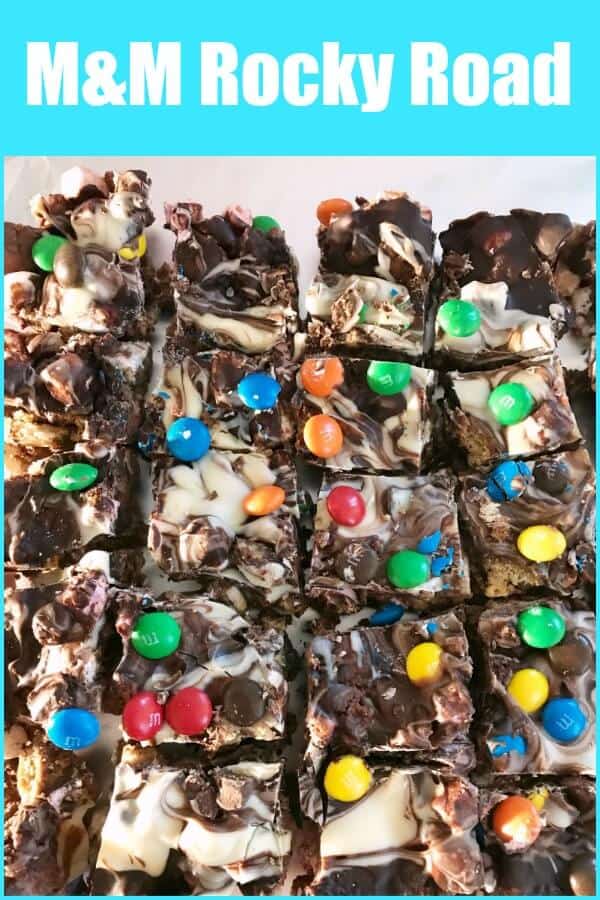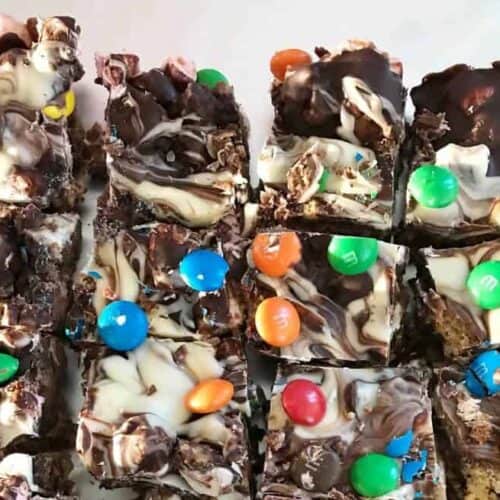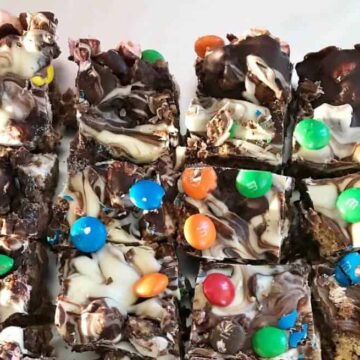 M&M Rocky Road
Rocky road with M&Ms, marshmallow and biscuit in chocolate
Print
Rate
Save
Saved!
Instructions
Melt together the milk chocolate, golden syrup and butter (I do this in the microwave on a medium setting).

Add the crushed digestives and mix well. Leave to cool for a few minutes before adding the mini marshmallows.

Add half of the share bag of chocolate M&Ms.

Press the mixture into a tin lined with baking paper.

Melt the dark and white chocolate in separate bowls, pour over the mixture in the tin and marble the dark and white chocolate together with a knife.

Spread the remaining M&Ms on top. Chill in the fridge until set, at least for 2 hours but preferably overnight if you have time.

Cut into squares using a large knife. Serve or wrap and transport to your bake sale!
Did you try and love this recipe?
Then please leave a review and rating in the comments at the bottom of the post. If you post your creation on Instagram, tag me @bakingqueen74 or use hashtag #bakingqueen74!