Rocky road – the easiest ever!! I've taken one of the easiest indulgent chocolate recipes and made it even easier. Forget about messy crushing of biscuits, you don't even need to bother with that in my easy rocky road recipe.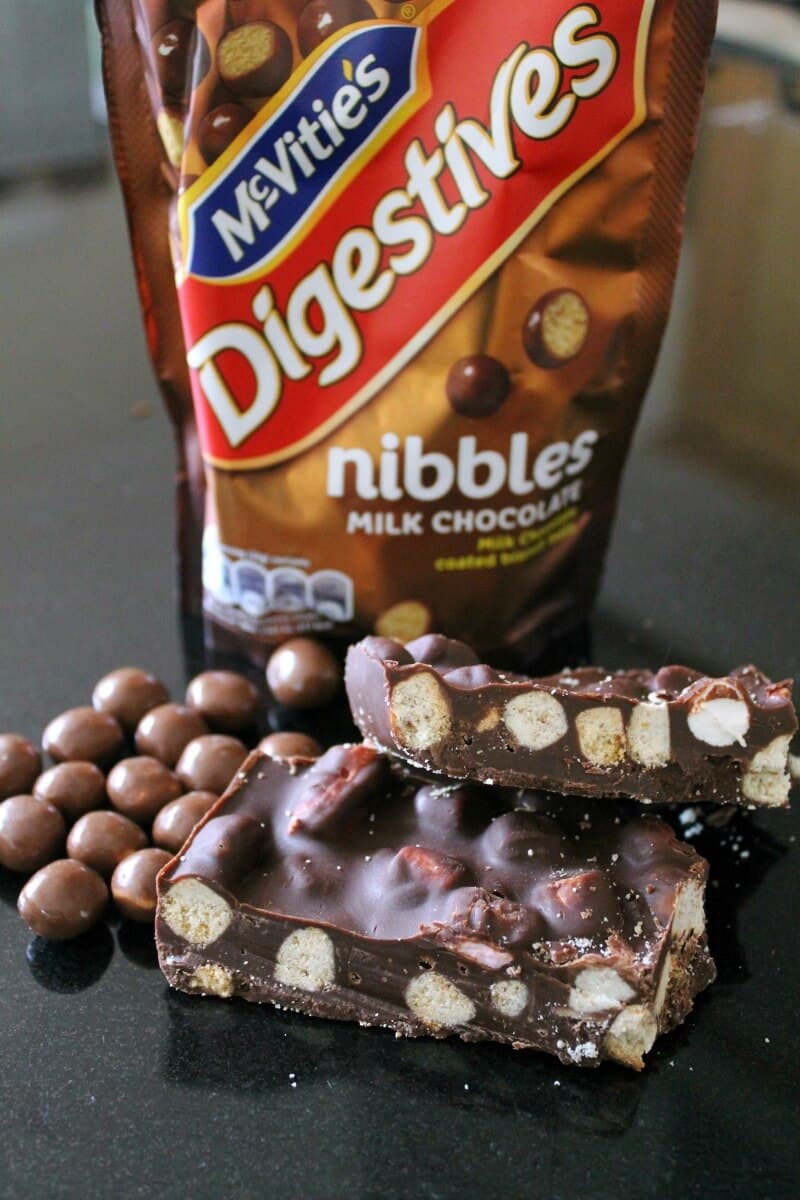 Ultimate lazy baking! Love chocolate? Love chocolate digestives? You'll love this easy rocky road then!
You must have seen McVities Digestive Nibbles in the shops. They are Digestive biscuit balls covered in chocolate.
If you don't have these where you are, look for any chocolate-covered biscuit pieces. Or you can use crushed biscuits of course.
As well as being a delicious treat, they are also ideal to use in baking. You can also use them to make a cheesecake base or add them to brownies for a biscuity crunch, but I thought I'd try them in the easiest rocky road ever.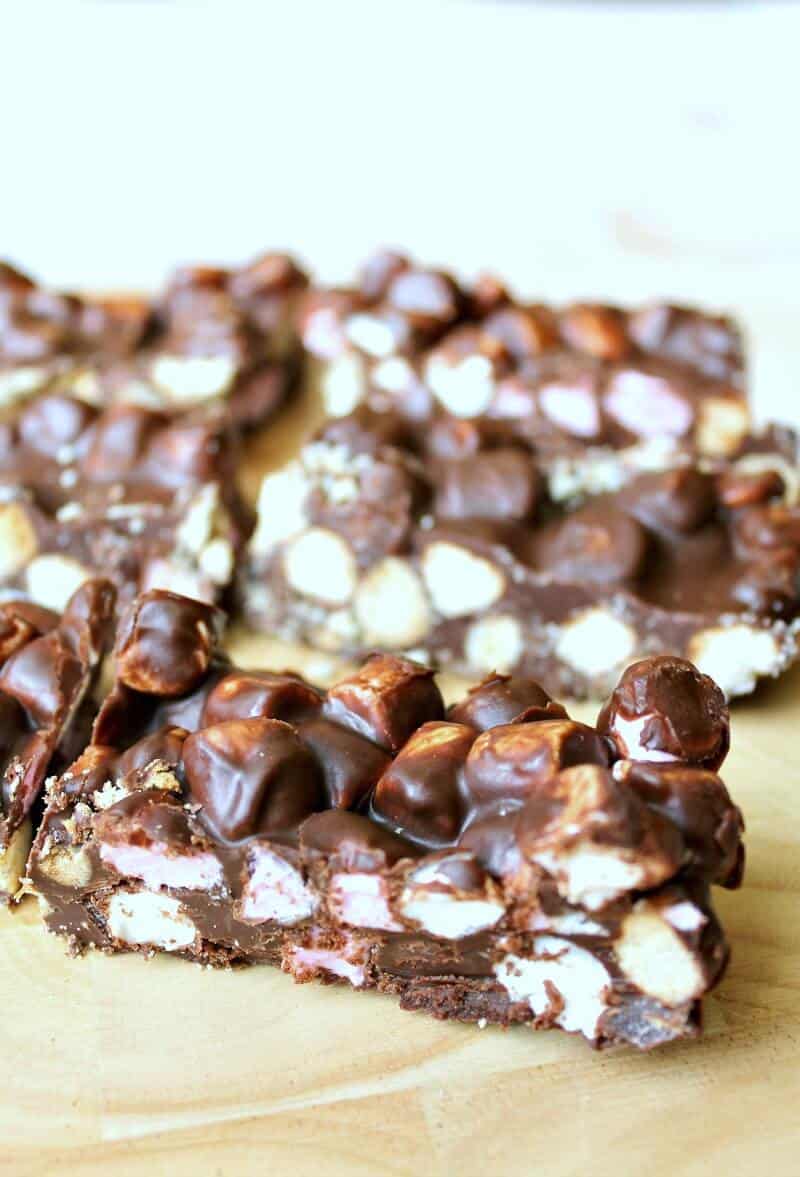 Jump to:
What is rocky road
Melted chocolate enriched with butter and golden syrup, melted and then mixed with crushed biscuits and marshmallows. That's how I like rocky road.
It reminds me of the American Rocky Road ice cream I first tried when I was a child from Dayvilles, chocolate ice cream filled with marshmallows and other delicious chunks of chocolate and cookies. Who could resist that?!
This delight can be yours with a few minutes of melting and stirring.
Well, you'll have to wait a couple of hours for it to set in the fridge but if you factor that time in and make a batch earlier in the day, you can be enjoying a chunk or two later on.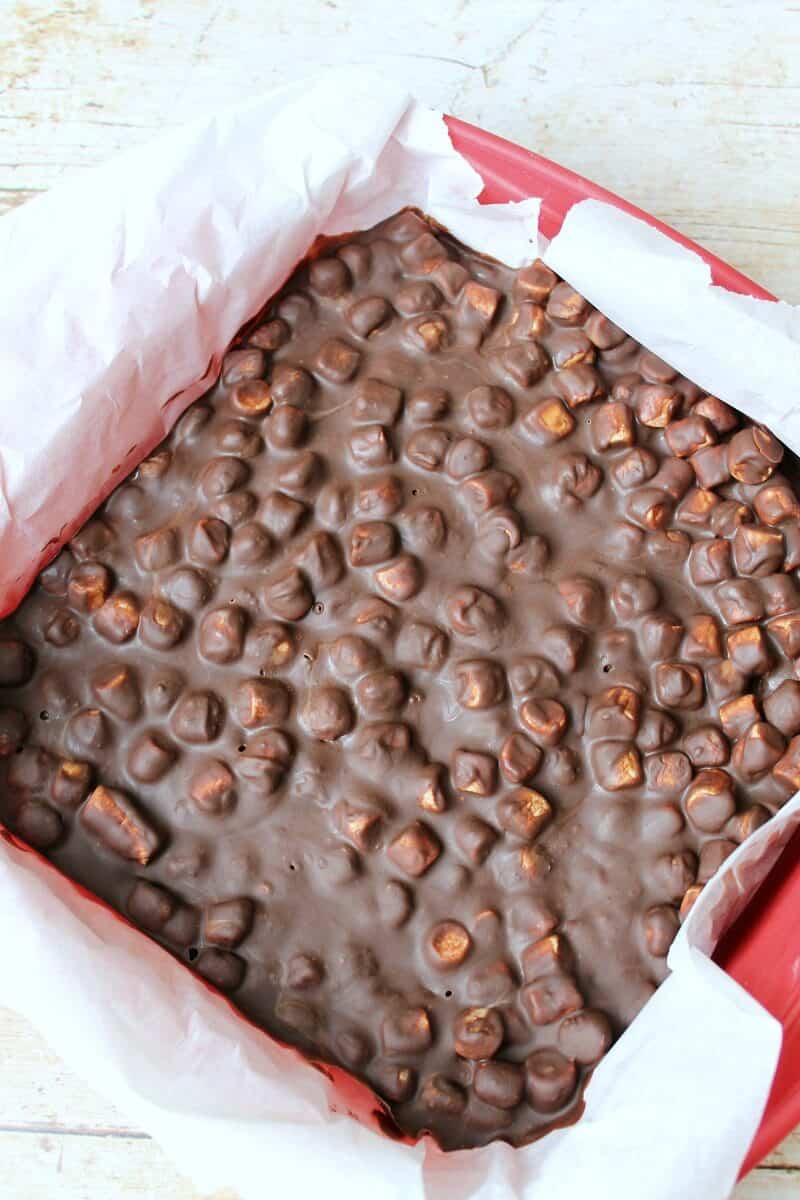 Ingredients
dark chocolate – I use 54% cocoa dark chocolate, not too bitter but with a strong flavour
butter – I prefer to use unsalted in baking
golden syrup
Digestive Nibbles in different flavours – I use a mix of white chocolate, milk chocolate and orange
mini marshmallows
Step by step
After melting chocolate, butter and golden syrup in a pan, fold in your digestive nibbles (or crushed biscuits) and marshmallows and then pour into a pan to set.
I used a square silicone pan lined with baking parchment.
Once set, slice to reveal the delights within!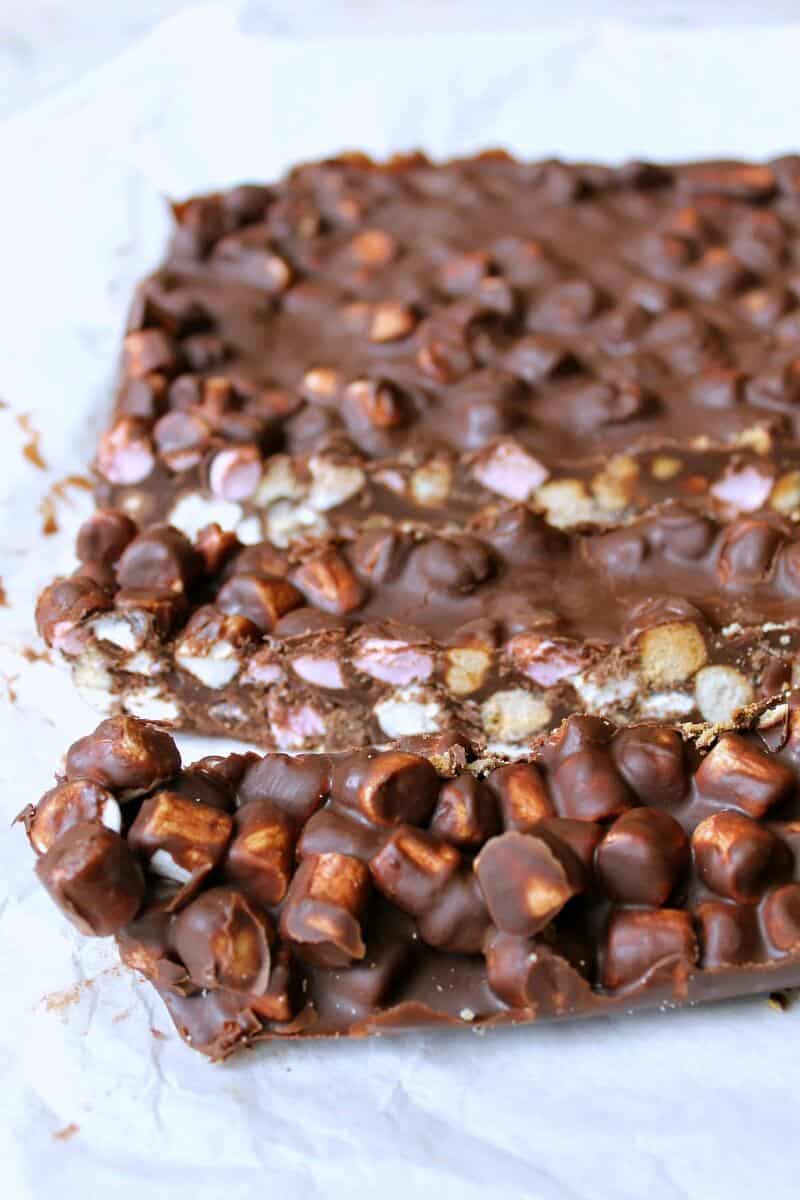 Recipe tips
Make sure you melt the chocolate, butter and golden syrup together. If you add a cold ingredient into warm chocolate it will seize. Seized chocolate goes grainy and bitty and is no longer smooth and shiny.
If your chocolate does seize, you can bring it back by adding a small amount of milk (1-2 tablespoons to start). Stir really well and it should become smooth and glossy again. If not add another tablespoon and stir again. Be careful not to add too much milk as this could make the mixture too runny.
If you prefer you can melt the ingredients together in a microwave instead of in a pan. Put the chocolate, butter and golden syrup in a microwave-safe bowl, heat for 30 seconds on high/full power, then stir well. Heat again for 30 seconds then stir again. If needed, repeat again and stir until smooth.
Try not to put the marshmallows into the hot chocolate mixture if it is really hot, as they might melt. If your chocolate seems really hot allow it to cool slightly first.
To make neat slices in your rocky road, put your knife in a jug of hot water and let it warm up before using it. Dry the knife with a tea towel before cutting. Put the knife back in to warm up again and then repeat, making sure you dry it before using it each time.
More to try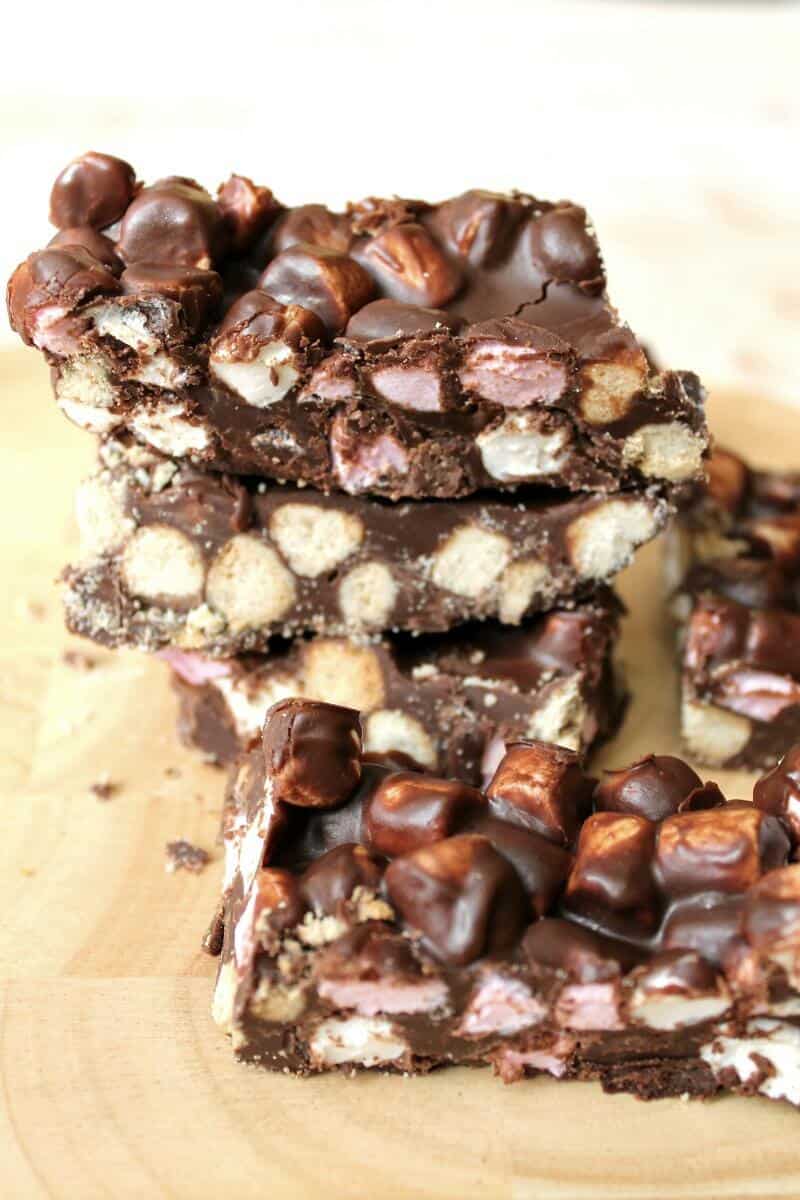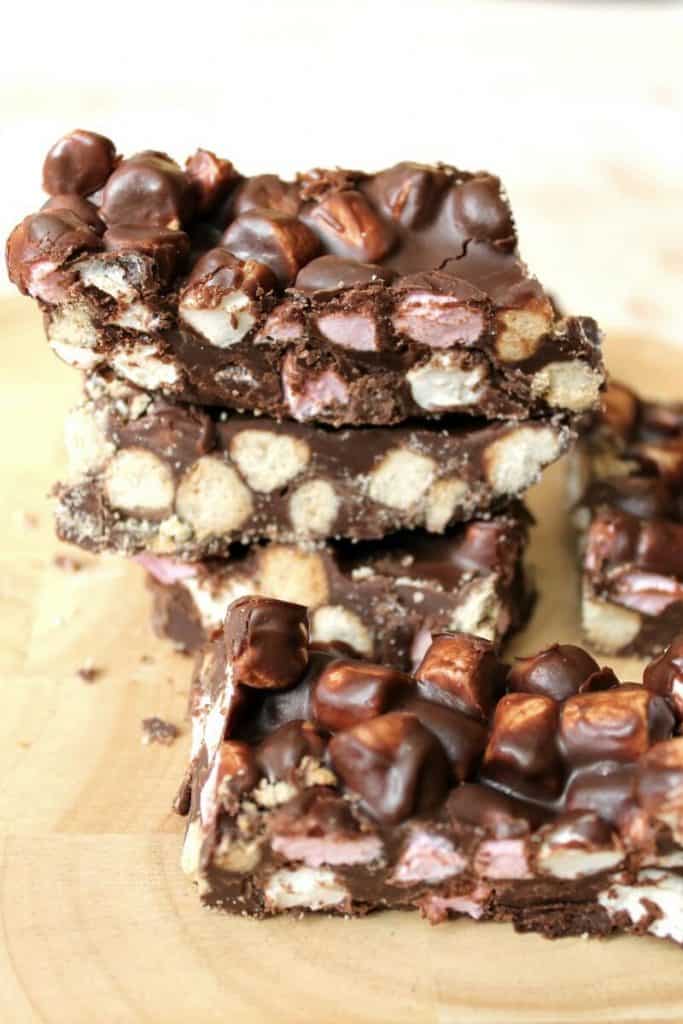 Note this isn't a sponsored post, I just think the digestives nibbles are great for baking with.
Pin for later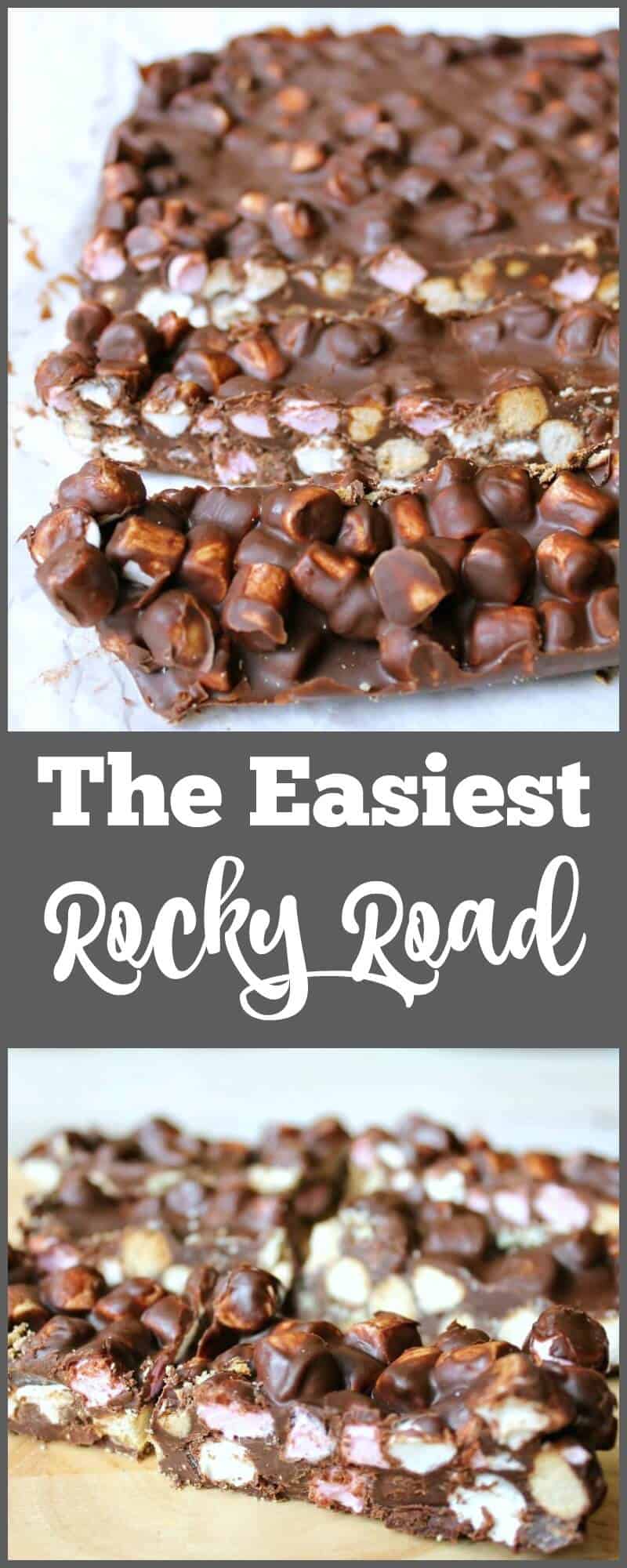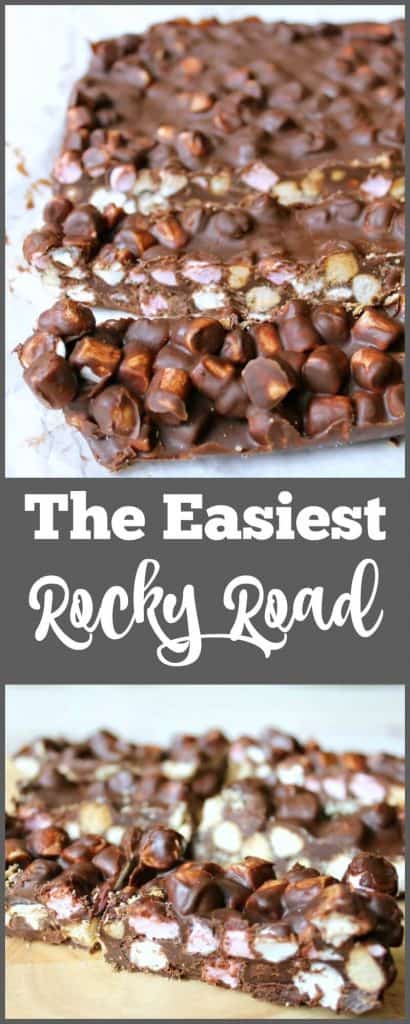 Recipe
Sending this recipe over to WeShouldCocoa with Choclette from Tin and Thyme, and bakeoftheweek with Jenny from Mummy Mishaps, and Baking Crumbs with Angela from Only Crumbs Remains, not forgetting Treat Petite with Kat the Baking Explorer.