Here's an easy recipe for a chicken and vegetable tomato-based stew made using leftover roast chicken.
Last week I forgot about my roast chicken left in the oven and had to throw it away on Monday due to the hot weather. This week I didn't want to make the same mistake so made sure to put it in the fridge!
Now that is is the summer holidays, I am using my slow cooker a lot still as I can put it on in the morning, go on a trip for the day, then come home to a cooked dinner that just needs rice or pasta to be added for a full meal. Today though we were back late from a trip to the pool and I wanted to make something quick and easy using leftover chicken that my children would like. You could add whichever vegetables you have in the fridge. You could also add more chicken if you have more.
This would also lend itself to cooking in the slow cooker – I would reduce the water to 50 to 100 ml, and cook the vegetables for 4-5 hours on low then stir the chicken in half an hour before serving.
Recipe:
1 onion, diced
2 medium sweet potatoes, cubed
1 medium courgette, sliced or cubed
100 g sweetcorn
500 ml passata
2 tbsp tomato purée
200 ml hot water
1.5 tsp liquid chicken stock (concentrated)
1 tsp Italian herb seasoning
1 tsp dried basil
Leftover roast chicken, I used approx 1 large chicken breast, chopped
Method:
Fry the onion until soft then add the sweet potatoes and courgette and fry for a couple of minutes.
Add the passata, tomato purée, hot water, chicken stock, sweetcorn and herbs.
Mix together and bring to the boil, then turn down to a simmer.
Add the chopped chicken and stir through.
Simmer for around 20 to 30 minutes, until the vegetables are soft.
Serve with pasta or rice.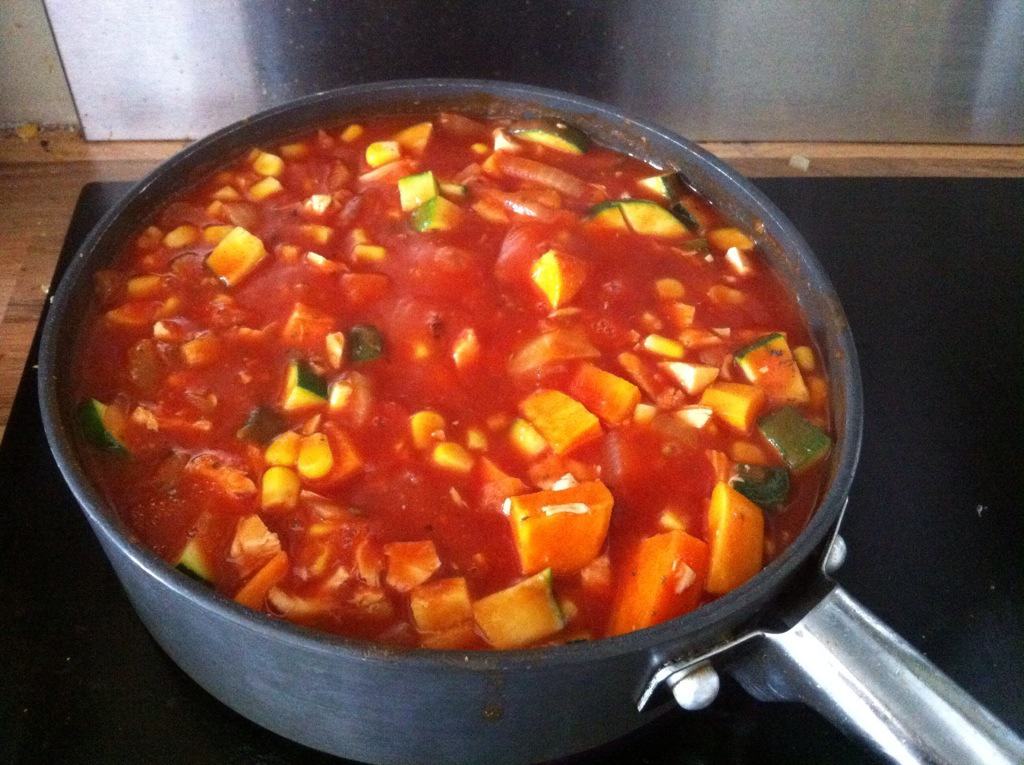 My children (6 and 2) both enjoyed this meal, even the younger one who doesn't like chicken normally, so this was a win in my book!