I have fancied trying to make something like these sweet rolls or cinnamon rolls for a while now. Because they use a yeasted dough which is a bit complicated I have been putting it off for ages though. Well today was the day I finally plucked up the courage to try it! Read on to find out how I made slow cooker berry sweet rolls with lemon glaze!
I wanted to use a pack of frozen mixed berries I bought recently so was very pleased when I found this recipe by Sally's Baking Addiction which uses frozen blueberries, and recommends using frozen fruit. Perfect! I have adapted the recipe from Sally's Baking Addiction to the slow cooker here.
Recipe:
500 g pack of frozen mixed fruit
1 tsp cornflour
50 g caster sugar (I used golden)
345 g plain flour
3 tbsp caster sugar (I used golden)
1 tsp salt
1 package of dried yeast
120 ml water
60 ml milk
40 g unsalted butter
1 medium egg
For the glaze:
Juice of a lemon
120 g icing sugar
1-2 tbsp milk
First step, mix about two thirds of the 500 g pack of frozen mixed fruit with one teaspoon of corn flour and 50 g caster sugar (I used golden caster sugar).
Grease and line your slow cooker bowl with grease proof paper. Spray the paper with nonstick spray.
Set aside half a cup (US) of flour. Mix the remaining flour, sugar, salt and yeast together in a large bowl.
Place the water, milk and butter in a jug and microwave until the butter has melted.
Stir the butter mixture into the flour mixture.
Add the egg and just enough of the reserved flour to make a soft dough.
It will be very sticky! The dough is ready when it comes away from the sides of the bowl and the consistency is elastic.
Knead the dough on a lightly floured surface for 5-6 minutes.
Spray a bowl with non stick spray, then place the dough in the bowl and let it rest for 10 minutes.
Roll the dough out into a large rectangle. Pour the sugared fruit on top and spread it out gently.
Along the long edge, roll the dough and fruit up tightly. Cut into 9-10 even pieces and place as many as fit without cramming them in too tightly in your slow cooker bowl. If you have more left over, place in a pie dish sprayed with non stick spray.
Place the bowl in a warm place and allow to rise for 2-3 hours.
After the rolls have doubled in size, place the bowl back in the slow cooker, put the lid on and cook for 2-2.5 hours on high.
Check on the pot to make sure it isn't burning, as all slow cookers are different!
For the oven, bake at 200 degrees (fan) for 25-30 mins until lightly brown. You can cover them with foil after 15 mins to avoid them going too brown.
Mix together the glaze ingredients and pout over the rolls just before serving.
Here is the oven batch before glazing!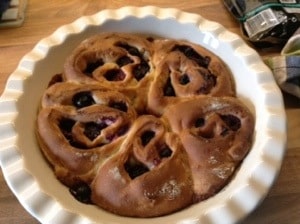 Here is the slow cooker batch on removal from the pot.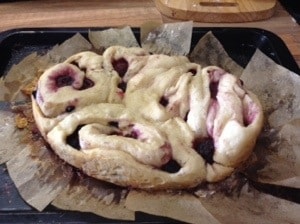 Here it is after five minutes in the oven to brown the top.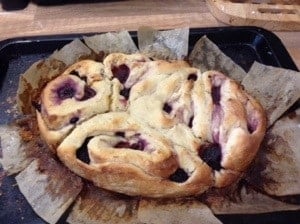 The berry rolls worked well in the slow cooker although they do get very large! I will make these again I am sure.