Nielsen-Massey Baked Vanilla Cheesecake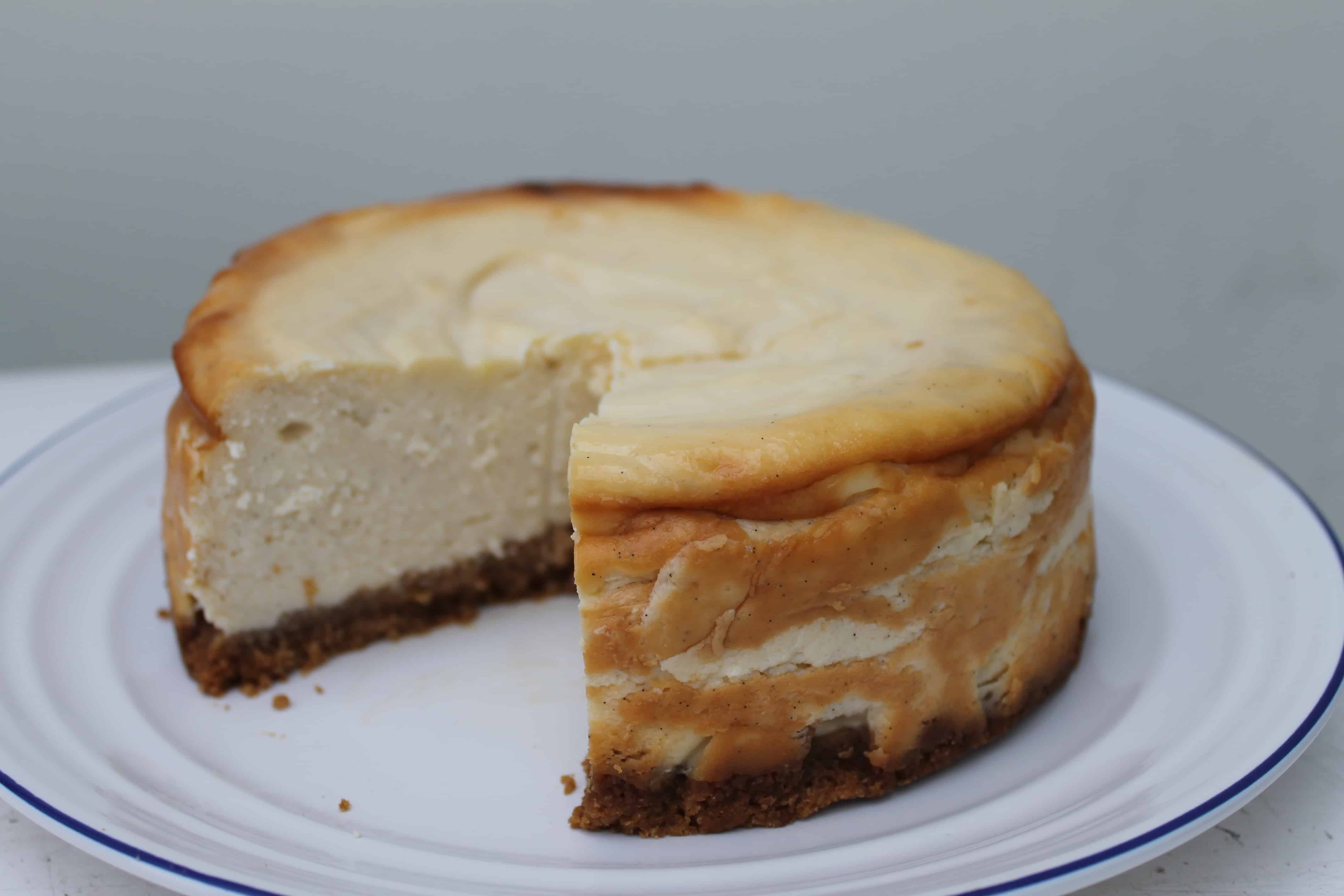 When Baking Mad got in touch and asked if I would like to try out one of their vanilla-based recipes using Nielsen-Massey vanilla extract, I was very keen to do so. The scent of vanilla has to be one of my favourites in baking, and I had seen Nielsen-Massey's stands at the Cake and Bake Show at Earls Court last year, but not managed to get into one of the tastings they were giving.
Out of the list of delicious bakes on offer, I decided to try out Eric Lanlard's cheesecake recipe. I went for this one as I've never baked a cheesecake before but have wanted to for a while. And given the recipe is by Eric Lanlard, what better recipe to try out than one of his.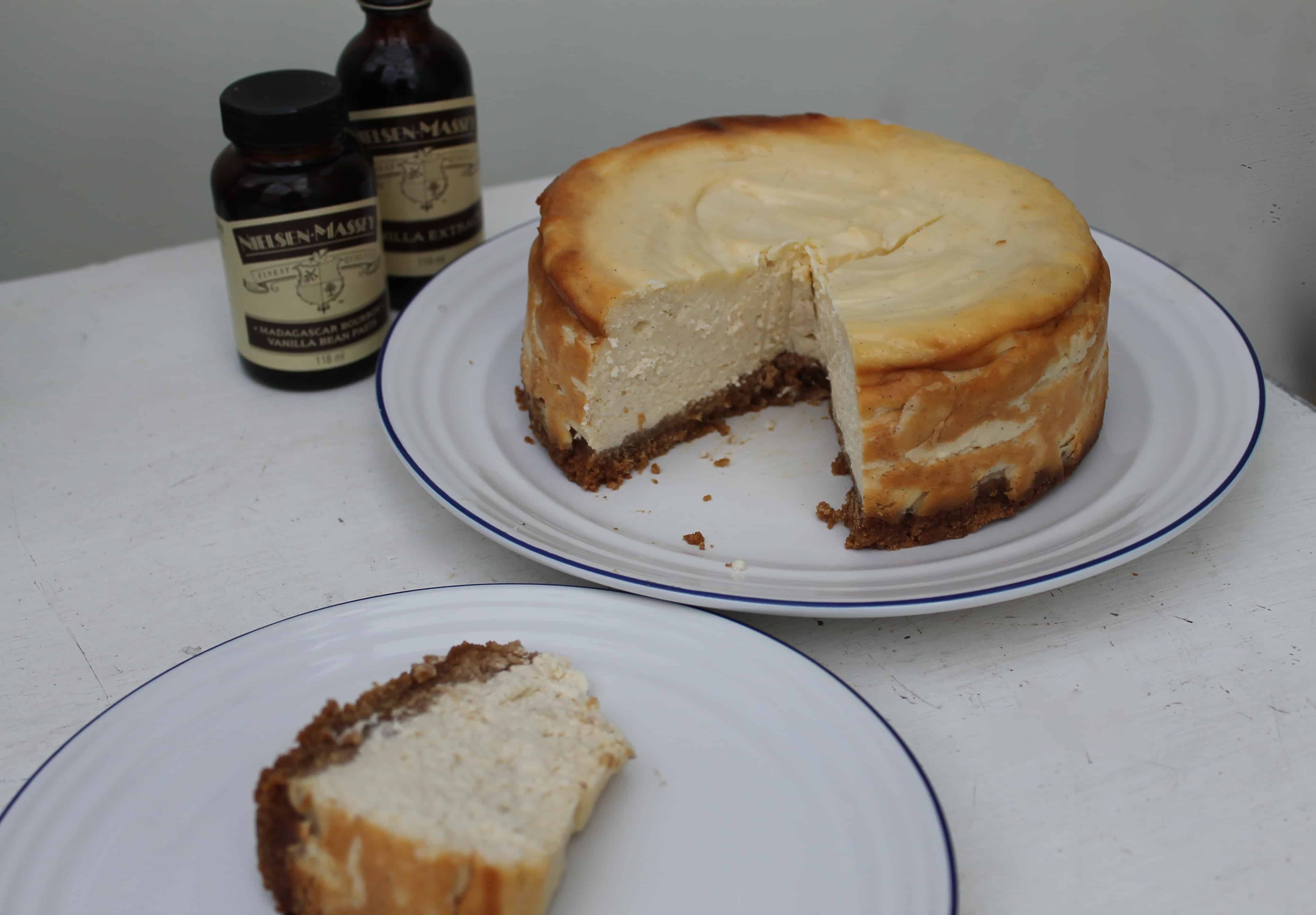 I was sent a pretty hamper containing Nielsen-Massey vanilla extract,  vanilla bean paste, vanilla pods and Billington's golden caster sugar to use in the recipe.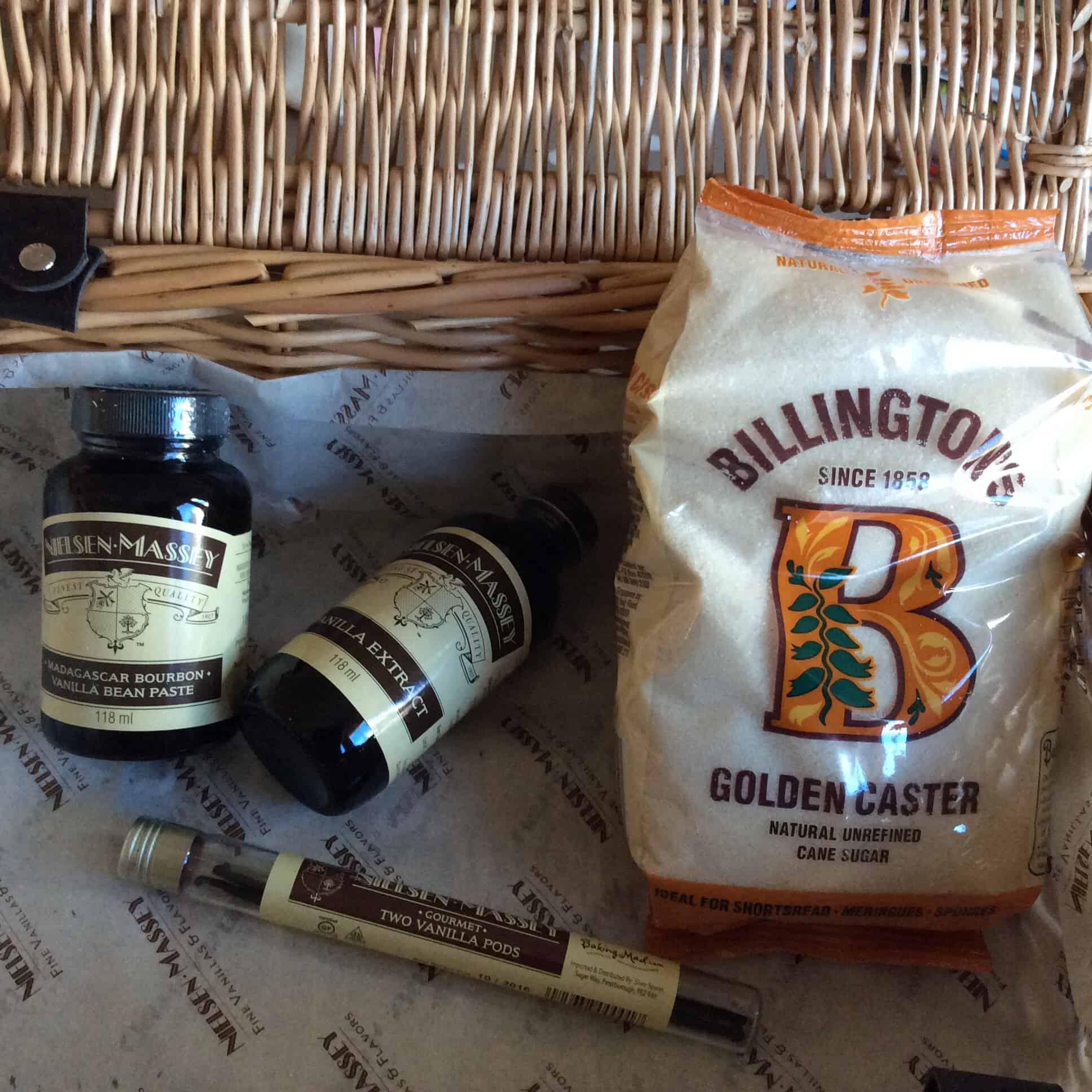 On looking at the recipe to get prepared to make the vanilla cheesecake, I noticed it required a LOT of cream cheese. 900 g of cream cheese in one cheesecake anyone? Casting my eye down the rest of the ingredients I made a mental note to renew my gym subscription pronto: 200 g of golden caster sugar, 200 ml sour cream and three eggs plus one yolk are in there too. This makes a very large and delicious cheesecake, so do make sure there are more than two adults and two chldren around to eat it if you make one…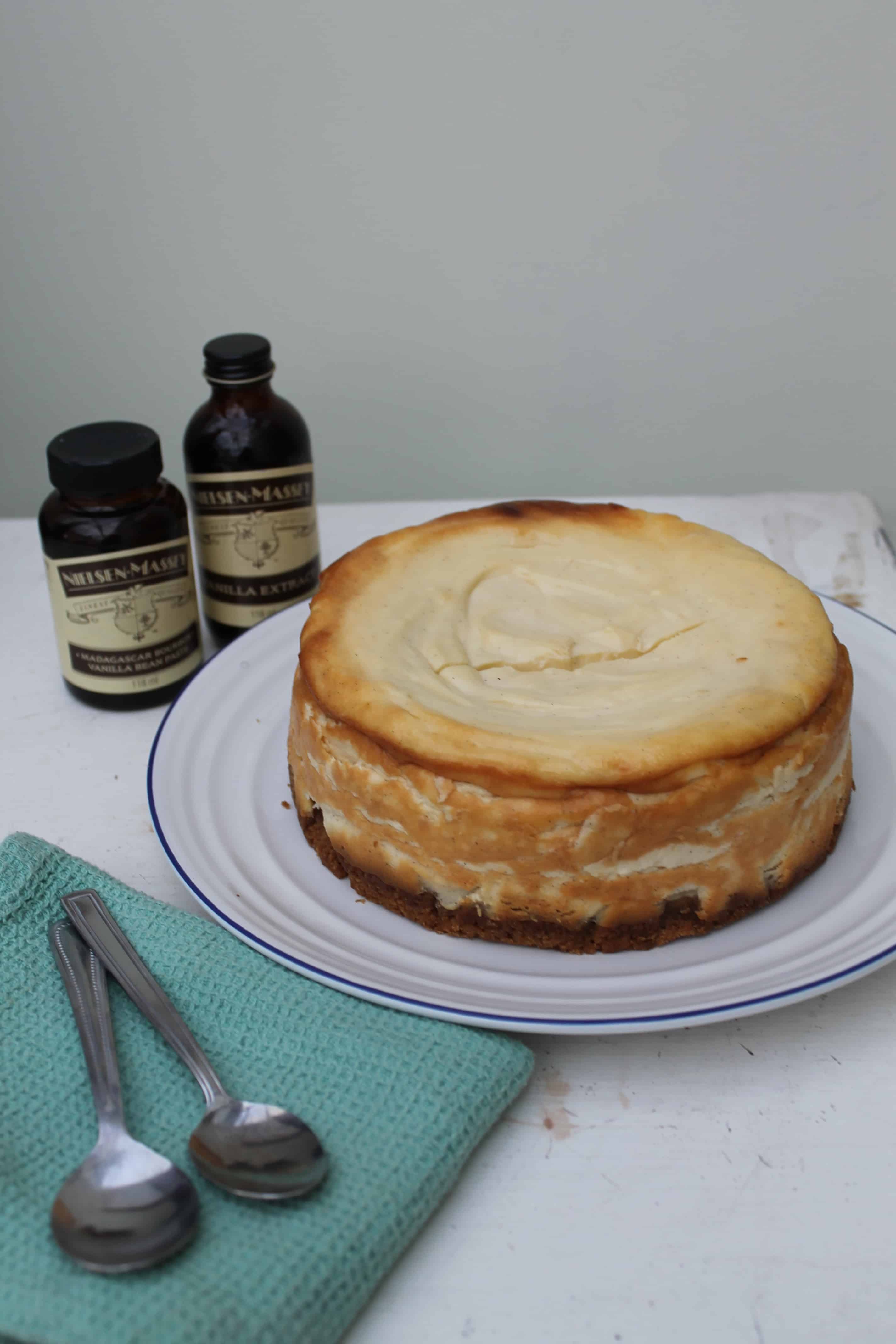 I decided to use the vanilla bean paste in my cheesecake rather than extract. This gave the cheesecake the lovely speckled appearance you get with vanilla pods, without the hassle of scraping the pods out yourself.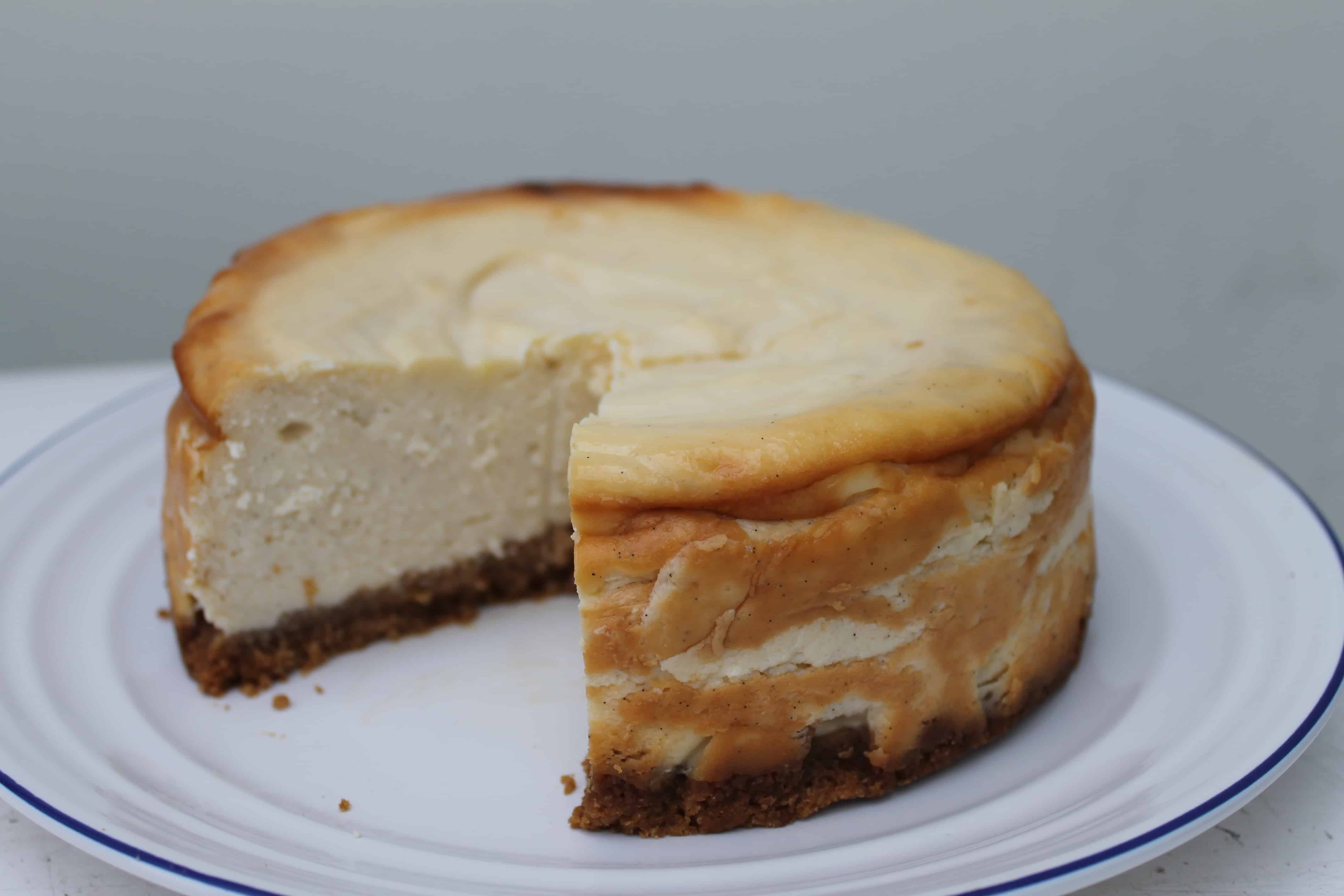 If you make this I have a few tips for you: use a very deep tin as there is a lot of cheesecake topping in there; and don't use self-raising flour instead of plain like I did, thinking that as there are only a few tablespoons of flour wouldn't affect the cheesecake. Mine rose a lot and nearly over the edges of my deep tin. Do make sure you grease the sides of your springform tin so the cheesecake comes out cleanly.
We really enjoyed the cheesecake, thankfully mine came out of the tin in one piece and didn't fall apart as I feared would happen when I handled it. It has a very deep cheese layer, filled with vanilla flavours, and with a lovely texture. As a baked cheesecake I thought you get more flavour than with the no-bake cheesecakes as well. Definitely a pudding I would make again when we have visitors over.
Disclaimer: I was sent a hamper of Nielsen-Massey goodies from Baking Mad.com for the purpose of this recipe post. All images, words and opinions are my own.
---
---