Roasted Pepper and Thyme Soda Bread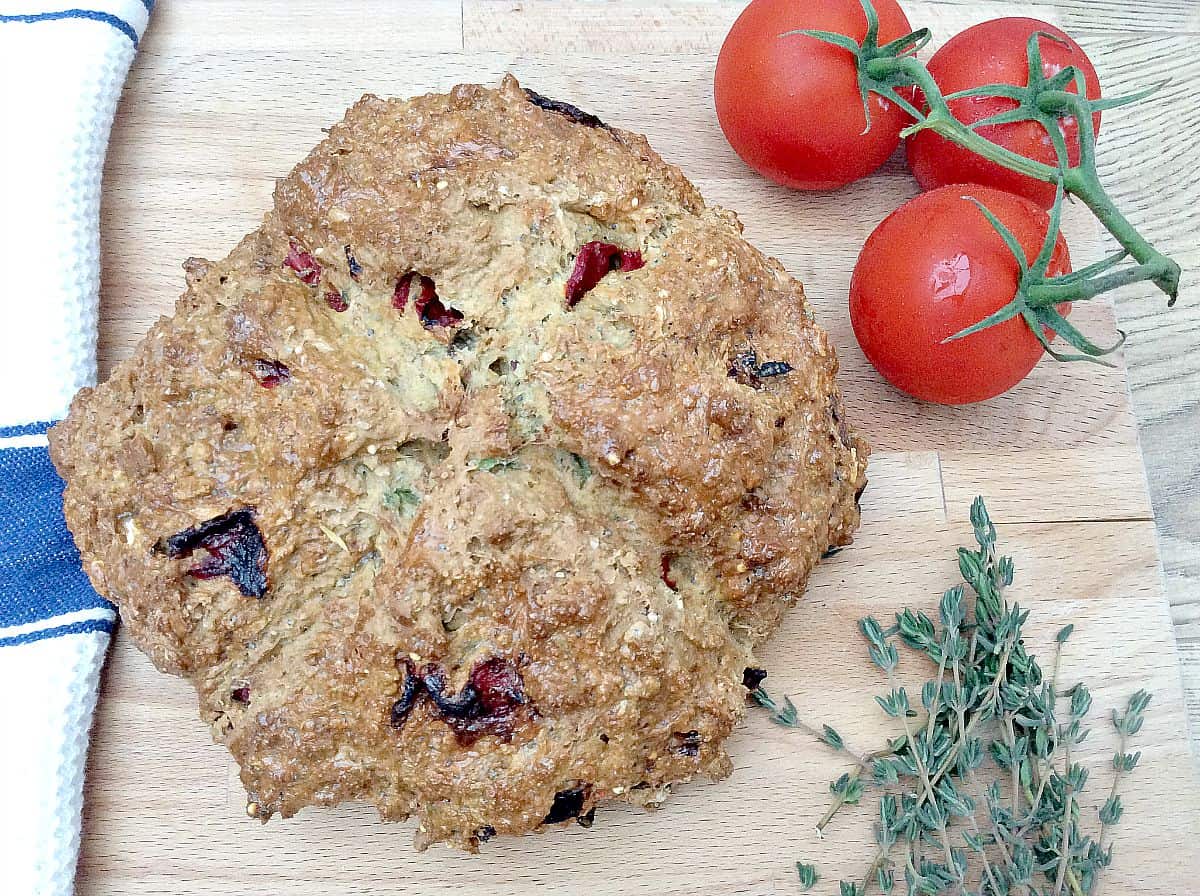 I've been on holiday in France with my family this week and just got back on Sunday afternoon. I had some lovely baguette of course while away, and enjoyed it in particular on the side of the warm goat's cheese salads which you can often find on the lunch menus. This week I didn't actually manage to watch Great British Bake Off as we only had French TV in our gite (talk about bad planning!), so I caught up on Bread week this afternoon. This obviously then spurred me into baking a loaf of roasted pepper and thyme soda bread, as you do, using up bits and pieces left over in my fridge.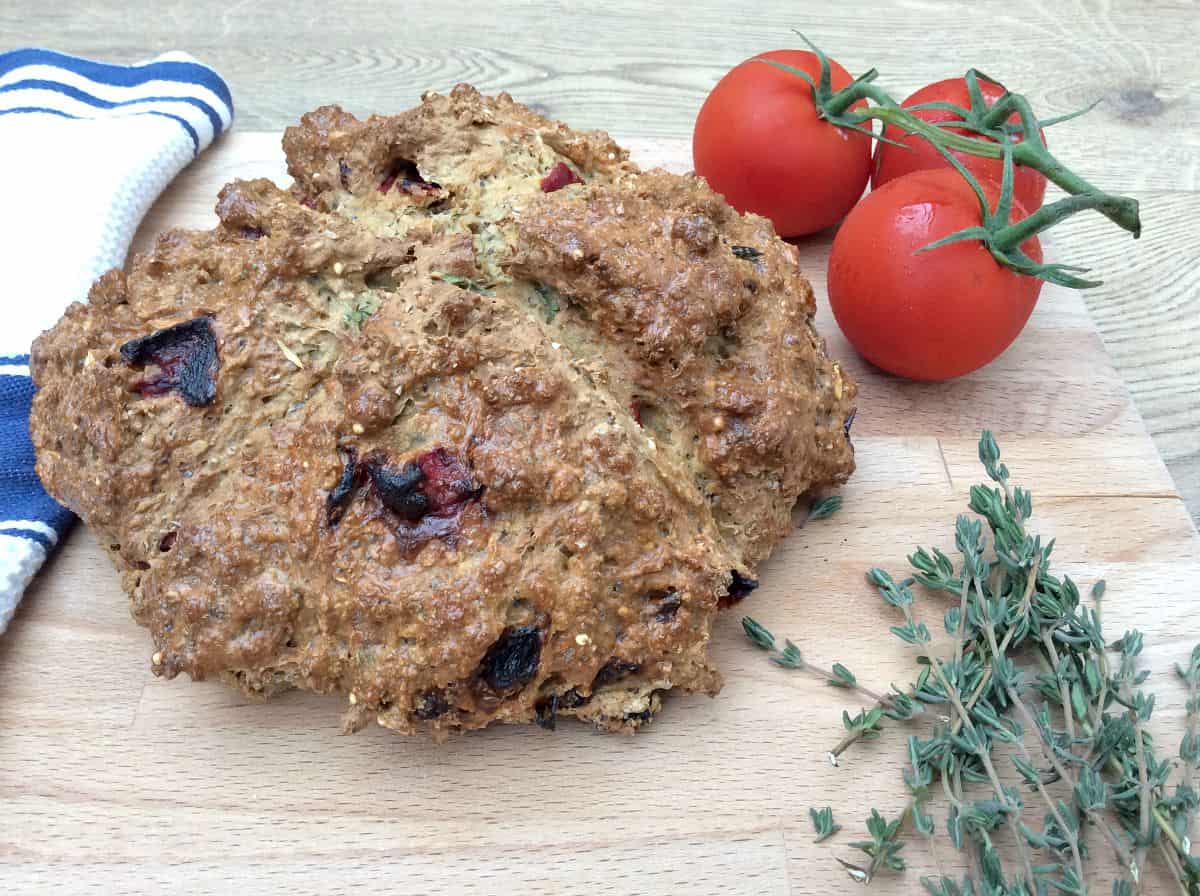 I've never made soda bread before from scratch, and it sounded quite appealing since no proving is needed and it doesn't require yeast. Just what is needed when you are just back home after a long journey.
First I roasted a yellow and red pepper languishing in the fridge, without oil. I removed the skin to leave the soft and sweet flesh, and chopped this up into small pieces.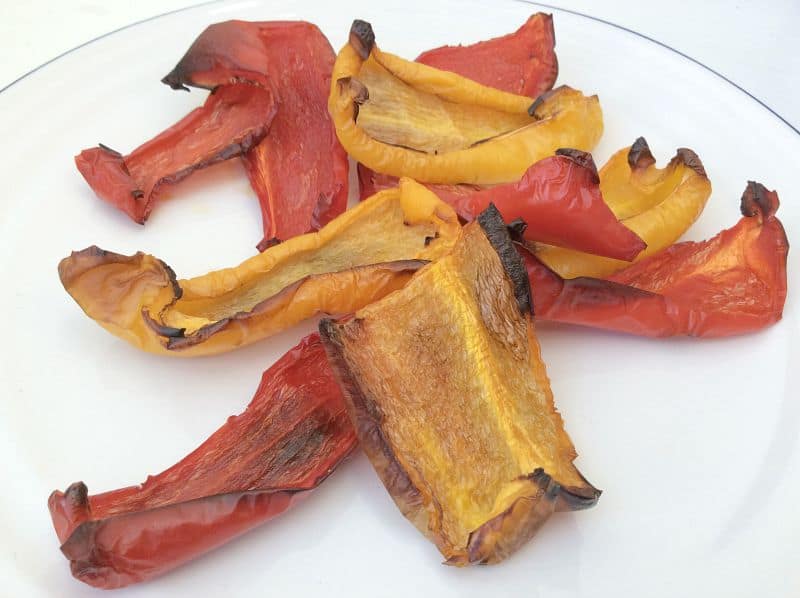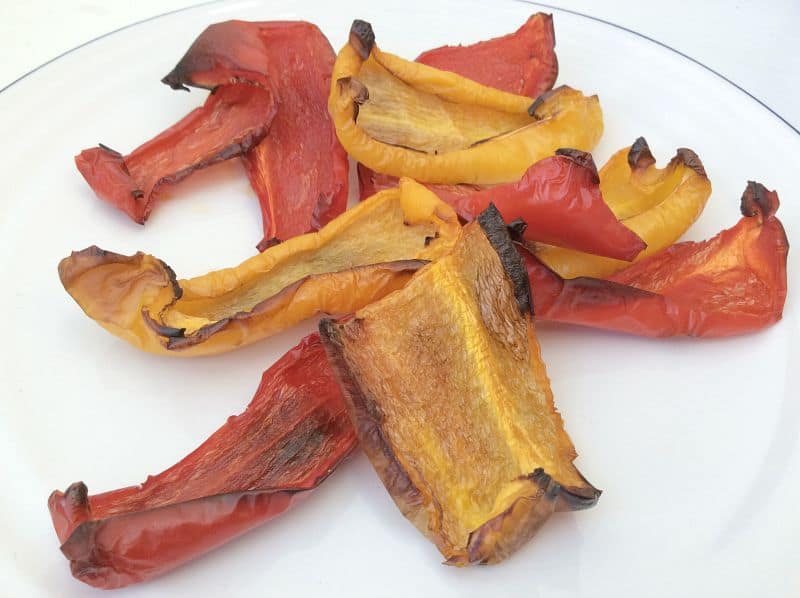 I stripped the leaves from a few stems of fresh thyme as well. Not having any buttermilk in the house, I found online that you can make buttermilk by adding 1 tablespoon of white wine vinegar to 250 ml of milk, so that is what I did here. If you have buttermilk then feel free to use it instead.
I used a mixture of self-raising flour and some seeded wholemeal flour here to add texture to the bread. You can of course use just self-raising flour in the recipe instead.
My roasted pepper and thyme soda bread smelt great as it baked, the scent of thyme pervading through the house. It was delicious with some salad and feta cheese. Great to bring some summer flavours to your kitchen.
Recipe:
250 ml semi-skimmed milk
1 tablespoon white wine vinegar
240 g self-raising flour
110 g seeded wholemeal flour
1.5 tsp bicarbonate of soda
0.5 tsp salt
One red and one yellow pepper
Fresh thyme leaves, approx 2 tsp
One egg, for the egg wash
Method:
Remove the seeds from the peppers and roast them at 180 degrees for 30 mins until the skin begins to turn black and the flesh is soft.
Let the peppers cool then remove the skin and chop them into small pieces.
Place the milk and vinegar in a jug and mix well, leave it for five to ten minutes.
Place the flours, bicarbonate of soda and salt in a large bowl.
Add the chopped roasted pepper and the thyme leaves and mix well.
Add the milk and vinegar mixture and stir with a wooden spoon.
The dough will start to come together.
Tip it onto the work surface and bring it together with your hands. Don't knead or it will get overworked and the bread will be heavy rather than crumbly.
Form the dough into a round loaf and place it on a baking tray dusted with flour.
Using a sharp knife, make two deep slashes on the top of the dough. 
Brush the dough with the beaten egg.
Bake at 180 degrees (fan) for 35 to 40 minutes until deep brown and the base sounds hollow when tapped.
Leave to cool on a rack.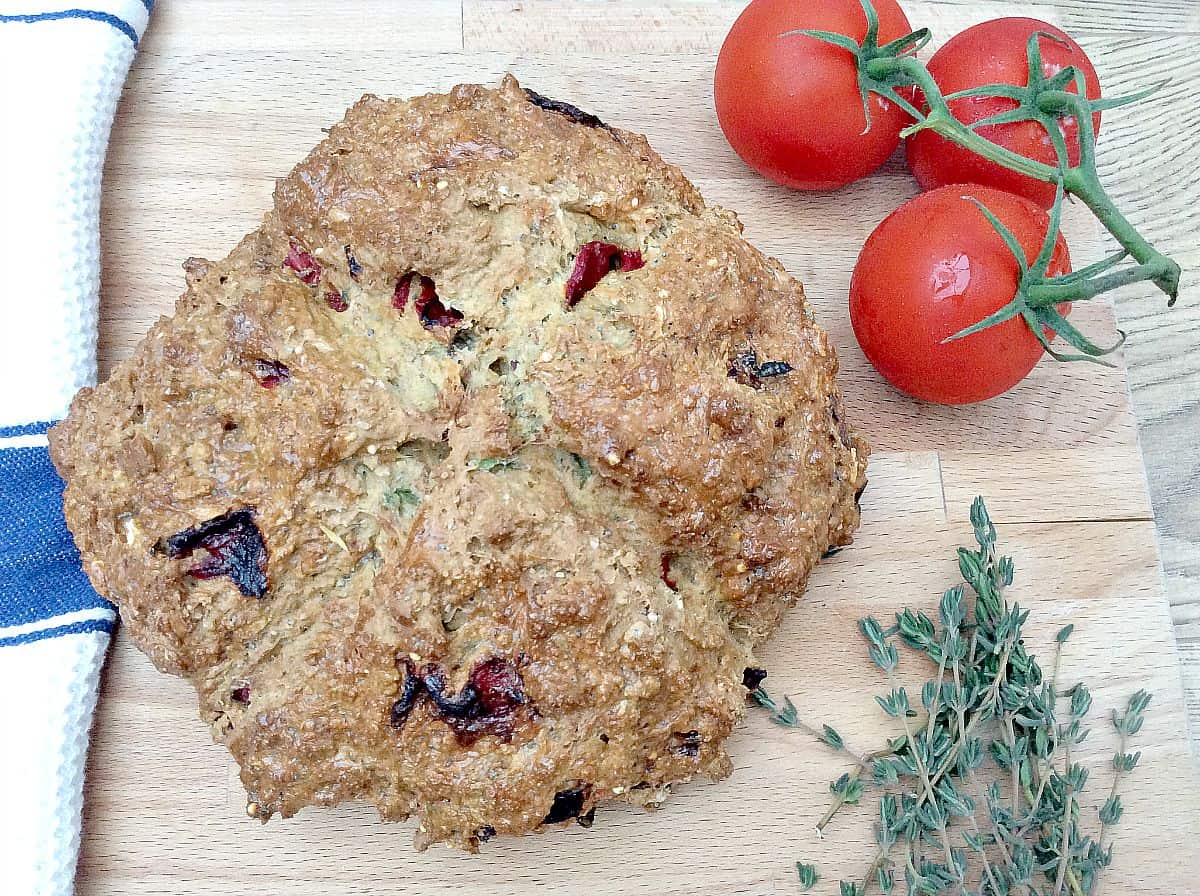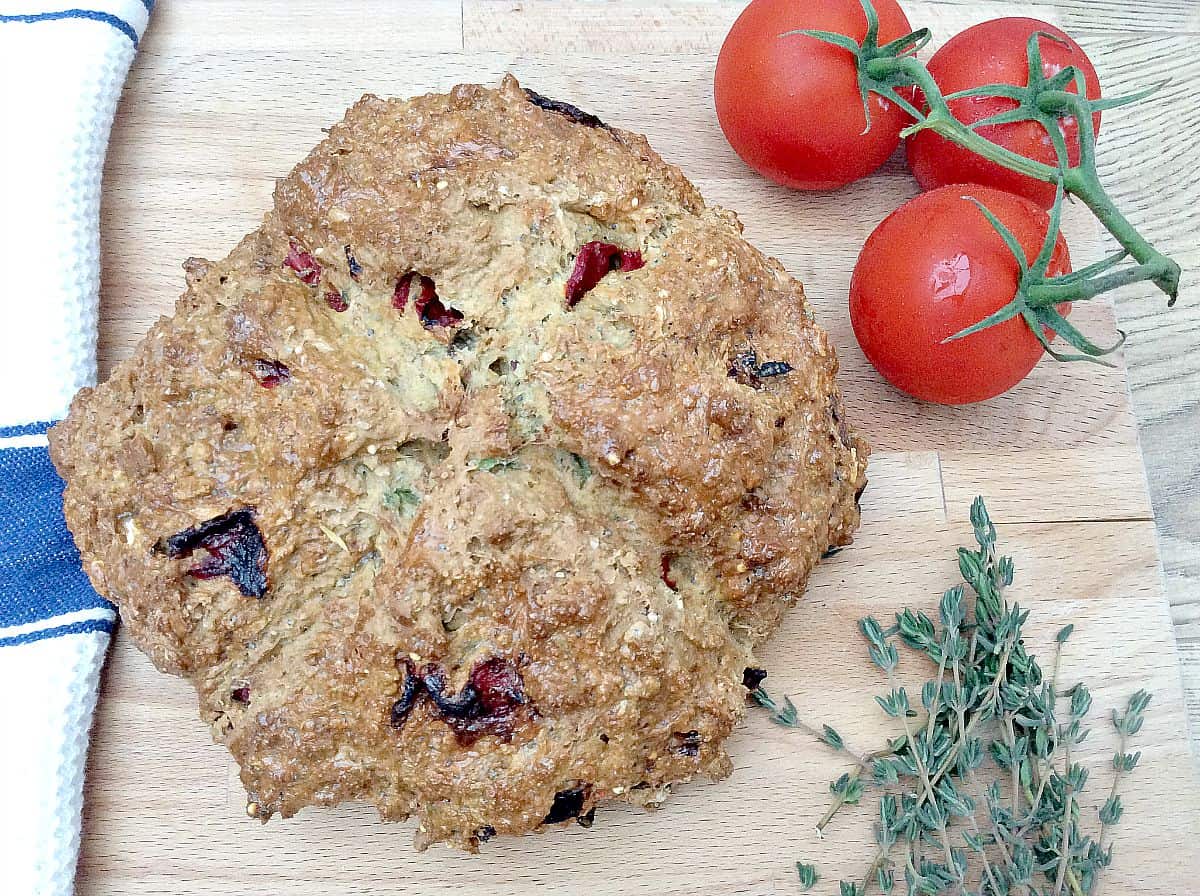 Pin for later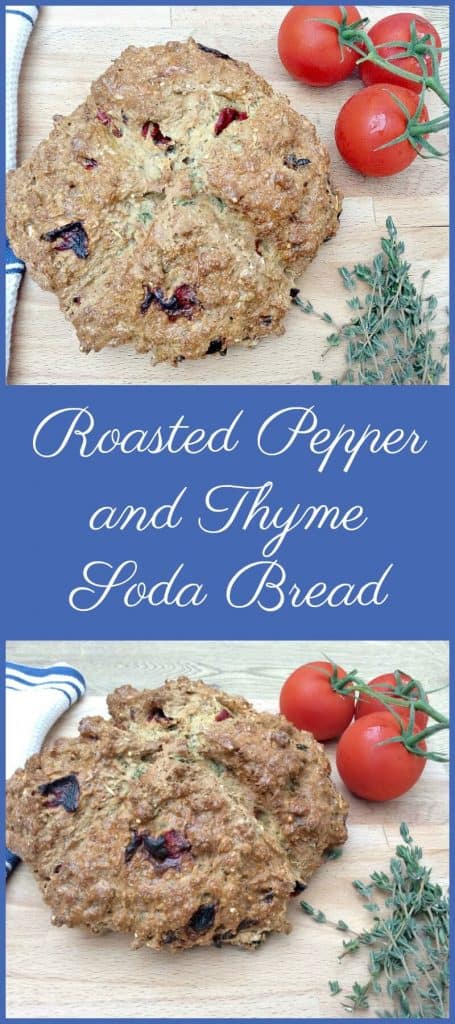 I'm linking this recipe up with Bready Steady Go, from Jen's Food (hosting this month) and Utterly Scrummy Food for Families.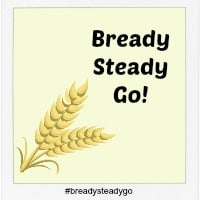 Also joining with Credit Crunch Munch from Fab Food 4 All and Fuss Free Flavours, hosted this month by Food Glorious Food.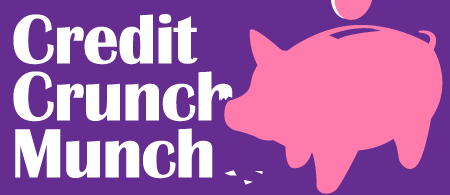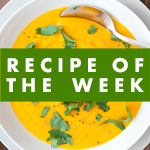 Also linking up with the Great Bloggers Bake Off 2015 with Mummy Mishaps; Jo's Kitchen is hosting for this week
---
---