Slow cooker mac and cheese or macaroni cheese is the perfect dish to set it and forget it, this from-scratch recipe made the authentic way with a roux-based sauce tastes amazing and the whole family will love it. If you want an easy and delicious recipe this will be perfect for you.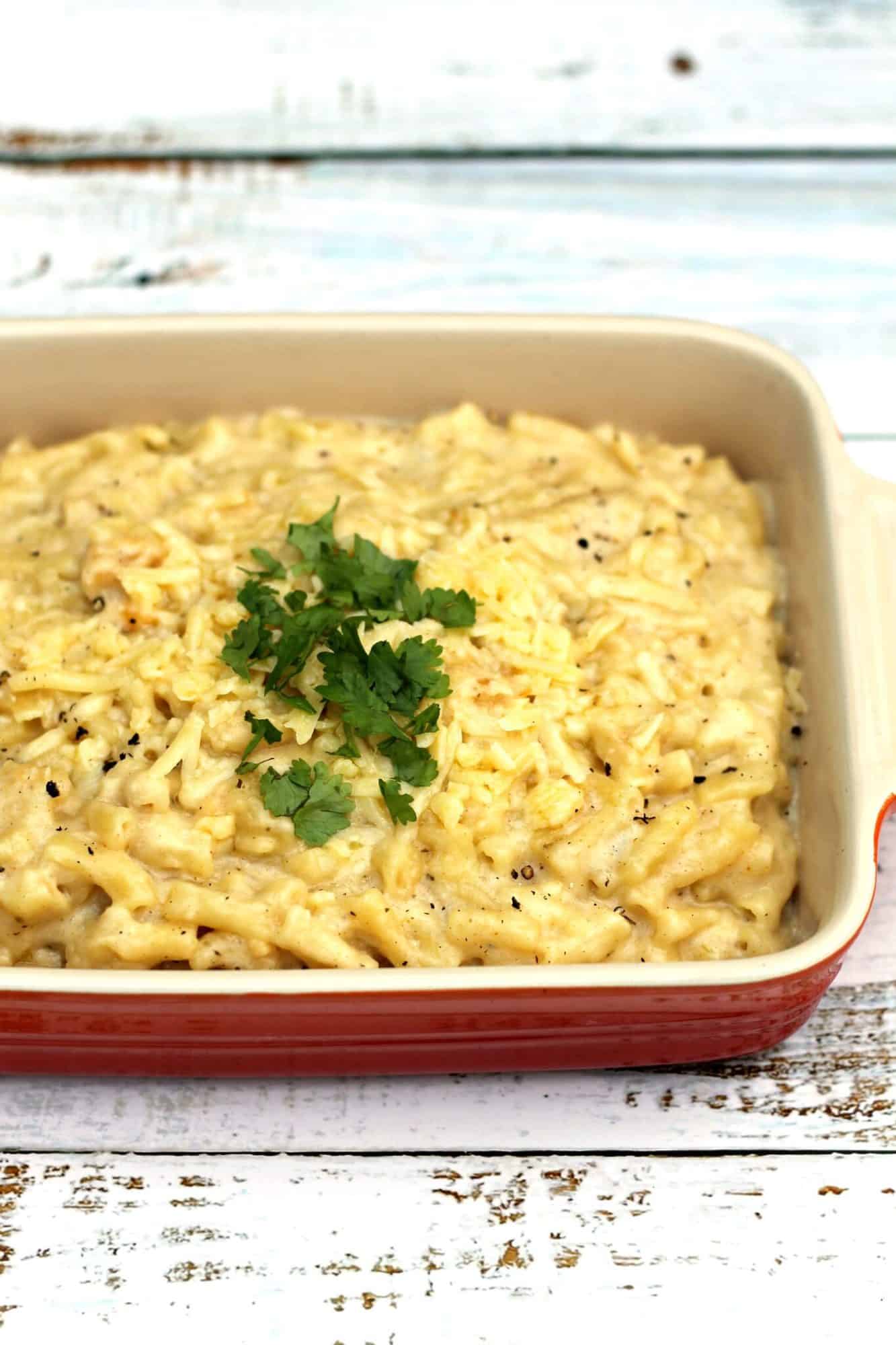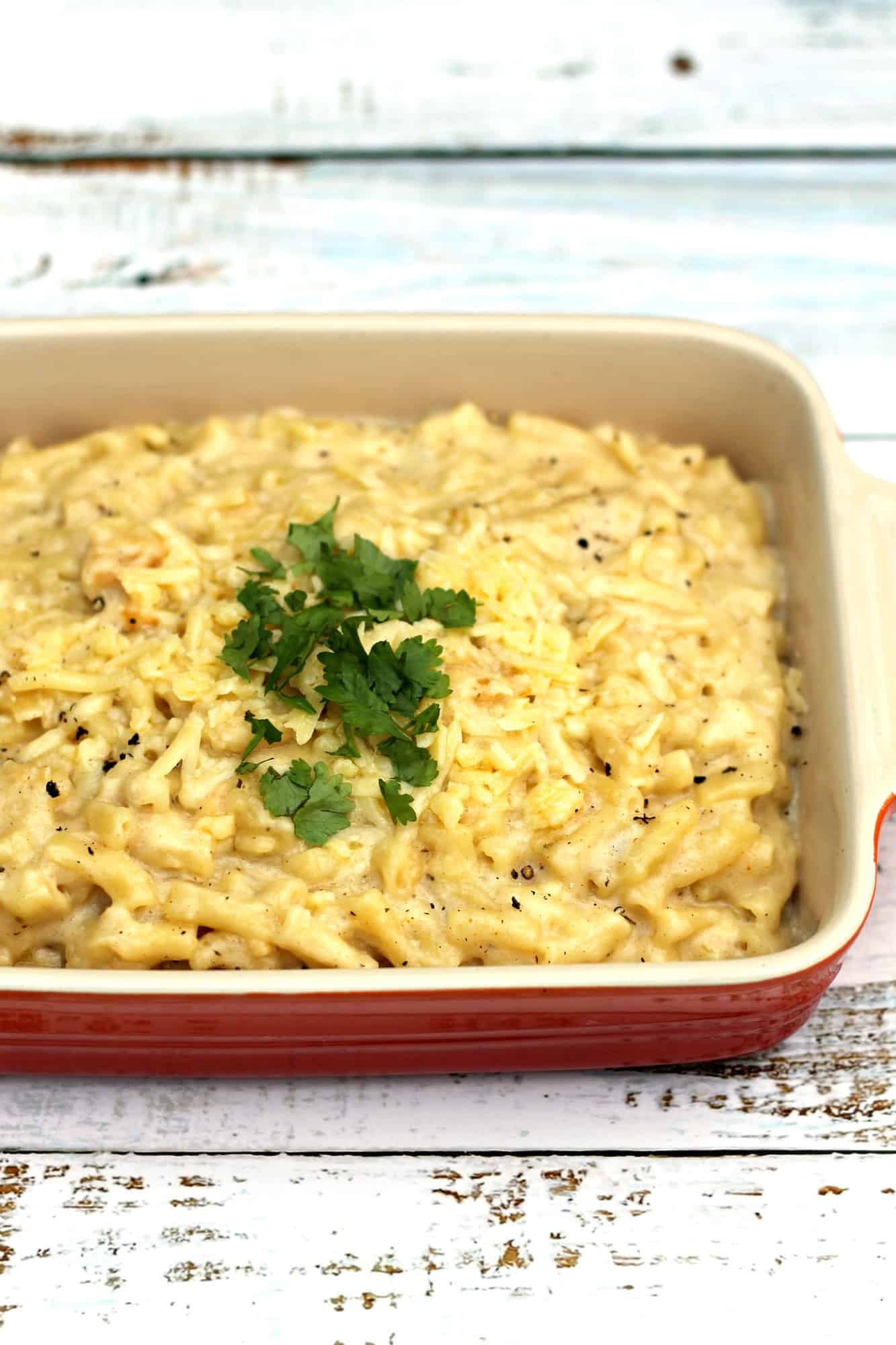 Odd as it might seem but other than lasagne I have never cooked pasta in the slow cooker before, after lots of horror stories about it turning very starchy or going mushy.
I wanted to make mac and cheese as a side dish to go with our roast dinner but wanted to prepare it earlier in the day to save time later. That's when the slow cooker comes to the rescue!
Jump to:
Easy from scratch recipe
Now since I tend to avoid using convenience ingredients and make my recipes from scratch, I needed to try something different. A quick look on the Internet showed many US recipes for slow cooker mac and cheese which use either evaporated milk or cream cheese instead of a real cheese sauce.
I didn't want to go down this route as I wanted to keep as much flavour in my macaroni cheese as possible! So I have gone for making a really thick white sauce as the basis for my cheese sauce, then adding cheese and cook this in the slow cooker.
The thickness of the cheese sauce I think is the key to ensure the sauce doesn't split or curdle as it cooks away gently in the slow cooker.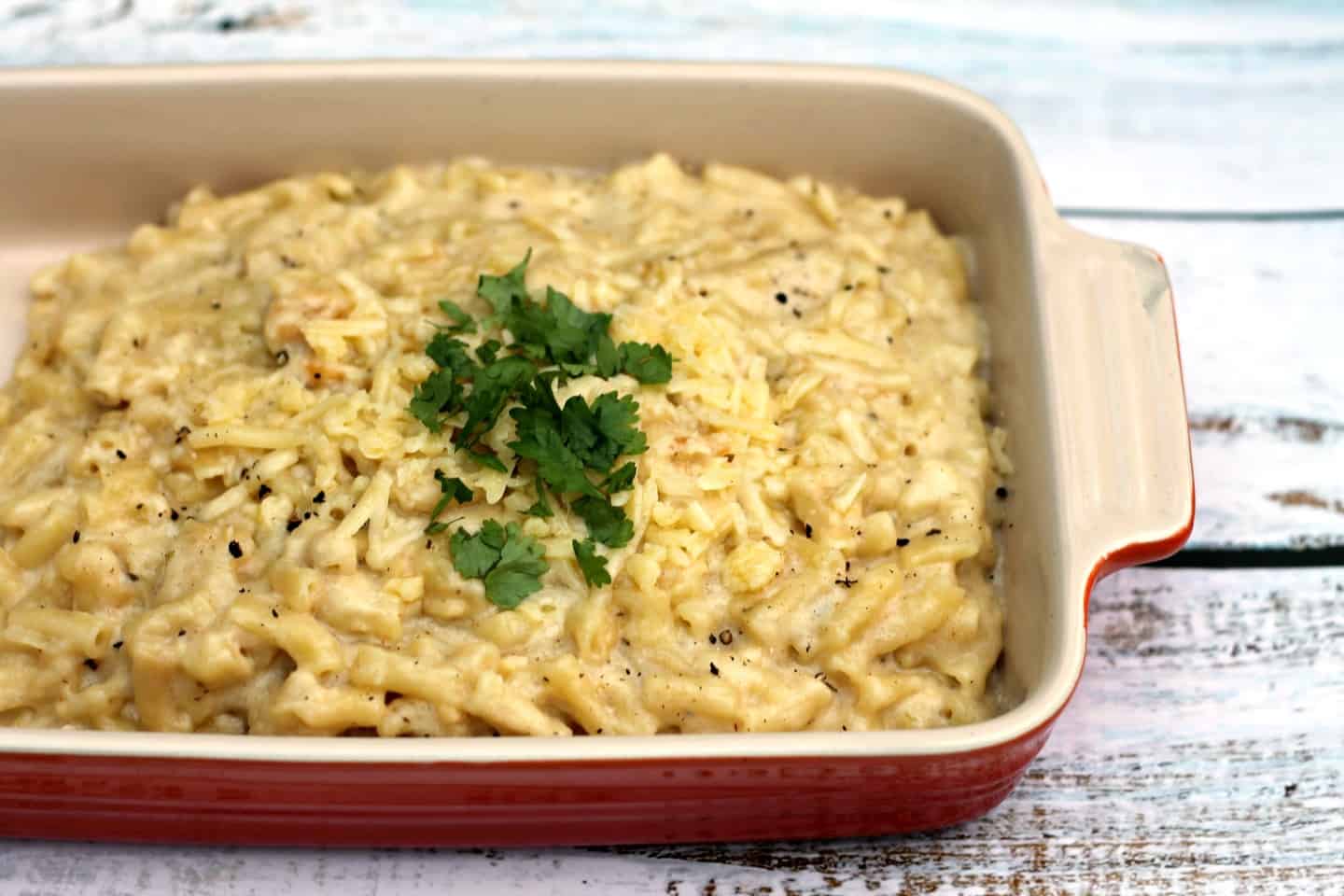 Ingredients needed
For the amounts please refer to the recipe card at the end of the post.
macaroni
grated cheddar cheese
butter
plain flour
semi-skimmed milk
cold water
parsley
mixed herbs
minced garlic
paprika
Step by step instructions
Put the macaroni and grated cheese in the slow cooker pot.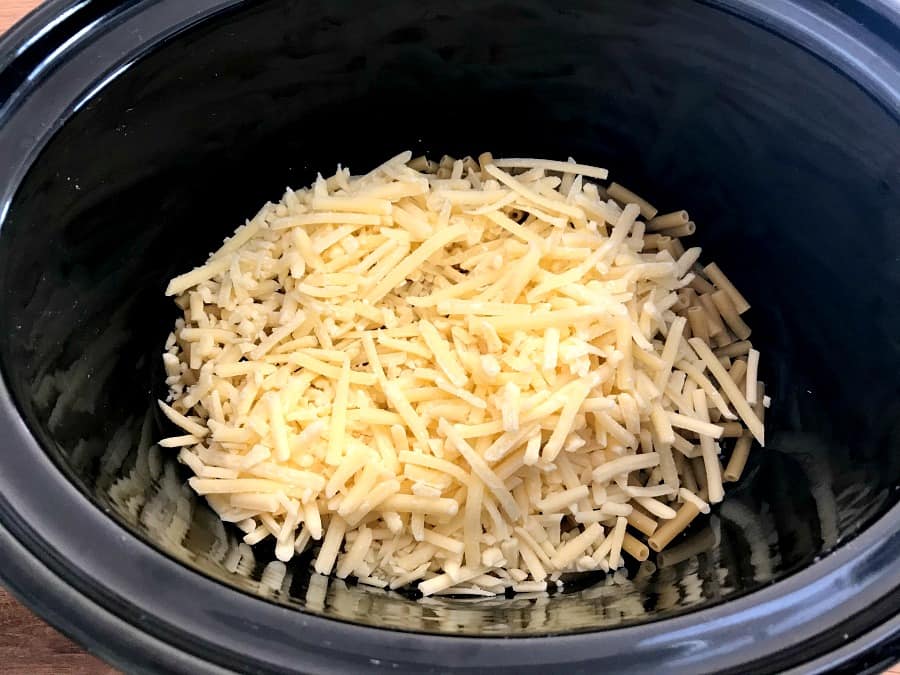 Now make a thick white sauce in a pan on the hob using the butter, plain flour and milk. To do this, melt the butter, then stir in the plain flour. Cook for 1-2 minutes.
Whisk in about one fifth of the milk, it will thicken up after about 30 seconds. Whisk in another fifth and allow to thicken. Repeat until all the milk has been added, then cook for about 5 minutes on a low heat until the sauce thickens. You are looking for a very thick sauce.
Whisk the white sauce well, season with salt and pepper then add it to the slow cooker with the water to the pasta and cheese in your slow cooker pot.
Now mix well with the cheese, water and pasta so it is well combined.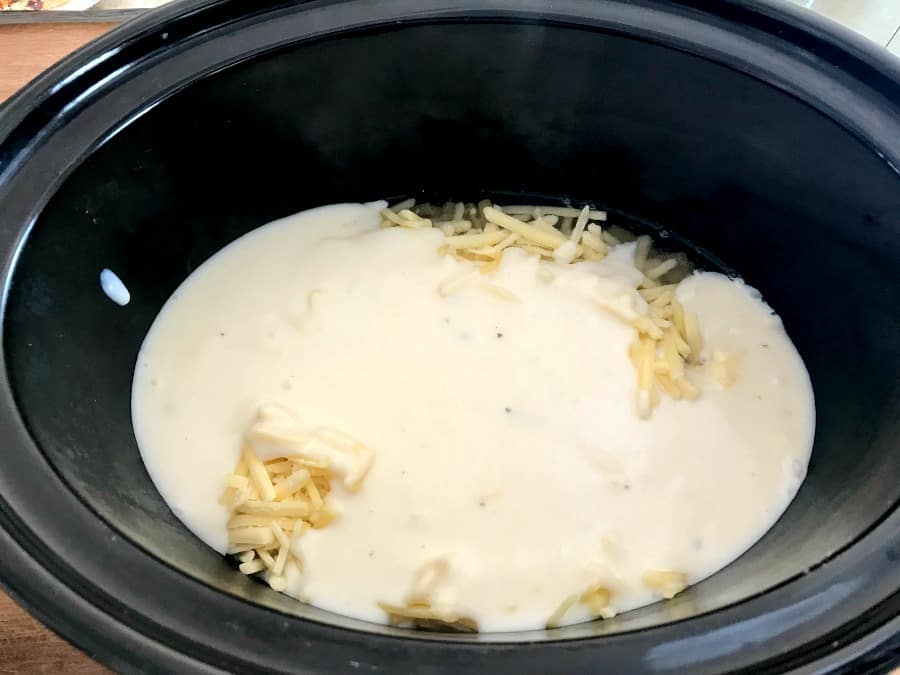 The next step is to add flavour with a little minced garlic, parsley and mixed herbs, and a little paprika. All of these, along with seasoning, give a little lift to the flavour of the cheese sauce.
I also like the speckles of green that the parsley adds!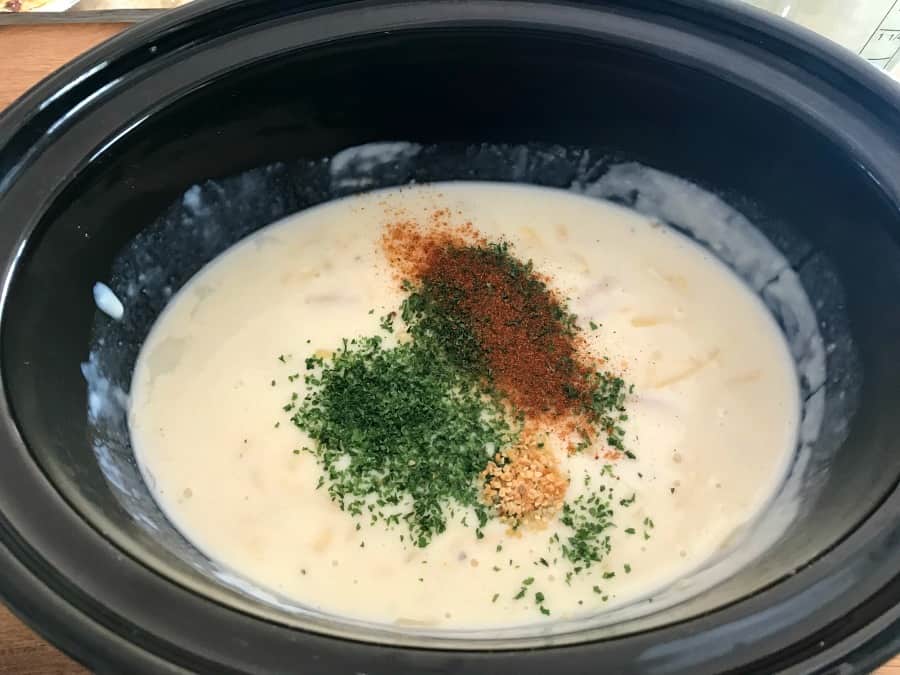 Once all mixed, leave it to cook. By making the sauce extra thick (by using more of the flour and butter than you would for a thinner sauce) and then adding water in with the pasta, the pasta will cook and absorb the water, leaving the sauce really thick and delicious.
This is a similar idea as for the pasta bake sauces in a jar which you add water to and then pour over pasta, but in a recipe from scratch.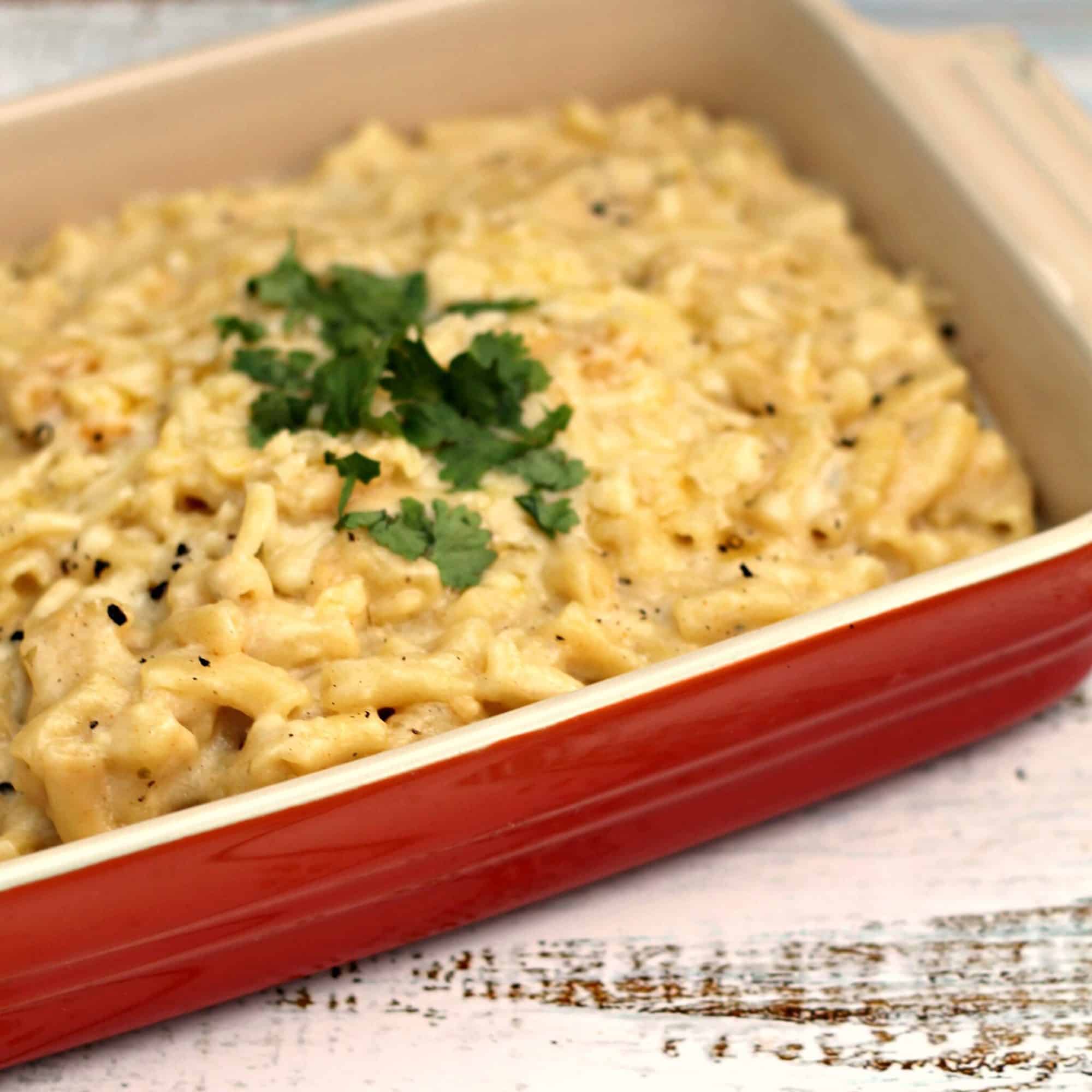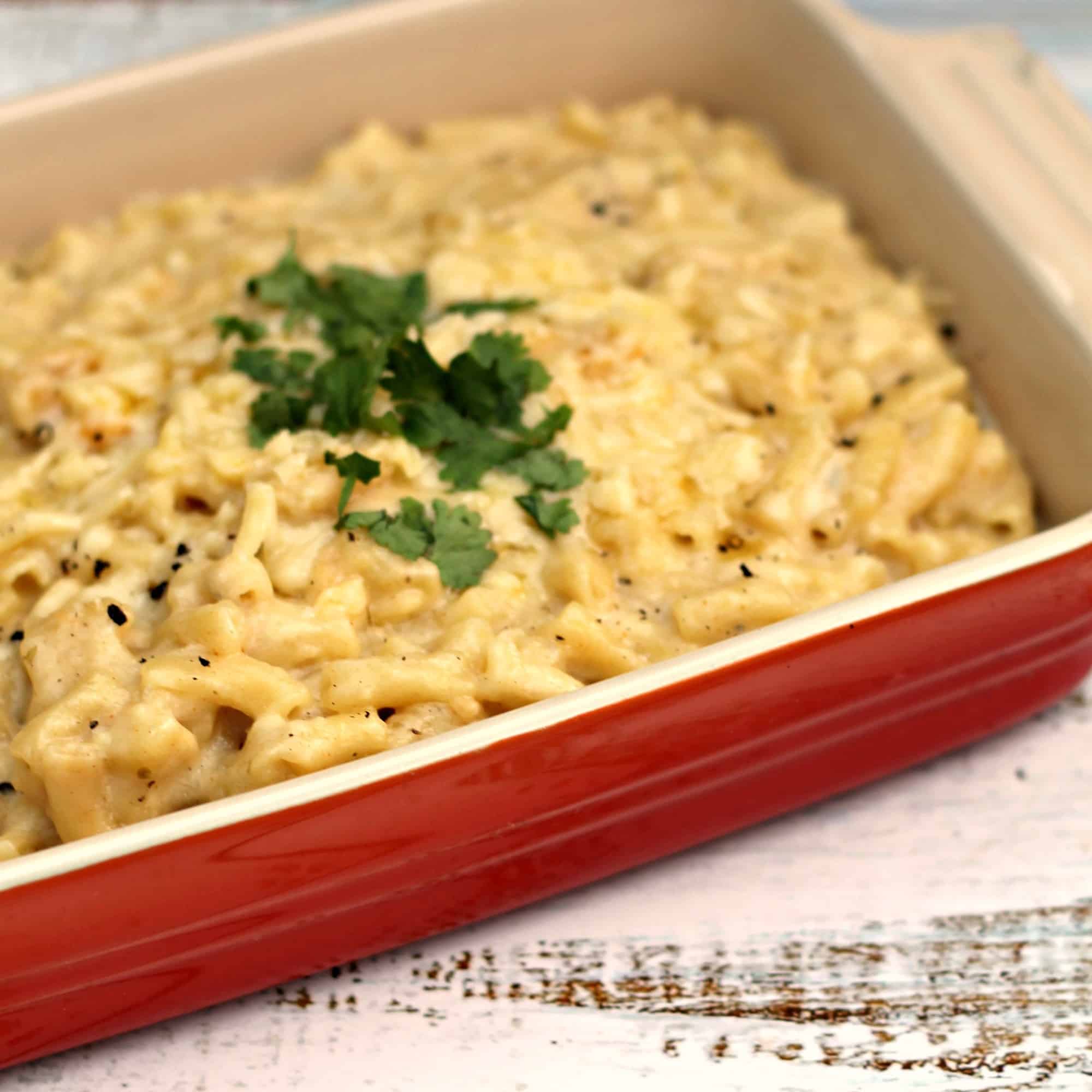 I was so pleased to discover after only 1 hour and 45 minutes on low, the pasta was deliciously soft, the cheese sauce had not split or curdled or gone watery, and my thick sauce was lovely and thick!
The family had no idea this mac and cheese had been made in the slow cooker rather than in the oven.
Slow cooker mac and cheese will certainly be going on my meal plan more often now, since it is so easy and convenient to make. Full of cheesy carby goodness!
So next time you want to make slow cooker mac and cheese, and need a UK recipe with metric measurements and not using unusual ingredients, make sure you try my from scratch recipe.
Serve with
It works great as a side to our roast chicken dinner, with roasted vegetables and salad.
Other dishes you could serve macaroni cheese with include:
Variations
To make this a meal in one you could also add peas, sweetcorn, diced ham, bacon lardons, or even chunks of cooked chorizo.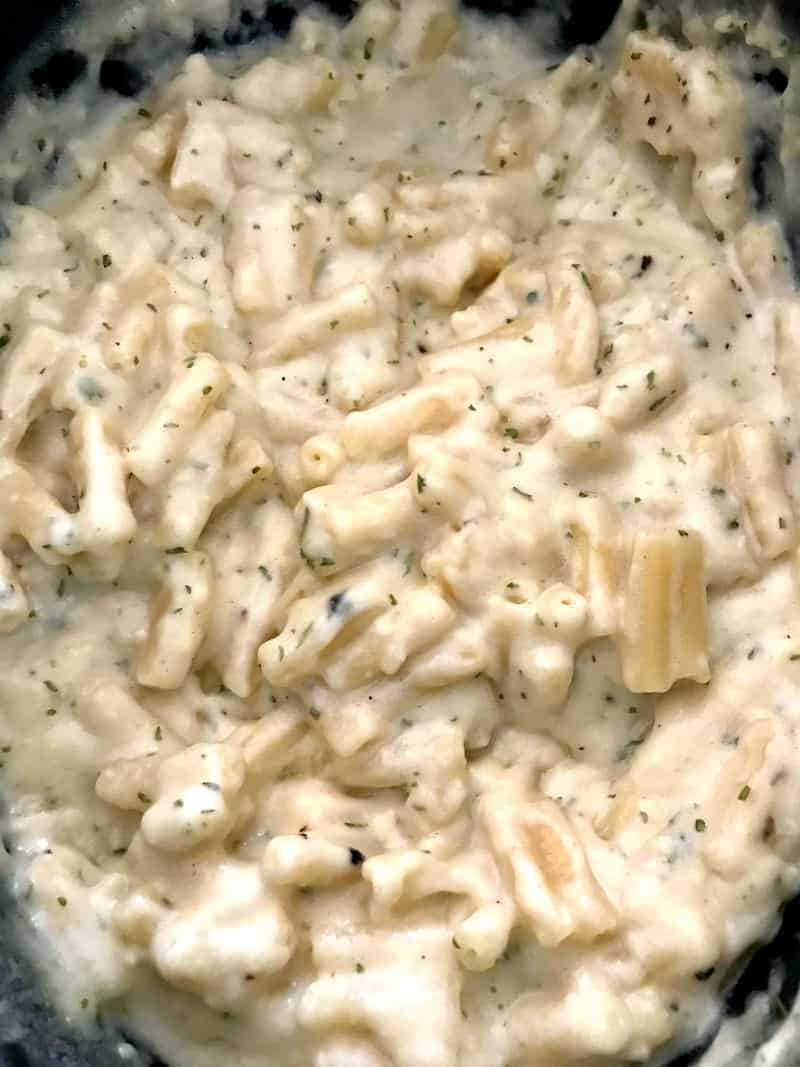 More recipes
For loads more slow cooker recipes, do make sure you look at my slow cooker archives as well as my roundup of autumn and winter slow cooker dishes and family slow cooker recipes that kids love.
You can also subscribe to my posts so you don't miss a recipe. Follow me on social media where I am @bakingqueen74 on Facebook, Twitter and Instagram.
Pin this recipe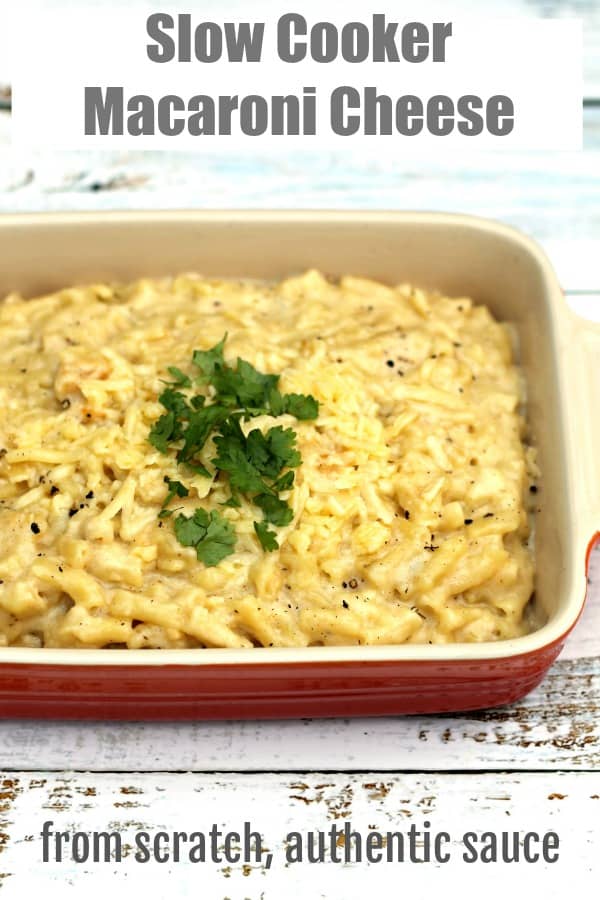 Recipe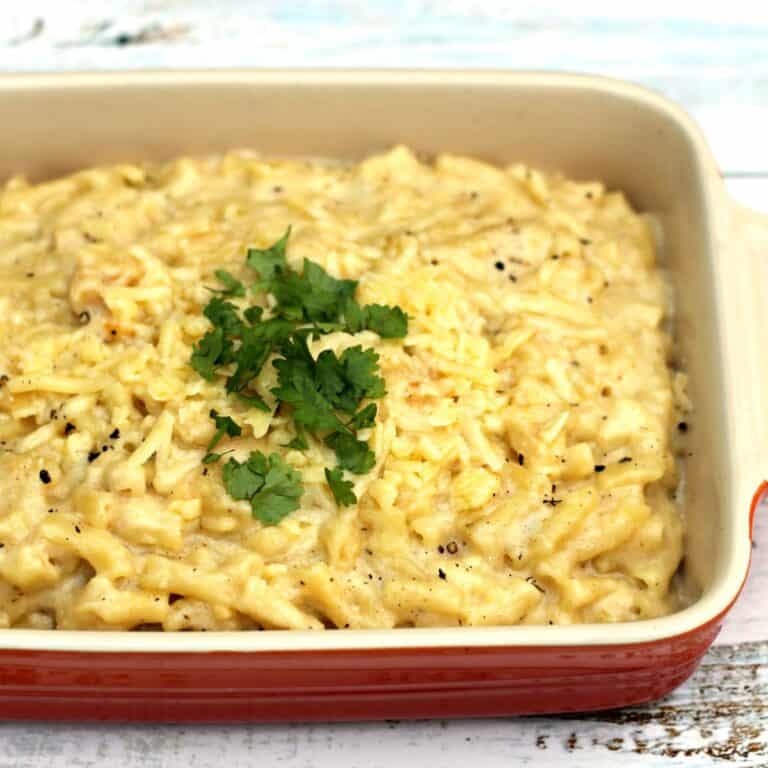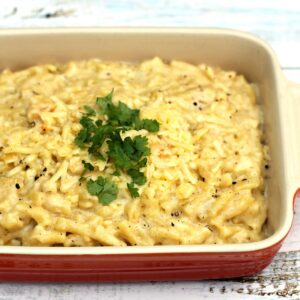 Slow Cooker Mac and Cheese
A delicious recipe for slow cooker mac and cheese made from scratch using a roux-based sauce (made with butter, flour and milk) with no weird ingredients, in UK measurements
Print
Pin
Rate
Save
Saved!
Ingredients
For the mac and cheese:
250

g

macaroni dried pasta

180

g

grated cheddar cheese

I used a mixture of mature and medium cheddar

250

ml

water

1

tsp

dried parsley

0.5

tsp

mixed herbs

0.5

tsp

minced garlic

0.5

tsp

paprika
Instructions
To make the sauce:
Melt the butter in a pan, then add the flour. Cook for 1-2 minutes, stirring with a wooden spoon. This is the roux which is the basis of the sauce.

Add about a fifth of the milk to the pan, whisk well and it will become incorporated with the roux, and thicken up.

Add another lot of milk, and again whisk it in well.

Continue, adding the milk in about 3 more lots, and whisking after each addition and allowing it to thicken.

Set the pan to cook gently for around five minutes, it should be at a simmer. Stir occasionally. Around the end of the cooking time, the sauce will thicken, make sure you stir it well and whisk during this time. 

Once thickened your white sauce is ready to use. Note it will get very thick, and you want it to get very thick before adding it into the slow cooker.
To make the mac and cheese:
Put the dry macaroni pasta and then the cheese in the slow cooker pot.

Pour on the white sauce, and add the cold water.

Add the herbs and spices, stir well and season well with salt and pepper. Taste the sauce and make sure it is seasoned/flavoured to your taste.

Stir well, put on the lid and cook for 1 hour 45 minutes to 2 hours on low (or approx 1 hour on high). Stir occasionally so it doesn't get stuck to the base of the slow cooker pot. Serve once ready.

Note that timings vary depending on your own slow cooker, so check the dish occasionally and if the pasta is still hard, cook for longer, or if it is soft and ready to eat earlier, take it out earlier.
Notes
Slow cooker size
I made this in an oval 3.5 litre slow cooker.
Did you try and love this recipe?
Then please leave a review and rating in the comments at the bottom of the post. If you post your creation on Instagram, tag me @bakingqueen74 or use hashtag #bakingqueen74!