Autumn, the time of long walks, crisp leaves on the ground, chunky cardies, warming casseroles and of course, pumpkin spice lattes! If you love pumpkin spice, you have to make my slow cooker pumpkin spice pudding cake.
It's a self-saucing pumpkin cake spiced with cinnamon, nutmeg, all spice and cloves, and the rich glossy sauce itself is loaded with pumpkin spice flavour as well. Pumpkin spice overload right here!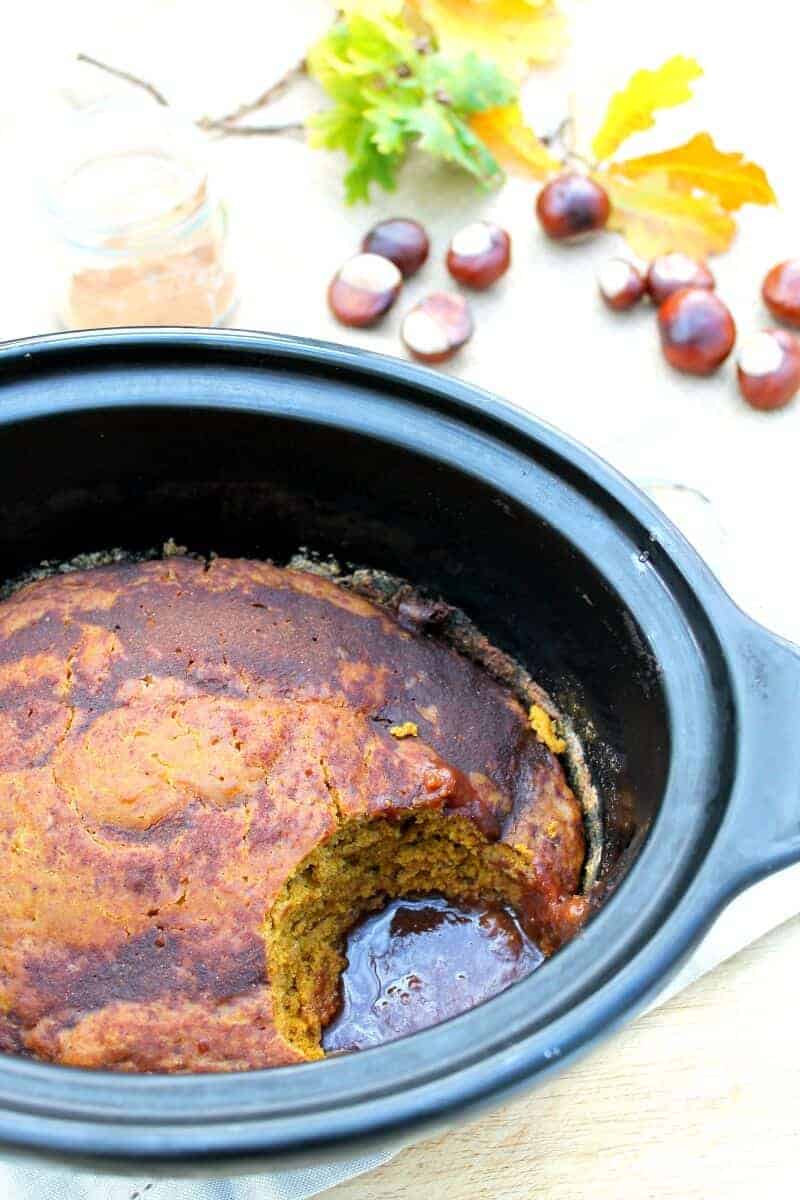 Pumpkin puree is THE best ingredient at this time of year. Use it in savoury dishes or in warming gently spiced drinks or bakes.
Last year I made a spiced pumpkin fruit cake with pumpkin buttercream icing when the pumpkin craving hit. This year a slow cooker pumpkin spice pudding cake to serve hot with its own spiced sauce seemed to fit the bill perfectly.
Cover it with cream and cinnamon and its like a pumpkin spice latte in cake form! Well, without the coffee but you know what I mean.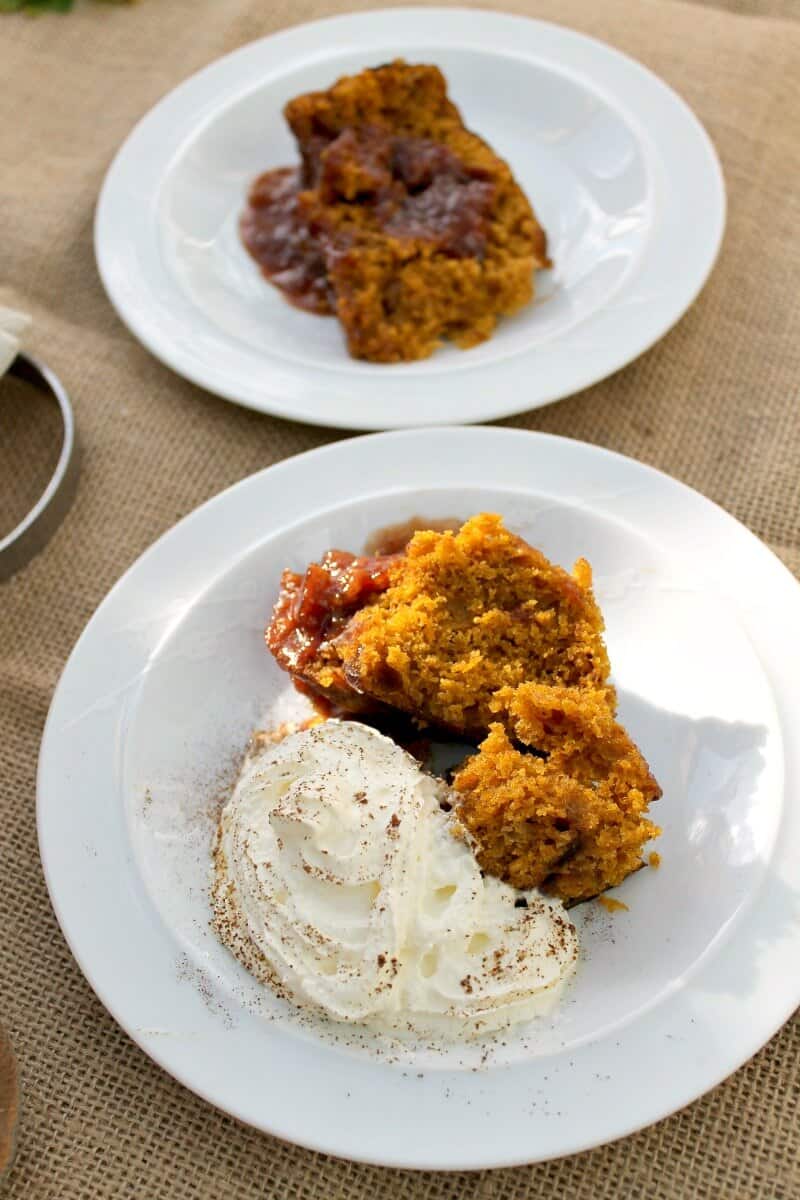 The rich colour of the sponge and the dark brown of the pumpkin spiced syrupy sauce make this a feast for the eyes as well as the stomach.
If the chilly days make you want to stay under a blanket, a bowl of my pumpkin spice pudding cake will be like a warming hug for the soul. Or something.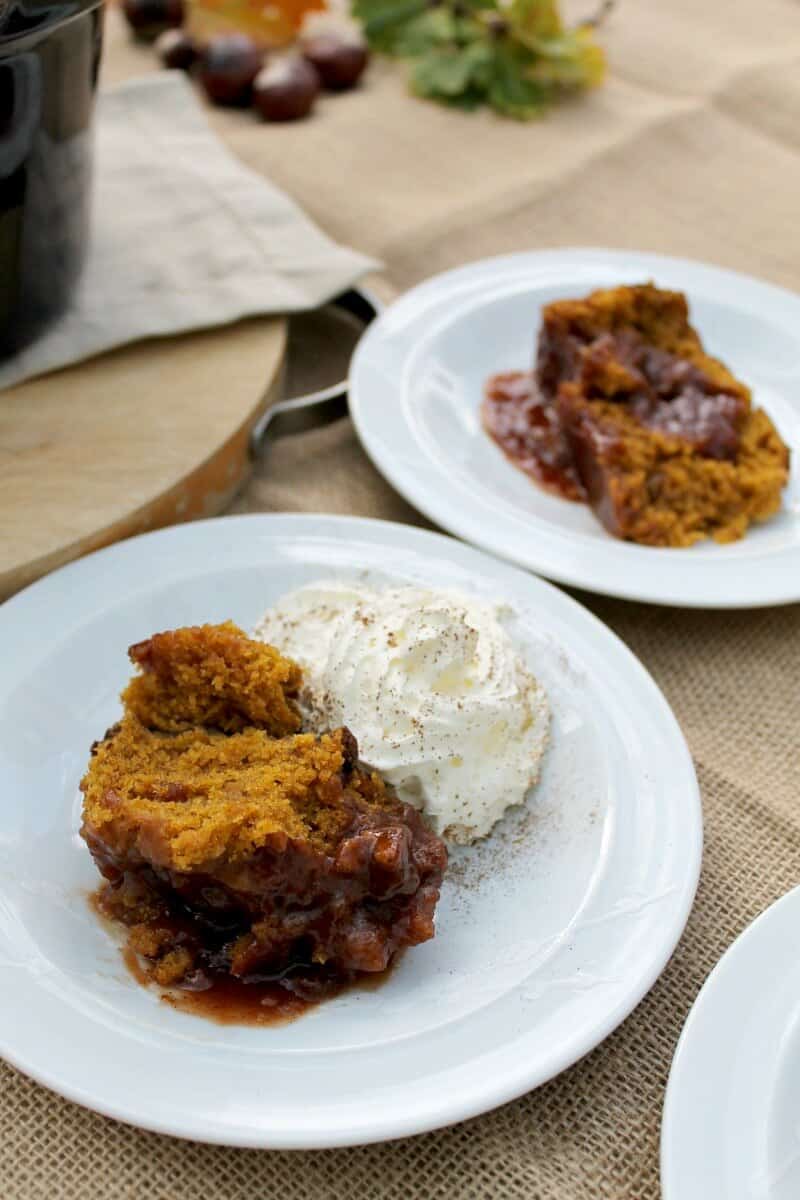 Pumpkin spice, or pumpkin pie spice, is a mixture of cinnamon, nutmeg, ginger, allspice and cloves, used in making pumpkin pies and which adds a warming kick and delicious scent to pumpkin which, let's face it, could be a bit bland otherwise.
Check out my pumpkin spice churros where I shared the recipe I used to make my jar of pumpkin spice.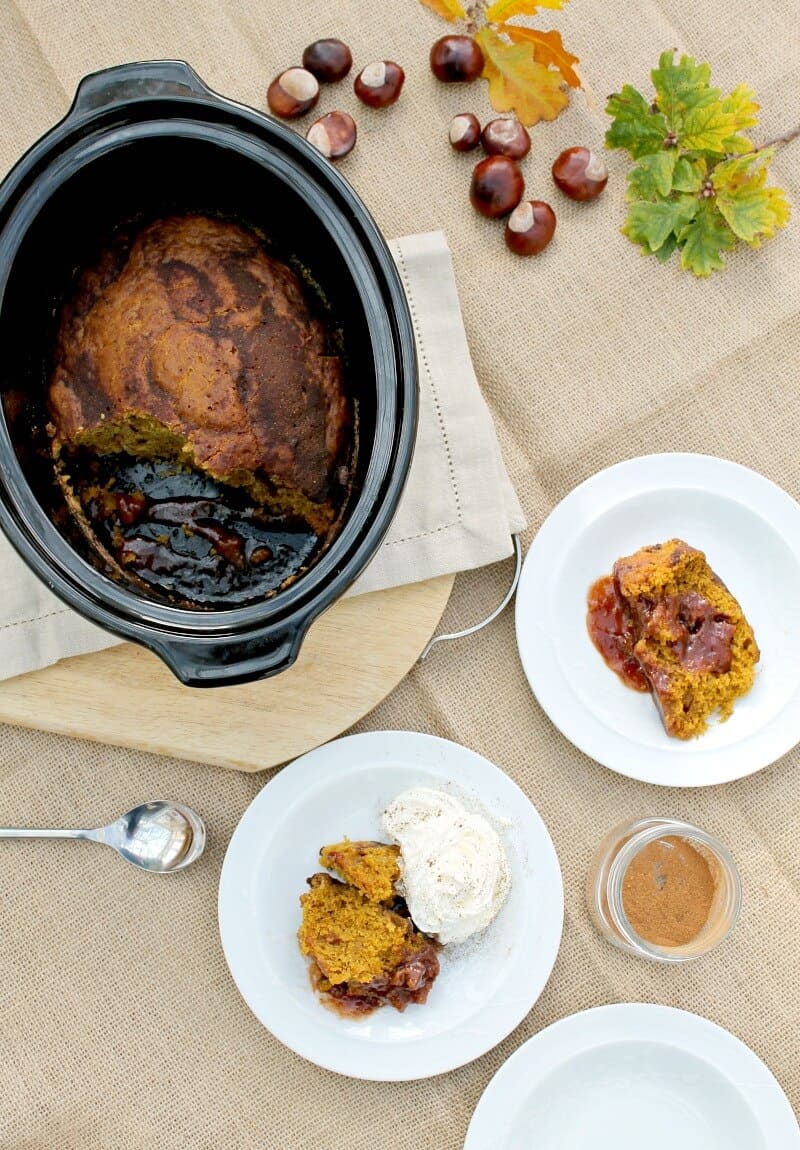 Have you tried a self-saucing pudding cake in the slow cooker before? I hope you have! On my blog you'll find recipes for lime and coconut, chocolate orange and lemon and berry.
They're wonderful in the autumn and winter, and I find you get a lovely soft cake texture by cooking them in the slow cooker.
For more ideas to make with pumpkin purée, how about: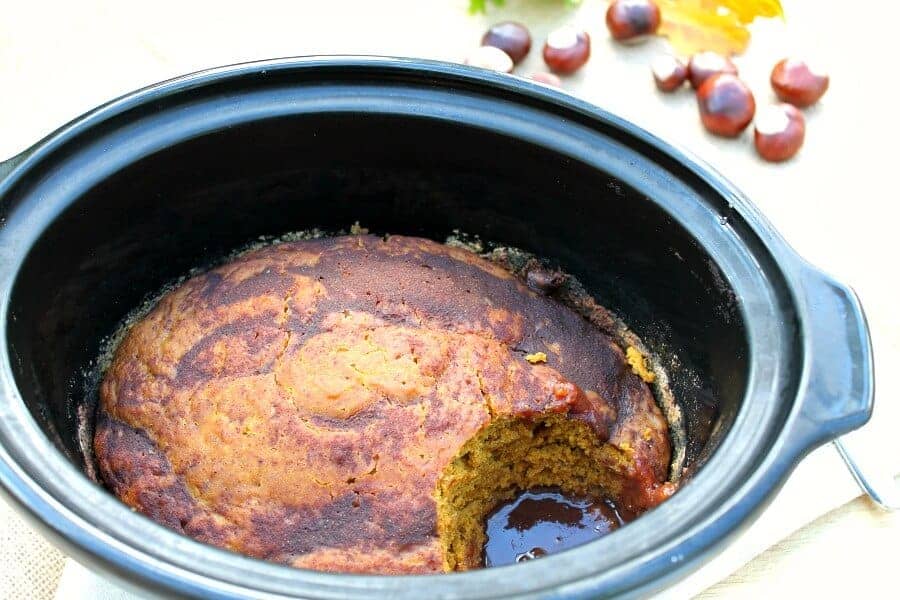 Pin my slow cooker pumpkin spice pudding cake on your Pumpkin Spice board for later!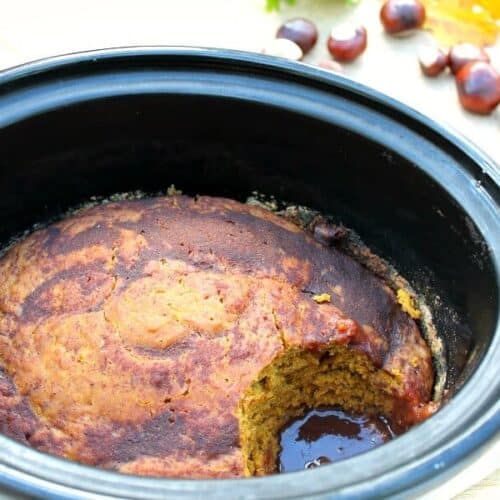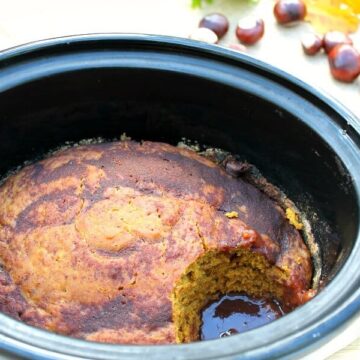 Slow Cooker Pumpkin Spice Pudding Cake
A delicious pumpkin spice sponge cake which bakes with its own pumpkin spice sauce forming underneath, brilliant for a warm pudding this autumn and winter
Print
Rate
Save
Saved!
Instructions
Place the flour, caster sugar baking powder, pumpkin spice and salt in a large bowl. Mix.

Add the melted butter, then beat the eggs in a jug, add the milk and pumpkin purée and mix until smooth in the jug, before pouring into the bowl.

Mix until combined well.

Prepare your slow cooker by oiling the pot with a little vegetable oil, to prevent sticking.

Spoon the cake mixture into the slow cooker pot.

Boil the kettle, then measure the water out in a jug. Mix in the caster sugar and pumpkin spice and stir until the sugar has dissolved. Pour the mixture over the cake mixture. It will look odd but the sugar and water mixture will go under each the sponge as it cooks and become the sauce.

Cook on high for about two hours , until the cake has baked and risen and a cake tester or skewer comes out clean.

Serve warm, straight from the pot, with cream. Under the sponge you will have a rich glossy pumpkin spice syrup which you can spoon over the pudding cake.
Did you try and love this recipe?
Then please leave a review and rating in the comments at the bottom of the post. If you post your creation on Instagram, tag me @bakingqueen74 or use hashtag #bakingqueen74!