So last week saw the Final of Great British Bake-Off, with Nancy winning with her perfect tartes au citron and not least her amazing Moulin rouge inspired creation. I had hoped Chetna would win, but after her departure the previous week, I was in Team Luis. I thought his Showstopper was great too, particularly the choux arch, but on the day I think Nancy deserved her win overall.
This means it is also the end of the Great Bloggers' Bake-off and the GBBO Bakealong! So I come to the question of what on earth am I going to bake this week? I don't really have time for the laminated pastry, it would be a bit excessive to bake mini Victoria sponges AND scones AND tartes au citron, and the "pièce montée" looked a little too elaborate for my small kitchen without all the professional kit.
Luckily Jenny from Mummy Mishaps allowed us a bit of license for the final, and we can bake anything a bit special based on something featured in this series. The bake I have chosen falls into several categories – enriched dough, European bakes and advanced dough, due to the techniques used. Read on for my recipe for Tear-and-share Brioche with Salted Caramel Icing!
I decided to bake a tear-and-share brioche loaf, made of several rolls of dough formed in a flower shape. Each roll is made up of two layers of dough, one flavoured with a layer of cocoa powder, and the other with a layer of salted caramel icing sugar. The water icing on top is salted caramel flavour, and the whole thing is topped with chocolate curls.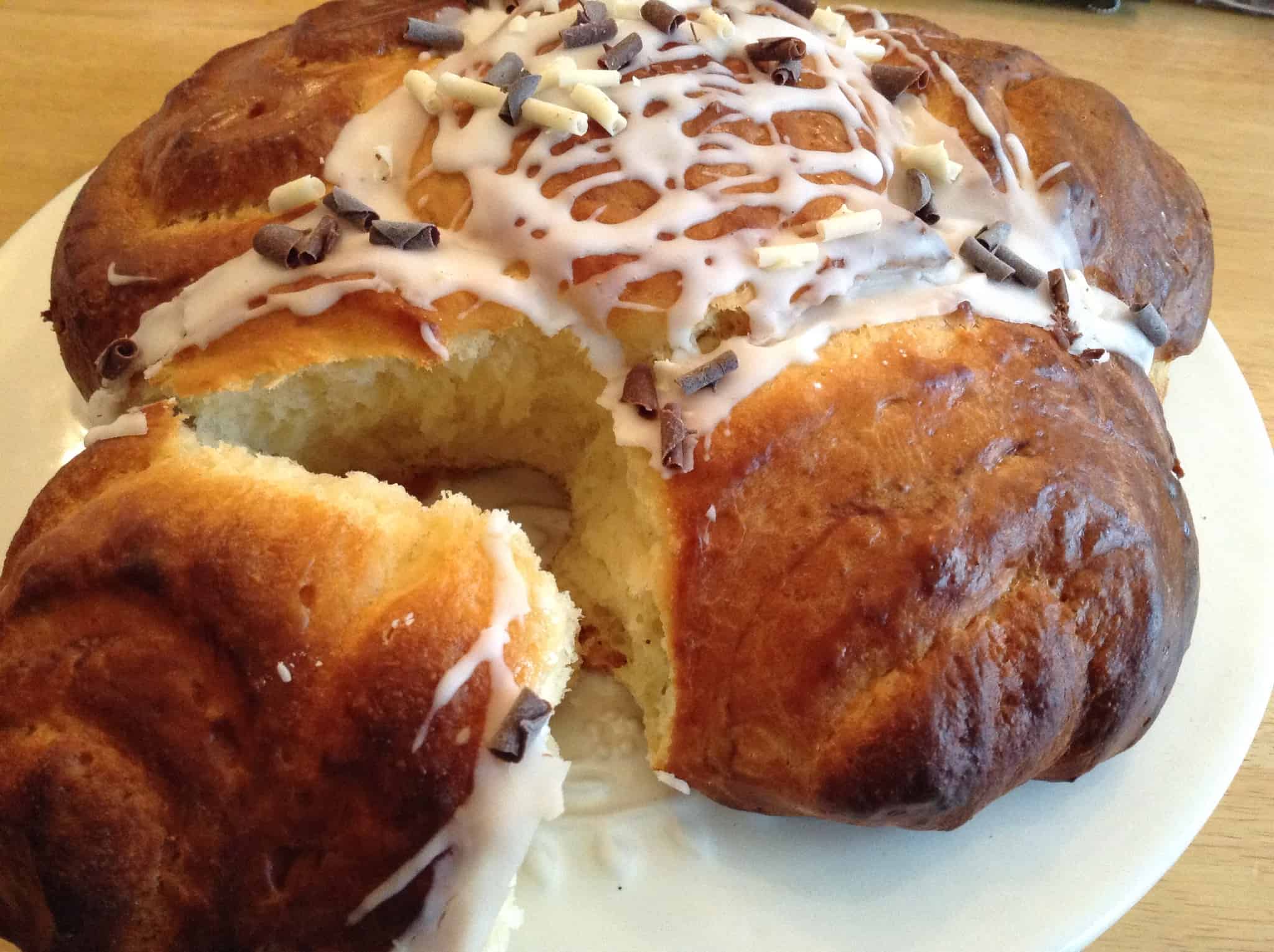 The process of making the brioche was quite time-consuming. I ended up refrigerating it overnight and doing the second rise in the morning before baking. If you had more time you could probably do it all in a day. Start early!
However, the results were great and I was really pleased! My children loved it (who wouldn't!) and the brioche itself was very rich and buttery, with a lovely soft texture.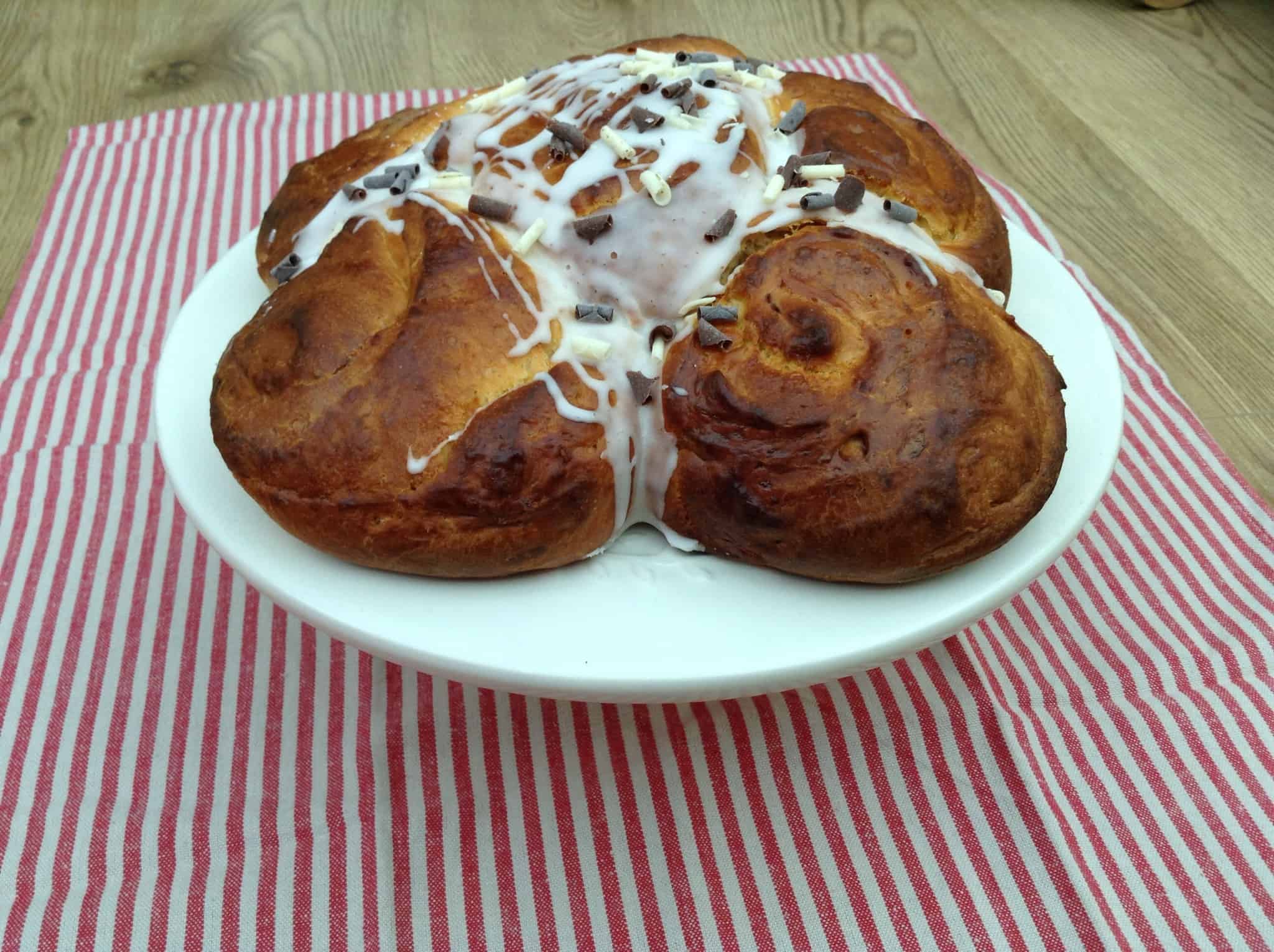 Recipe:
300 g plain flour
1 tsp easy bake yeast
100 ml milk
40 g caster sugar
0.5 tsp salt
3 large eggs
125 g butter, softened
Egg wash:
yolk of 1 egg
a little milk
Icing:
Salted caramel icing sugar (from Sugar and Crumbs)
Enough water to create a thick icing to drizzle
Chocolate curls to decorate
Method:
Place the flour in the bowl of a stand mixer.
Add the sugar and salt on the sides of the bowl.
Add the milk, yeast and beaten eggs to the bowl.
Turn the mixer onto low speed and mix for 5 minutes.
Turn he speed up to medium and mix for another 5 minutes. The dough will start coming away from the sides of the bowl.
Add the butter and continue to mix. Keep mixing until the dough is smooth and elastic.
Place,the dough in a bowl, cover with clingfilm, and allow it to rise at room temperature for 1 hour.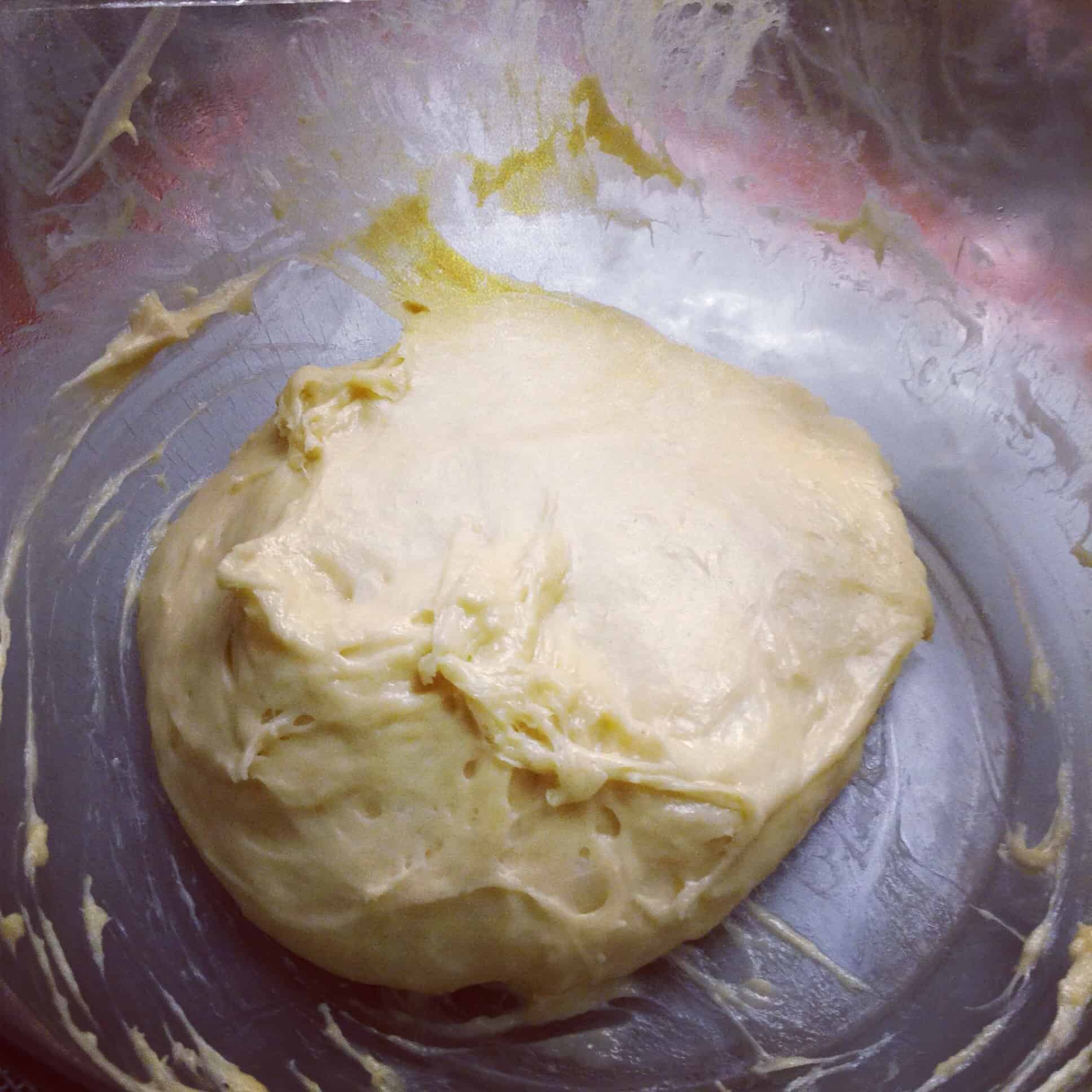 After an hour, knock back the dough, them transfer to the fridge and chill it for 1 hour.
Split the dough into two pieces, and make both into a rectangle of about 25 cm across. It is best to do this on a tray or lightly floured surface. Refrigerate after doing this, it will be much easier to handle.
When chilled, brush one rectangle with egg wash and then a thin layer of cocoa powder. Brush the other with egg wash and then sprinkle lightly with the salted caramel icing sugar.
Place one rectangle on top of the other. Refrigerate again.
When chilled, roll the two rectangles up tightly together into a roll. Place in the freezer.
When firm, remove from the freezer, and cut the roll into six equal pieces.
Arrange them on a baking sheet lined with baking paper as shown below, to create a flower shape. The picture here shows the rolls after the next rise.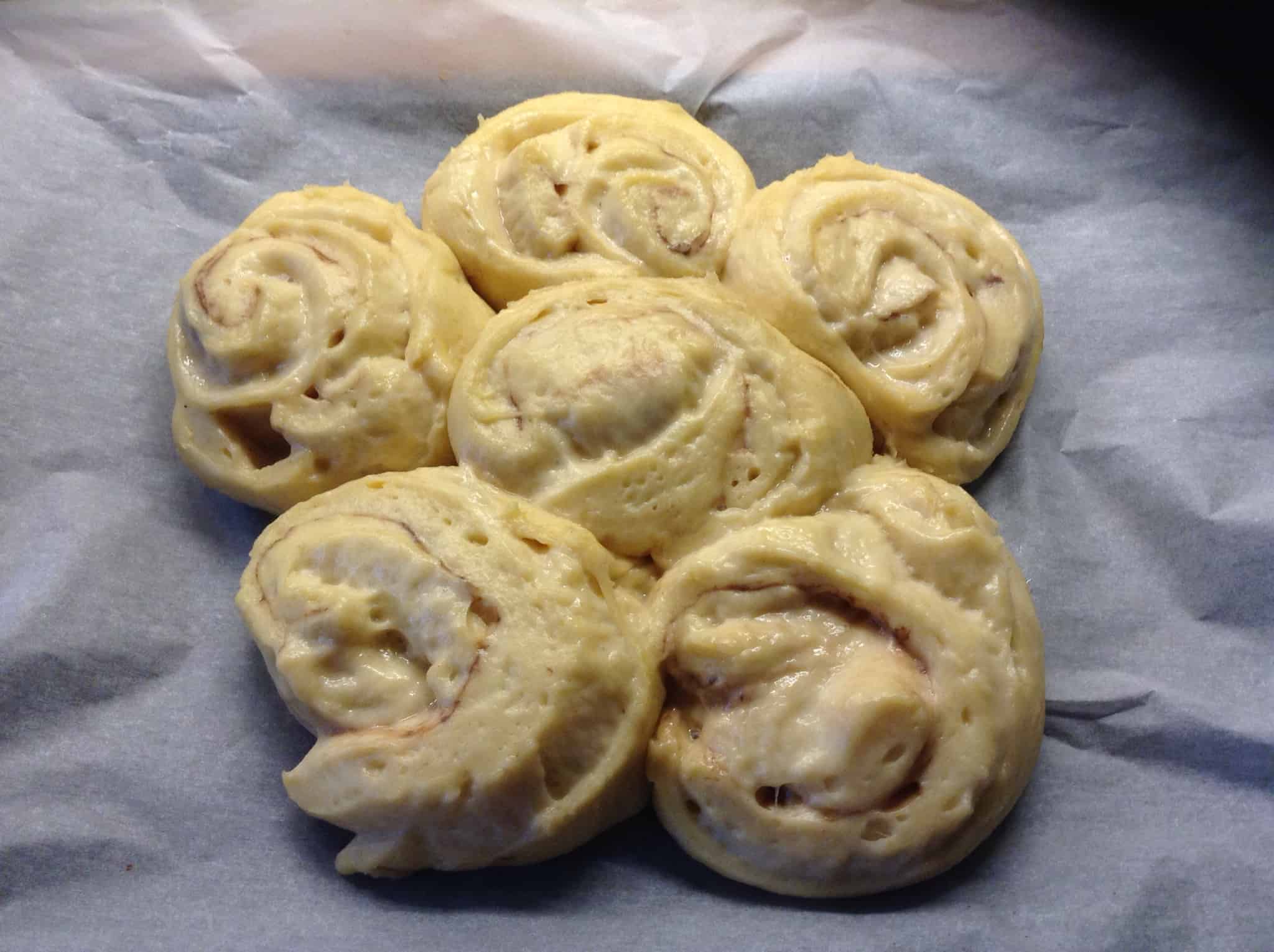 Refrigerate overnight, or if you have enough time left to continue, carry on. Allow the rolls to rise again, for at least an hour and a half.
Brush with the egg wash.
Preheat the oven to 180 degrees and bake for 25 minutes until golden.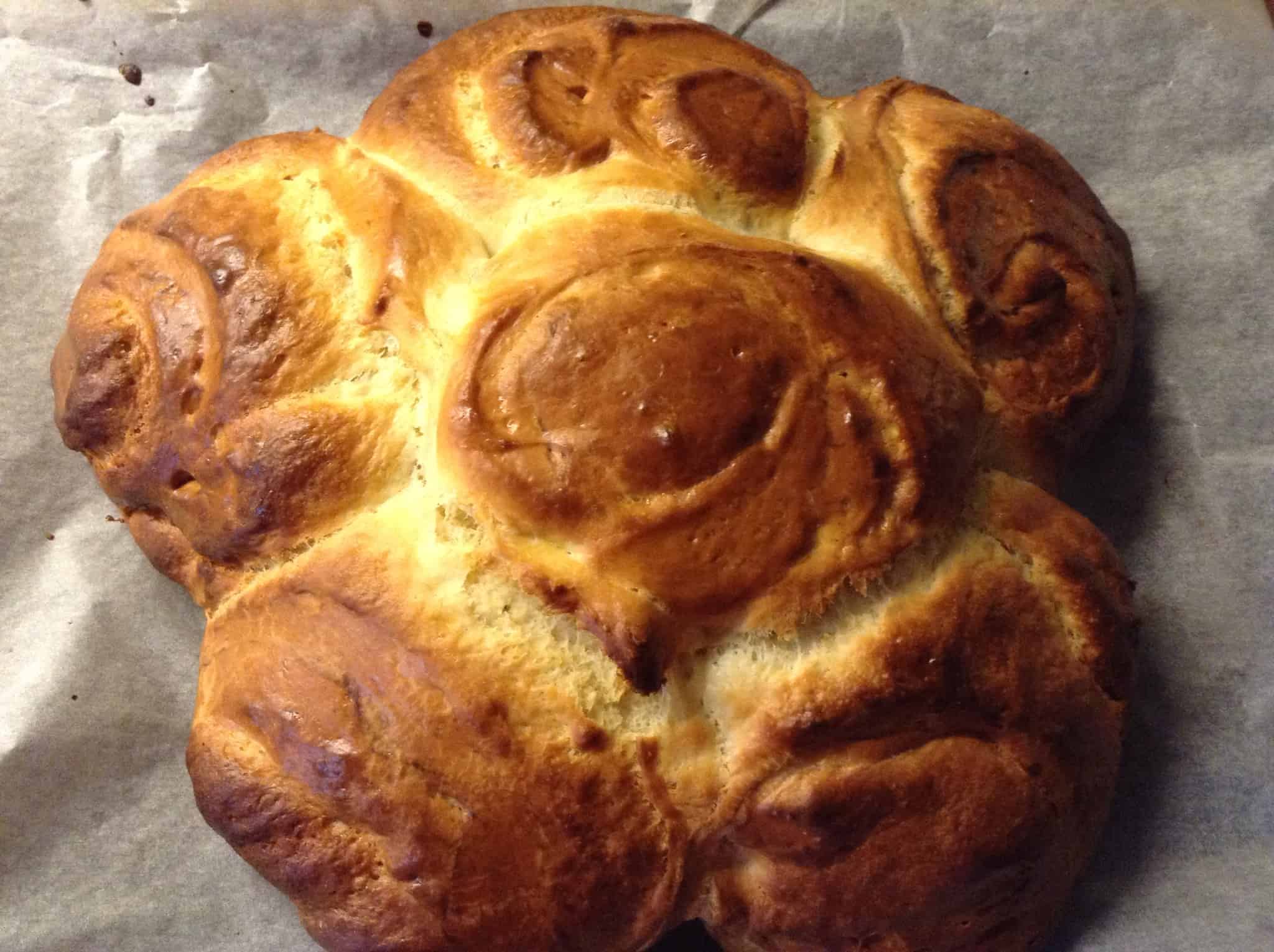 Once cooled, make the water icing and drizzle it over. Scatter with the chocolate curls and serve. A delicious breakfast bread or treat for afternoon tea!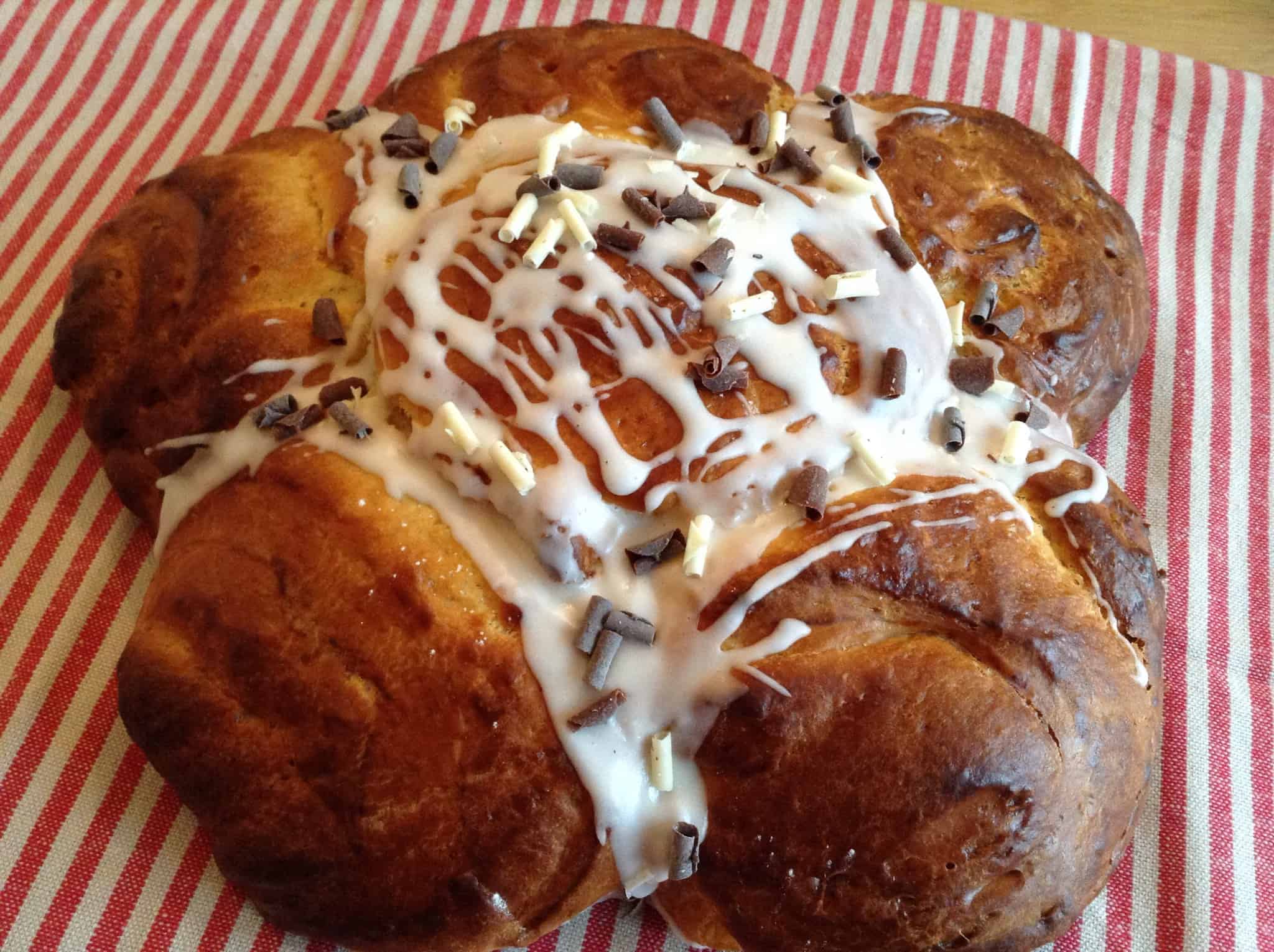 I'm linking up with the Great Bloggers Bake-off hosted by Jenny from Mummy Mishaps, Lucy's GBBO Bake-along at Supergoldenbakes, #CookBlogShare at Supergoldenbakes, and #Bakeoftheweek with Helen from Casa Costello.