As it is now October, I'm cooking a lot of warming family meals in my slow cooker again. I just love the convenience you get with the slow cooker of doing the cooking earlier in the day so I don't have to do it when we get home from school and work and everyone is tired and hungry.
Let's face it, the last thing you want to do after a long day is cook something from scratch.
Just move your prep to earlier in the day and you can still have a home cooked meal with a lot less hassle. So the first of my family meals I am sharing this autumn is my slow cooker cottage pie.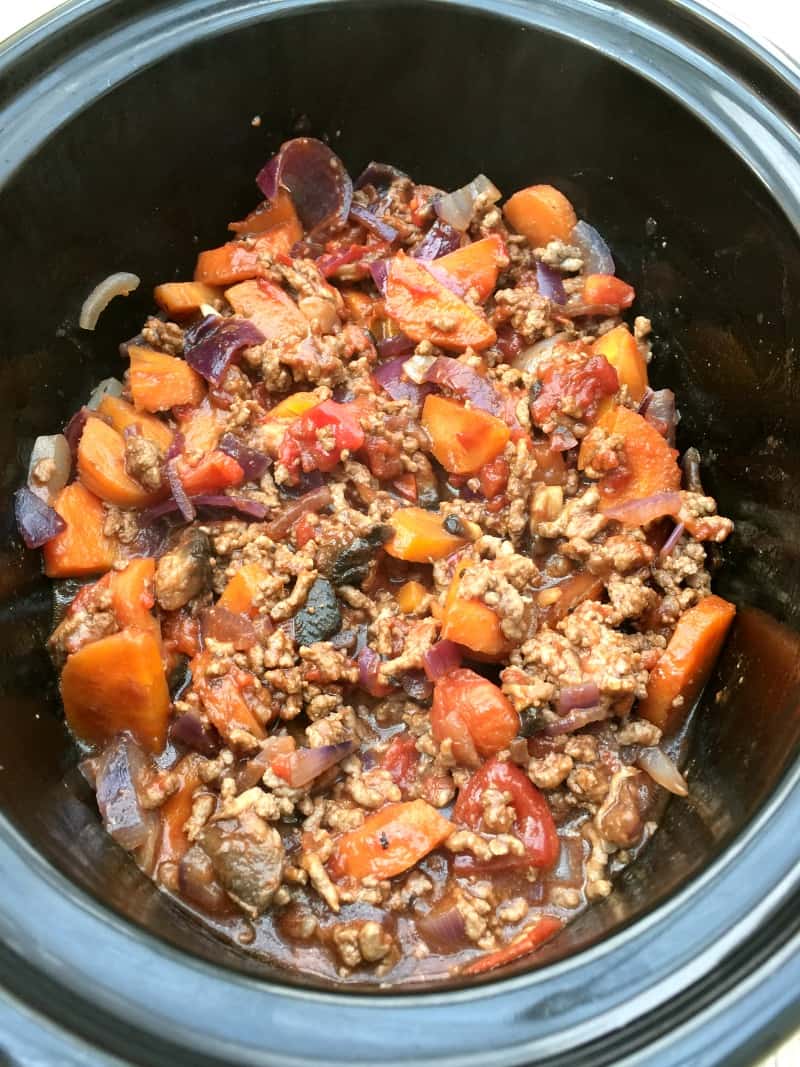 With rich, warm flavours and packed with vegetables, a cottage pie ticks all the boxes for a family meal for me. Kids love it, you'll feel a real sense of satisfaction at having made the family meal from scratch, and it is a great winter warmer too.
The big plus with my recipe is that you cook the filling with the mashed potato topping in your slow cooker. You brown it off in the oven right at the end, using the slow cooker pot. This isn't one of those recipes where you only make the filling in the slow cooker!
For more one-pot slow cooker meals make sure you look through my slow cooker mains.
Jump to:
What is cottage pie
In the UK we call a pie with mashed potato topping made with minced beef a cottage pie, while a pie made with minced lamb is a shepherd's pie.
Since shepherds look after sheep this makes sense! In other countries the name shepherd's pie is also used for a beef filling.
Traditionally the name cottage pie was supposed to be because the topping of sliced potatoes looked like tiles on a cottage roof, though cottage pie now usually has a mashed potato topping like a shepherd's pie.
Ingredients
olive oil
red onion
carrots
mushrooms – I use large field mushrooms
garlic
beef mince/ground beef
chopped tomatoes
beef stock pot or stock cube
tomato puree
potatoes
splash of milk
a little butter
Recipe variations
If you are vegetarian you could use veggie mince or lentils to replace the meat of course, there is no need to miss out. We also enjoy my slow cooker shepherds pie if we fancy lamb instead of beef.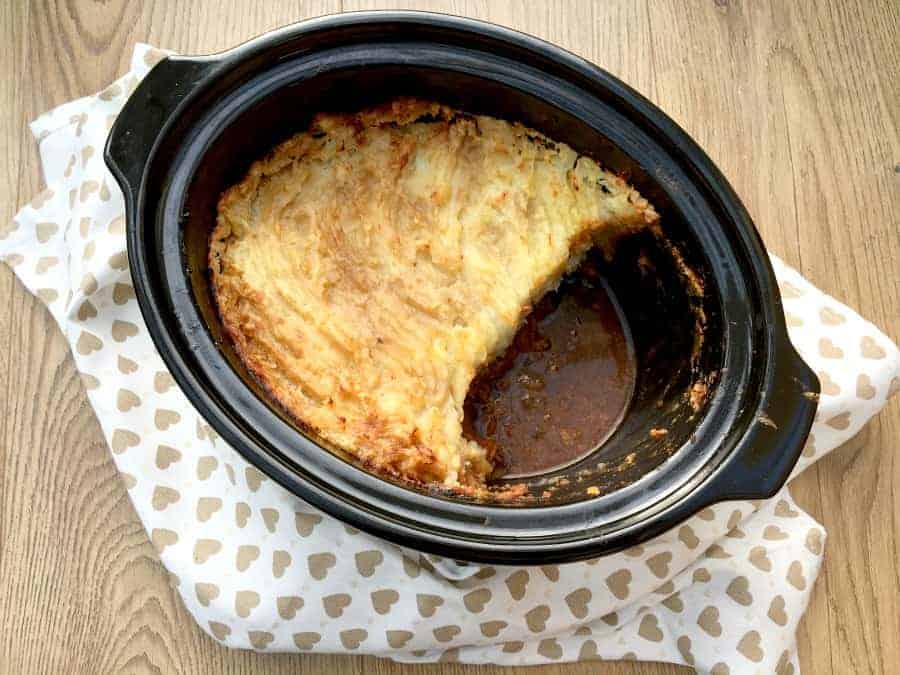 Step by step
I hate having to use loads of pans and leaving even more washing up to be done.
First make the filling.
Next, make the mash separately and add it on top of the cottage pie filling in the slow cooker, heat it through for a couple of hours, then stick it under the grill (broiler) to brown the top and make it crispy.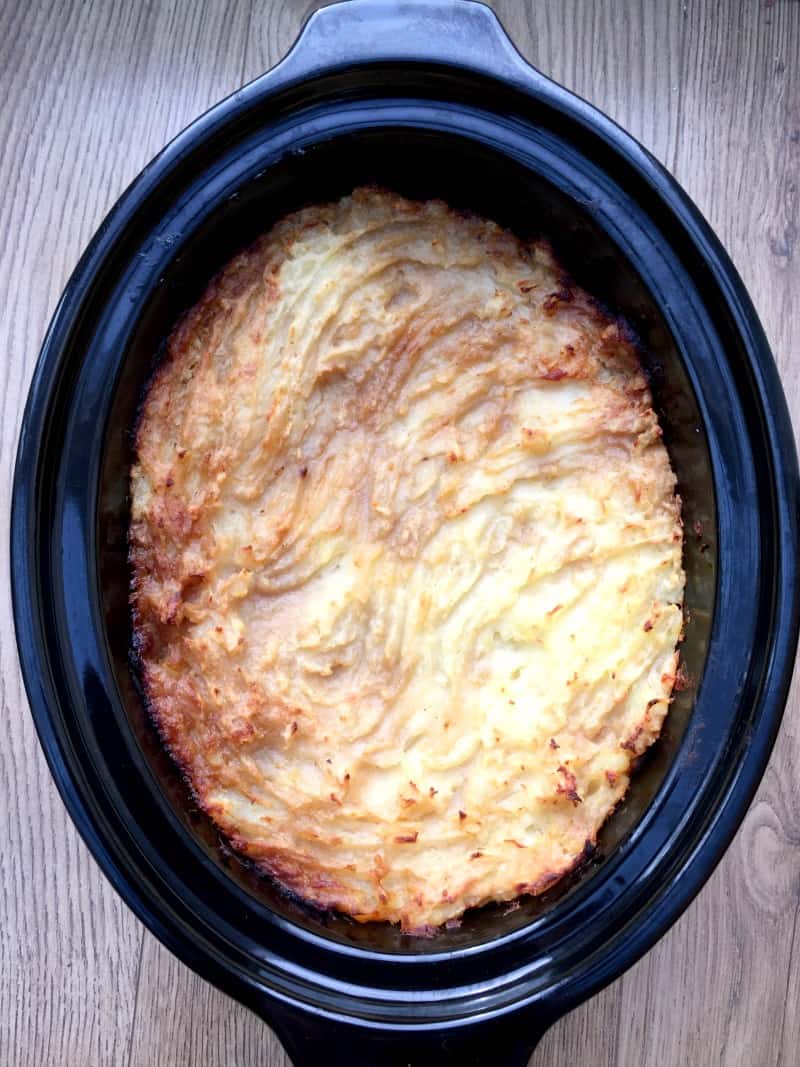 Then you can serve straight from the slow cooker pot, without leaving the kitchen covered in dirty pans.
Bonus at making less washing up right there!

Freezing
You can freeze the cooked cottage pie. It is best to freeze portions in individual containers I find. When freezing always leave the dish to cool fully then portion into containers and freeze right away.
As this cottage pie is cooked in the slow cooker with the mashed potato on top, you probably won't be freezing it uncooked.
More recipes to try
If you like this slow cooker cottage pie recipe, make sure you check out family slow cooker recipes that kids love and my slow cooker archives.
You might also like:
Pin my slow cooker cottage pie on Pinterest to save it for later!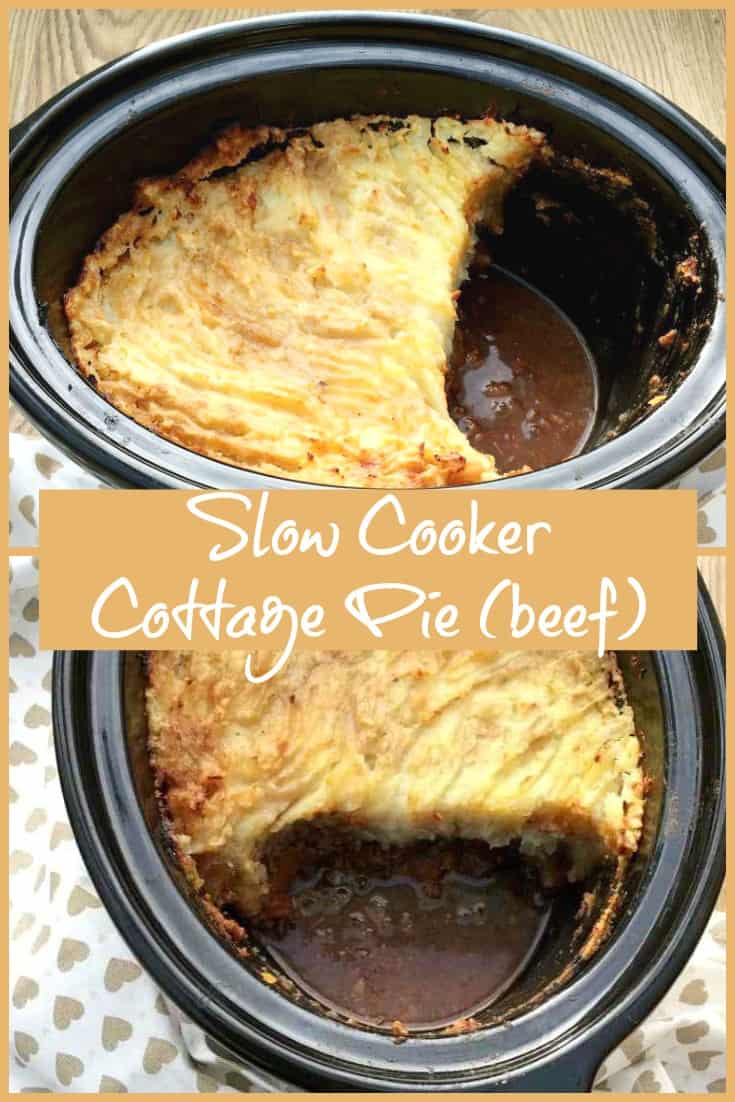 Recipe
Linking up with the Slow Cooked Challenge over at Farmersgirl Kitchen this month