In between making (and eating) cakes and brownies and giant cookies and all kinds of sweet treats for my blog I also try to eat healthily at times. It means I can have a slice of cake without guilt at other times!
I created this recipe for courgette and butternut squash lentil bake which is based around zero point foods on WeightWatchers Freestyle, and the entire bake is zero points.
It makes enough for around 6 filling portions and it is a great lunch option served with salad. You might enjoy this as an alternative to quiche or an omelette.
My courgette and butternut squash lentil bake is filled with cooked red lentils, grated courgette (zucchini), butternut squash and sweetcorn, and flavour is added with seasoning and herbs.
It is delicious warm but you can also enjoy it cold too in a lunchbox.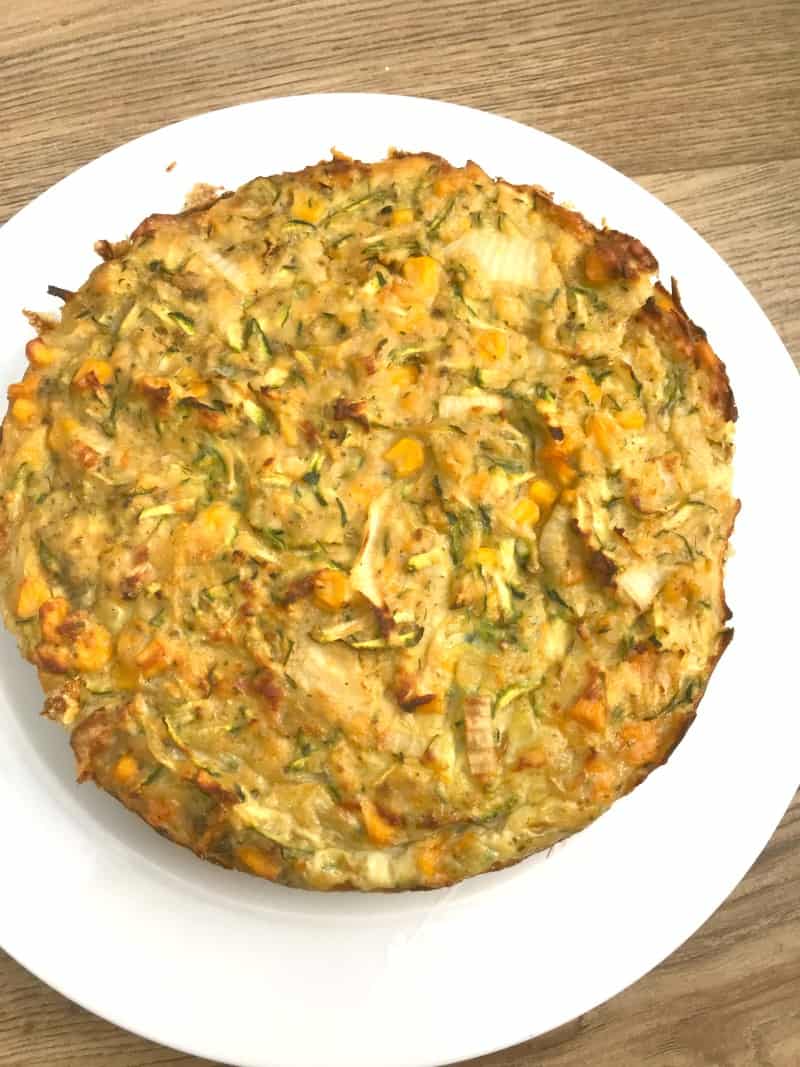 It is a great option if you have a high-pointed meal planned for the evening as you won't be using any of your daily smartpoints at lunchtime if you have it for lunch with salad.
Just add a few points in the form of dressing if you like. I also sometimes make this for dinner if I've used too many points at during the day.
As you can see, this lentil bake is substantial and filling. If you wanted to you could also add some cheese (just remember to add the points) or use other vegetables, depending on what you have in your fridge.
Red peppers would go well, as would peas, green beans and many more. I tend to use whatever fresh herb I have on had to flavour my lentil bakes – whether that is flat-leaf parsley or basil!
Fresh herbs add much more flavour than dried so I would recommend using fresh if you have them. It is important to season it well too with salt and pepper, as the lentil, vegetable and egg inside need to be well seasoned to add flavour.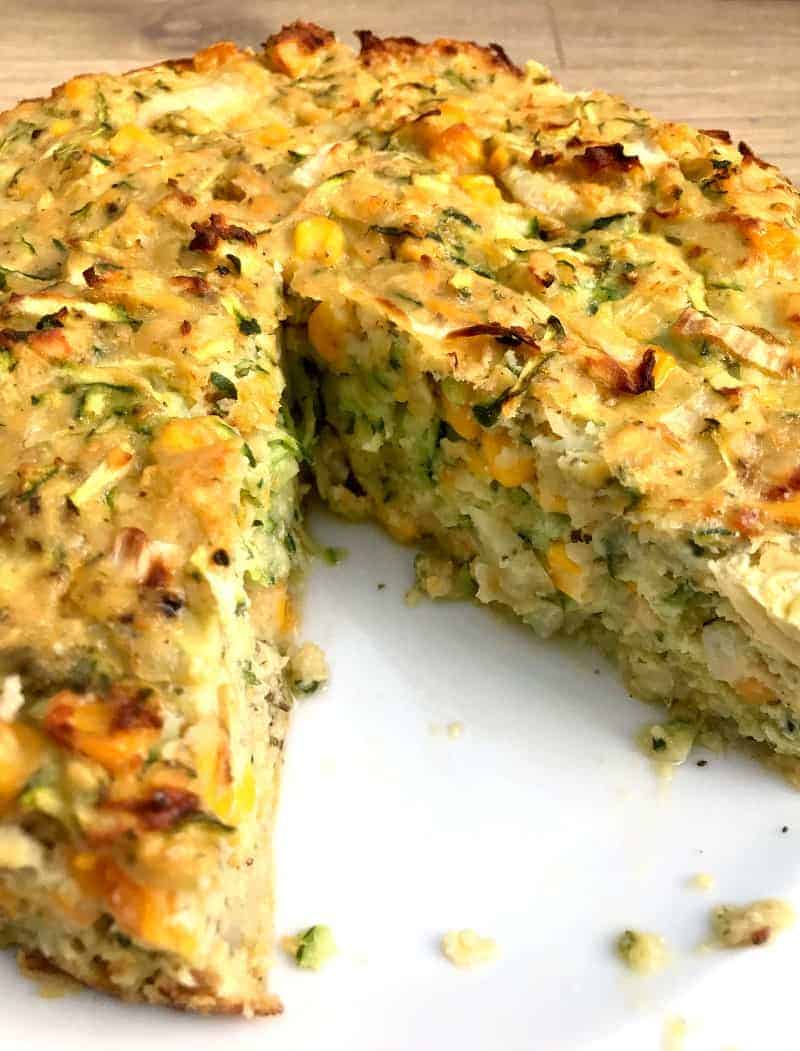 pin for later!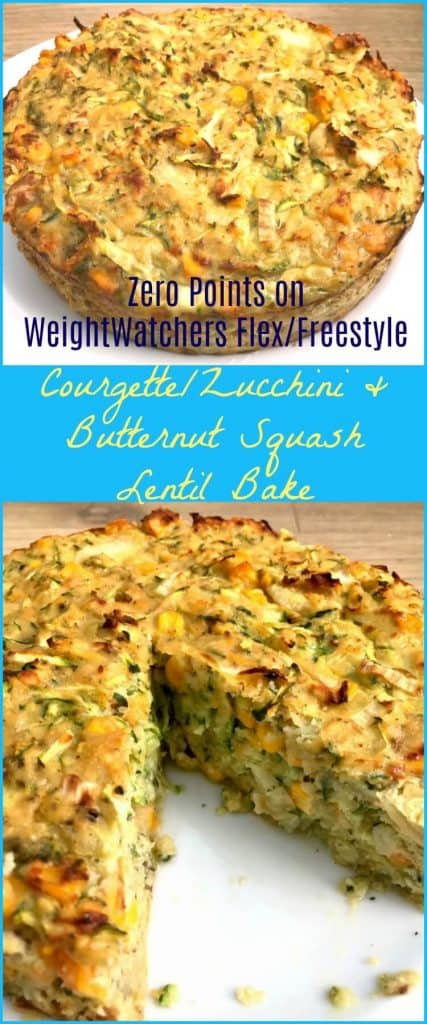 Courgette and Butternut Squash Lentil Bake – The Recipe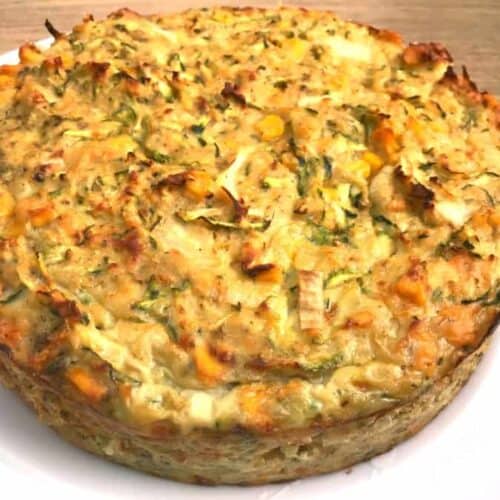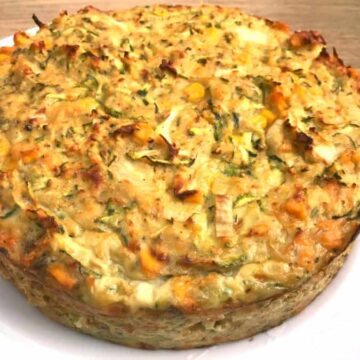 Courgette and Butternut Squash Lentil Bake
A filling lunch option based around zero pointed ingredients on Weight Watchers Flex or Freestyle programs
Print
Pin
Rate
Save
Saved!
Ingredients
2

medium courgettes/zucchini, grated

approx 400 g

1

medium onion, chopped

200

g

tin of sweetcorn, drained

180

g

red lentils

150

g

butternut squash

4

medium free-range eggs

1-2

tsp

fresh flat-leaf parsley or basil

salt and pepper for seasoning
Instructions
Grate the courgette into a bowl. Squeeze out as much water as you can.

Dice the butternut squash and precook in the microwave with a little water for 3-4 minutes until slightly soft.

Meanwhile, place the dry red lentils in a pan with 450 ml water. Bring to the boil then simmer until all the water has gone. This will take 10-15 minutes. Drain over a sieve to remove all remaining water.

Once the butternut squash and lentils are cooked, put them in the bowl with the courgette.

Add the onion, sweetcorn, eggs, herbs to the bowl and mix well. Season well with salt and pepper.

Pour the mixture into a large silicone cake pan sprayed with spray oil. I used a deep 8 inch pan.

Cook in a preheated oven at 180 degrees C for approximately 40-45 minutes, or until set through (check using a skewer) and the top has gone golden.

Remove from the oven, leave it to cool and it will become more firm. Slice once cooled.
Did you try and love this recipe?
Then please leave a review and rating in the comments at the bottom of the post. If you post your creation on Instagram, tag me @bakingqueen74 or use hashtag #bakingqueen74!