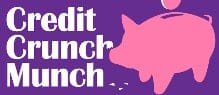 For this month I am delighted to be hosting Credit Crunch Munch, the place to find delicious frugal recipes and the brainchild of Helen from Fuss Free Flavours and Camilla from Fab Food 4 All.
Food that is in season is always good value, so you could base your recipe on or include foods that are in season in May: asparagus, rhubarb, new potatoes, lamb, watercress, spring onions, to name just a few.
Other money-saving ideas could be:
Dishes using cheaper ingredients – cheap cuts of meat or vegetarian
Meals using leftovers
Meals using up the ends of packets
Substitutions of cheaper ingredients
Packed lunches
Meals that use less energy to cook
Pressure cooking
Slow cooking
Faster cooking – less oven time for example
Batch cooking for the freezer
Sustainable foods
Food you have grown yourself
Meals from reduced food in the supermarket
Credit Crunch Munch
To take part, simply blog about any money-saving idea that is vaguely food related. We do a full round up so I will be mentioning all the recipes that are submitted.
There are a few rules:
Please link to the Credit Crunch Munch pages on Fuss Free Flavours and Fab Food 4 All
Please link to the current host (ME!)
Please use the Credit Crunch Munch Badge (above)
Tweet using #creditcrunchmunch
Closing date – last day of the month – 31st May 2015
You are welcome to link up one or two old posts, but please republish them
By entering you are agreeing to let us use an image from your entry on this site, and to pin to Pinterest
If blogging a recipe from elsewhere on the internet or a book please be mindful of copyright
But feel free to
Send to as many other events as you like, let's help everyone save money!
Tell me about your money saving ideas on the linky below! I am also making this a blog hop, so feel free to grab the code and add to your post too. Let's spread the money saving meme!
We'll be looking for guest hosts, so please mail Helen if you are interested. helen at fussfreeflavours dot com