This lime and white chocolate tart with lime curd and white chocolate ganache fillings and a no-bake biscuit crust is a delicious no-bake dessert perfect for entertaining. Recipe inspired and sponsored by Lily O'Brien's Desserts Collection.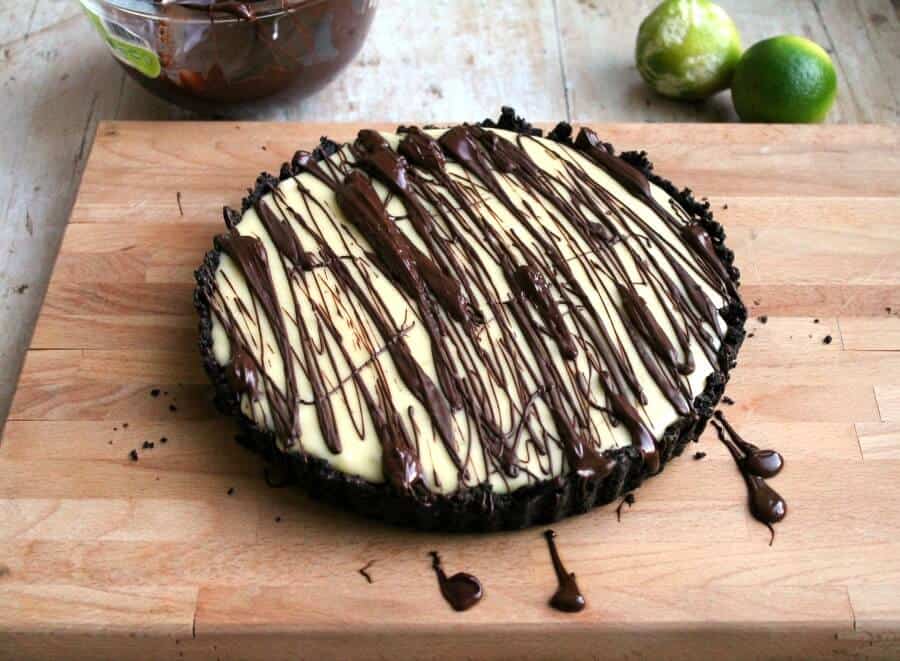 As you might have seen from the many chocolate recipes on my blog, I am a great chocolate lover. So I was delighted to take part in the Lily O'Brien's baking challenge in which I was challenged to make a mouth-watering dessert inspired by the Lily O'Brien's Desserts Collection.
Lily O'Brien's is an Irish chocolate brand, started by Mary Ann O'Brien in her kitchen in Kildare in 1992, and named after her daughter Lily. Fast forward to today and it is one of Ireland's best-loved chocolatiers stocked in top stores and has received many awards in the industry.
Each of the chocolates in the Desserts Collection resembles a mini dessert, designed to be reminiscent of a tiny portion of your favourite top-end pud. No wonder then this is one of the best-selling products in the range.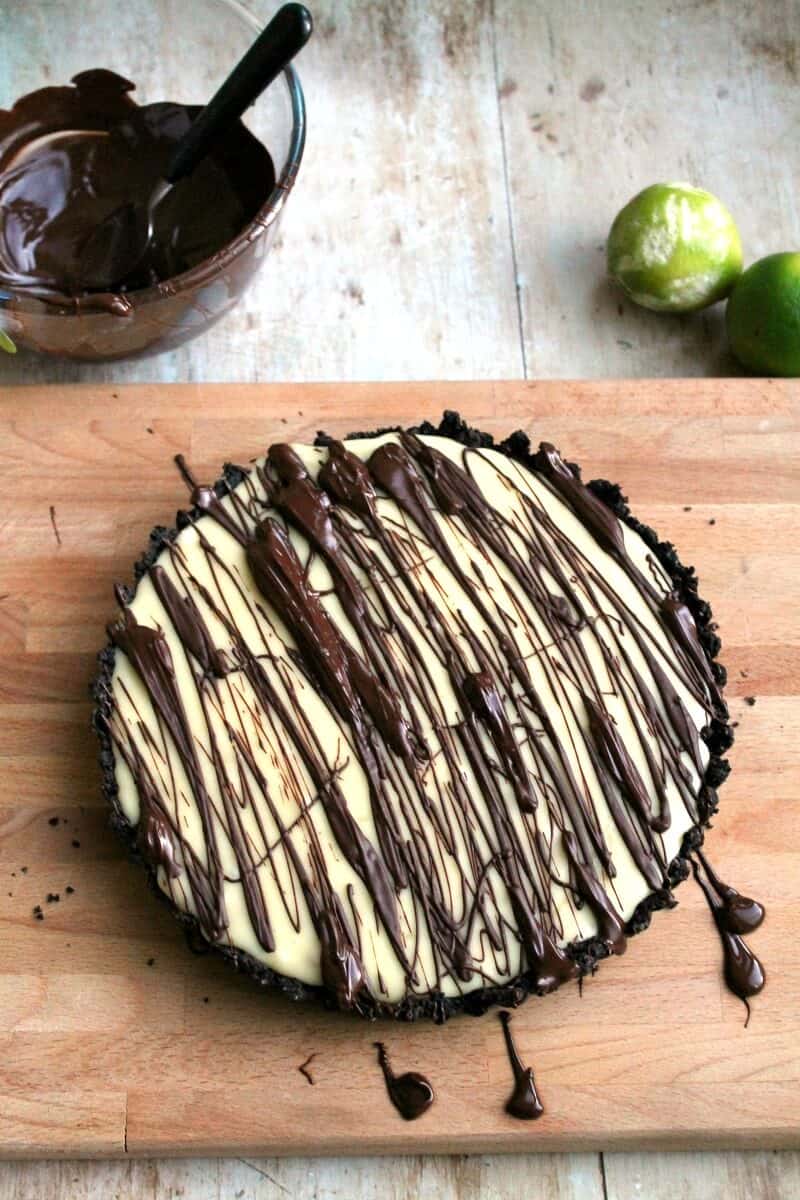 The Desserts Collection includes six delicious flavours which are hazelnut torte, passion fruit posset, banoffee pie, crème brûlée, raspberry infusion and key limey pie. So I think you will agree there is plenty here to inspire a mouth-watering dessert!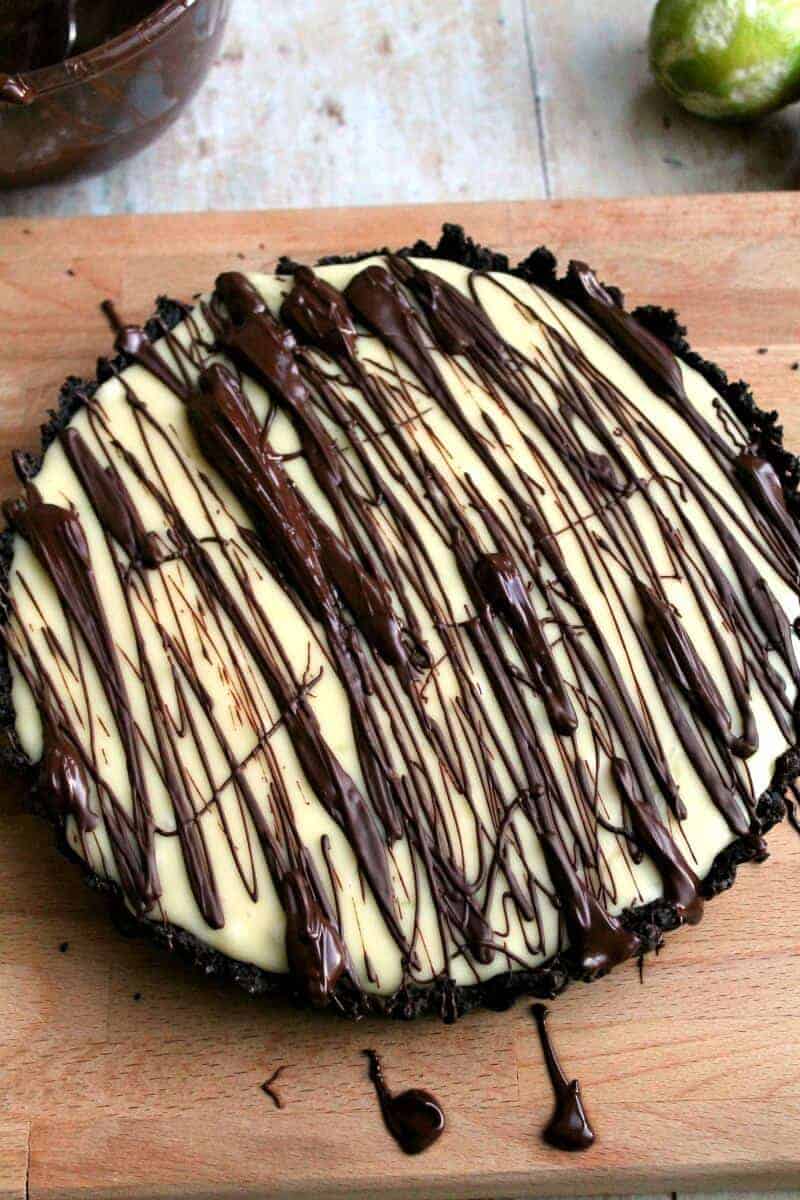 My eye and taste buds were instantly drawn to the key limey pie chocolate which has a layer of zesty lemon curd, topped with lime infused truffle, smothered in dark chocolate and topped with a drizzle of white chocolate.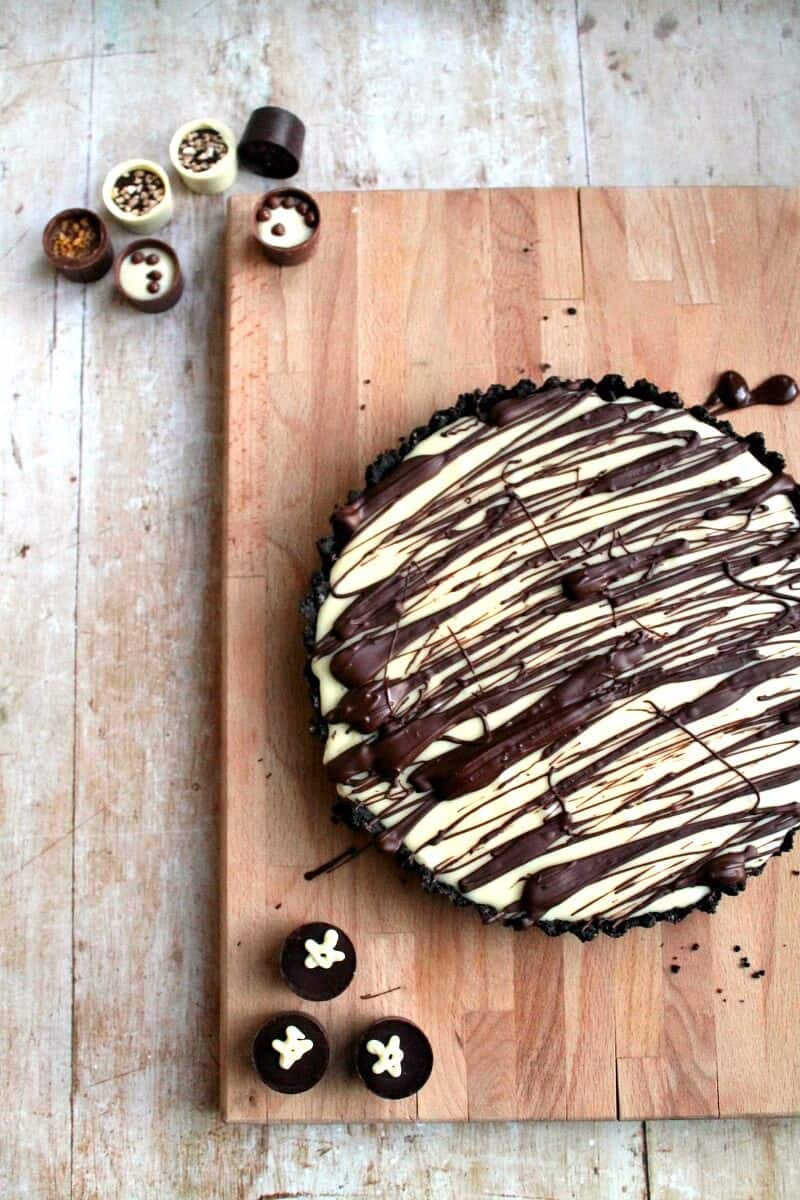 Inspired by the flavours and fillings of the key limey pie chocolate, I chose to make a no-bake lime and white chocolate tart with an Oreo crust, lime curd and white chocolate ganache filling, drizzled with dark chocolate. The Oreo crust is so easy to make, just crush whole Oreos until they resemble crumbs, mix with butter and press into your tart tin.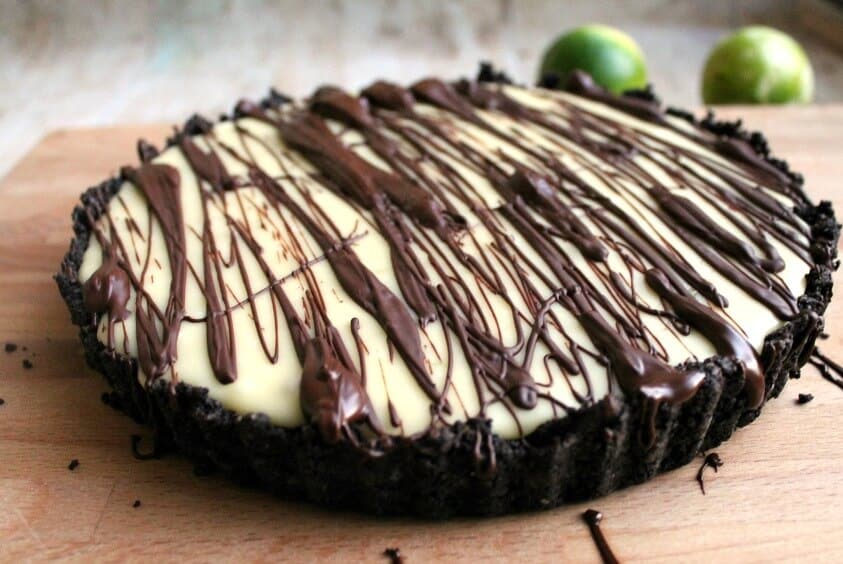 I make all my fruit curds in the microwave, it works really well producing a thick and creamy curd in minutes, so this is a shortcut I always go for. The white chocolate ganache takes minutes too, and I added lime zest and a little organic lemon extract to flavour the ganache. You'll need a few hours to chill each component of the tart but most of the time is hands off.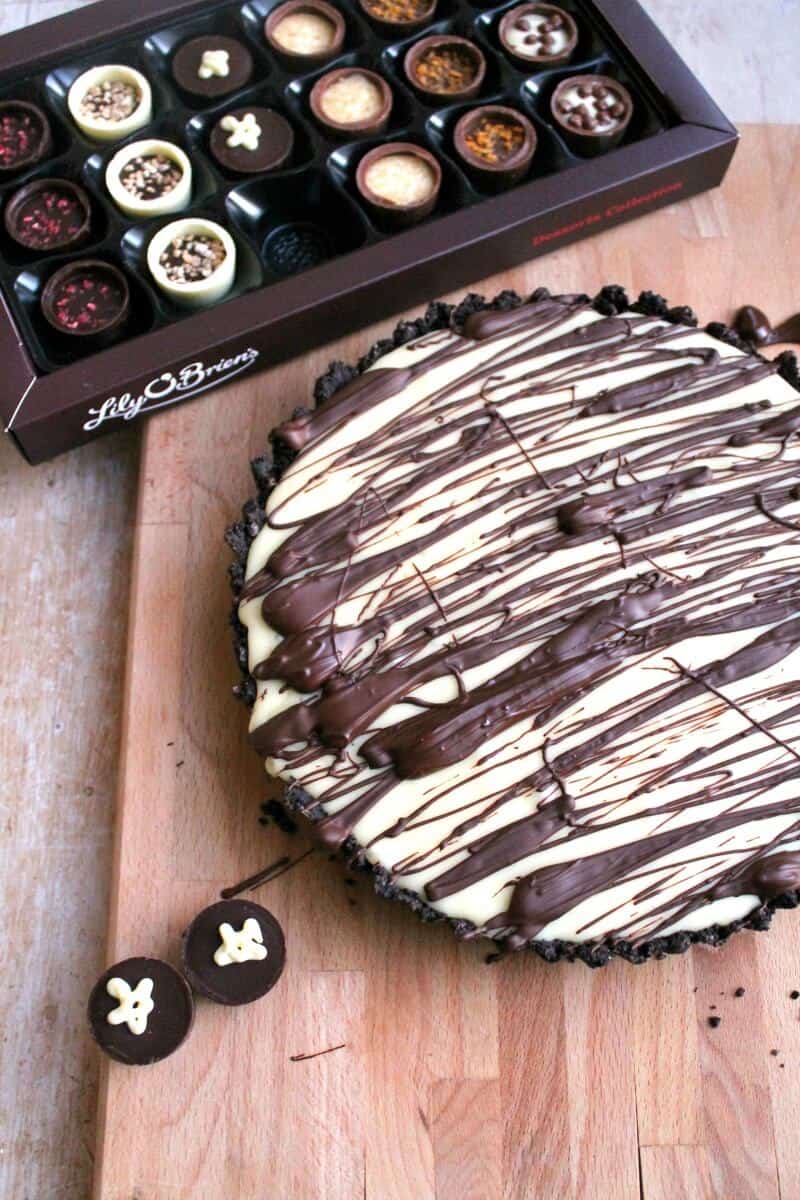 Inside the tart once cut you have defined layers of lime curd and white chocolate ganache. My family loved the sweetness of the Oreo crust with the tangy lime curd and the creamy white chocolate and it was gone in minutes!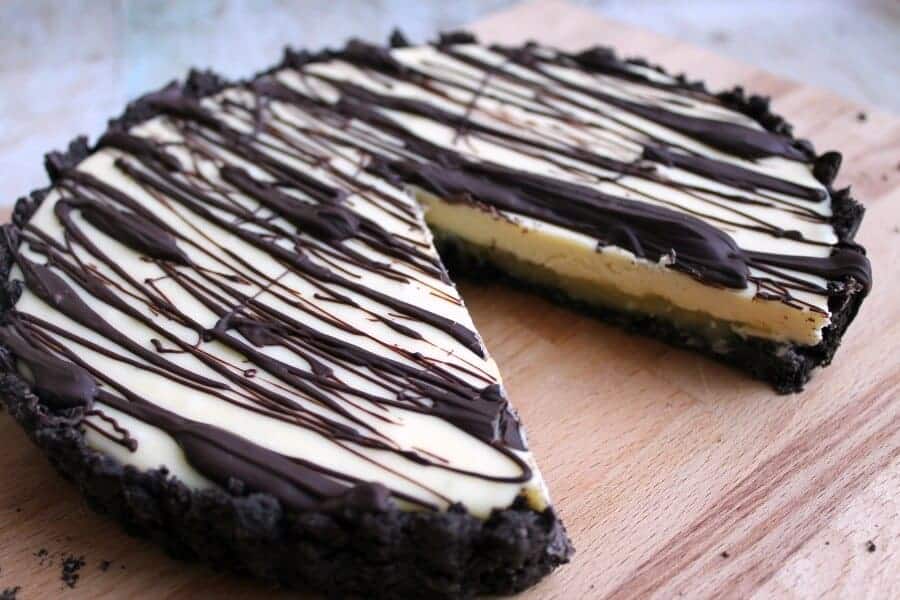 More Desserts to Try
More desserts from my blogging friends inspired by the Lily O'Brien's Dessert Collection, find them by searching for #LoveLilys: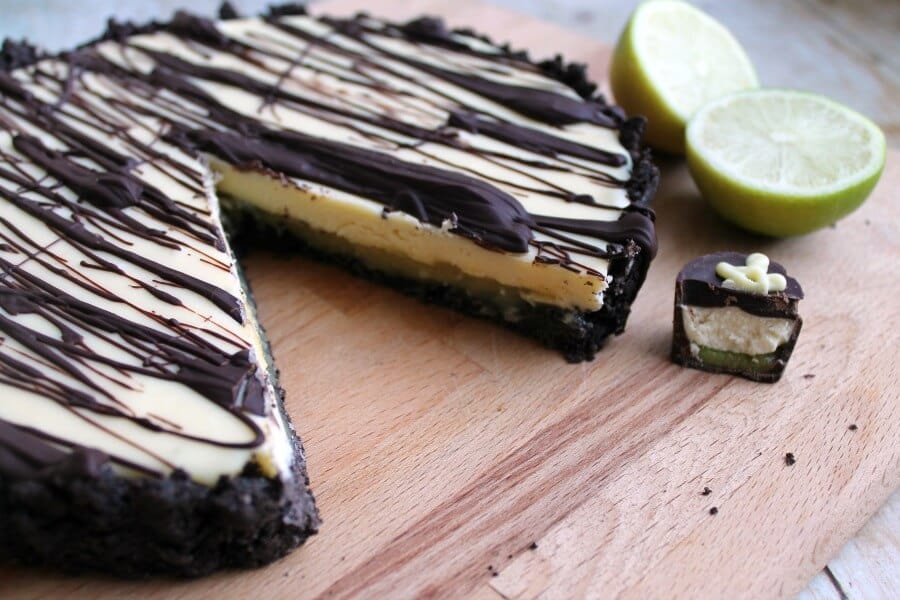 Pin my lime and white chocolate tart for later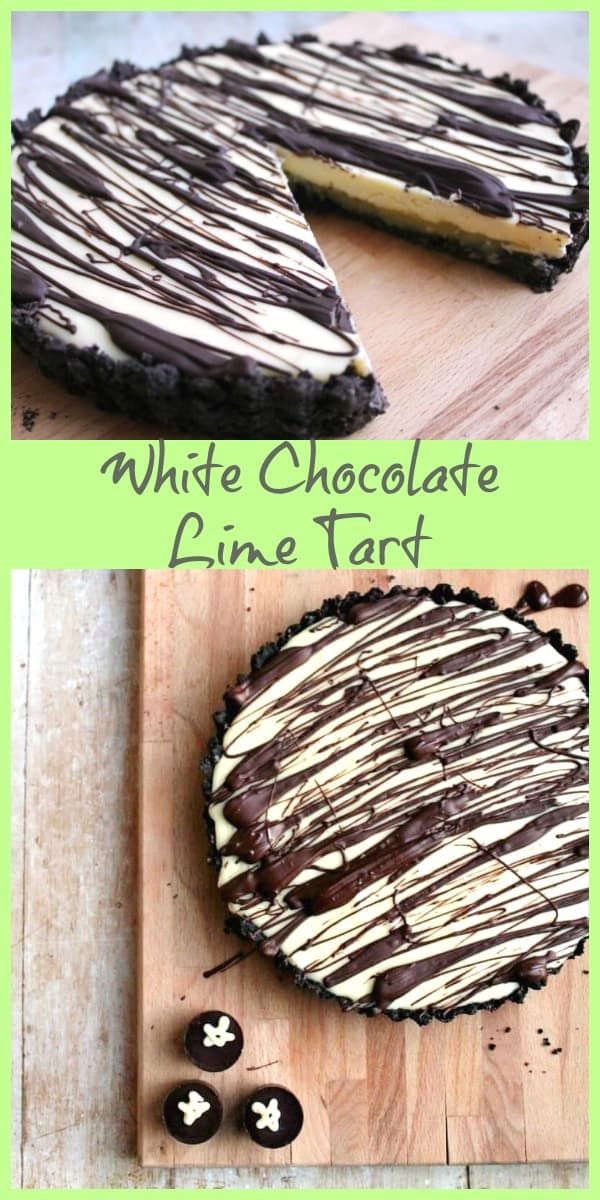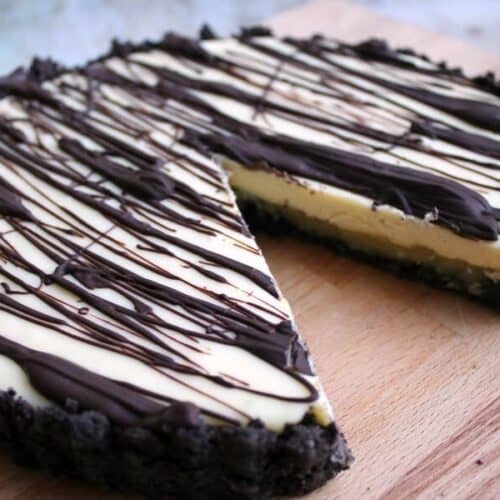 Lime and White Chocolate Tart
A no-bake tart with lime curd and white chocolate ganache fillings, no-bake biscuit crust, drizzled with dark chocolate, perfect for entertaining
Print
Pin
Rate
Save
Saved!
Ingredients
Instructions
First make the Oreo crust. Place the whole Oreos in a freezer bag and crush with a rolling pin or with the bottom of a glass bowl until they are in crumbs.

Melt the butter and stir it through the Oreo crumbs.

Using your hands, press the Oreo crumbs into the tart tin to form a shell. Press up the edges to form the sides of the shell and make the centre of the shell as smooth and uniform as possible.

Chill in the fridge for an hour.

Make the lime curd. Put the eggs, butter, lime juice, zest and sugar in a glass bowl. Microwave on high for 4 minutes, 1 minute at a time, stirring well after each minute. Then microwave on high for 30 seconds three times, again stirring well after each period is up. The curd should thicken so it coats the back of a spoon.

Once it has thickened, set it aside to cool. Once the Oreo crust has chilled for an hour, pour the curd on top and then chill it for another hour.

When the hour is nearly up, make the white chocolate ganache filling. Heat the cream and pour it over the white chocolate in a bowl. If it does not melt fully put the bowl on top of a pan of hot water and stir until fully melted.

Stir through the lime zest and lemon extract then pour the ganache into the tart. Chill for another hour.

To decorate, melt the dark chocolate and drizzle over the top. Serve chilled.
Did you try and love this recipe?
Then please leave a review and rating in the comments at the bottom of the post. If you post your creation on Instagram, tag me @bakingqueen74 or use hashtag #bakingqueen74!
Linking up with Bake of the Week with Casa Costello and Mummy Mishaps