Slow Cooker Red Velvet Cake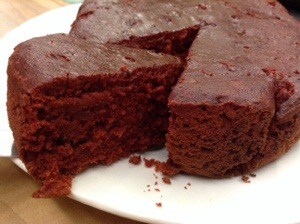 Slow cooker red velvet cake!
Have you baked a cake in your slow cooker yet? Check out my posts on baking in the slow cooker and also making a cake in the slow cooker for more details and find out how to do it. If you can't bake for toffee in an oven and are always burning things or your cakes don't rise, try it in a slow cooker and marvel at what you can achieve!
Cakes based on buttermilk or yoghurt (as used here) stay really moist and so work well in the slow cooker. You can serve them straight from the bowl for a delicious pudding.
I found this recipe on a recipe card in Sainsbury's and thought it would be a good one to adapt to the slow cooker. Red velvet cake is normally a chocolate cake with colouring to make it red. You can also use natural colourings such as beetroot if you prefer to keep it natural. If you do use food colouring, make sure you use a gel or paste colour which is bake safe. The small bottles you get in the supermarket are usually not effective in baking and won't give the same results.
Recipe:
100g unsalted butter
175g caster sugar
2 large eggs
175g self-raising flour
As much red gel colouring as required (I used about 3 tsp)
200g Greek style natural yogurt
1 tsp vanilla extract
30g cocoa powder
Method:
Cream together the butter and sugar until light and fluffy. Beat in the eggs, stir in the colouring, yogurt and vanilla extract. Fold in the flour and cocoa powder.
Butter your crock pot and line with grease proof paper.
Cook on high for approx 1.5 to 2 hrs until a skewer comes out clean.
It turned out really moist and tasty, delicious!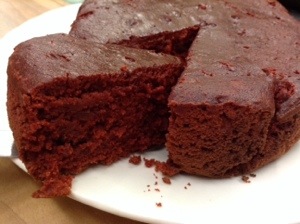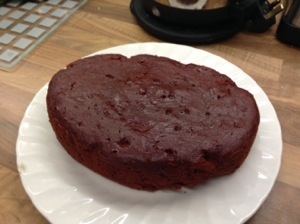 ---
---