I'm a bit late with this since Stir Up Sunday was last week but I've tried making a Christmas cake in my slow cooker this week.
If you aren't familiar with Christmas cake, this is a traditional rich fruit cake, often fed with alcohol, made in Great Britain at Christmas time.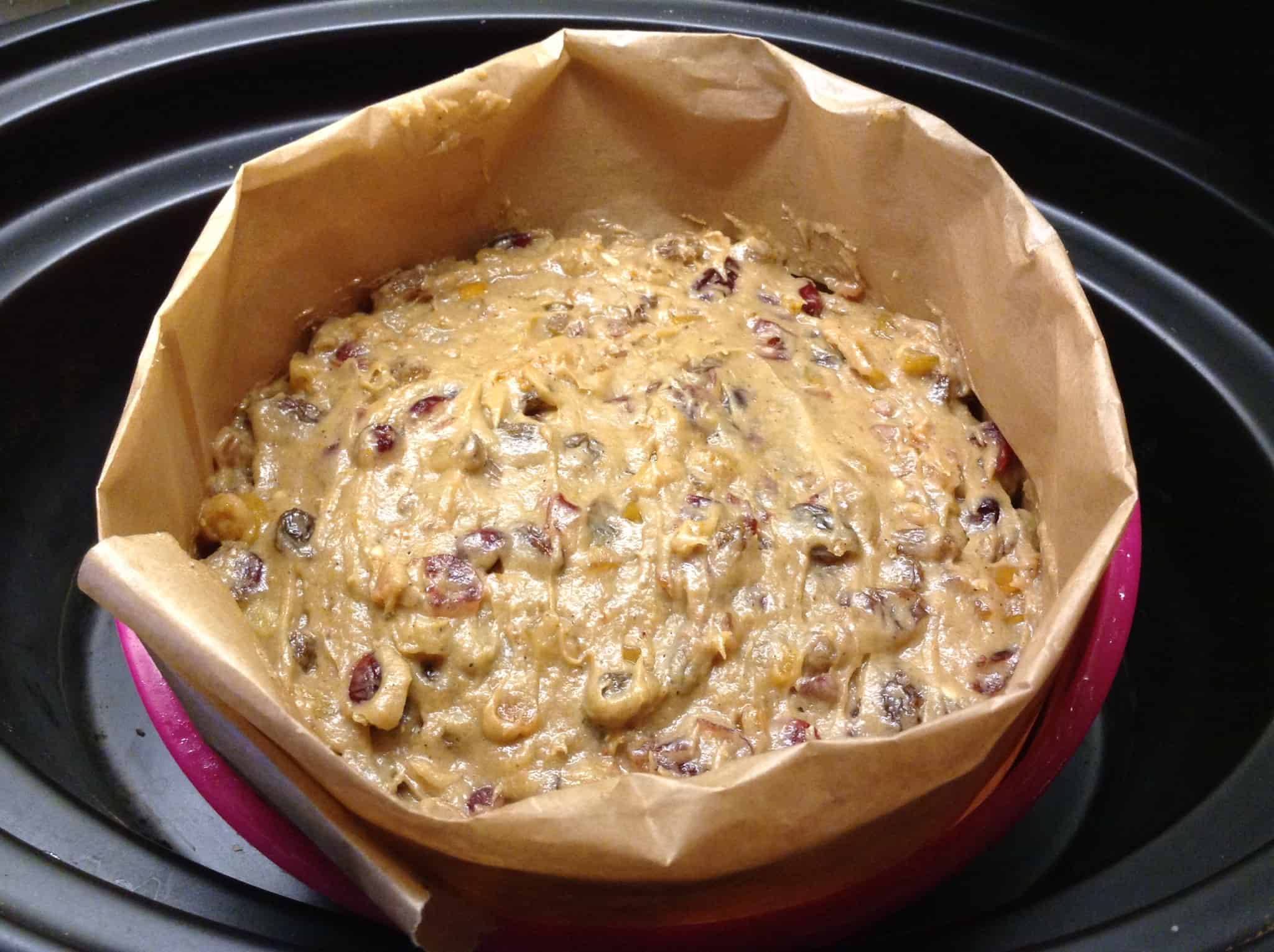 I've found in the past that cakes made in the slow cooker stay lovely and moist (for example my slow cooker plum and almond cake), so this seemed an ideal way to bake my Christmas cake too.
Also the long cooking time if using an oven can mean a tendency towards burning, whereas in the slow cooker it cooks much er more slowly so the risk of burning can be lessened.
Read on for my recipe for a slow cooker Christmas cake!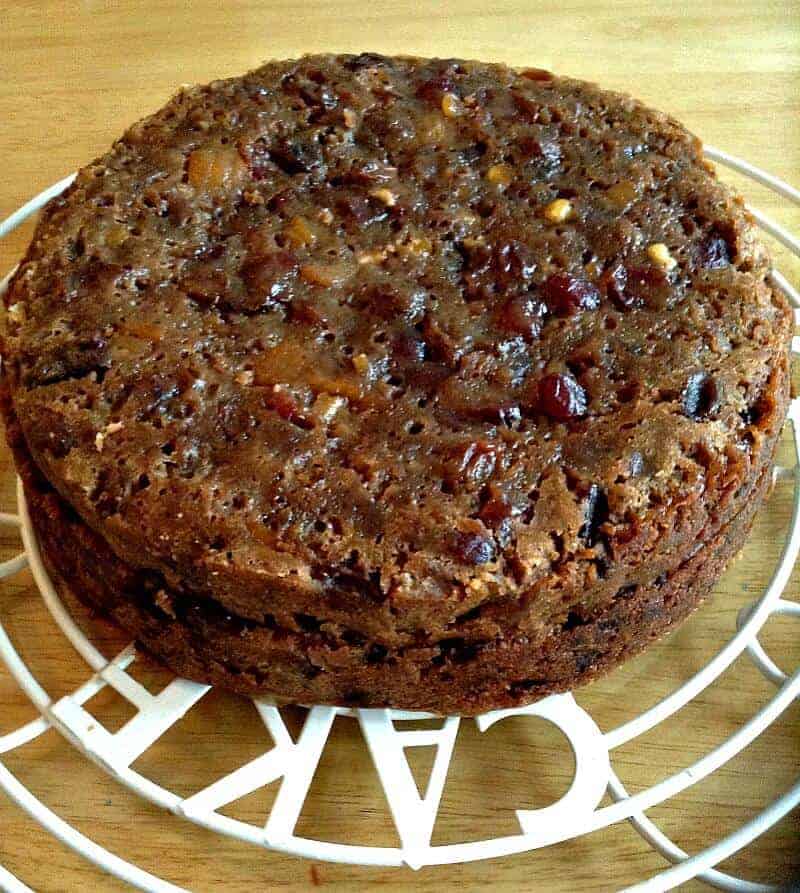 This is a traditional style British Christmas cake, which is a fruit cake made with with dried fruit. I soaked my fruit in black tea as I love the flavour and prefer a less boozy cake but you can also soak them in booze if you like – brandy, rum, whisky, go wild!
HOW DO YOU MAKE A CHRISTMAS CAKE IN A SLOW COOKER?
You might well think, why would you make a Christmas cake in a slow cooker? I find it a good way to make cakes that costs less than running an oven and has less risk of burning. You still need to check your cake regularly and look out for burning but if it does happen it won't just take minutes.
Here I bake my cake in a silicone pan in the bottom of a large slow cooker. If you can fit in a metal cake tin you can use that too.
I wouldn't bake a Christmas cake directly in the pot due to the risk of burning with this dense cake, as you need it to cook right through.
Check out my post all about baking in a slow cooker (with loads more slow cooker cakes and dessert recipes too!) and get lots of tips in my post on how to make a cake in a slow cooker!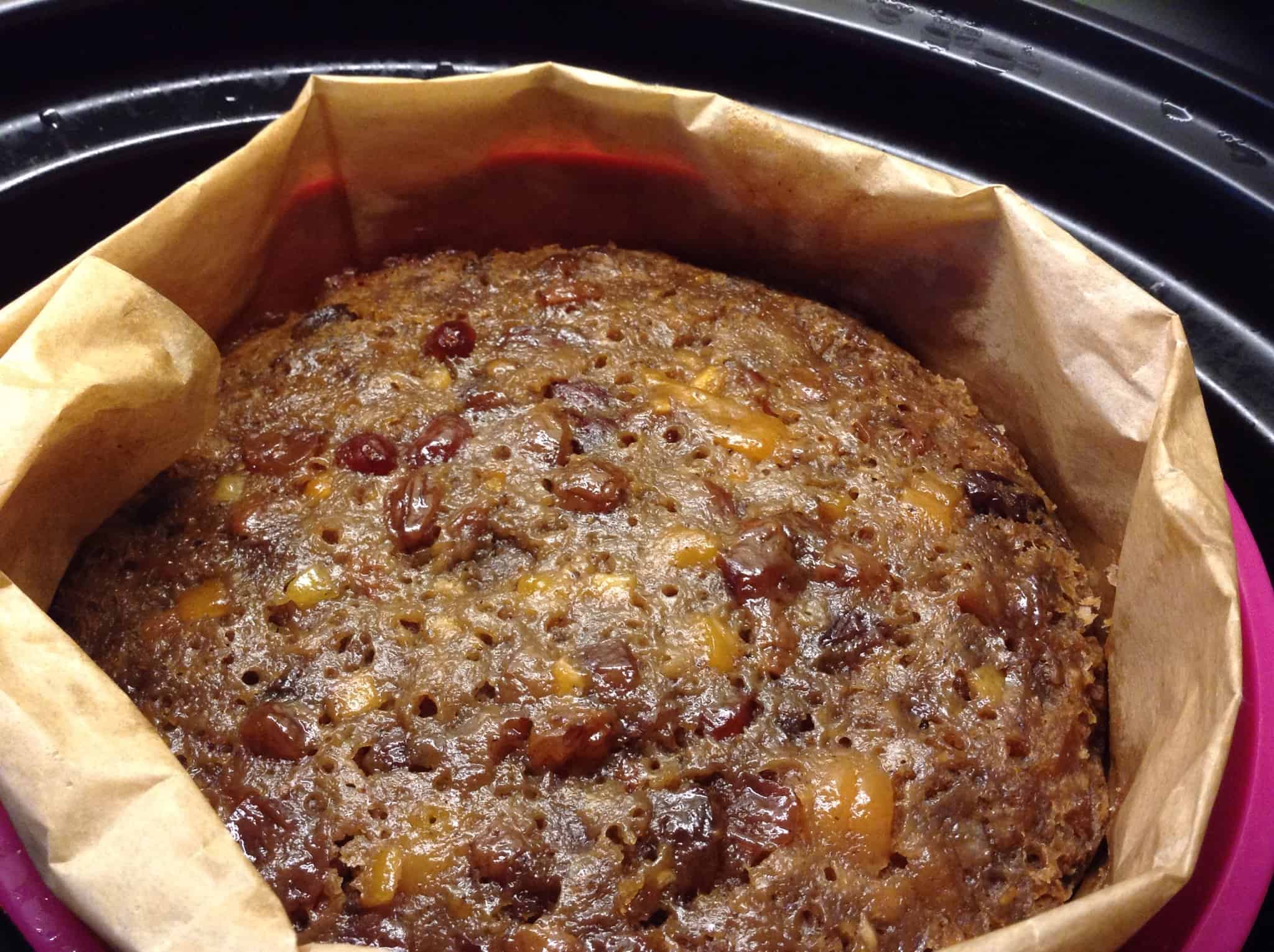 HOW DO YOU FEED A CHRISTMAS CAKE WITH ALCOHOL?
It is also traditional to "feed" christmas cakes with alcohol to help preserve them. To do this, after the cake has been baked, let it cool a bit, then make a few small holes in it with a skewer or the end of a knife etc.
Pour over a couple of tablespoons of alcohol (whichever you prefer). Then leave the cake to cool completely and ensure it is fully dried out from being cooked in the slow cooker. If it isn't there is the risk of it going mouldy so do let it dry out completely!
Wrap the cake well in foil or clingfilm. Then keep feeding regularly with a little more alcohol, until Christmas arrives. You can then ice it. Traditionally a Christmas cake would be covered with a layer of marzipan and a layer of royal icing.
I wrap mine in foil and store in a tin until just before Christmas, when I'll add marzipan and icing.
Christmas Slow Cooker Recipes
If you love the convenience of your slow cooker at Christmas and how it gives you more oven space, you might also like my other Christmas slow cooker recipes:
Make sure you also check out my Christmas slow cooker roundup full of edible gifts, sweet treats, Christmas dinner recipes and more, all made in your slow cooker!
Pin my Slow Cooker Christmas cake recipe for later!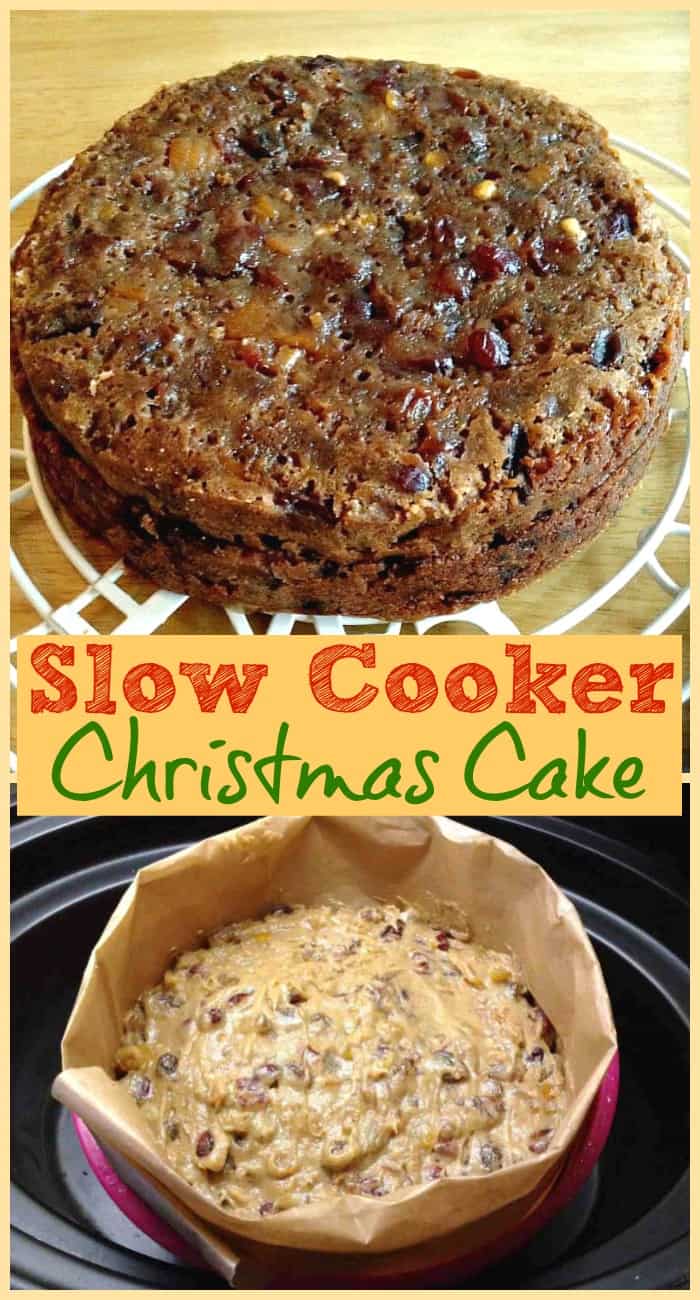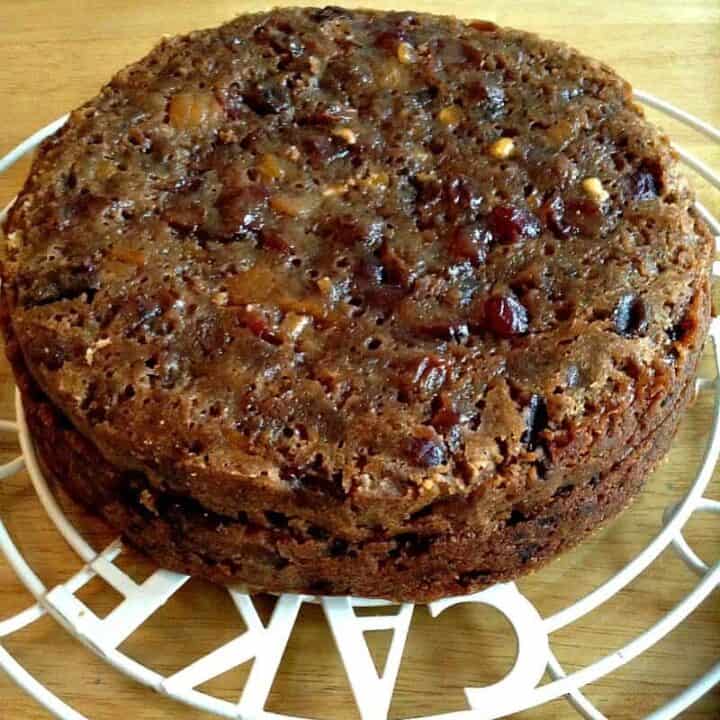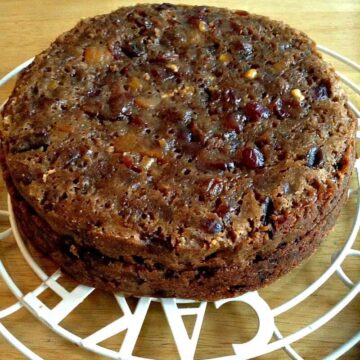 Slow Cooker Christmas Cake
My slow cooker Christmas cake recipe is simply my own twist on a traditional Christmas cake recipe, using my preferred dried fruit and without nuts. I soaked my fruit in tea rather than alcohol as I prefer to drink alcohol in liquid form at Christmas!
Print
Pin
Rate
Save
Saved!
Ingredients
200

g

sultanas

100

g

mixed peel

100

g

honey apricots

chopped

150

g

sweet dried cranberries

50

g

jumbo raisins

25

g

crystallised ginger

chopped

Zest and juice of 1 small orange or a satsuma

200

ml

of black tea

200

g

butter

200

g

light brown sugar

3

medium eggs

0.5

tsp

vanilla bean paste

150

g

plain flour

1

tsp

ground cinnamon

1

tsp

ground allspice
Instructions
Mix all the fruit in a large bowl. Add in the orange or satsuma zest and juice, then the tea. Mix it well, then cover the bowl with clingfilm and leave it to soak overnight.

When you are ready to make the cake the next day, cream together the sugar and butter in a large bowl.

Next, add in the three eggs and beat well.

Fold in the flour, spices and vanilla bean paste, and combine well.

Mix in the soaked fruit and any remaining liquid.

Grease and line a 20 cm round silicone pan on the base and sides with a double layer of baking paper.

Place an upturned saucer or small tin on the base of your slow cooker. You will need to use a large slow cooker (mine is 5.7 litres) that your pan fits into. Placing the pan on a saucer will stop the base of the cake burning during the long cooking time needed for this dense cake.

Spoon the cake mixture into your prepared silicone pan, and smooth it down on top.

Pour some hot (not boiling or your pot might crack) water into your slow cooker pot, around the saucer. I used a couple of inches and topped it up once during cooking.

Now place your silicone pan on top of the upturned saucer.

Place a clean tea towel under your slow cooker's lid, to catch condensation during cooking and stop it making the top of the cake soggy.

Switch the slow cooker on high and cook for 3-4 hours, until the top looks firm and a cake tester or skewer comes out clean from the centre.

Remove from the slow cooker and allow it to cool.
Did you try and love this recipe?
Then please leave a review and rating in the comments at the bottom of the post. If you post your creation on Instagram, tag me @bakingqueen74 or use hashtag #bakingqueen74!
Linking up with Farmersgirl Kitchen and the December Slow Cooked Challenge, which has a lovely festive logo this month!