Did you know your slow cooker you can cook a roast dinner in a slow cooker? Yes, a slow cooker can come in very useful for making your roast joints of meat. Whether for your family Sunday roast dinner or an easy weeknight dinner, you can put your slow cooker or crockpot to full use and get it cooking while you work or relax.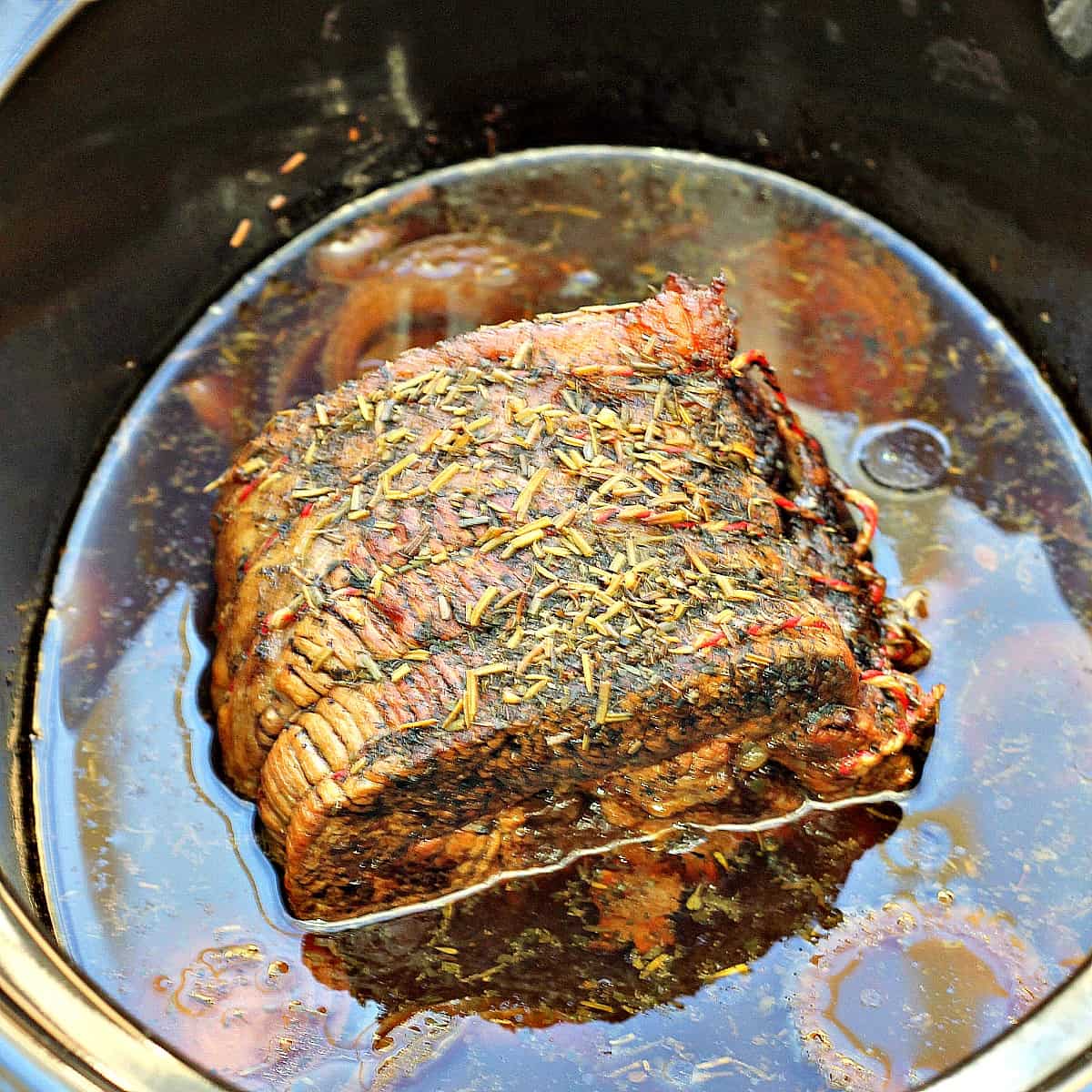 Jump to:
Cooking a roast in your slow cooker
Roast meat cooked in your slow cooker is rather like cooking a pot roast since you cook your meat in a covered pot and can also add in vegetables beneath the meat if you like. You still get great results with slow cooker roasts even without the oven!
Even though traditionally you would cook your roast meat for your roast dinner in the oven, it is worth giving the slow cooker method a go. You can basically cook any joint of meat that you would buy in the supermarket for roasting in your slow cooker, provided it fits your pot that is.
I tend to use my larger slow cooker for the roast meat, which is a 5.7 litre slow cooker. Then the smaller ones are free to be used for side dishes or dessert!
I prefer to cook my vegetables on the side rather than including them in the slow cooker with the roast beef or chicken – if you cook for example carrots and potatoes under a piece of beef then they all taste the same by the end of cooking. This is because they cook in the fatty juices of the meat.
It works in terms of they will cook, but you'll get better results cooking them separately in my view. Potatoes and carrots will be soft and not as good as crispy roast potatoes cooked in the oven and carrots boiled in water.
Top tips
Just remember that you don't need to use as much liquid for a slow cooker pot roast because when cooking in a slow cooker liquid won't evaporate off.
Also plenty of juices will come out of the meat as it cooks. In some of these recipes I don't use any stock for cooking at all (pork, lamb and so on) whereas for beef brisket it is best to add a small amount of beef stock.
Remember to add flavour by using your preferred meat stock (broth), if you have homemade stock even better. Also use herbs and spices to enhance the flavour of the meat.
Recipes
Here I've put together my favourite slow cooker roast dinner recipes so you can use this collection for whichever meat you want to base your roast meal on, whether slow cooker roast beef, pork, lamb, turkey crown, gammon or whole chicken.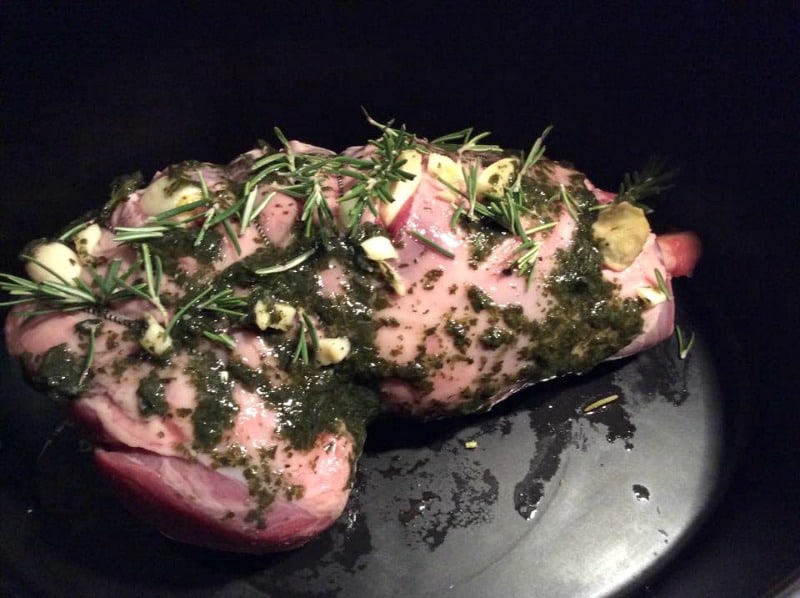 Slow cooker roast beef
I always find that a cut of beef selected for slow cooking works best, and so I normally use brisket when making slow cooker roast beef, and cook it on a bed of onions.
It becomes so tender after slow cooking and makes a delicious gravy too.
Alternatively you can also cook the beef roasting joints which tend to be silverside or topside with great results in the slow cooker – for these I like to cook them in a little beef stock with red wine, for 6 hours on low or 3 hours on high.
Slow cooker pork
Roast pork with fresh sage leaves and onion is a classic flavour combination and works so well in the slow cooker too. Cook your pork joint without any added liquid for best results.
For this recipe I cook the meat in a hot oven briefly after slow cooking to get really crispy crackling.
Slow cooker lamb
Whether you are cooking a shoulder of lamb, a half leg or a whole leg of lamb, they all work brilliantly in the slow cooker.
Slow cooker roast lamb with garlic and rosemary, on a bed of red onions and with added mint sauce if you like, will make your kitchen smell delicious as it cooks away.
Slow cooker gammon
An everyday unsmoked gammon joint becomes a delicious roast gammon in this simple slow cooker gammon recipe with apple juice and maple syrup drizzled over before roasting briefly in a hot oven.
Even if you skip the last stage, you'll have beautifully tender ham you can use for slicing or serving with chips!
Slow cooker turkey crown
Turkey breast or turkey crown is usually chosen at Easter or Christmas but of course you can enjoy them all year round if you can pick one up!
Here turkey breast on the bone (a turkey crown) is cooked with a delicious spice rub. You can also cook a whole chicken in the slow cooker in the same way.
Slow cooker roast chicken
I choose a large chicken (2 kg / 4 lb) and then cook it on high for 5 hours. At the end of slow cooker I lift the chicken into an oven tray and roast for twenty minutes to crisp the skin.
Slow cooker roast parsnips
More slow cooker recipes to try
As I post more slow cooker roast dishes I will add them here. I am thinking along the lines of a vegetarian nut roast or similar too!
Make sure you check my other slow cooker recipes for lots more slow cooker inspiration. And for your dessert you must see my slow cooker dessert recipes! Subscribe to never miss a post!
Pin for later