Just in time for your Christmas or Thanksgiving preparations, I've got the best way to cook your turkey for no hassle at all – in the slow cooker! My slow cooker turkey crown is a delicious way to cook your turkey and avoid the dreaded dry meat you can get through roasting.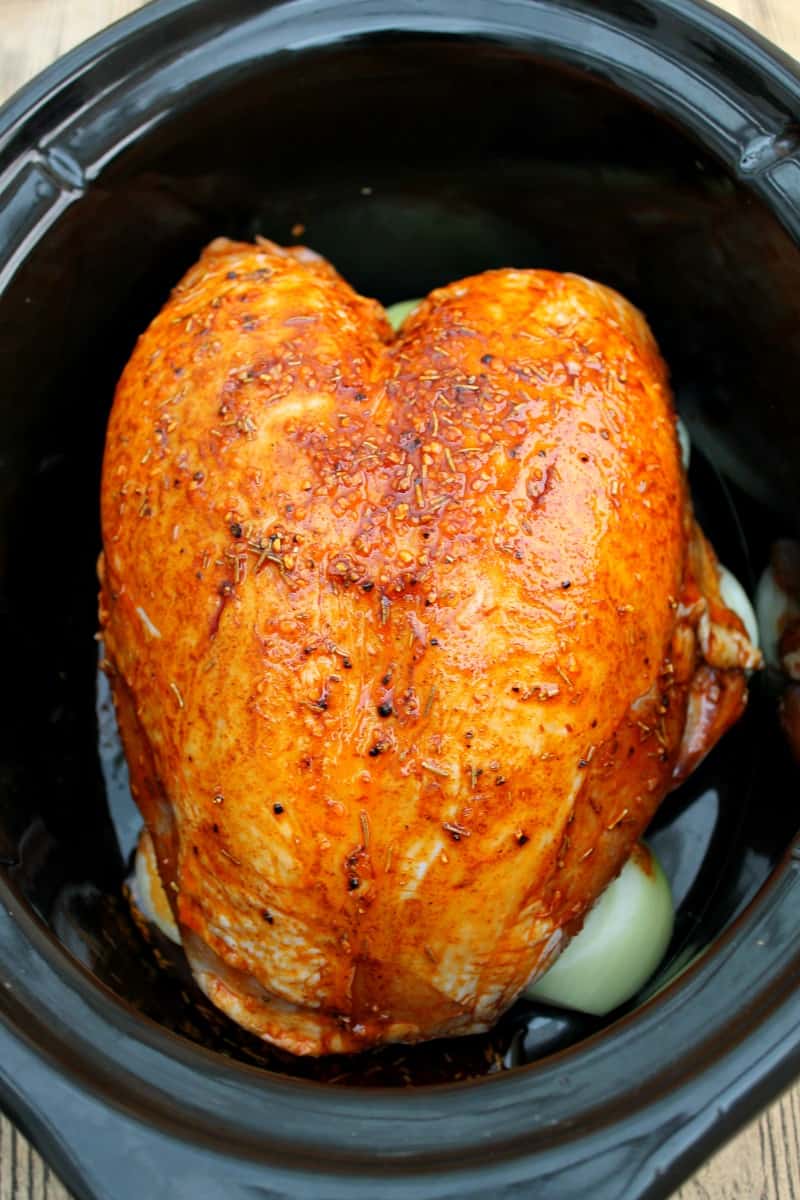 The turkey crown (if you aren't familiar with this term it is a double turkey breast on the bone which is common in the UK for Christmas) is prepared with a rub made with olive oil, smoked paprika and herbs.
You can also follow the same method for a single large turkey breast or a turkey. Just make sure if it is a whole turkey that it will fit in your slow cooker. We don't want any Christmas food disasters!
How to Cook a Turkey Breast or Crown in the Slow Cooker
The turkey crown shown was 2 kg / 4 pounds and was cooked in my 5.7 litre slow cooker with plenty of space to spare.
Step 1. After rubbing on the spice mix, I popped the defrosted turkey crown straight in the slow cooker on top of a couple of halved onions to lift it up out of the cooking juices.
Step 2. Put on the lid, then cook. During cooking, baste a few times with the cooking juices.
The cooking time for a 2 kg / 4 pound turkey crown was 5 hours on high. Use a cooking thermometer to check the turkey is cooked through – see my Turkey Tips below.
Step 3. Baste with melted butter seasoned with salt and pepper and paprika before serving, for a nice shine.
What to Serve with Turkey Crown or Breast
Serve your slow cooker turkey crown with your traditional Christmas sides – roast potatoes, sage and onion stuffing, pigs in blankets, cranberry sauce, red cabbage, roast parsnips, glazed carrots and Brussels sprouts if you are in the UK, followed by Christmas pudding.
If you are in the USA and cooking for Thanksgiving, your sides might well be mashed potato, glazed squash, sweet potato casserole with marshmallows, stuffing or dressing, green bean casserole, and pumpkin or pecan pie for dessert!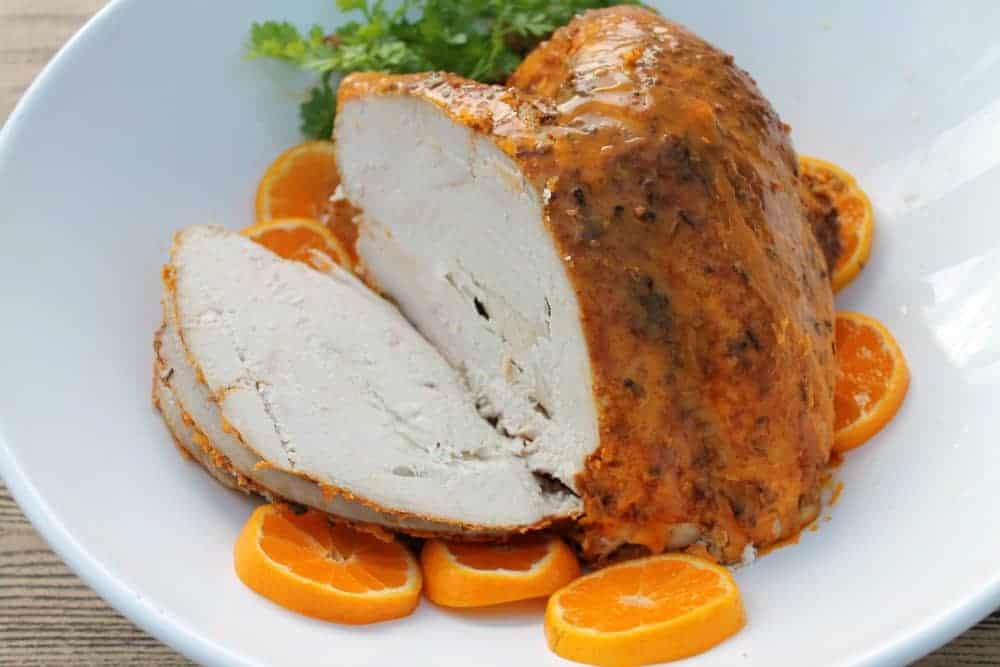 Turkey Tips
I know that cooking a turkey or turkey crown is something which brings lots of pressure as we want to get it right and make sure we cook it safely and thoroughly. I've added some tips below which I think might be useful.
How to Defrost a Turkey Crown
Follow the directions on the packaging to defrost your turkey crown, ensuring you know how much it weighs.
You can defrost in the fridge (takes longer, around 8-12 hours per kilo), a cold room (takes a bit less time, around 4 hours per kilo) or at room temperature which takes 2 hours per kilo.
Always follow a reliable source – in the UK I like this guide from British Turkey.
How to Check your Turkey Crown is Defrosted
Remove all the packaging, look for ice crystals on the underneath of the crown where the bones are. If any remain, leave it to defrost for longer until they have gone.
Use a sharp knife or skewer and pierce the turkey breast to see if it feels frozen still. If it does, leave to defrost for longer until it no longer feels frozen inside the breast.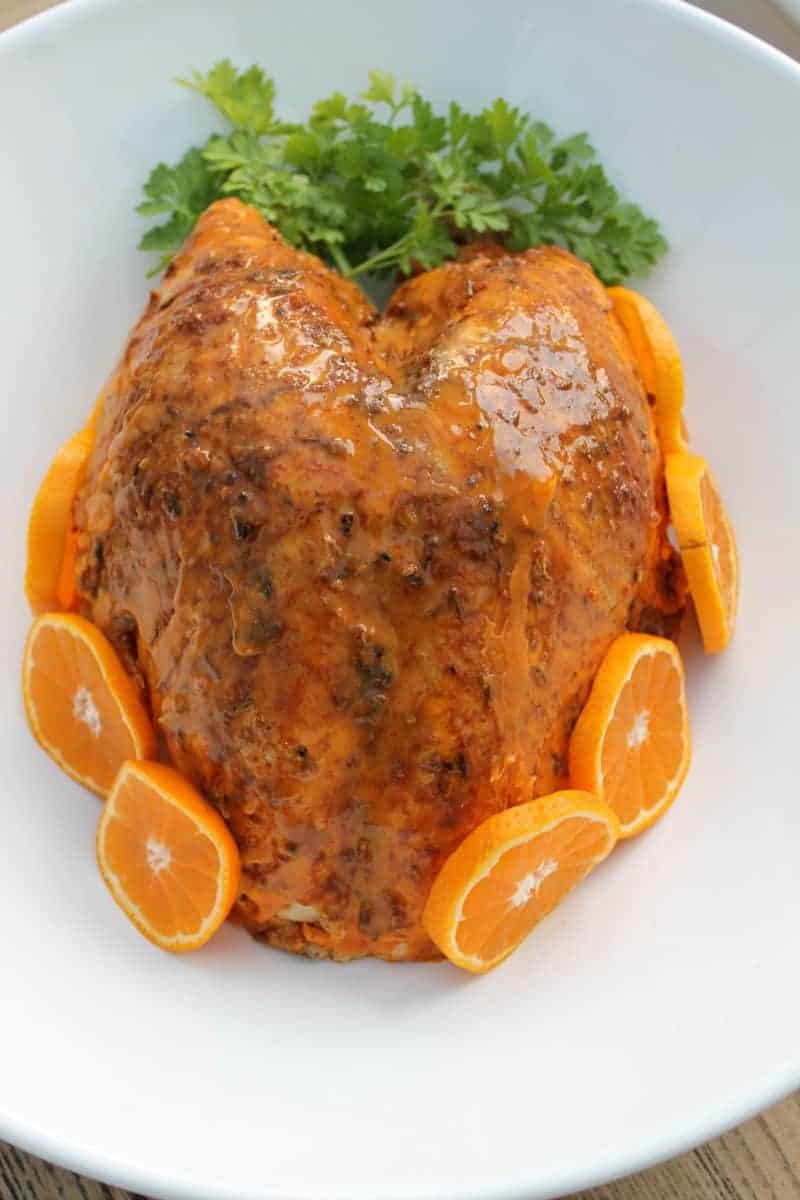 After cooking, how to check the turkey is cooked through
This so when I turn to my trusty Thermapen electronic meat thermometer. This put the guesswork away as I know exactly what temperature the turkey has reached.
To be safely cooked through the turkey must reach 74 degrees C in the thickest part of the meat.
Using my slow cooker on high, and testing with my Thermapen after cooking, I found my turkey had reached over 90 degrees C so I knew it was fully cooked.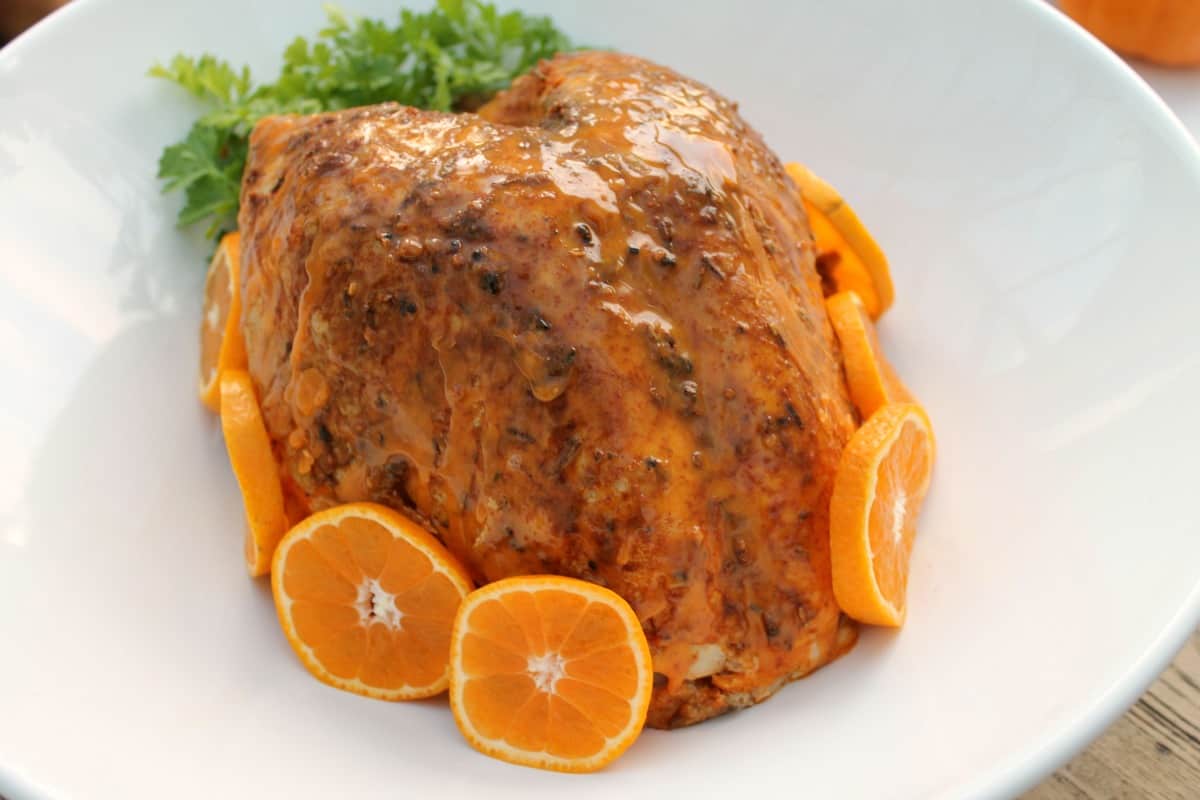 Baste with melted butter seasoned with salt and pepper and paprika before serving. It gives your turkey crown an extra shine and looks great on serving.
Whether you are serving your turkey crown for Christmas, Boxing Day, New Year's Day to Thanksgiving, this will make a great centrepiece to your festive table.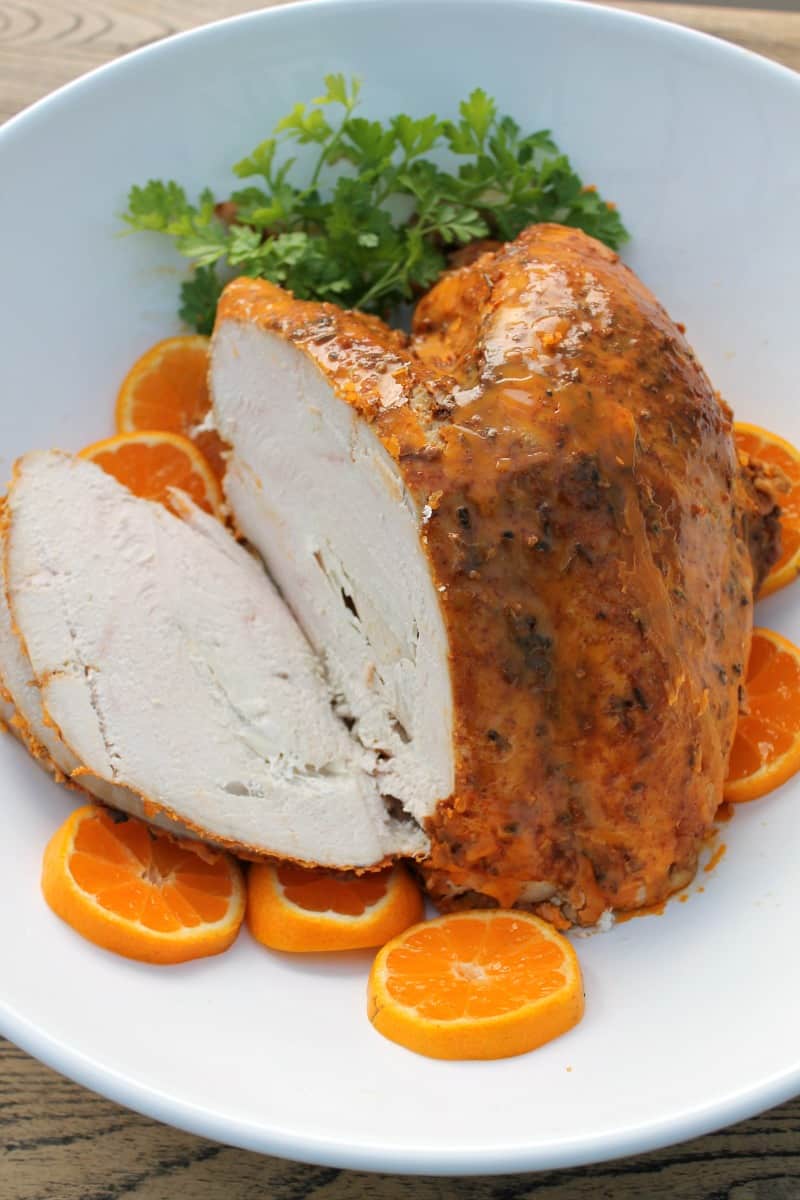 More Slow Cooker Christmas Recipes
If you are using your slow cooker this Christmas, you might also like:
Look at my slow cooker archives for even more! You can also subscribe so you don't miss a post.
For more slow cooker roast recipes make sure you take a look at my guide to slow cooker roasts.
Pin this slow cooker turkey crown recipe for later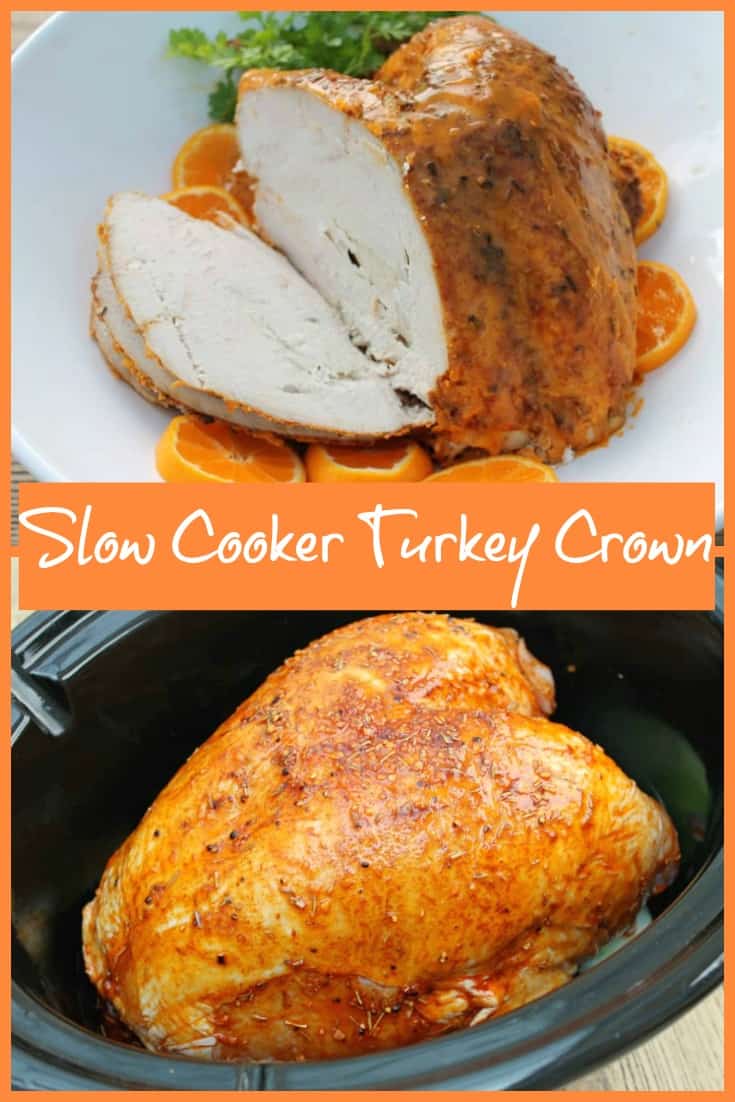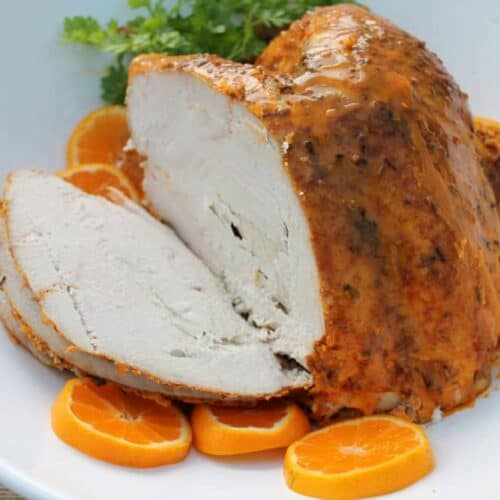 Slow Cooker Turkey Crown
A turkey breast or crown cooked with a delicious rub with smoked paprika and herbs in your slow cooker, hassle free!
Print
Pin
Rate
Total Time:
5
hours
5
minutes
Ingredients
2

kg

turkey crown or breast

defrosted completely

2

tbsp

olive oil

2

onions

halved

2

tsp

smoked paprika

1

tsp

minced garlic

1

tsp

dried rosemary

salt and pepper to taste
For the glaze:
50

g

butter

2

tsp

smoked paprika

salt and pepper to taste
Instructions
Mix the oil, paprika, garlic, rosemary and salt and pepper in a small bowl.

Rub it over the turkey crown.

Half two onions and place them in the base of the slow cooker pot.

Put the prepared turkey crown on top of the onions.

Put on the lid and cook on high for 5 hours.

During cooking, baste occasionally with the cooking liquids which will collect under the turkey crown.

Before serving, melt the butter, mix with smoked paprika, salt and pepper and pour it over the turkey crown to glaze.