Innovative recipe for slow cooker falafel which make an easy and economical midweek meal, with pitta salad and garlic sauce!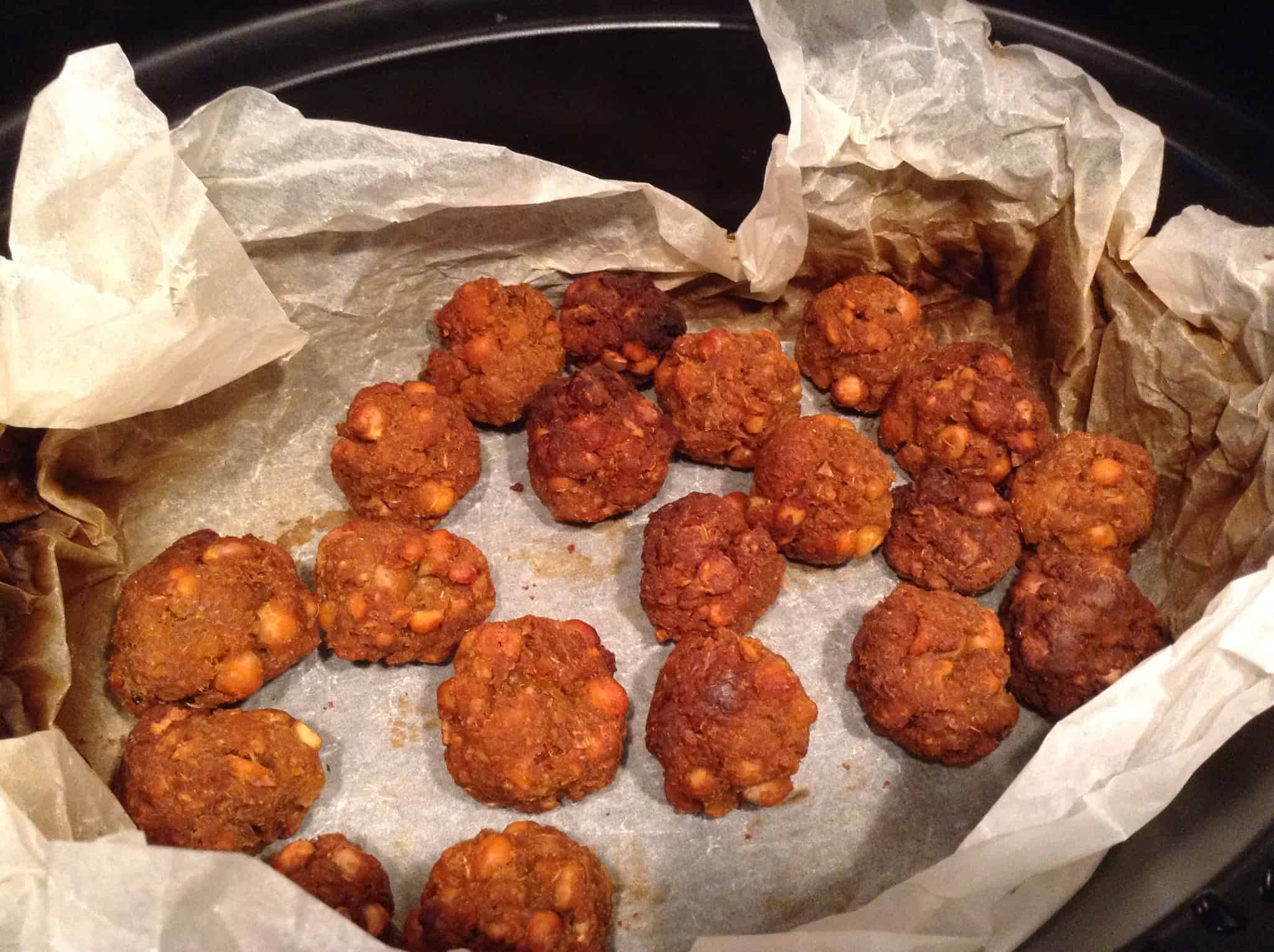 Jump to:
Slow cooker versatility
As my regular readers will no doubt know, I am very keen on my slow cooker(s) (yes, I do have several!).
I use them several times a week, in particular on the days when my eldest daughter has after-school clubs, as I love the ease of putting something in for dinner early in the day, and coming back to a steaming pot of something tasty. I bake cakes in them too.
The slow cooker really comes into its own in the autumn and winter, when a pot of chilli, curry or casserole is the order of the day.
However, the slow cooker needn't be used only to make stews and casseroles. It has far more to offer than that.
I thought I knew a lot of innovative slow cooker dishes, since I am a member of a couple of busy slow cooker Facebook groups, and am always seeing new dishes people have tried out in their crockpots.
Current popular dishes there are slow cooker fudge, self-saucing puddings, jam, cakes and bread, and leg of lamb cooked without added liquid, as well as the ubiquitous pulled pork.
Slow Cooked by Miss South
However, when the nice people at Ebury Press asked me if I would like to try out a recipe from Slow Cooked by Miss South, I was actually astounded by some of the recipes I discovered.
A whole section of delicious sounding, authentic curries, plus sections on fish and seafood, pulses and grains, preserves, and cakes and puddings, alongside the more usual recipes for stews, roasts and pulled pork type dishes.
The book contains over 200 recipes, which are according the book's tagline, aiming to be easy, thrifty and delicious. From what I have seen so far, it definitely lives up to this.
The dish which caught my eye first was slow cooker falafel. I had never seen this cooked in the slow cooker before or even thought it could be possible. So, I decided to give it a go.
Ingredients
Here's what you will need for this recipe, get the quantities in the recipe card further down:
dried chickpeas
cooked sweet potato or pumpkin
dried coriander
dried cumin
chilli powder
plain flour
salt and pepper to season
How to make Falafel in a slow cooker
Step 1. Soak dried chickpeas overnight, or for at least 8 hours.
Step 2. Drain the chickpeas and put them in a bowl with the spices and seasoning.
Step 3. Blend together using a food processor or high-powered hand blender.
Step 4. Add roasted sweet potato and blend again.
Step 5. Stir in flour to make a thick, firm batter. Chill in the fridge for at least thirty minutes.
Step 6. Scoop out spoonfuls of the batter using a dessertspoon and form into balls.
Step 7. Place the falafel on baking paper in the base of the slow cooker pot. I used a large slow cooker for this recipe (5.7 litres).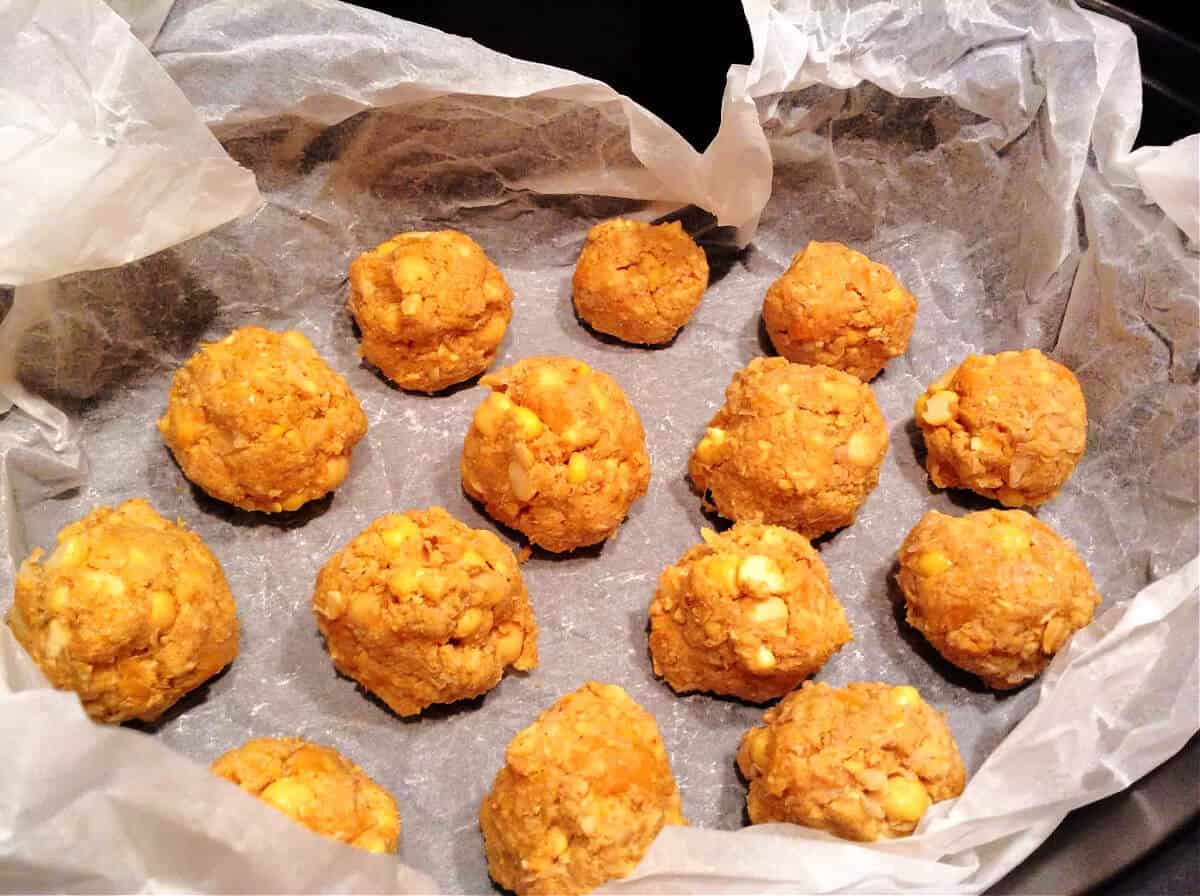 Step 8. Cook on high for 4-6 hours, turning occasionally. Note I have only tried this recipe on high.
The falafel will brown through contact with the slow cooker sides.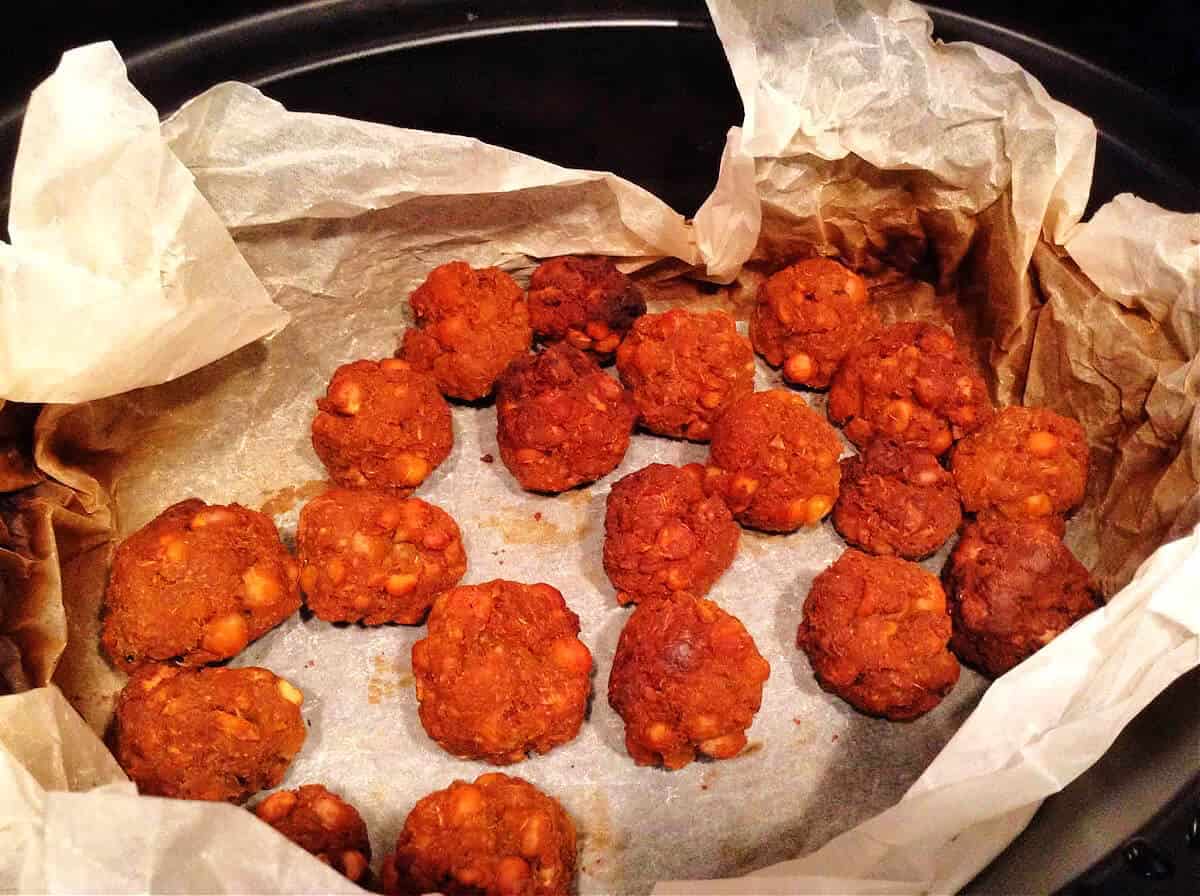 The slow cooker falafel are delicious served with pitta bread, houmous and salad for a light meal.
Cooking this in my slow cooker, at a cost of around 1-2 p an hour, makes the dish extremely thrifty, and the use of dried chickpeas even more so.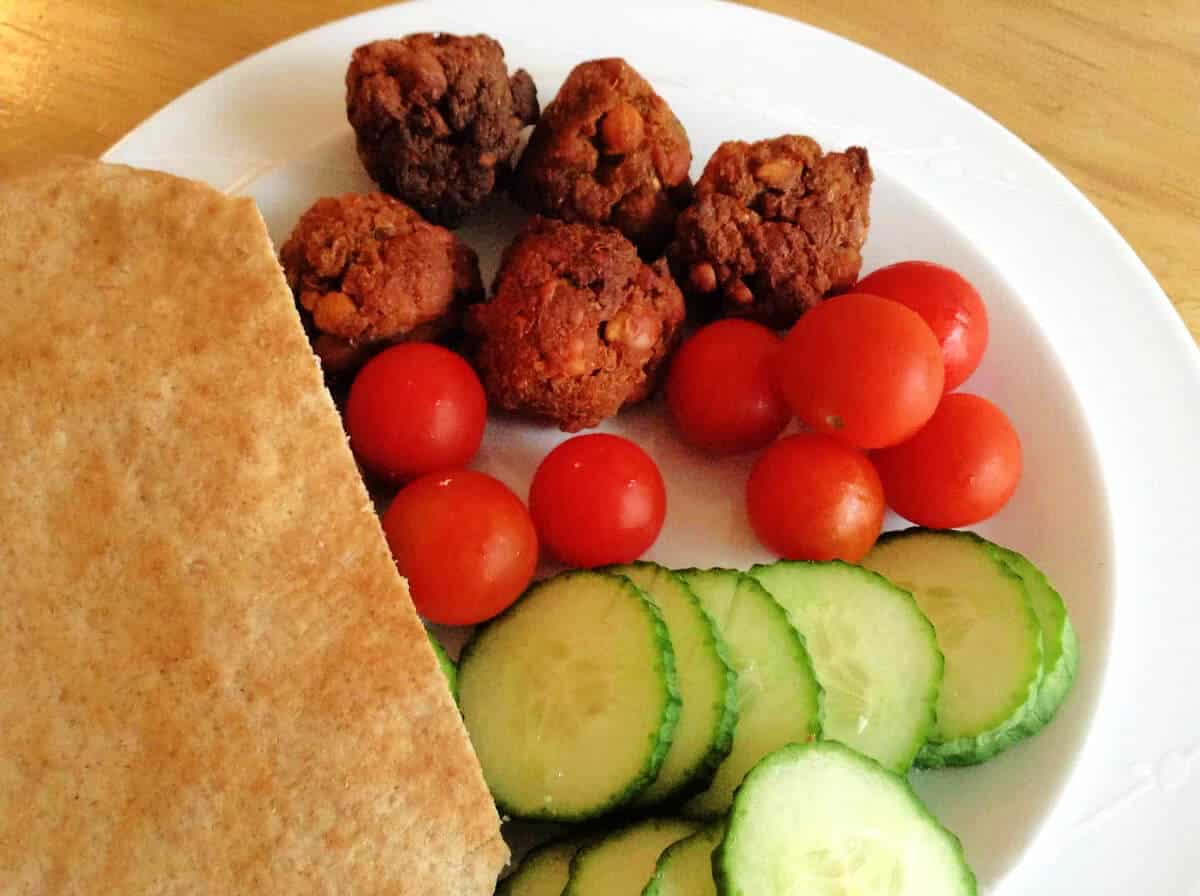 Slow Cooked will be published on 6th November by Ebury Press, and will cost £14.99.
Visit The Happy Foodie to see what other fabulous recipes from the book other bloggers tried out for the Slow Cooked Challenge!
Recipe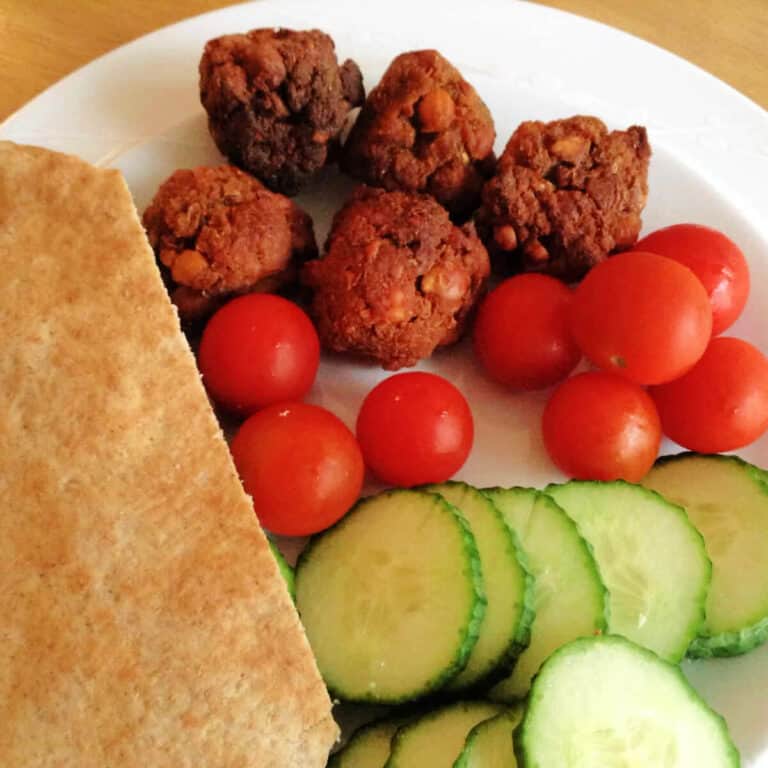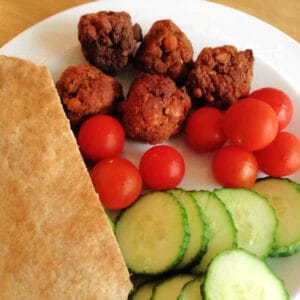 Slow Cooker Falafel
Falafel made from soaked dried chickpeas and sweet potatoes with Moroccan spices, baked in your slow cooker to crispy perfection! Recipe from Slow Cooked by Miss South, reproduced with permission.
Print
Rate
Save
Saved!
Ingredients
200

g

dried chickpeas

150

g

mashed pumpkin or sweet potato

1

tsp

ground coriander

1

tsp

ground cumin

1

tsp

chilli powder

mild or hot

2

tbsp

plain flour

Salt and pepper
Instructions
Soak the chickpeas for around 8 hours in cold water. Then drain them and rinse well and set aside.

Put the soaked chickpeas, spices and seasoning in a large bowl.

200 g dried chickpeas,

1 tsp ground coriander,

1 tsp ground cumin,

1 tsp chilli powder,

Salt and pepper

Use a hand blender to blend the chickpeas.

My tip - I found that the mixture was too thick for my hand blender to handle, so would suggest using a food processor if you have one, as my hand blender nearly burnt out!

Add the sweet potato and blend again.

150 g mashed pumpkin or sweet potato

Add half the flour and mix well. Add the other tablespoon and stir until combined. The batter will be firm, and not sticky.

Chill it for at least 30 minutes. Line the slow cooker pot with baking paper or a liner.

Scoop out spoons of the batter with a dessertspoon (the recipe suggests teaspoon size but I found this too small) and roll into balls. Place each falafel in the lined slow cooker with a little space between them. The recipe suggests making a second layer with more baking paper if needed - I tried this but found that the top layer of falafel were steaming rather than browning like the others, so I placed all my falafel in the pot.

Place the lid on the slow cooker and cook the falafel on low for eight hours or on high for around 4-6 hours (the recipe suggested 6 hours on high but I think as I used a large slow cooker, 5.7 litre, mine would have been burnt by then).

I found I needed to occasionally turn my falafel to ensure they were crispy on all sides and did not catch. After around four hours on high I had wonderful crispy falafel with a soft centre.
Did you try and love this recipe?
Then please leave a review and rating in the comments at the bottom of the post. If you post your creation on Instagram, tag me @bakingqueen74 or use hashtag #bakingqueen74!