Trying out different cakes in my slow cooker has become a bit of a favourite pastime of mine. We do eat healthy food most (some) of the time, honest :-). This time I found a tin of blackberries in the cupboard which must have been there for a while as I usually stick to fresh fruit, especially in the summer. I thought I'd use them up in a bake and use up a lemon languishing in my fruit bowl as well. Time for a slow cooker lemon and blackberry cake!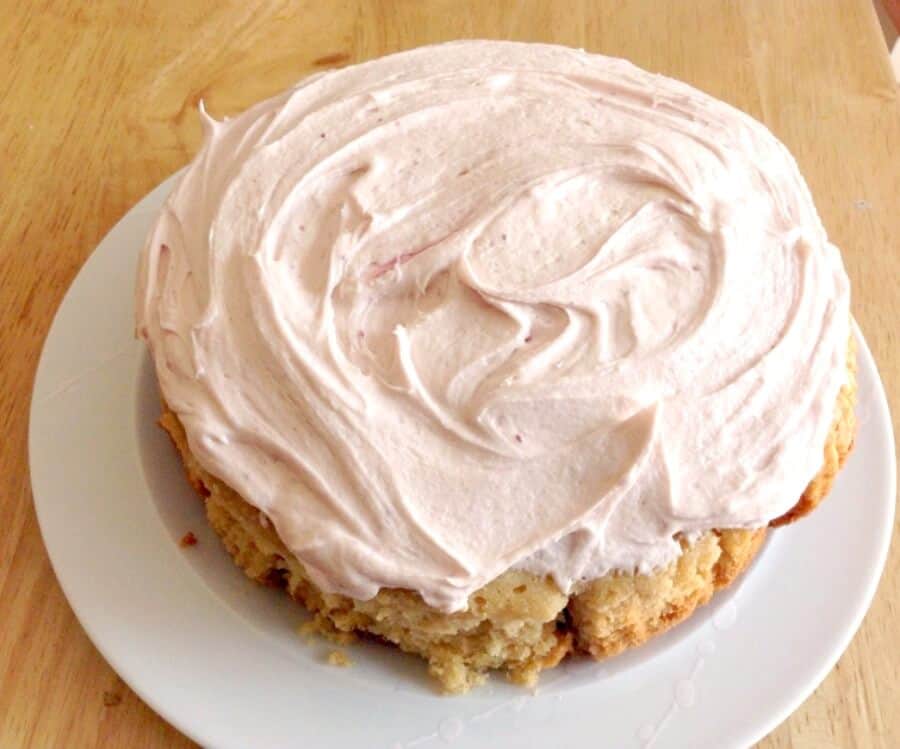 Tips on How to Make a Cake in a Slow Cooker
Slow cooking a cake might seem like an odd thing to do, but it keeps lovely and moist, and you can get on with other things without having to keep your eye on the oven as much, especially when you have got to know your slow cooker like I have. The slow cooker I used today is round and 3 litres in size, and it runs very hot, usually trying to burn the edges of cakes, and bringing dishes to simmering point quite quickly.
Use a clean tea towel/dish towel under the lid of your slow cooker to prevent drips from making the cake all wet.
Line your slow cooker with either baking parchment or even better a large round cake case (available in the UK from shops like Poundland).
How Long Do You Cook a Cake For In a Slow Cooker
So due to it being a very quick slow cooker, to make this cake I put the slow cooker on high for one hour, to get it going, then switched to low for the second hour. No burning and still a well cooked, firm cake, when tested with a skewer.
If you bake a cake in your own slow cooker, take into account whether your cooker runs hot or slow, and it should generally take between 1-2 hours on high. You will need to check it regularly the first time, to watch out for burning.
Making the Slow Cooker Lemon and Blackberry Cake
Back to the cake, the lemon zest goes really well with the blackberry purée, and creates a real summery flavour. If you use whole blackberries instead of mashing up blackberries from a tin, just bear in mind they will sink to the bottom during the slow cooking process.
I topped my cake with blueberry flavoured buttercream icing, as I had run out of blackberries, and the icing had a lovely purplish pink colour to it which added to the overall effect.
Before baking, swirl the mashed blackberries through the cake batter so it is distributed through the cake evenly.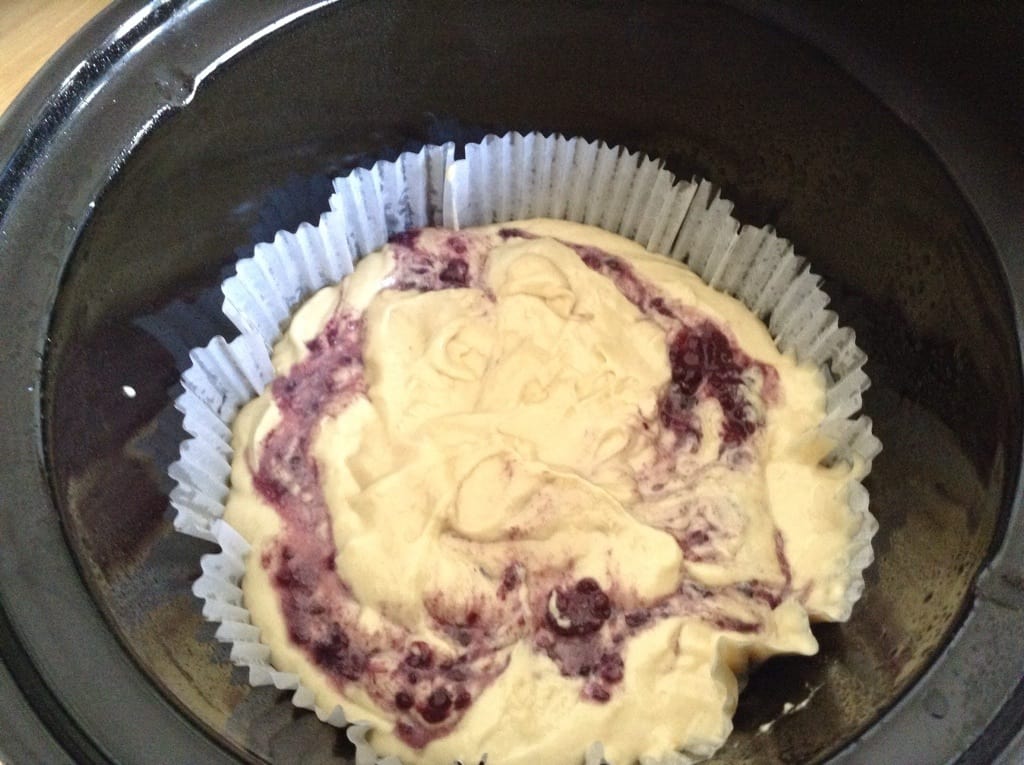 Top with the blueberry buttercream icing and enjoy the soft sponge with swirls of blackberry puree, with the thick layer of frosting on top. A delicious summery slow cooked cake!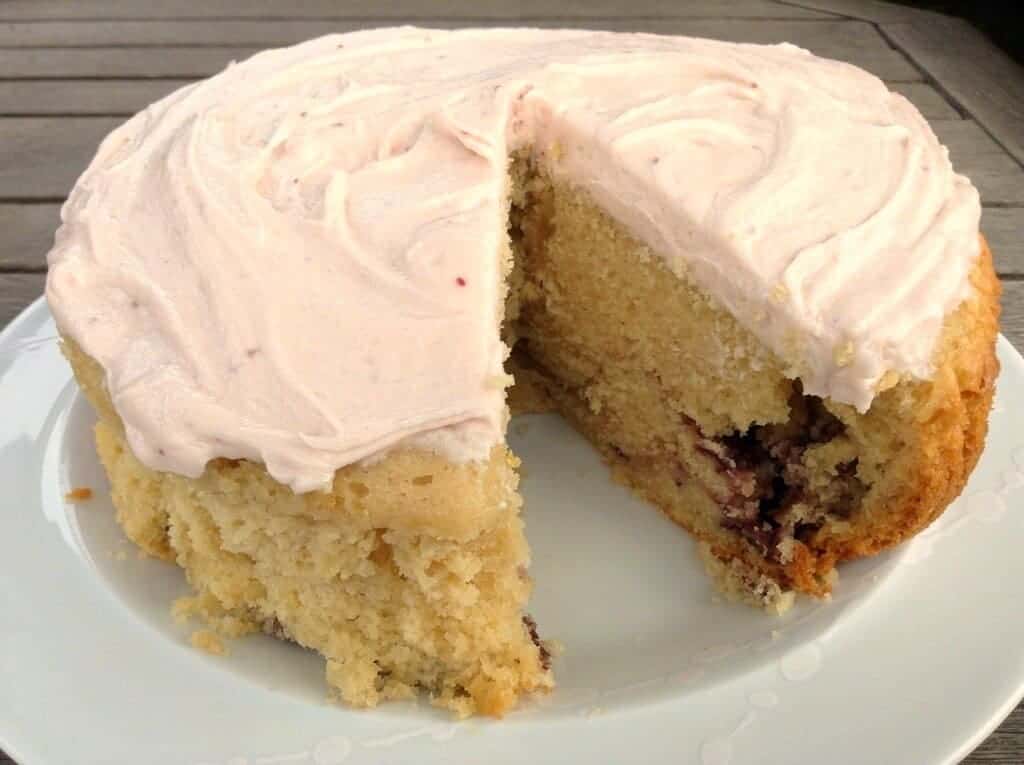 Pin this slow cooker lemon and blackberry cake recipe for later!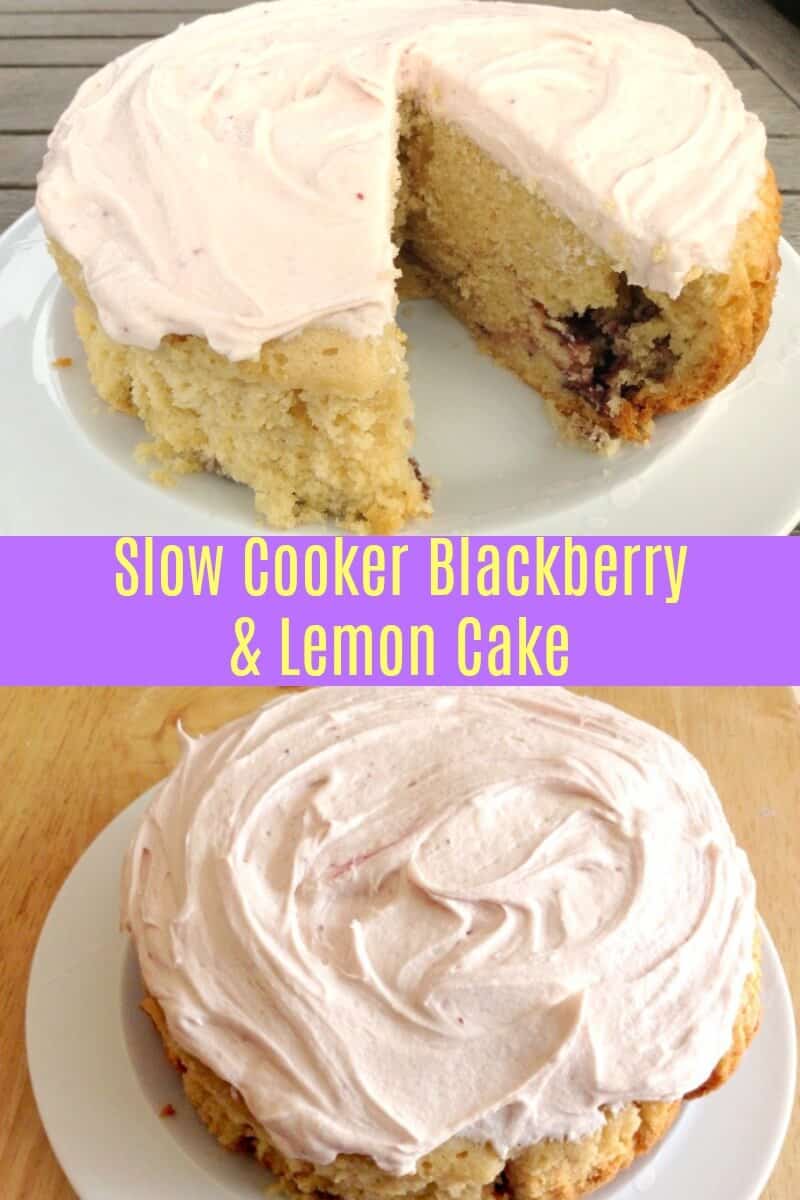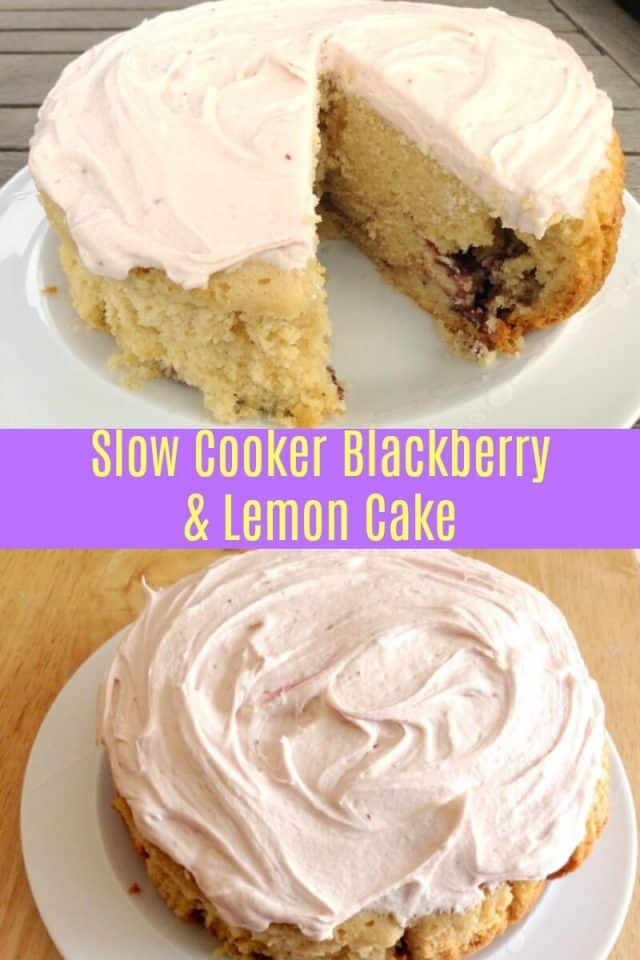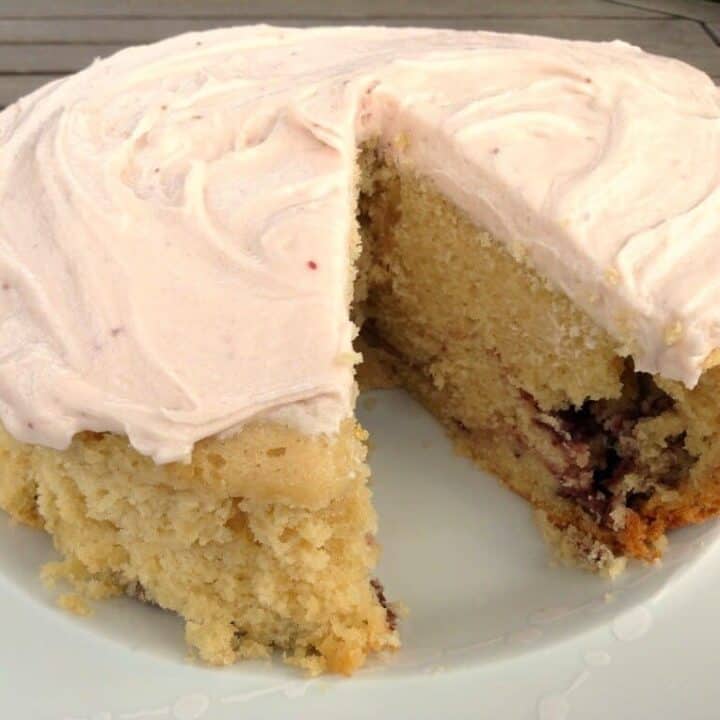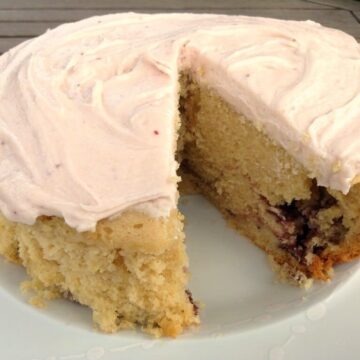 Slow Cooker Lemon and Blackberry Cake
A fruity slow cooker cake filled with blackberries
Print
Rate
Save
Saved!
Ingredients
For the cake:
125

g

butter

(half a cup plus 1 tbsp)

125

g

caster (superfine) sugar

(half a cup plus 1 tbsp)

2

medium free-range eggs

250

g

plain (all-purpose) flour

(2 cups)

2

tsp

baking powder

200

ml

milk

zest of a lemon

1

tin

blackberries in syrup

drained and mashed up, or use fresh berries, blueberries or blackberries work well
For the blueberry buttercream icing:
300

g

icing sugar

150

g

unsalted butter

a handful of blueberries

(or use blackberries to continue the blackberry flavours!)
Instructions
Cream together the butter and sugar using an electric whisk.

Whisk together eggs and milk in a jug. Get the flour and baking powder ready in another bowl.

Add some of the egg and milk mixture to the butter and sugar, followed by some of the flour mixture, and mix well. Keep adding until it is all in.

Add the zest of the lemon and stir.

Grease your slow cooker pot and put in a cake case or baking paper.

Put half the cake mixture in, then put in the puréed blackberries.

Add the rest of the cake mixture on top and swirl slightly.

Cook for 1-2 hrs on high (see notes above) or until a skewer comes out clean.

Remove from the pot when it has cooled enough to handle, and allow it to cool fully on a rack. This will take quite a while.


Once it is completely cool you can ice it if you want to (or just eat it up!). I topped mine with blueberry buttercream made with 150 g butter, softened, and approx. 300 g icing sugar, whizzed up using the electric whisk. I microwaved a handful of blueberries in a little water for a minute on high, then left it to cool and removed the skins. Then I stirred the juice into the buttercream little by little to achieve the desired colour.

Did you try and love this recipe?
Then please leave a review and rating in the comments at the bottom of the post. If you post your creation on Instagram, tag me @bakingqueen74 or use hashtag #bakingqueen74!