Hungry Healthy Happy is a new book by Dannii Martin of the very popular food and health blog of the same name. In it Dannii shares her recipes and tips which have helped her to lose seven stone, and explains that with a few small changes, you can still have the foods you love, and nourish your body with a delicious, healthy and nutritional balanced diet.
I am really pleased to be able to share a recipe from the book with you and what I thought of the book.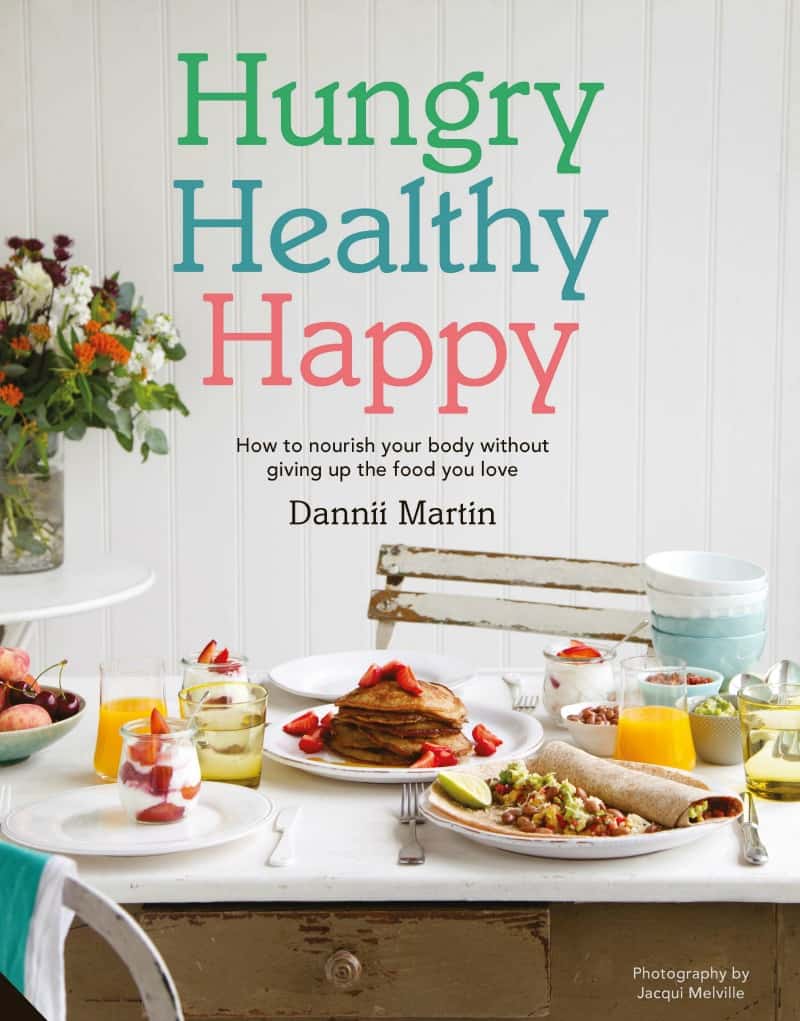 I couldn't wait to read this book as I love Dannii's recipes and wanted to get some more ideas for healthy meals for both me and my family. First to be tried out was this delicious spring vegetable frittata. This was perfect as a light lunch with leftovers to take to work.
The frittata is full of different vegetables (courgette, asparagus, spring onions and tomato), and also has light feta cheese in it, which brings its own fresh flavour. As I don't have a separate grill in my oven, I baked the frittata rather than grilling it, and I think the results were good. I really enjoyed this and will definitely be making it regularly.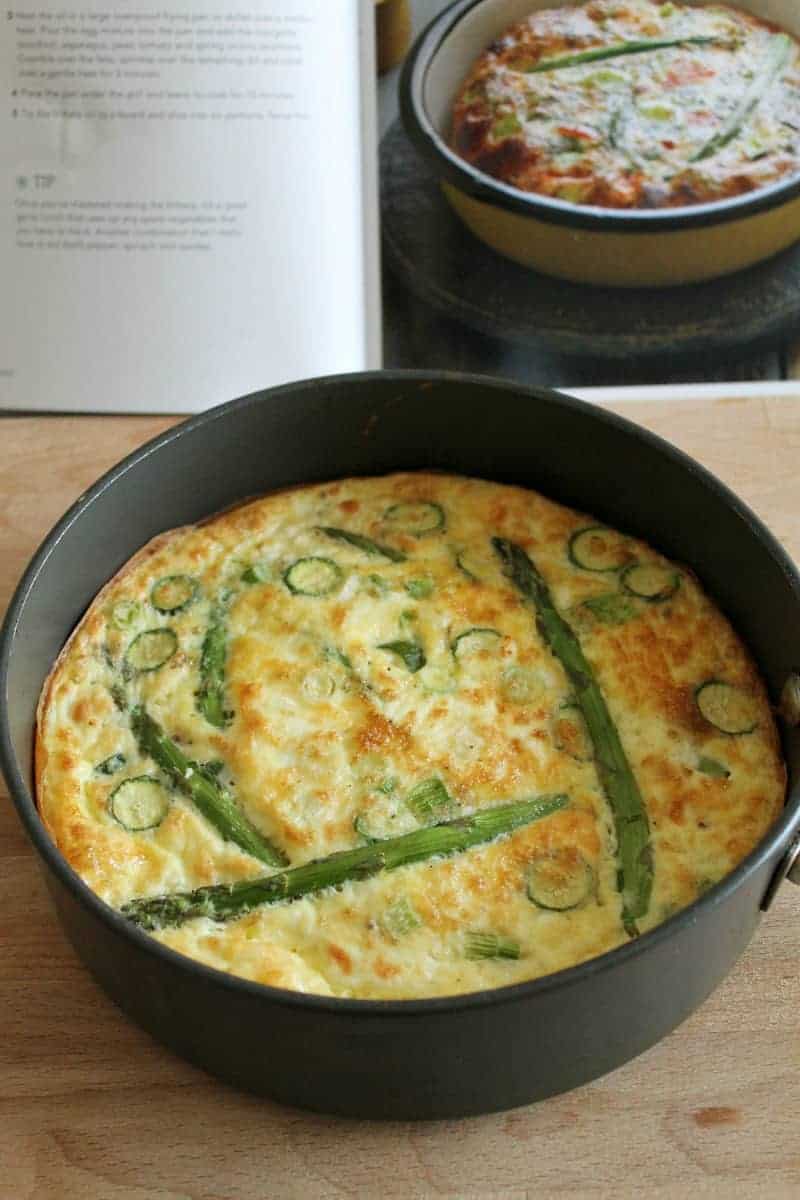 Hungry Healthy Happy is full of healthy ideas for every meal of the day. I know how to make a healthy evening meal though am always looking for new ideas, but I struggle sometimes to make healthy choices for breakfast and lunch. So I'll certainly be trying out the blueberry waffles, nutty apple porridge and almond and cherry granola. The granola will be great to take to work and have with yoghurt.
For lunches, recipes that caught my eye include the Greek chicken flatbread, healthy noodle pots and Japanese noodle salad. All of these I think could be made in advance and taken with you to work for a quick and nutritious lunch, without costing a lot.
The book also contains sections on The Principles of Losing Weight, The Importance of Exercise, Eating Well for Less and Store Cupboard Essentials, and a 2-week meal plan. I keep referring back to these sections for inspiration and tips. Using a slow cooker is one of the tips for eating well for less, so I am on the right track there in any case!
Recipe:
Note: Recipe by Dannii Martin from her book Hungry Healthy Happy
6 eggs
a splash of skimmed milk
2 tbsp chopped fresh dill
1 tsp olive oil
1/2 courgette, peeled lengthways into strips (I used baby courgettes, sliced)
8 asparagus spears
4 tbsp peas
1 tomato, diced
2 spring onions, thinly sliced
30 g light feta cheese
Method:
Preheat the grill to low.
In a jug or bowl, whisk together the eggs, milk and half th dill. Season with salt and pepper and set aside.
Heat the oil in a large ovenproof frying pan or skillet over a medium heat. Pour the egg mixture into the pan and add the courgette, asparagus, peas, tomato and spring onions. Crumble over the feta, sprinkle over the remaining dill and cook over a gentle heat for 3 minutes.
Place the pan under the girl and leave to cook for 15 minutes.
Tip the frittata on to a board and slice into six portions. Serve hot.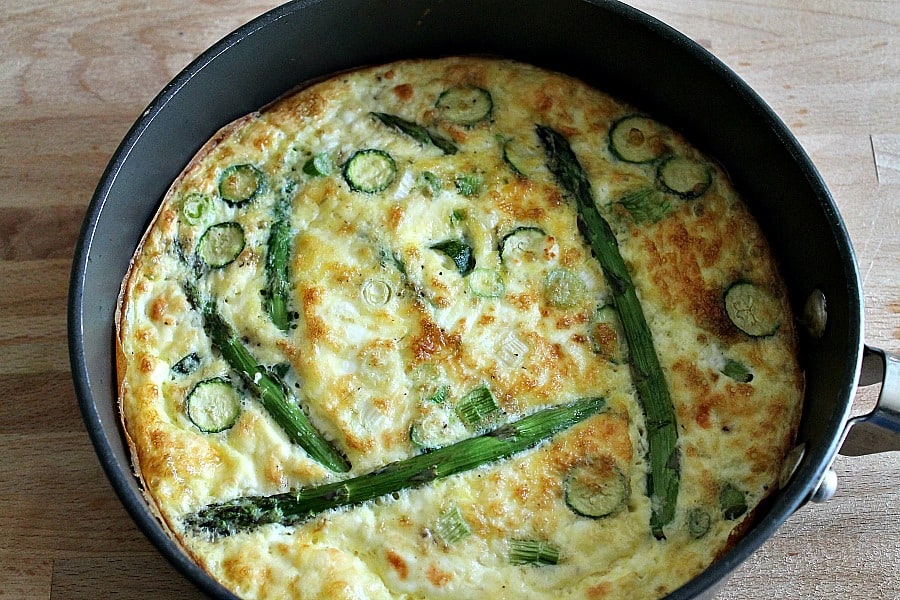 Hungry Healthy Happy by Dannii Martin (photography by Jacqui Melville) is out now in hardback, published by Jacqui Small.
For more reviews of this book, including more of the recipes, see Penne for Your Thoughts, Farmersgirl Kitchen, Family Friends Food, Tin and Thyme, From Plate to Pen and My Fussy Eater.
Disclosure: The Amazon link above is an affiliate link.
I was provided with a copy of the book at no cost for the purposes of a review. I was not obliged to make a positive review and all views are my own.