Sometimes you want dessert but you don't want it to be too full of sugar. I thought I would try making a sugar-free pavlova using sweetener instead of sugar, because on the latest WeightWatchers plan which I'm following at the moment, egg whites (and eggs) are now a zero-pointed food!
So by swapping the sugar for granulated sweetener I thought I could make a summery light dessert which would be WeightWatchers friendly. My sugar-free apricot pavlova was the delicious result.
Making the most of the gorgeous summer fruit which is in season now, and using no-fat Greek yoghurt in place of double cream for the filling, this dessert deserves a place in your summer menu!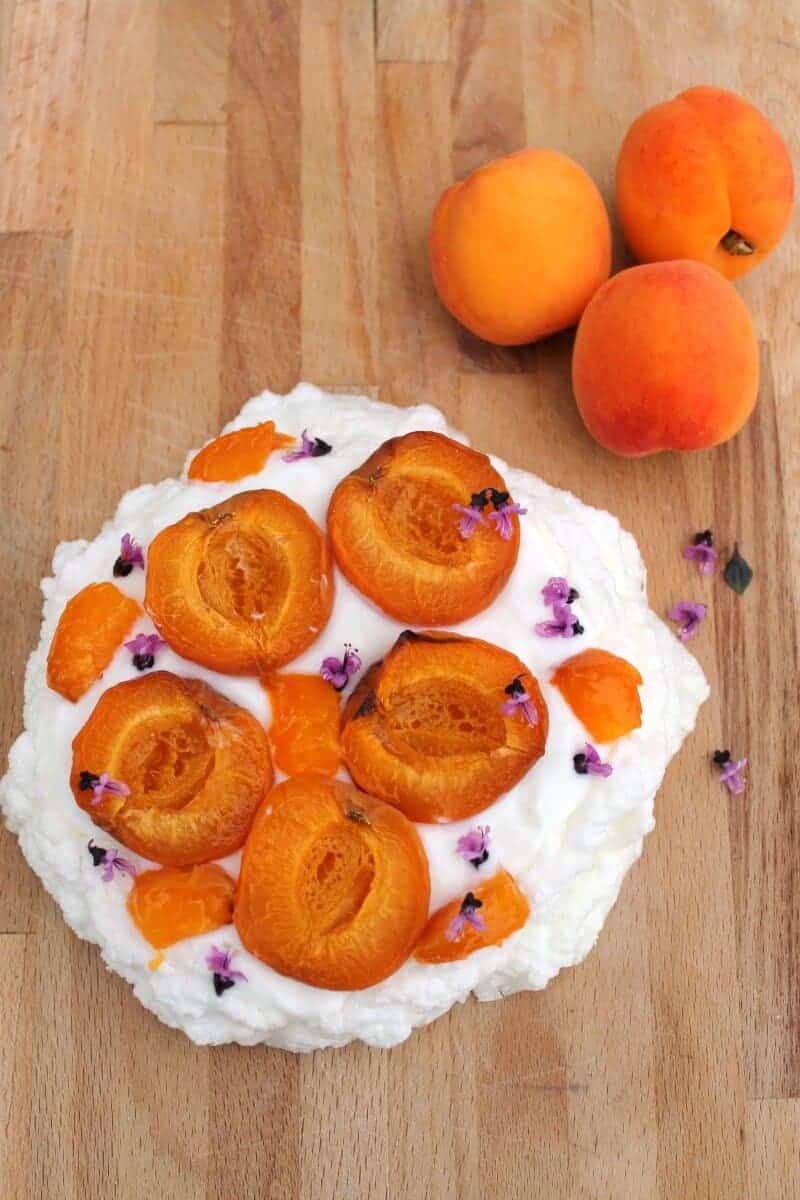 How to roast apricots for a dessert
To make the apricots soft and tender, I roasted them with a sprinkle of sugar over them. This makes them deepen in flavour. You can also drizzle over some honey before roasting if you want to make them even sweeter.
The flowers I used to decorate were some basil herb flowers from my garden, they added a lovely herb flavour as well as a dash of colour.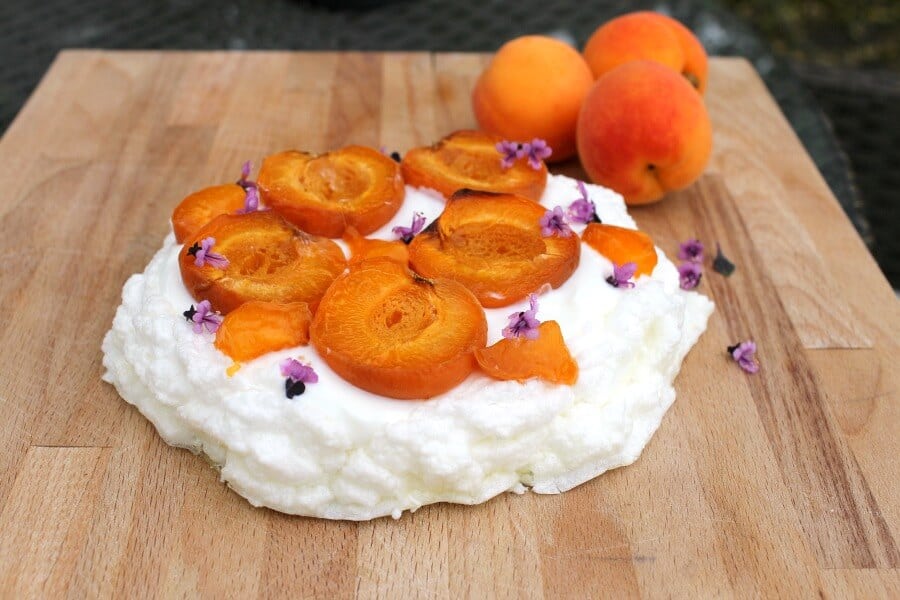 How to make a meringue using sweetener for a sugar-free pavlova
So did you know you can make a meringue using sweetener? Because sweetener is so sweet, you don't use as much of it as you would sugar, and because it is often like powder in texture, you don't need to whisk it in in quite the same way as you make a meringue with egg white and sugar.
The sweetener goes right in at the start and you whisk the eggs until they form stiff peaks. I used a stevia based sweetener, a supermarket own brand, in granulated form, though it is actually more like a powder. A little cornflour and cream of tartar is added to make sure the centre of the meringue is soft.
The texture of the meringue is not the same as a meringue made with sugar, it is softer. Because of this you need to make sure when you spread out your meringue on your lined baking sheet, that it is deep enough.
If it is too thin in places it will be difficult to peel off the baking paper after cooking and keep the meringue in one piece. So use a small plate as a guide and make sure your meringue is about an inch deep and even throughout.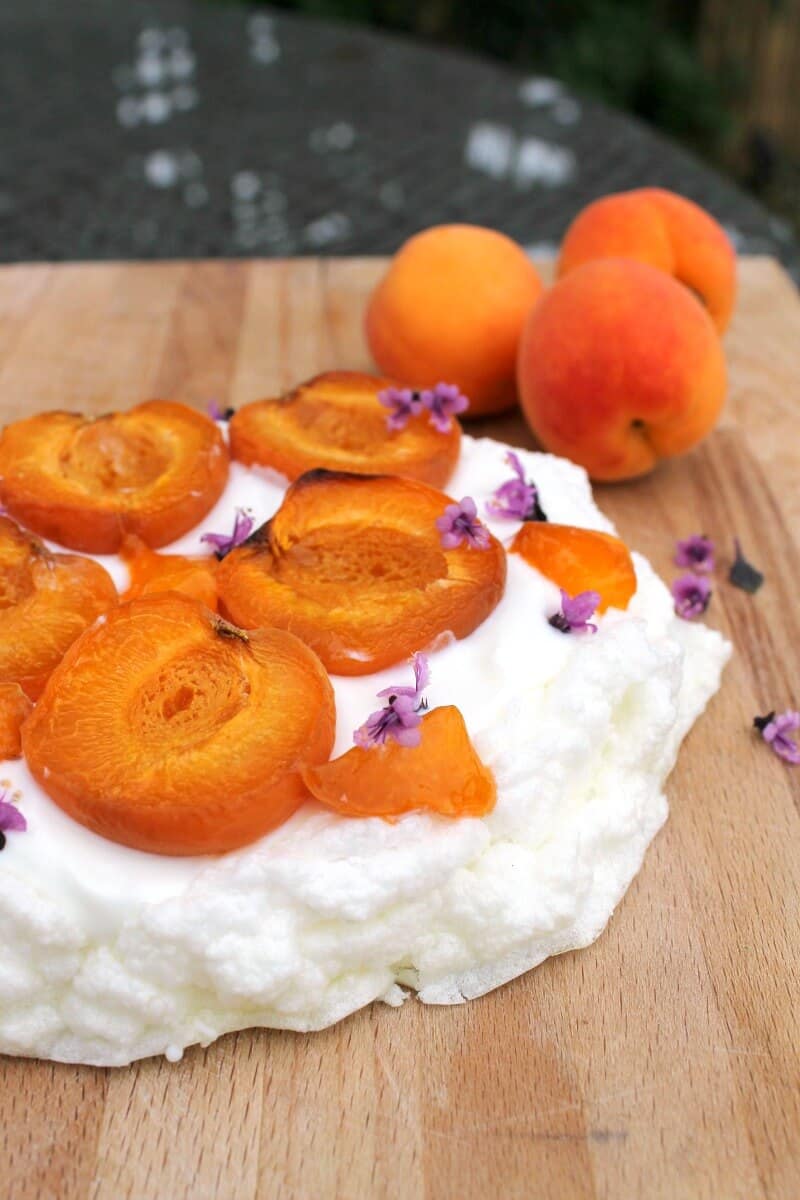 To fill my pavlova, I used another zero-pointed food on the current WeightWatchers plan, 0% fat Greek yoghurt. Greek yoghurt is thick and creamy (even when 0% fat) and is a great alternative to whipped cream in this sugar-free pavlova.
I know some people find the taste of Greek yoghurt too sour, and if you do you can add a little vanilla extract if you like to tone it down.
Finally, top the Greek yoghurt with the roasted apricots, then decorate with edible flowers, if using. A pretty and light summer dessert which looks great! If you are counting the points then this is 4 Smartpoints for the entire pavlova, or 2 Smartpoints for half.
More fresh apricot recipes:
More pavlova recipes: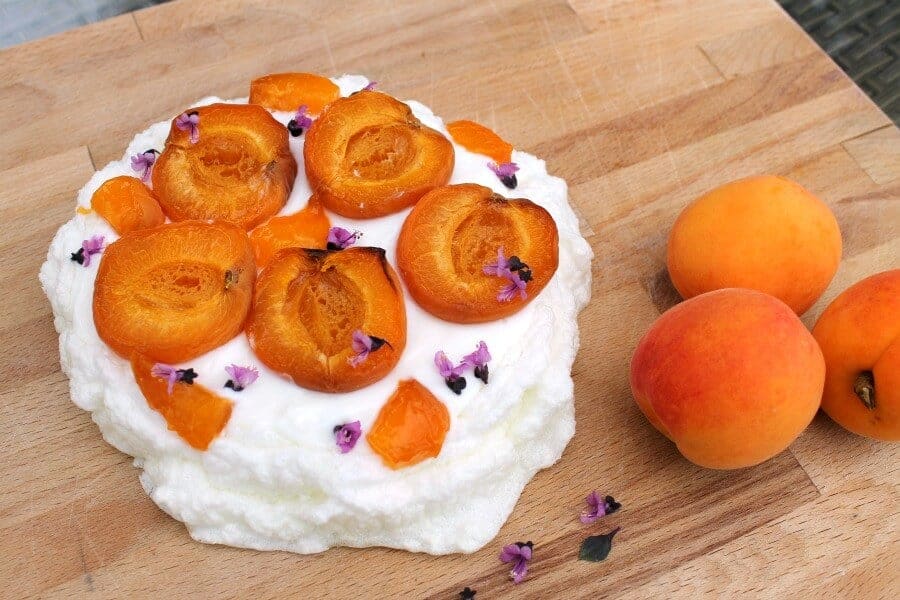 Pin my sugar-free apricot pavlova recipe for later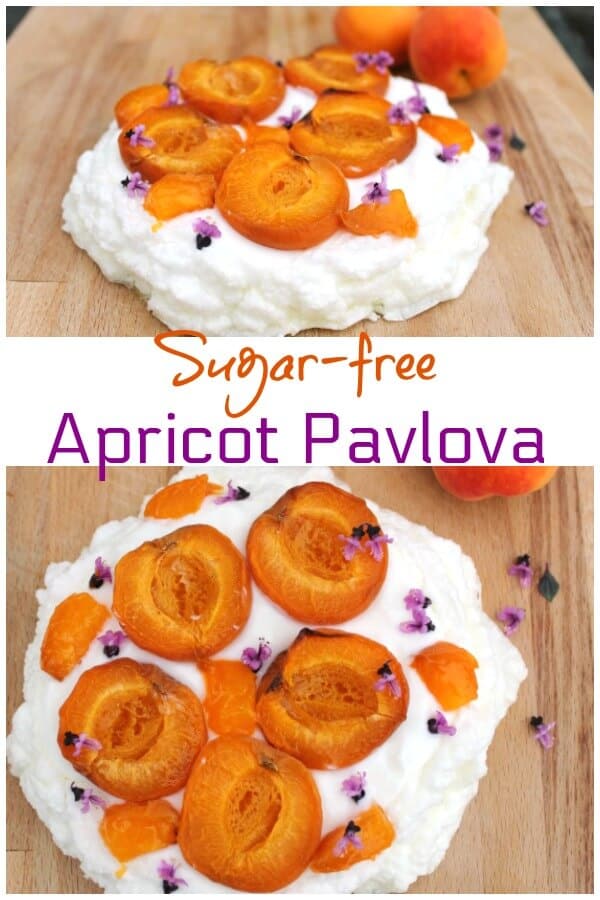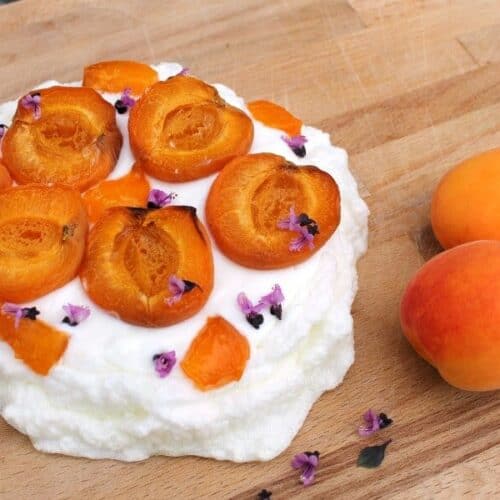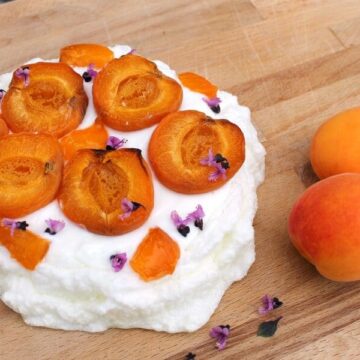 Sugar-free apricot pavlova
A light summery dessert which is WeightWatchers friendly and makes the most of summer fruit
Print
Rate
Save
Saved!
Ingredients
4

apricots

1

tsp

caster sugar

2

egg whites

1.5

tbsp

Stevia sweet granulated sweetener

1

tbsp

cornflour

1

tsp

cream of tartar

150

g

0% fat Greek yoghurt
Instructions
Preheat the oven to 180 degrees Celsius. Halve the apricots and remove the stone and place them in a baking dish. Sprinkle over the caster sugar.

Roast the apricots for 25 to 30 minutes until tender. Allow to cool. Turn the oven down to 100 degrees Celsius.

Place the egg whites and Stevia granulated sweetener in a stand mixer and whisk together until the egg white forms stiff peaks.

Fold in the cornflour and cream of tartar carefully.

Line a baking sheet with baking paper. Use a few blobs of the meringue to fix the baking paper to the baking sheet.

Spoon the meringue onto the baking paper and form a disc about an inch deep.

Once the oven is at 100 degrees, put the meringue in the oven and bake for 30 to 35 minutes or until firm. Turn off the oven and open the door and leave the meringue in there to cool for an hour or so until cold.

Once cool, carefully peel off the baking paper, ensuring you don't break the meringue.

Fill the meringue with the Greek yoghurt and top with the roasted apricots. Decorate if desired. Serve.
Did you try and love this recipe?
Then please leave a review and rating in the comments at the bottom of the post. If you post your creation on Instagram, tag me @bakingqueen74 or use hashtag #bakingqueen74!