Chocolate and salted caramel tart alert!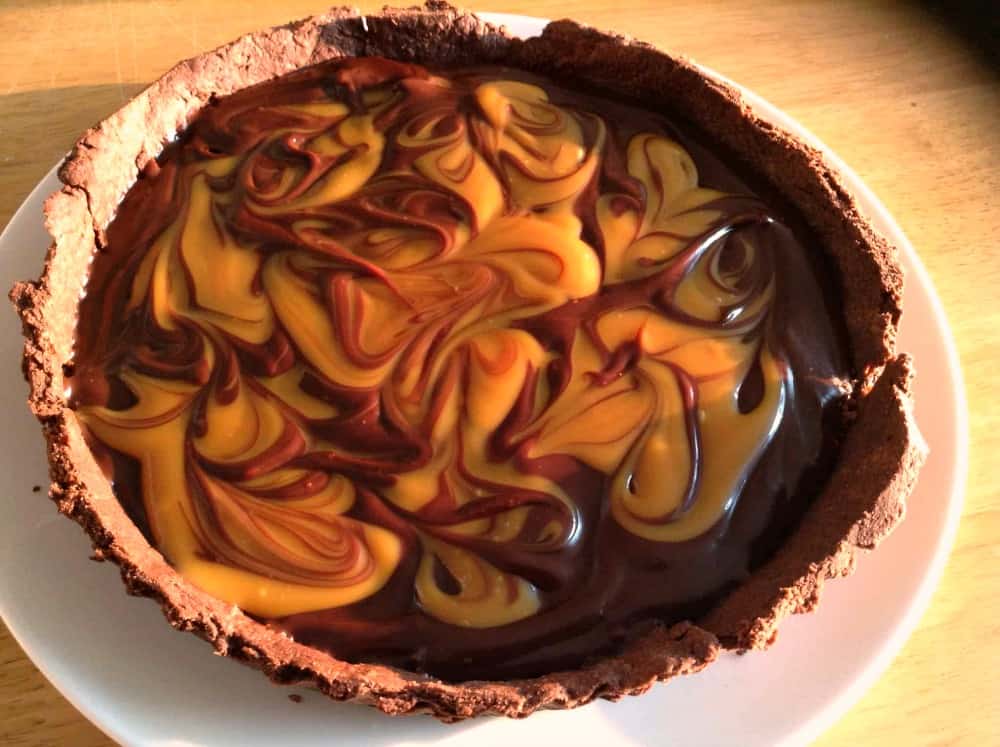 This week on Great British Bake-Off the bakers made tarts and pies. I don't make tarts often or pies ever so this was a bit of a challenge for me! The three-tiered hot crust pies were way out of my comfort zone, and the pastry wrapped pears looked far to tricky, so I decided on a chocolate and salted caramel tart.
The chocolate  pastry that Nancy made for her chocolate tart really caught my eye, so thought I would give it a go here instead of plain pastry. Salted caramel just had to feature in my tart as well as it is one of my favourite flavours.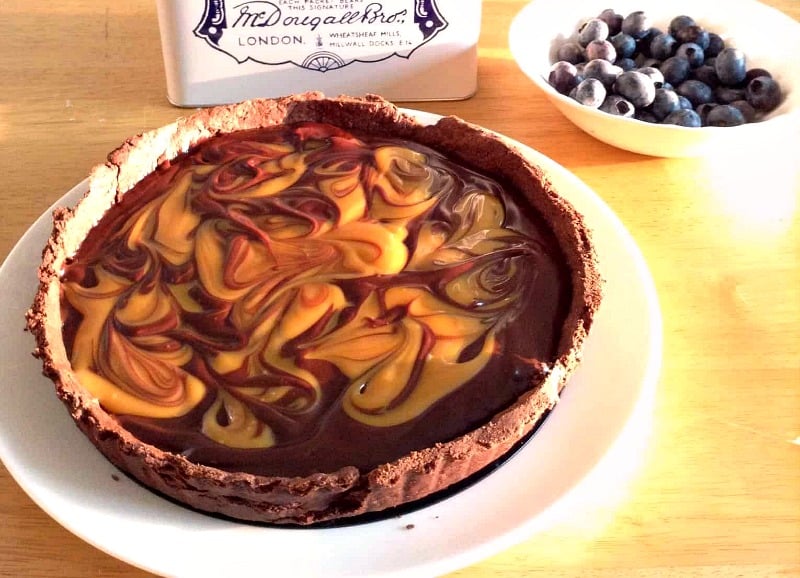 I love the swirl effects you often see in cheesecakes and thought I would try to create something like that to make it look extra special. This tart will definitely feature next time I have people over to eat, as it was a winner with us! Even my picky husband had to admit it was good :-).
Enjoy as a delicious, extravagant dessert for a special occasion!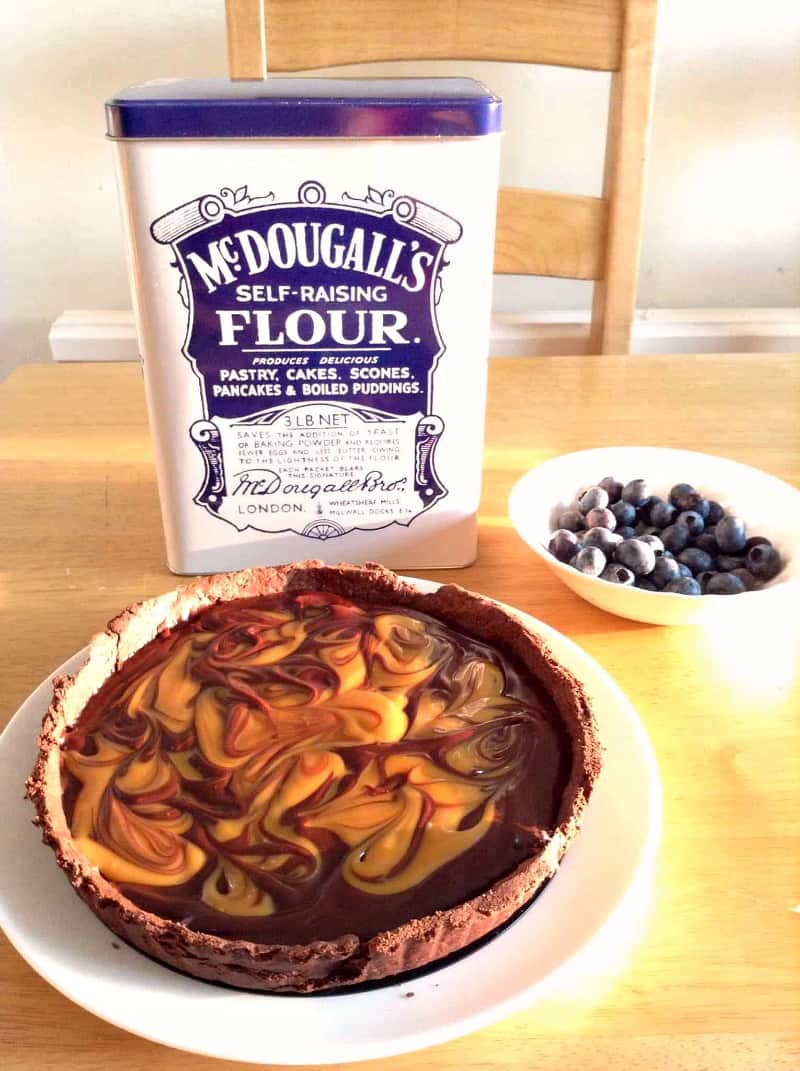 It was so amazing that I may have moaned "Oh God!" when I took my first mouthful. Just saying.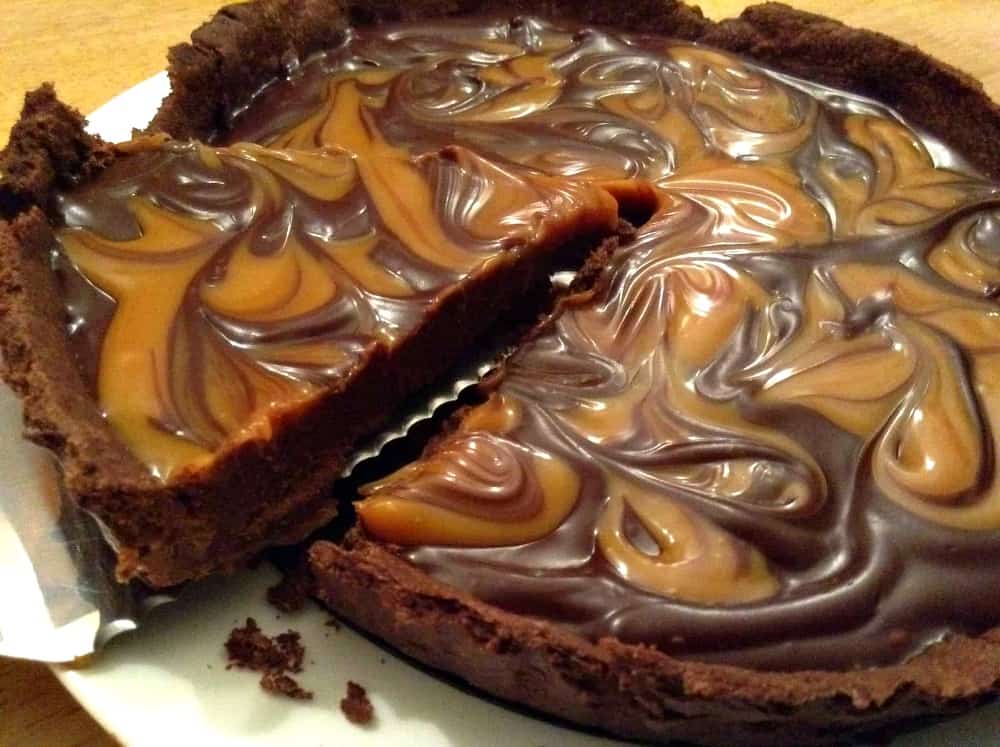 Pin this recipe for later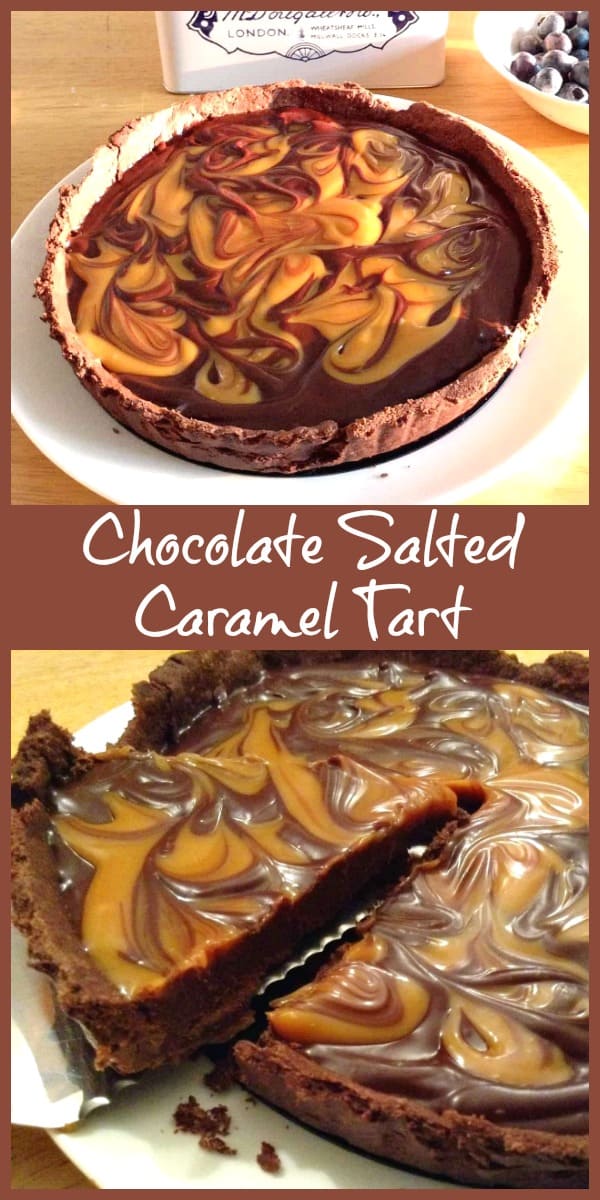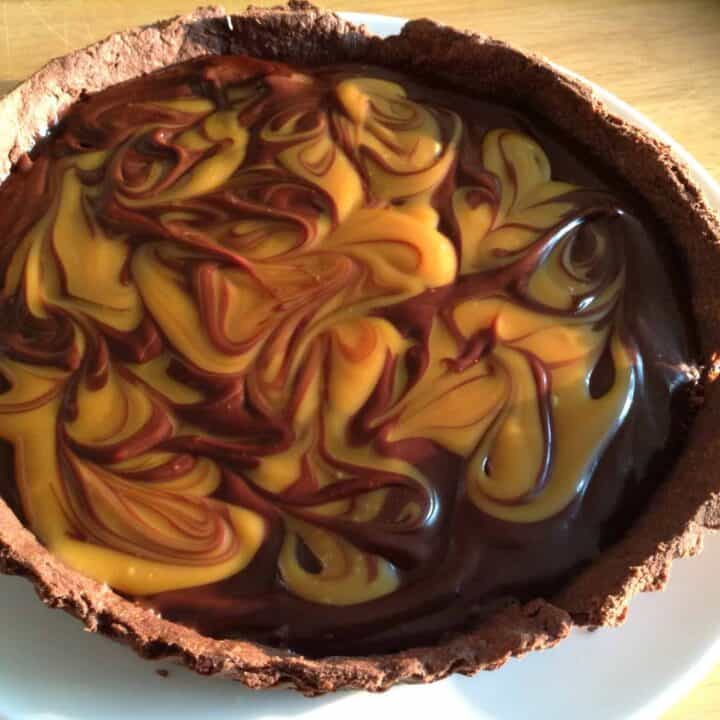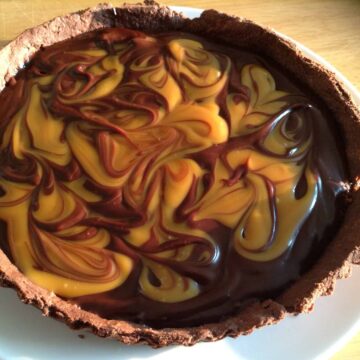 Chocolate and salted caramel tart
A delicious tart perfect for entertaining, with chocolate ganache, chocolate pastry and swirls of salted caramel sauce
Print
Pin
Rate
Save
Saved!
Ingredients
Filling
200

g

dark chocolate

broken into pieces (I used chocolate with 71% cocoa solids)

300

ml

double cream

50

g

light brown sugar

Half a jar of salted caramel sauce

I used Tesco Finest Salted Caramel Sauce, which is really thick - you could replace it with dulce de leche or homemade caramel but make sure you heat it until it thickens first
Instructions
To make the pastry:
Sift the flour, cocoa powder, icing sugar into a bowl. Rub in the butter until it looks like fine breadcrumbs.

Beat the egg yolk with the cold water then pour it into a well in the middle of the flour mixture.

Use a spoon to mix it together and then press together with your hands.

Cover and put it in the fridge for half an hour.

Remove from the fridge and roll out carefully so it is larger than your tart tin. Drape over the tin and push the corners gently into place. Place your tin on a baking sheet to make it easier to handle.

Then put it back into the fridge to chill for another half an hour. Meanwhile preheat the oven to 180 degrees.

Fill with baking beans (I used dried pasta) on top of baking paper and bake for 10 minutes. Then remove the baking beans and baking paper and bake for a further 10 minutes for the base to become crisp. 
Leave the case to cool. Trim the edges off with a sharp knife.
To make the filling:
Bring the cream and light brown sugar to a simmer in a small pan, then remove it from the heat.

Place the broken up chocolate in a bowl, then pour the cream over the chocolate. After a few minutes stir the cream and chocolate together until it is smooth and a uniform colour.

Pour into the pastry case and smooth the top with the back of a spoon.

Place spoonfuls of the salted caramel sauce on top of the ganache and swirl it with a skewer or knife.

Place in the fridge to set.
Did you try and love this recipe?
Then please leave a review and rating in the comments at the bottom of the post. If you post your creation on Instagram, tag me @bakingqueen74 or use hashtag #bakingqueen74!
I'm linking up with the #GreatBloggersBakeoff run by Jenny at Mummy Mishaps, week five is here.
and Bake of the Week with Helen at Casa Costello:
and not forgetting #recipeoftheweek with A Mummy Too