We're not gluten-free at my house so I haven't baked gluten-free bread before, or even used gluten free flour. When I saw they were baking gluten-free pitta breads on the last instalment of Grear Brtitish Bake-Off, I was a bit tempted to try them out! After baking my meringue and cream creation last weekend, as well as a Victoria sponge for my husband's birthday and a raspberry and blackberry pie, I was a bit caked out, which ruled out the sugar-free cakes. The dairy-free ice cream roll didn't appeal either.
So I set about to bake a small batch of the gluten-free pitta breads following Paul Hollywood's recipe as used on the show, though without nigella seeds as I didn't have any. Psyllium powder seems quite tricky to get hold of at supermarkets or in shops, but Amazon Prime came to the rescue, delivering to me on a Sunday lunchtime, less than a day after I placed my order. So there was nothing to stop me.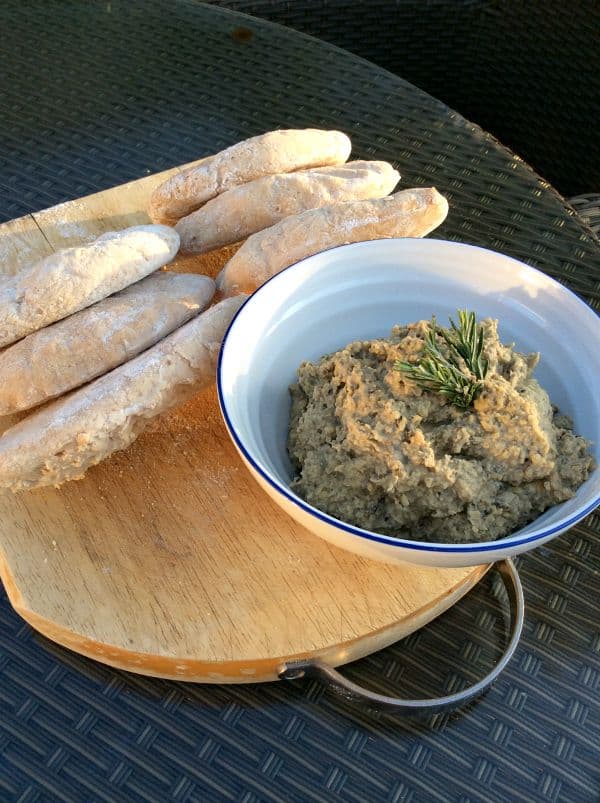 I made half the amounts given in the recipe I linked above, to make six pittas. Having never used gluten-free flour before, it was quite an experience! I am so used to a sticky dough which becomes smooth and elastic as you knead, and less sticky. This dough didn't do that at all! The psyllium powder  and water mixture thickened up like wallpaper paste and the resulting dough was very soft and sticky. I had to add flour every time I wanted to move the dough, even after proving, or it would stick to my hands. The key to shaping them also seemed to be flour. I shaped mine on baking paper dusted with flour then put the baking paper onto the preheated baking trays, It would have been very messy to move them otherwise.
In the oven, the gluten-free pittas did puff up and colour slightly. The ones we've tried so far didn't have pockets though, but they were nice and fluffy and tasted good. Perhaps they were too thick. Sadly I wasn't paying much attention to the show during this bit!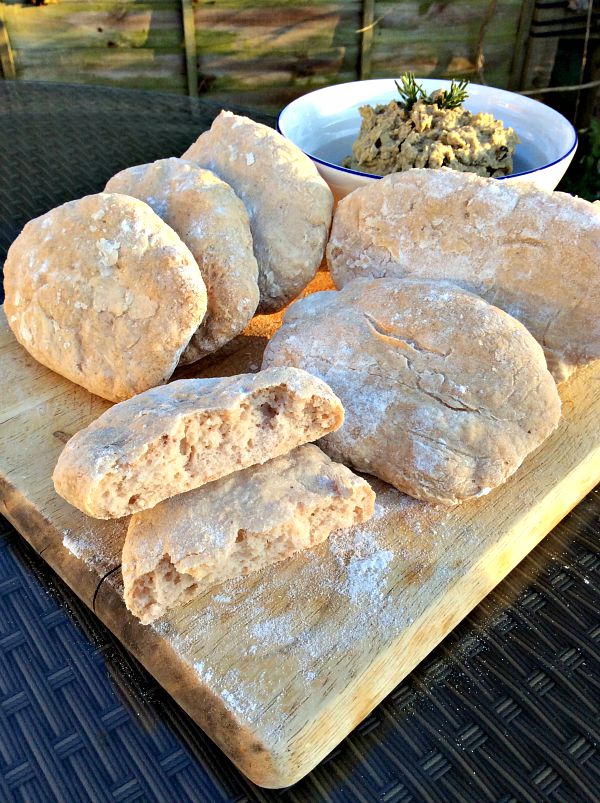 To serve the pittas, I made some olive houmous using a stick blender. It only took a couple of minutes and was really good. I'll definitely make pittas again, probably not gluten-free next time though, and the houmous is a variation of the normal houmous I make frequently for my youngest daughter who adores it. Today I used lime juice as I didn't have a lemon, both taste fine.
Olive houmous recipe:
400 g tin of chickpeas
80 g black olives
2 medium cloves of garlic
2 tbsp olive oil
Juice of half a lime (or lemon)
1.5 tbsp tahini
Salt and pepper to taste
Method:
Simply place all of the ingredients in a bowl and blend using a stick blender, to a nice thick texture. Check the taste and adjust to your own personal preference with more olive oil, lime/lemon juice, salt and pepper etc.
If you fancy trying some different houmous recipes out, here are some more ideas:
I'm linking up with the Great Bloggers Bake-Off from Mummy Mishaps, hosted by Kirsty from Hijacked by Twins this week. I recommend you visit and see what everyone has baked on this week's theme. There are some lovely sugar-free cakes and more over there!