If you are in search of healthy slow cooker recipes you can prepare to provide yourself with some new dinner inspiration then look no further! These healthy slow cooker meals are just what you need.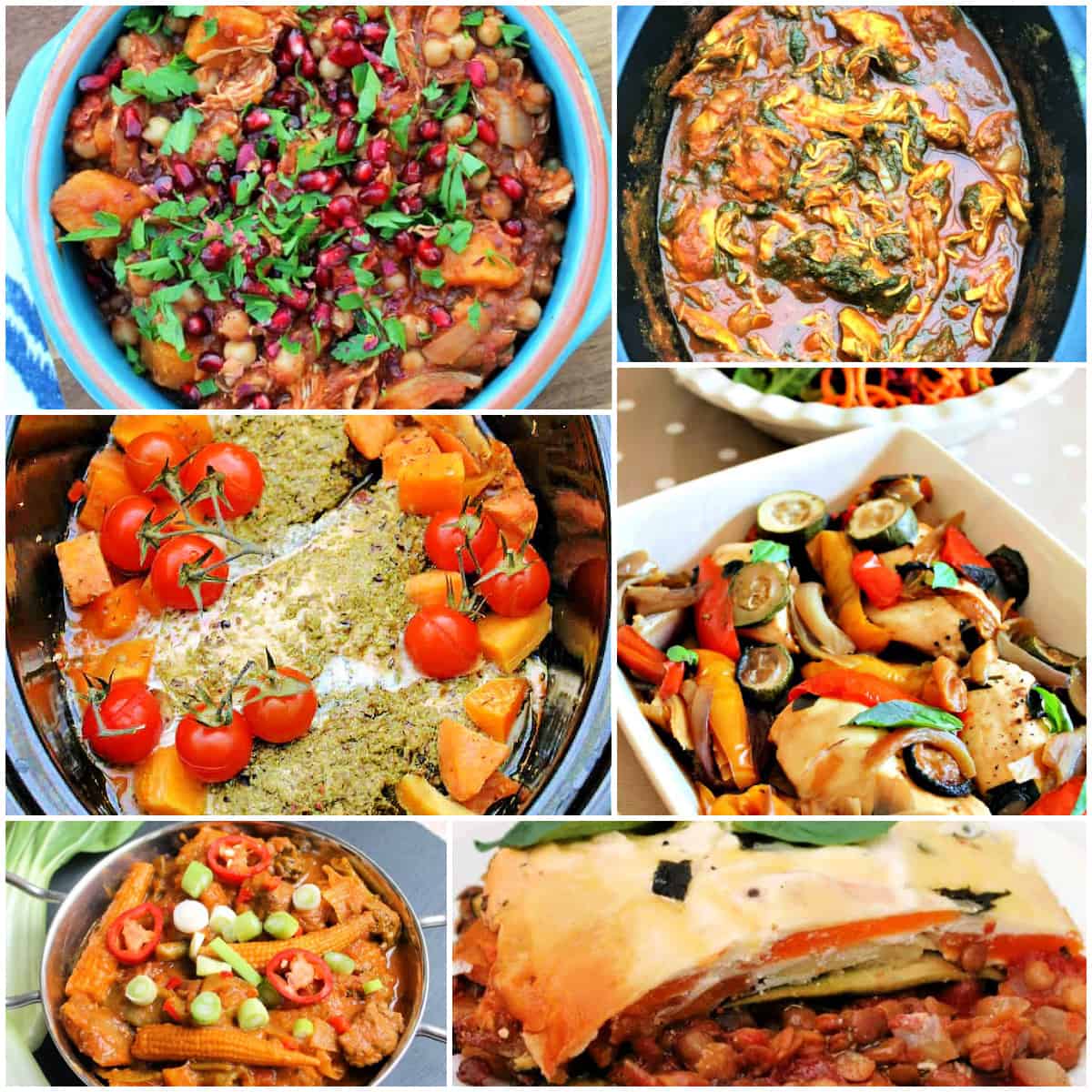 Right now it is still that weird period around Christmas and New Year when I'm not sure what day it is.
I'm already feeling twitchy and really ready to get back to healthy eating after the Christmas indulgence.
Once January arrives I'll more than certainly be ready to make some healthy choices. It is definitely time for some healthy slow cooker recipes to keep me on track!
Luckily I have many of those on my blog in amongst the more indulgent recipes, you just need to know where to find them. Here is a run down of my top 10 healthy slow cooker recipes, all with SmartPoint values for WW Freestyle!
Jump to:
Note regarding Points
With the November 2019 changes to the WW plans, the points shown here are correct for the Blue plan (same as the previous Freestyle/Flex plan, with chicken, eggs etc being zero points).
If you are following the Green plan (only fruit and vegetables are zero points) or the Purple plan (more foods are zero points including whole grains etc) then please check the points by using the Recipe Builder on the WW app or website.
You may find that some of the recipes below may have higher points on the Green plan or possibly less points on the Purple plan, but don't forget that you get more daily points on Green and less on Purple!
Chicken-based recipes
As chicken breasts are low in fat (and zero Smartpoints if you are doing WW) a lot of my favourite healthy slow cooker recipes are based on chicken.
Just pair chicken breast with vegetable and herbs or spices and build a healthy meal!
If you are going low carb then you can simply leave out a starchy side and increase the veg.
Click on any of the the recipe titles below to go straight to the recipes!
1. Slow cooker Mediterranean chicken with roasted vegetables
zero Smartpoints per serving for this simple dish based on chicken breast and roasted vegetables.
So easy to make in bulk and use for the week ahead, brilliant for meal prep.
2. Slow cooker lemon and herb chicken with asparagus
again zero Smartpoints per serving for this spring recipe.
A dish which is full of flavour from the lemon and fresh herbs the chicken is cooked with.
3. Slow cooker chicken tagine
only 2 Smartpoints per serving.
this Moroccan chicken tagine is made using plenty of summer vegetables for a flavourful dish. To reduce the points omit the sweet potato.
4. Slow cooker pesto and sweet potato chicken
only 2 Smartpoints per serving.
In this easy and colourful recipe pesto is spread on chicken and it is cooked on a bed of vegetables. To reduce the points omit the sweet potato.
5. Slow cooker chicken saag curry
zero SmartPoints per serving when made with chicken breast and without oil
1 SmartPoint per serving with chicken breast and using the oil, more if using chicken thighs.
A tasty mild chicken and spinach curry suitable for the whole family!
Beef-based recipes
Even though beef isn't as low in fat as chicken, by choosing lean cuts of meat such as lean beef mince and lean casserole or braising steak, you can still include beef in your healthy eating plan.
6. Slow cooker lasagne
This healthy slow cooker lasagne comes in at 9 SmartPoints per serving.
The whole family will love it and it is easy to layer up, plus you have the convenience of it being a one-pot meal, so you don't need to make any side dishes other than a nice salad or some green veggies.
7. Slow cooker beef curry
Packed with plenty of vegetables to make the meat go further, this comes in at 6 SmartPoints per serving.
This curry is tender and full of flavour from the gentle slow cooking too.
Vegetarian recipes
Since most vegetables are high in fibre and vitamins, and also zero smartpoints, basing a meal around them is a great way to make a dish which is low in points.
Chickpeas, beans and lentils too are a great way to make a vegetarian dish more filling and add protein without adding fat or smartpoints.
8. Slow cooker vegetable curry (vegan)
For a vegetarian/vegan option this simple slow cooker curry is great at 7 SmartPoints per serving.
You can also reduce the points further by replacing the sweet potato with butternut squash.
9. Slow cooker chickpea curry with paneer cheese (vegetarian)
this recipe uses chickpeas (zero points) and is topped with cubes of paneer cheese (Indian curd cheese), and comes out at 7 SmartPoints per serving.
You could reduce this by reducing the amount of cheese per person or leaving it out if desired.
10. Slow cooker butternut squash and lentil lasagne (vegetarian)
5 smartpoints per serving
With a tomato and green lentil sauce, and sliced butternut squash and courgette instead of pasta, the points in this dish are from the cheese topping alone!
More tips
So you can see that you can make healthy choices when cooking in a slow cooker, so you benefit from the convenience of using a slow cooker and also making a healthier option for the whole family.
If you are new to using a slow cooker, make sure you check out my top tips for using a slow cooker successfully for the main things you need to know.
Don't forget, an easy way to reduce your calories (and stay within your points) is to switch pasta and rice for an alternative like courgetti, butternut squash noodles or cauliflower rice.
By leaving pasta, bread and rice off your plate you will reduce the carbs very easily.
That way you can have any of the meals listed above without adding more points for the side dish, if you wish.
You can also add chickpeas or lentils or boiled eggs or sliced chicken breast to bulk your meals further.
Let me know what your favourite healthy slow cooker meal is. There are lots more recipes here on the blog, you can find them all in my Slow Cooker archives.
Recipe collections
Don't miss these slow cooker recipes collections you might also like:
Pin for later