Recently I was invited to a cookery course at Tante Marie Culinary Academy in Woking, which is quite local to me here in Surrey. As well as professional courses for those wanting to become a chef, they offer lifestyle courses too for everyday people. I chose the Mastering Macarons course and was quite excited when the day came and I had a whole day of baking ahead of me!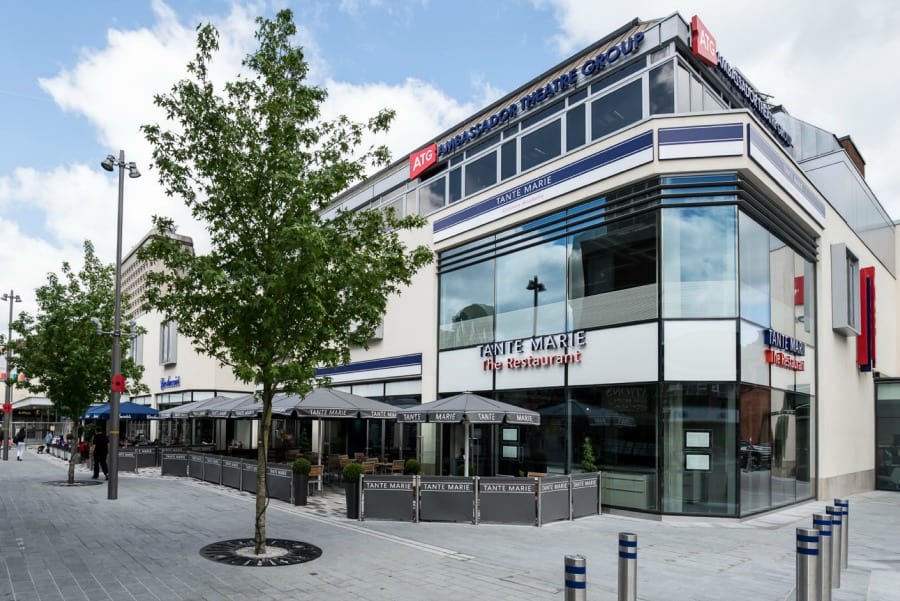 An impressive venue in the heart of Woking, the culinary academy is above the Tante Marie restaurant, which I also visited for lunch. Inside, the facilities are sleek and modern and equipped with all the tools and gadgets one needs in a professional kitchen. There were three people on the course I attended and we had plenty of room with our own workspace and ovens.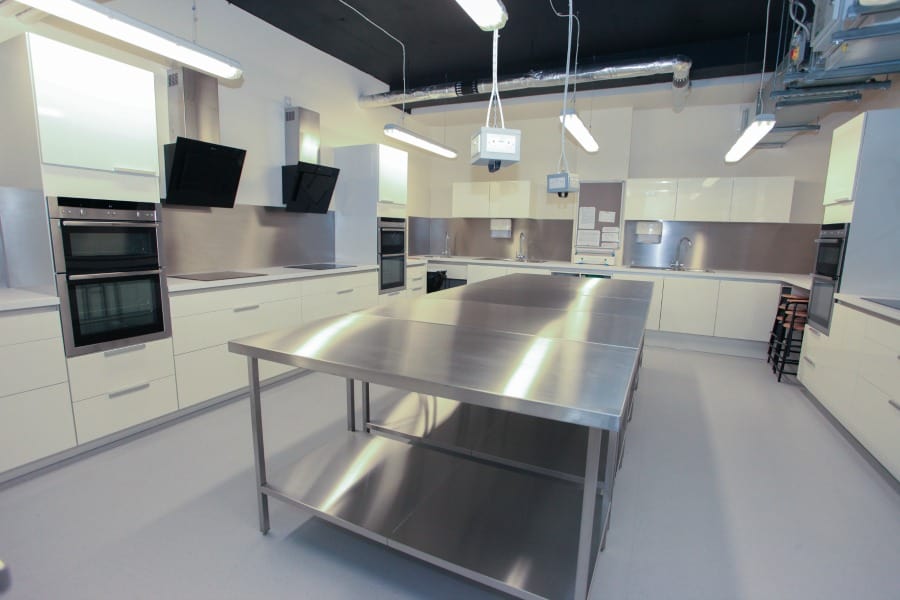 Our course was run by a chef called Ollie, who was friendly and showed us his excellent macaron and patisserie techniques. We were provided with everything we would need to make and decorate our own macarons including a sheet with all the recipes for what we were making and using, so we can make them again at home. We got stuck straight in, after a demonstration of how to make and pipe the macarons, and the first macarons I made were chocolate macarons. Later on in the day these were dusted with cocoa powder and gold lustre powder, and filled with a chocolate creme au beurre mousseline which I actually made myself after a demonstration of the technique. Rolled in cacao nibs too!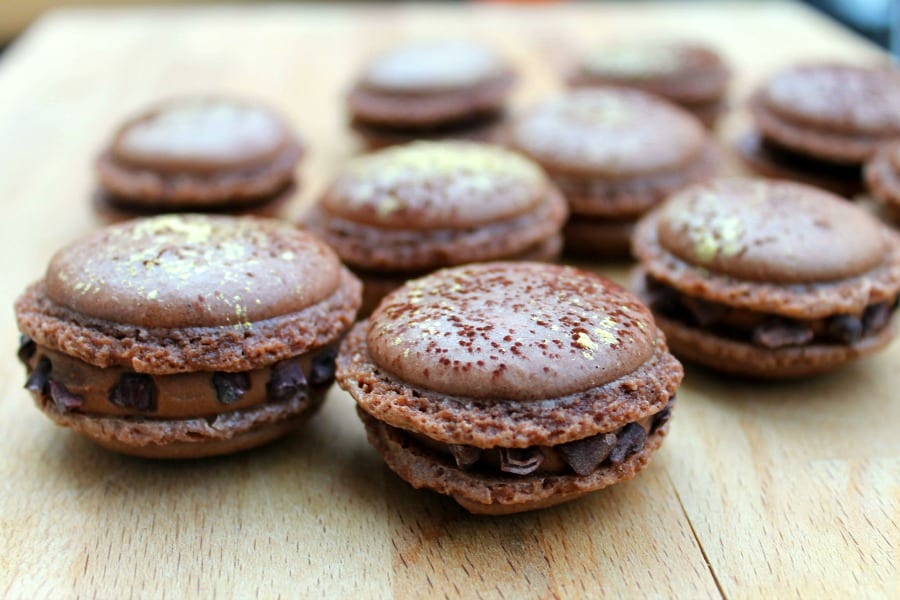 Before breaking for lunch we also baked a second batch of macarons, I chose to make yellow macarons, we could choose whichever colours we liked from a large selection of professional colours and there were some fillings provided that we could use if we wanted. This was good as there would not have been enough time for us to make some of the fillings that were available, such as the passionfruit and champagne jelly.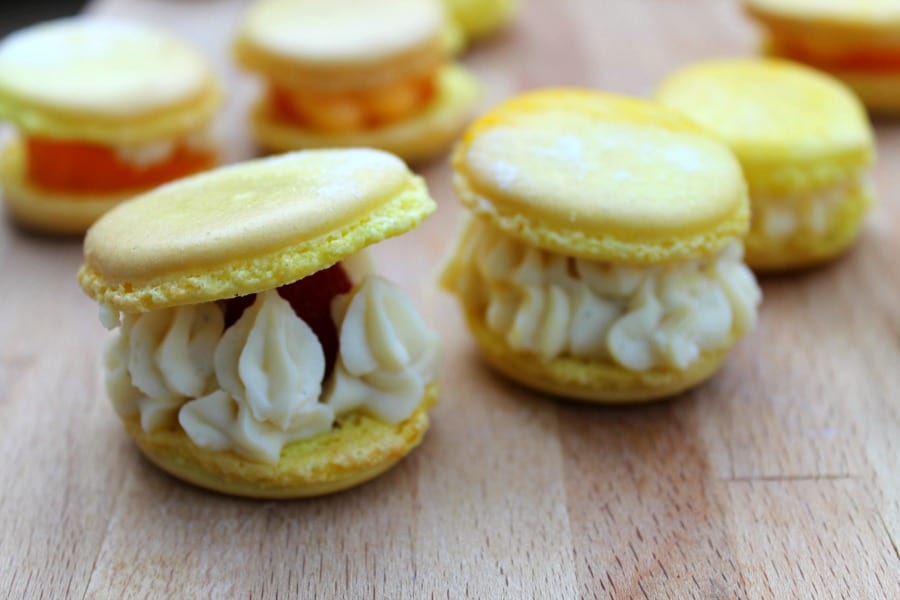 A delicious lunch at the restaurant downstairs fortified us for the rest of the day. It was a real treat to have a two course meal for lunch.
After lunch our macarons had all been put out ready for decoration. We really went to town with our fillings, decorating and putting the final touches to our macarons. Mine here are in a shell style with lemon cream and fresh raspberries. Those in the previous photo were filled with vanilla mascarpone and raspberry.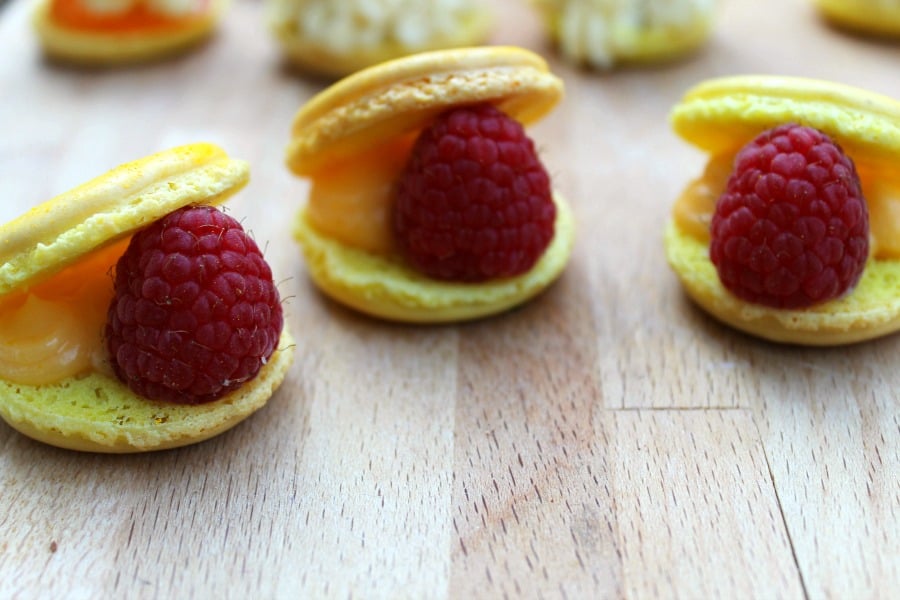 Here you can see the passionfruit and champagne jelly topped with vanilla mascarpone. It was really fun to pipe out the different fillings and create different effects. We were also provided with lustre powders and paintbrushes to add further effects on top of the macarons. I used a yellow lustre powder to make the colour of my macarons really pop.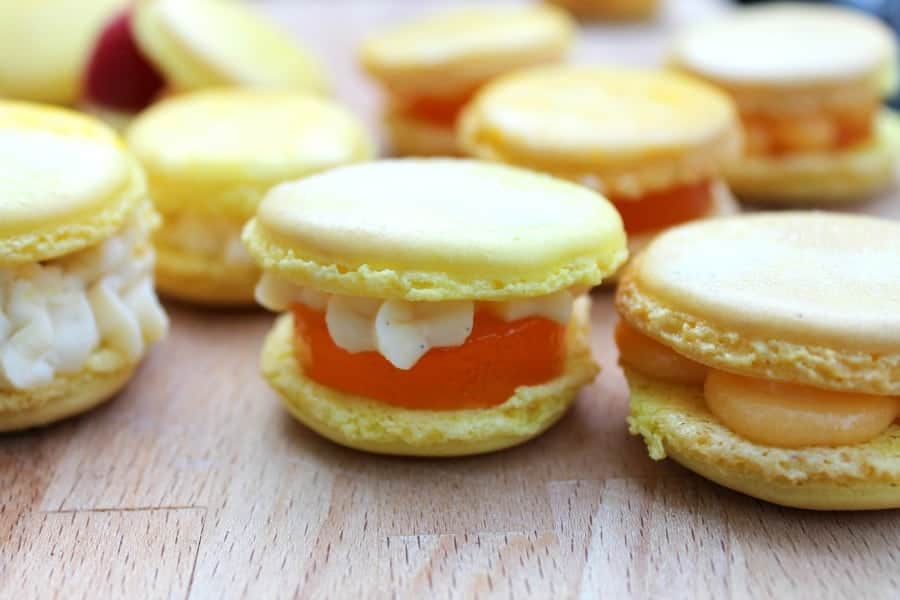 I really enjoyed the Mastering Macarons course at Tante Marie Culinary Academy in Woking and would recommend it to anyone wanting to learn to make their own macarons at home. I've brought home some new skills such as filling piping bags that I've already put into practice!
Disclosure: I was invited to attend the course at Tante Marie for the purposes of a review. All opinions are my own. Images of the culinary academy courtesy of Tante Marie.