My baking and patisserie nemesis so far seems to have been macarons. I've only tried them a couple of times before this latest attempt, but they failed so miserably and so completely, that it totally put me off trying again to be honest! However, I gathered tips from my favourite macaron-making bloggers, including Mad About Macarons, Emily's Recipes and Reviews and Becks Bakes, and set about trying again, in a fit of madness. This time, despite some very odd shapes (need to work on the piping next!), I was pleased to see the macarons came out a lot better! My macarons with chocolate rose ganache are my Perfecting Patisserie entry for this month, you can find the latest challenge here.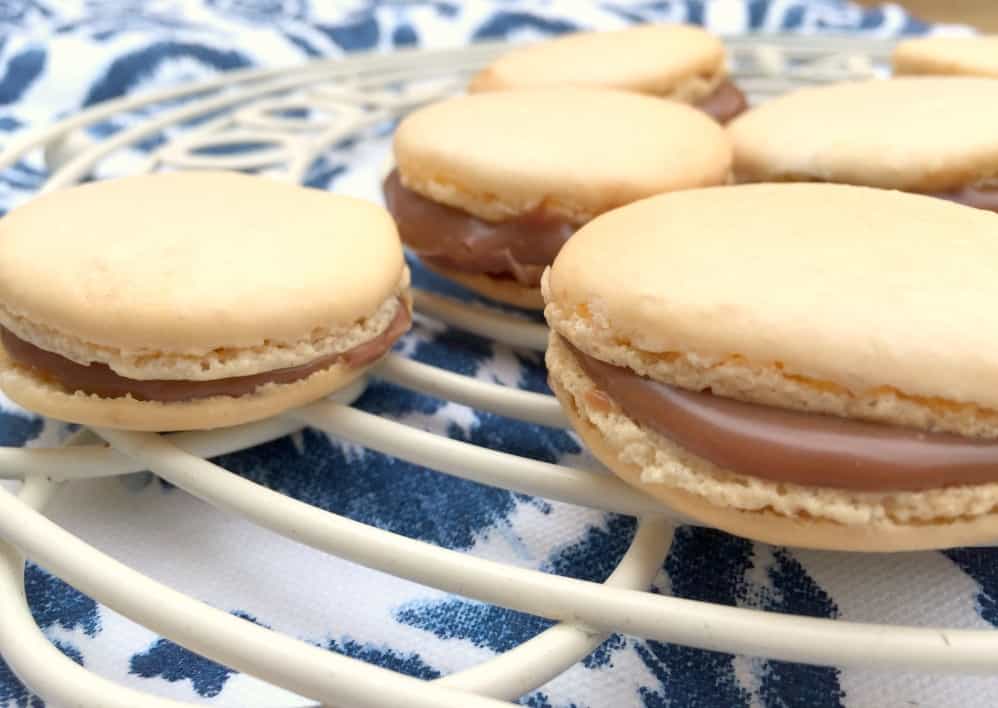 I decided to make plain coloured macarons this time, as I think my previous attempts to add colour and flavour helped fuel my failures. I added just a little orange colour to them, but will try to make brighter colours next time. In the ganache, I added flavour using a little rosewater, so the macarons have the flavour of Turkish delight. I think next time I try making them I will go for some bright colours paired with fruity fillings – lime green and rose pink perhaps.
The rose ganache has a nice shine to it and adds a delicate flavour. Even piping in the ganache appears to be an art, you need to put just enough and not too much so it doesn't flow out at the sides. Mine did! I definitely think that making macarons is an art, as you really have to practise to master them. From ensuring your shells have 'feet', to getting a smooth, shiny shell, to getting the right shape and height, there is a lot to think about when making macarons. Next time I see them in a patisserie I will be sure to appreciate the skill involved!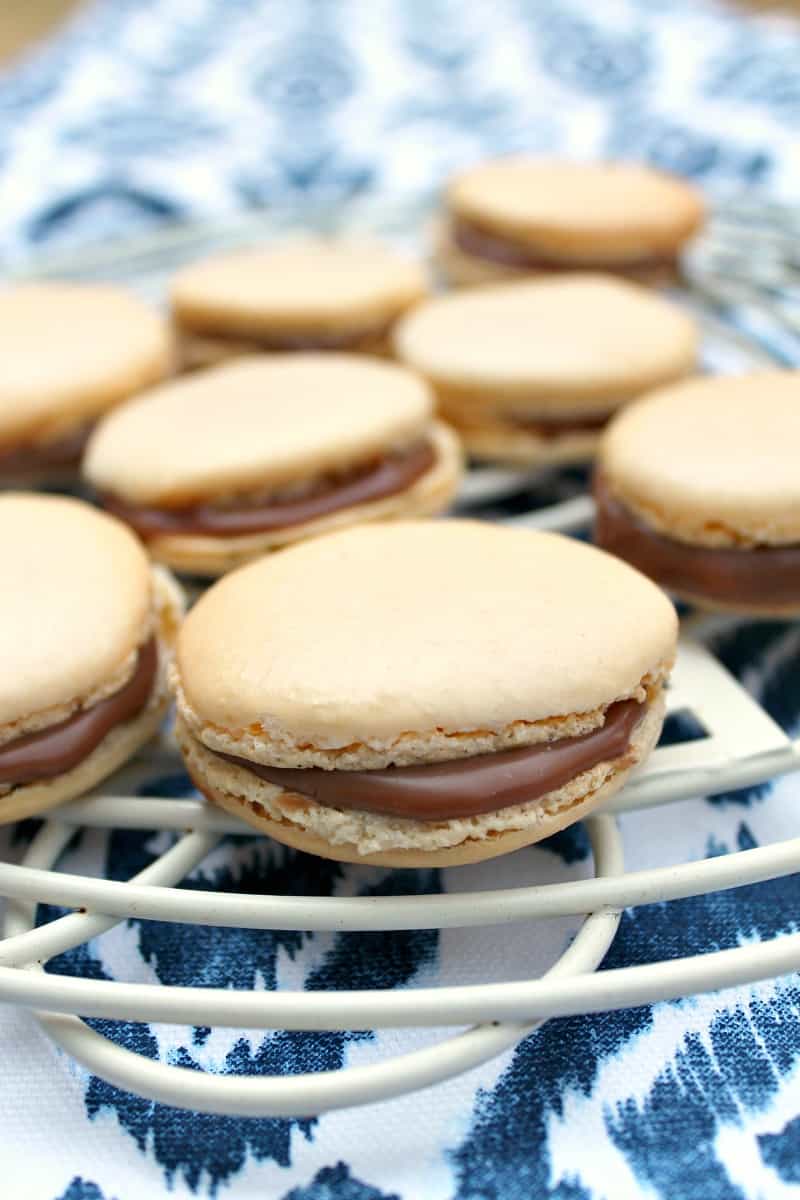 Recipe:
For the macarons I used the basic macaron recipe from Teatime in Paris!: A Walk Through Easy French Patisserie Recipes
. You can also use quantities from your preferred macaron recipe. You will need ground almonds, icing sugar, caster sugar and egg whites plus any colour you want to use.
For the rose ganache filling:
130 g milk chocolate
120 g whipping cream
1 tsp rosewater
Method:
Make your macarons using your preferred recipe. The key stage I found is mixing the ground almond mixture into the meringue, which is called 'macaronnage'. You can find lots of tips about this stage on the Internet.
After piping your macaron shells, another important stage is leaving them to stand for 30 minutes to form a hard shell. Next, bake them as per your recipe and allow them to cool. Remove them from the baking paper and organise into pairs.
To make the ganache filling, break the chocolate into pieces and place it in a bowl. Put the cream and rosewater in a saucepan and heat gently, until nearly boiling. Remove the pan from the heat and pour the cream over the chocolate. Leave it to sit for a minute then stir until smooth. Leave it to cool and thicken, and then pipe the ganache on one half of a macaron, before gently adding the top half.
Put the filled macarons in the fridge, to help the ganache to set.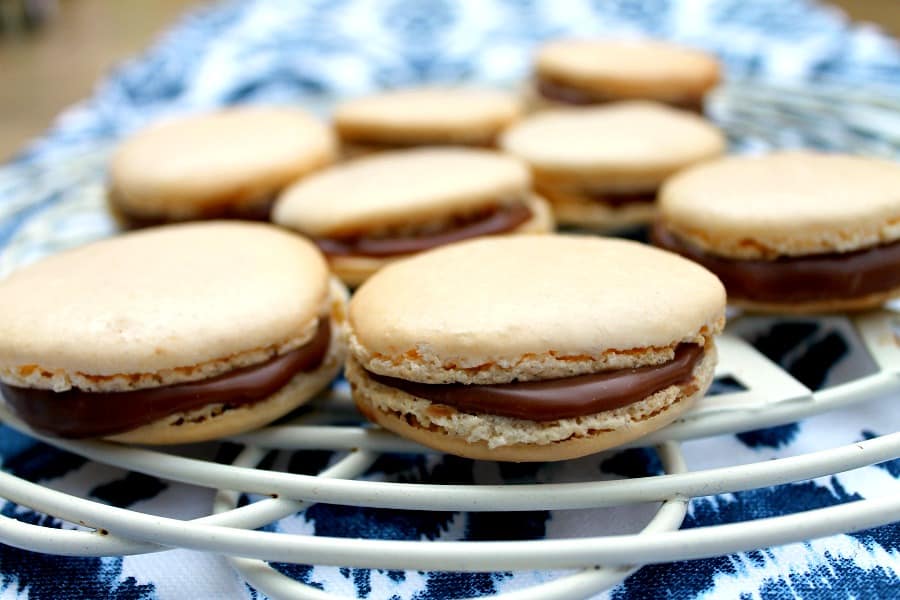 For more macaron recipes, you might like:
Sending this into April's Perfecting Patisserie. Do come and see the other patisserie-inspired recipes that have joined in this month!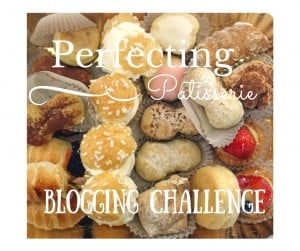 Also linking up with Bake of the Week with Casa Costello and Maison Cupcake
Disclosure: This post contains an affiliate link.