As I apparently cannot keep away from our local pick-your-own farm at the moment, and am on a healthy eating drive as well, there are going to be more fruit and vegetable based and healthier recipes on here for a while at least. Where is the cake you may ask? Well there is plenty of that on here, and my last recipe of slow cooker brioche and strawberry pudding should have you covered for a little while. In the meantime, I will be posting a few healthier than usual recipes based on lovely fresh ingredients, interspersed with cake of course.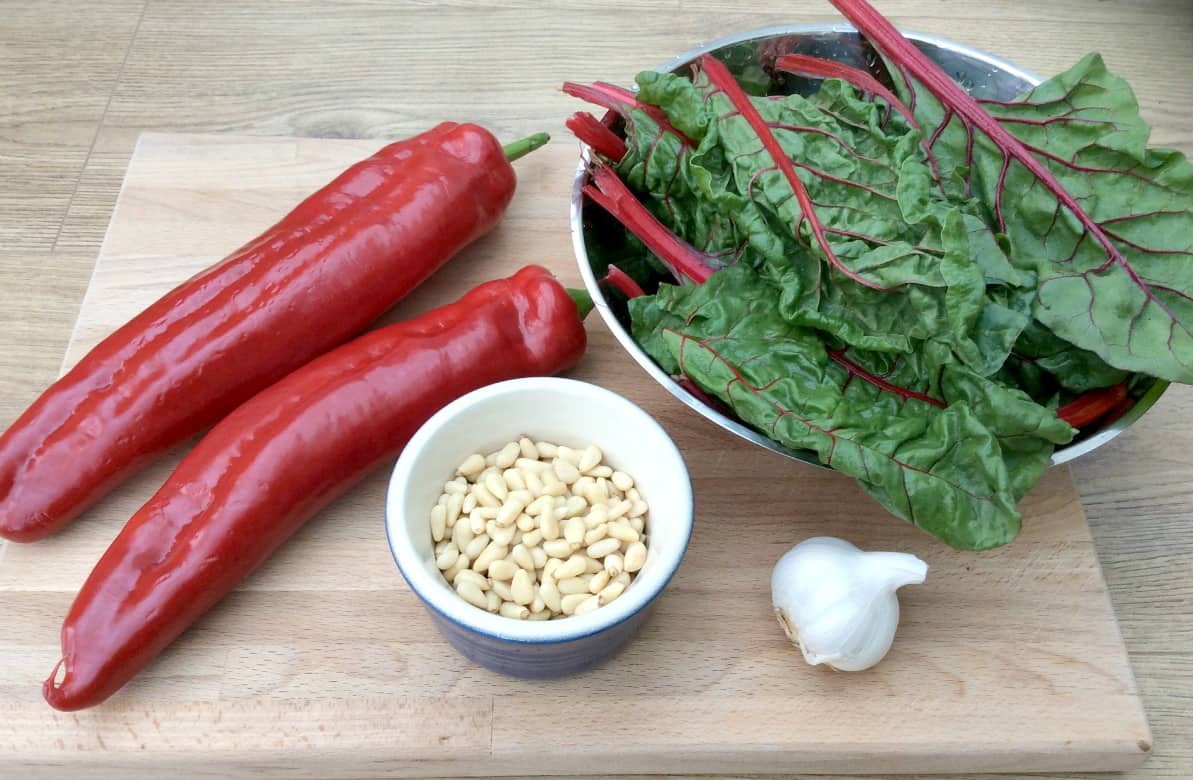 This time we had picked some chard from the farm, and I thought I'd try my hand at making some red pesto with chard in it. I like both red and green pesto, but find the jarred stuff not too inspiring. These gorgeous pointed red peppers were in the supermarket, calling to me to roast them. Red peppers become so sweet when you roast them, it is amazing really how much the taste changes.
So I decided to make red pepper and chard pesto, as I hoped this would make a lovely summer meal on wholewheat spaghetti served with tomatoes and rocket. I love that seasonal fruit and veg is such good value, especially if you can get it locally and pick it yourself.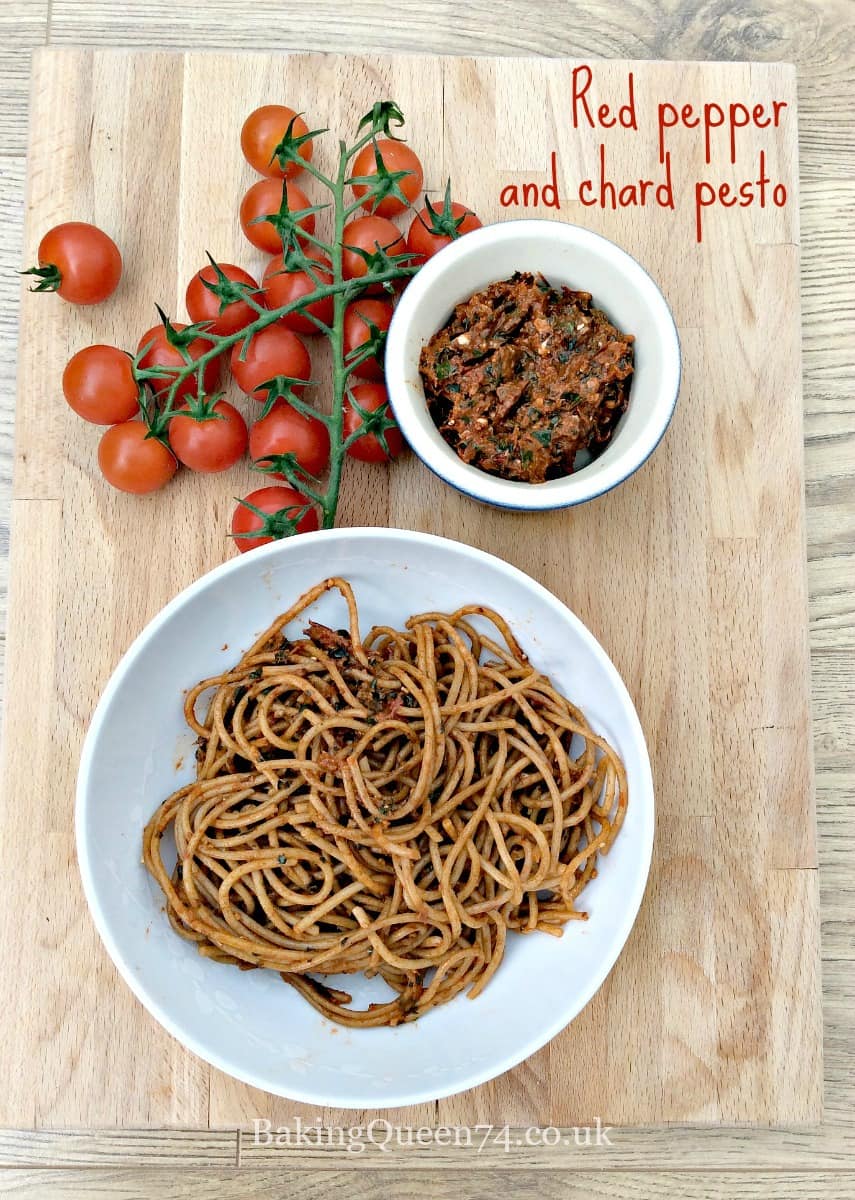 The pesto tasted really good, and the earthy flavour of the chard gave it an extra boost. I'd recommend this if you do get hold of any chard. A lovely pasta meal.
Recipe:
Two pointed red peppers
A little oil for roasting the peppers
65 g chard, washed
2 cloves garlic
30 g pine nuts
A handful of basil
Makes enough to serve 3-4 people, on pasta
Method:
Place the peppers in a ceramic dish, drizzle over a little oil, and roast for 30 minutes approx at 180 degrees, until the skin starts to blacken slightly.
Leave the peppers to cool. Once cool, remove the skin, it should just peel off. Remove the top and tail, and any seeds. Chop roughly.
Place the chopped roasted peppers, chard, garlic, pine nuts and basil in a blender and blend until chunky but no large pieces of pine nut or chard are left. Check the flavour and add salt/garlic/oil to taste. I liked mine as it was.
Serve on wholewheat spaghetti, with salad, for a great summer meal.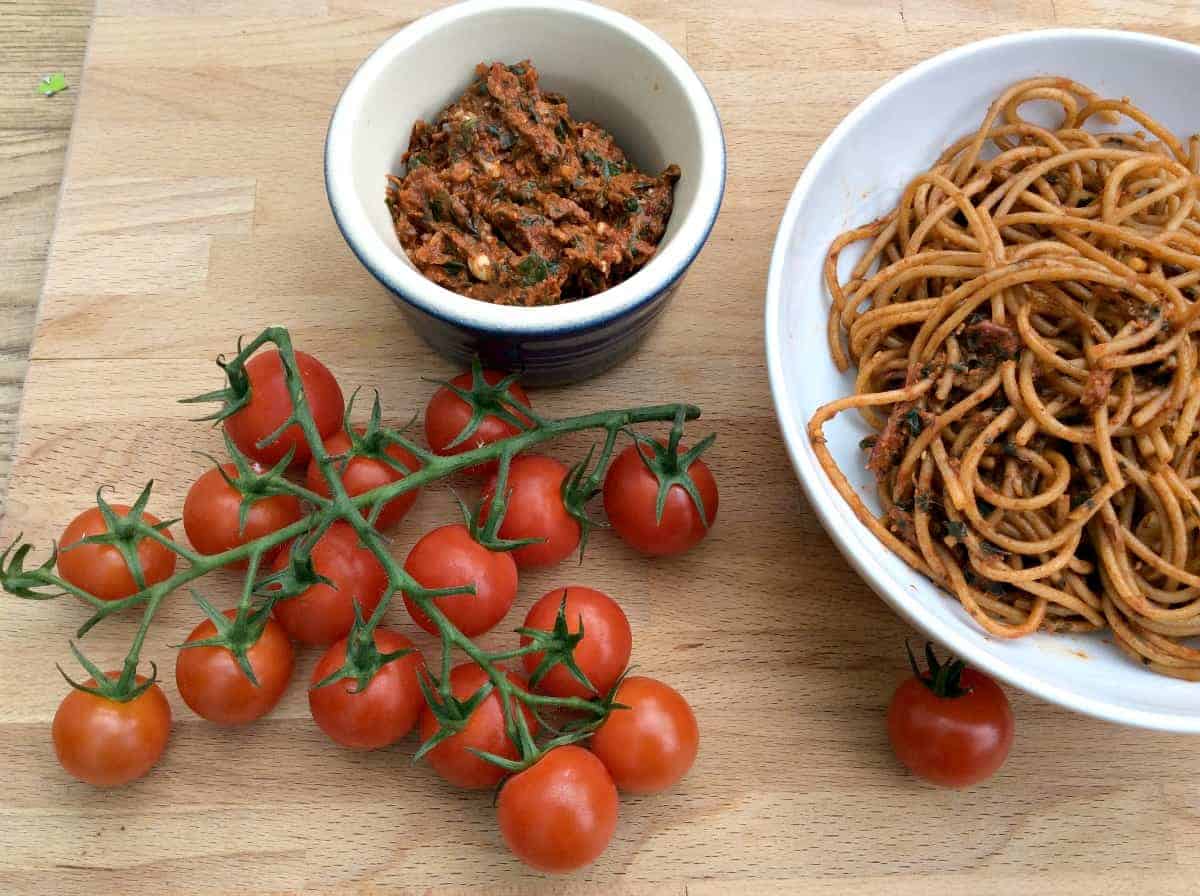 For more pesto ideas, take a look at these:
Linking up with Pasta Please from Jac from Tinned Tomatoes, which I am guest-hosting this month.
Also linking up with Meat Free Mondays also from Tinned Tomatoes.
I'm also linking up with CookBlogShare from Lucy at Supergolden Bakes and #recipeoftheweek with A Mummy Too.