As Easter is approaching it was time to find a new Creme egg treat to enjoy. How about a slow cooker Creme egg shortbread I thought to myself.
As you no doubt know by now if you read my blog occasionally, I do like slow cooker baking quite a lot. Trying out new recipes in my slow cooker and seeing exactly what kind of bake works well is a favourite pastime here!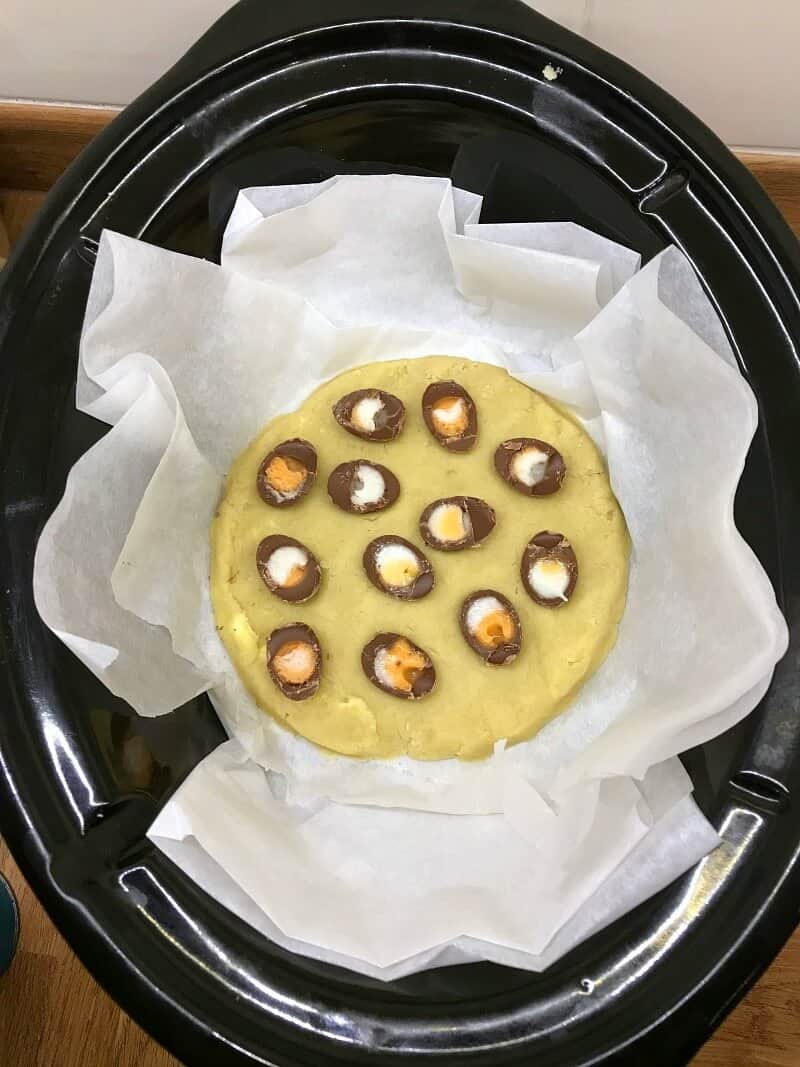 I've baked giant cookies in the crockpot before of course (find them here if you haven't experienced this delight yet) and a Creme egg chocolate cake, but shortbread was a new territory really.
Shortbread needs to be baked until just golden, and it really is no good to burn it. Sounds like the perfect job for the crockpot right?
How to Make Shortbread in the Slow Cooker
I made the shortbread, formed it into a round on baking paper. I chopped six mini Creme eggs in half and pushed them into the dough.
Next I lined the crockpot dish with two layers of folded baking paper to prevent burning.
The slow cooker I used to make the slow cooker Creme egg shortbread was a large 5.7 litre Crockpot, with a bit more room than a small slow cooker.
What must you always remember when baking in a slow cooker? Ten points if you know. A tea towel or some kitchen roll under the lid (edges folded up away from the crockpot sides) to catch drips and moisture and stop the top getting soggy.
Once baking started there was a bit of melting going on with the butter in the dough and the chocolate and fondant centres.
Luckily it didn't become a soggy mess but stayed quite nicely in shape.
Once baking was finished, which took approx 2 hours 20 minutes for me, I lifted the baking paper out of the dish and placed it on a cooling rack to cool down.
I then decorated the slow cooker Creme egg shortbread with drizzles of milk chocolate and a couple more sliced mini Creme eggs, as the eggs that baked with the shortbread lose their colour a bit although they still have all of their sweet flavour!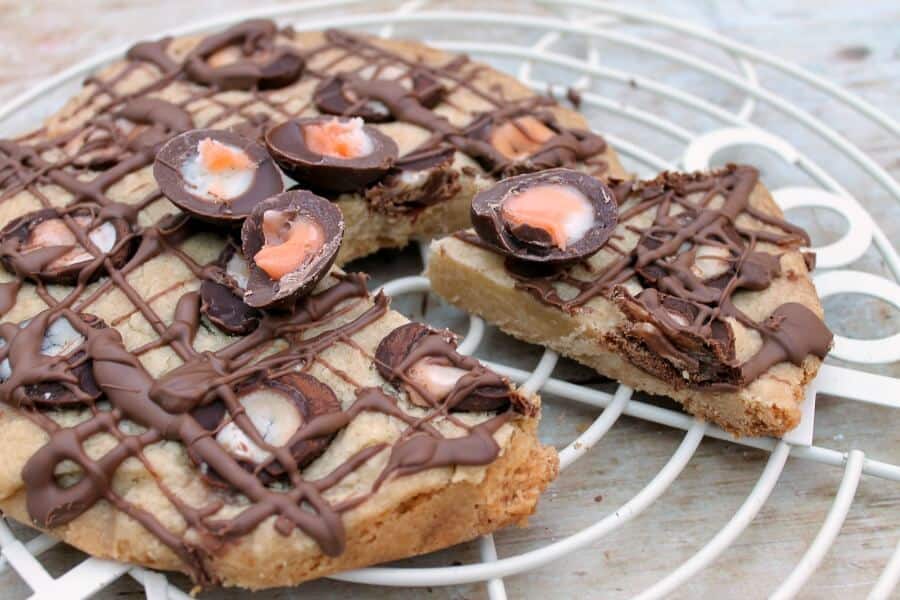 I think it turned out rather well, what do you think!! The beauty of using the slow cooker is that the Creme eggs don't just melt away as they would in the oven.
The shortbread is buttery and a uniform colour, crumbly yet holds it shape for slicing, and still has that buttery rich taste you'd expect.
My kids cannot wait to get their hands on this, though they'll have to fight me off first.
Slow cooker Creme Egg short bread will be great for Easter bake sales, Easter snacking generally. You could also switch it up and use Mini Eggs in there too with their pretty pastel shells.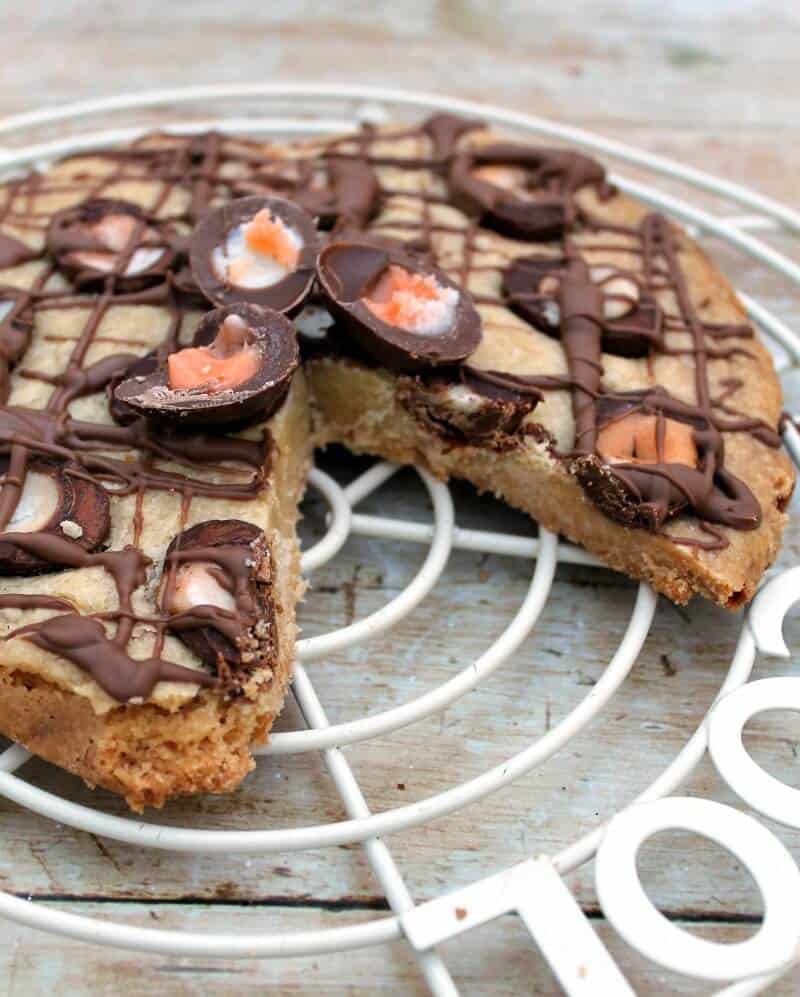 I know for me any excuse to eat a Creme egg is most welcomed. I might have to whip up more of this shortbread next week too.
Must also get down to the gym at some point, makes mental note.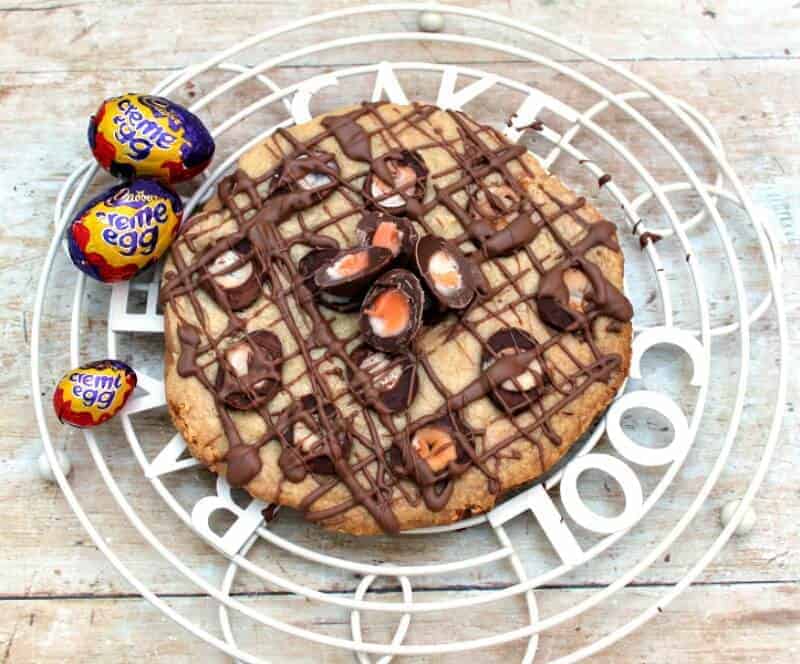 More Easter Recipes to Try:
If you like fudge, you might also like to try my slow cooker Easter egg fudge which is great for Easter gifts and bake sales as well.
Creme egg chocolate ganache tart is a marvellous Easter dessert.
My creme egg slow cooker chocolate cake is a winner too!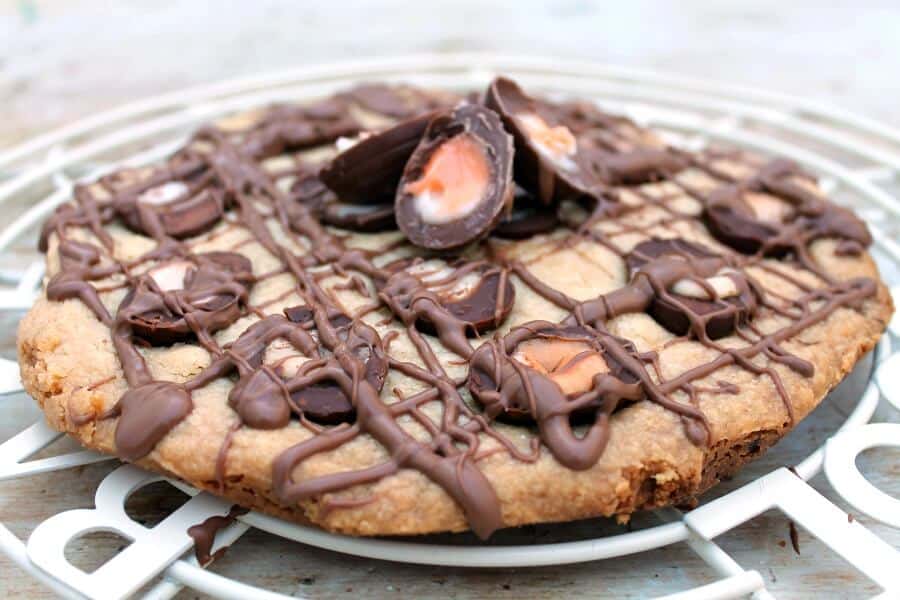 Make sure you pin this slow cooker shortbread for later!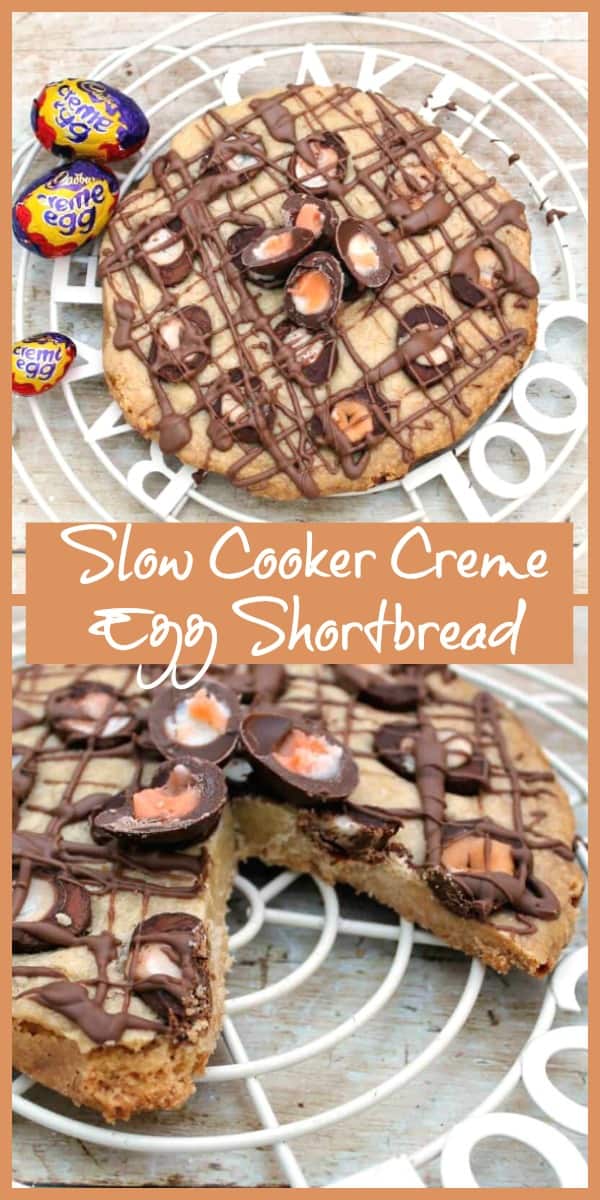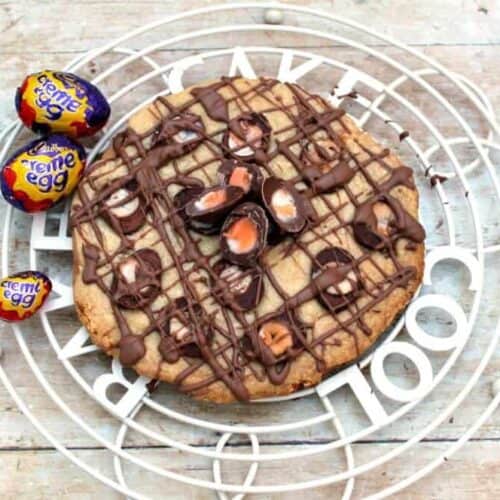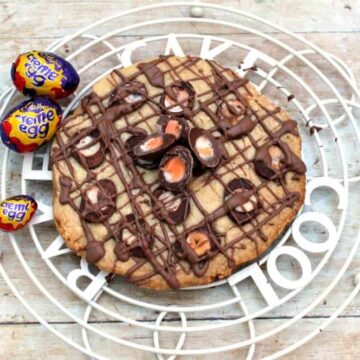 Slow Cooker Creme Egg Shortbread
Buttery shortbread baked in the slow cooker with Creme eggs sunk into the dough, great for Easter indulgence
Print
Rate
Save
Saved!
Instructions
Cream the butter and sugar together with a wooden spoon.

Add the flour and mix well, bringing the dough together with your hands into a ball.

Transfer the dough to a sheet of folded baking paper (which will go in the slow cooker) and press it down into a circle shape about 2 centimetres deep.

Cut six of the mini Creme eggs in half and press into the dough.

Line your slow cooker pot with another folded sheet of baking paper (to protect the shortbread from burning).

Place the sheet with the dough on top of that sheet. Place either a tea towel or a few sheets of kitchen roll under the slow cooker lid, with the sides folded over the lid.

Cook on high for approx. 2 hours or until the shortbread is lightly golden.

Tip: You must check for burning regularly as all slow cooker cook differently. Don't let it burn, take it out when it starts to become golden. If you have a hotspot in your slow cooker either turn the dish around or move the baking paper around.

Remove from the slow cooker using the edges of the paper.

Melt the milk chocolate and drizzle over the top, decorating with the two remaining mini Creme eggs.
Did you try and love this recipe?
Then please leave a review and rating in the comments at the bottom of the post. If you post your creation on Instagram, tag me @bakingqueen74 or use hashtag #bakingqueen74!
Linking up with #WeShouldCocoa with Tin and Thyme
CookBlogShare with Recipes Made Easy
BakeoftheWeek with Casa Costello and Mummy Mishaps