Slow Cooker Lamb Curry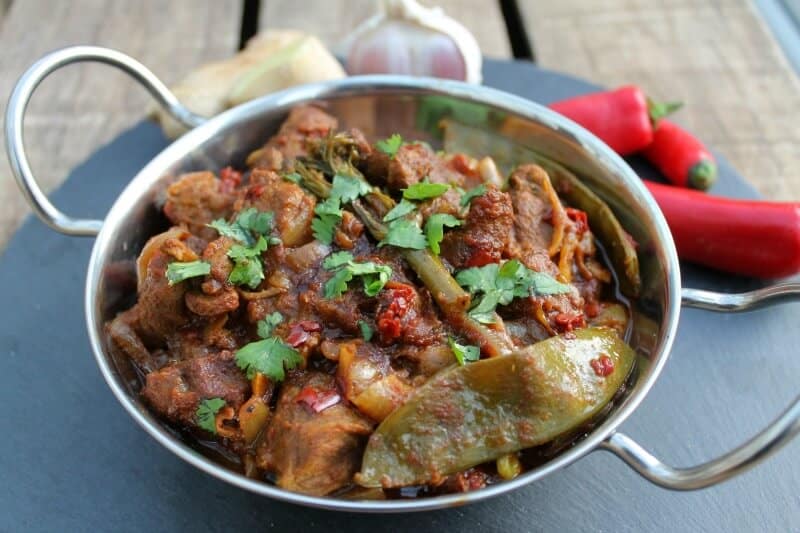 My fridge is finally free of leftovers and I have a need to make warming dishes to help ward off freezing cold, icy days. Curries are just what is needed. Bring on my slow cooker lamb curry, which is also packed with vegetables to make it go further and add loads of goodness.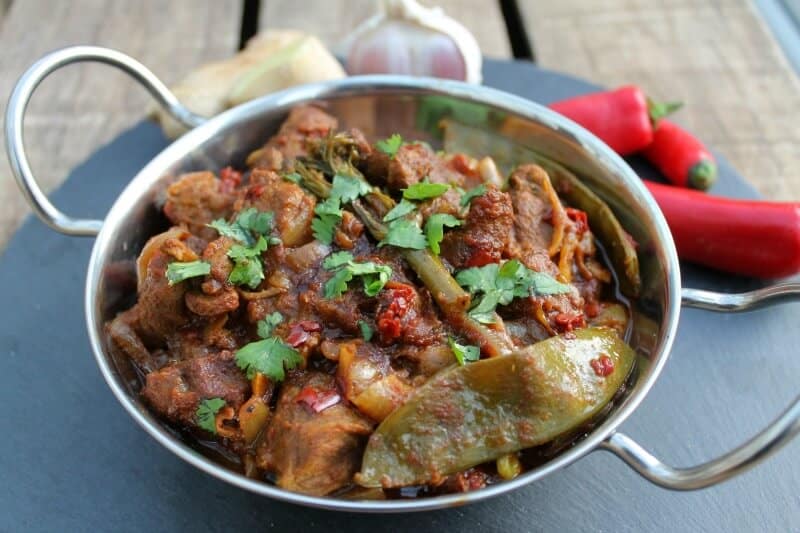 What Do You Need to Make A Simple Lamb Curry?
You don't need a spice cupboard filled to the rafters to make this slow cooker lamb curry, just ground cumin, coriander, turmeric and garam masala.
Then you'll also need fresh onions, garlic, ginger (can be replaced with lazy ginger in a jar) and a red chilli (can also be replaced with lazy red chilli in a jar), which are staples I usually have on hand.
And once you have the spices in you can make lots of different curries too.
How To Make Sure Your Slow Cooker Curry Sauce is Thick Not Watery
I like to make my curry sauce in a pan first to ensure that it is thick and not watery, and that the spices are fried off to release their flavours. This way I can reduce the sauce, which isnit really possible in the slow cooker as it keeps in all the moisture.
I used the same technique for my slow cooker vegetable curry too. If you make my slow cooker chicken pasanda you can even just throw all the ingredients in if you are short on time, it still works well.
If you want to save time and not bother with making the sauce up in a pan first, you could also cook the lamb curry on high with the lid off for a couple of hours at the end of the cooking time, which should help achieve similar results.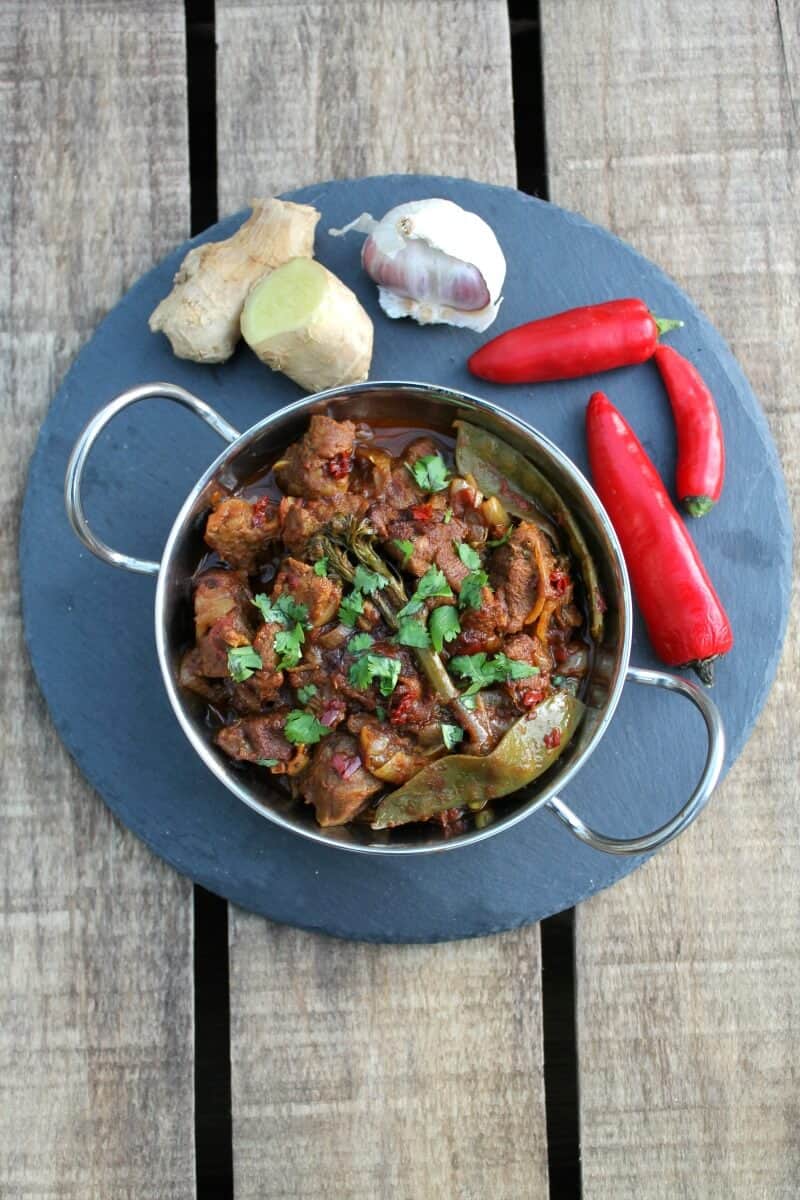 The lamb pieces are so tender from the long slow cooking, they melt in the mouth.
The flavours of the curry spices combine and develop too during the long cooking time, making a lovely rich flavour.
What Cut of Lamb to Use in A Slow Cooker Curry?
I used lamb neck fillet for this recipe as it is cheap and works well with the long slow cooking. You sometimes have to dice it yourself but that doesn't take long to do and is worth it for saving a few pence!
Other cuts of lamb you could use in this slow cooker lamb curry are lamb leg or shoulder or diced lamb from the supermarket. All would work well.
The dish is also even better reheated the next day when the flavours have mingled even more.
Slow cooker lamb curry is such a great way to cook up a curry and make sure it is full of flavour!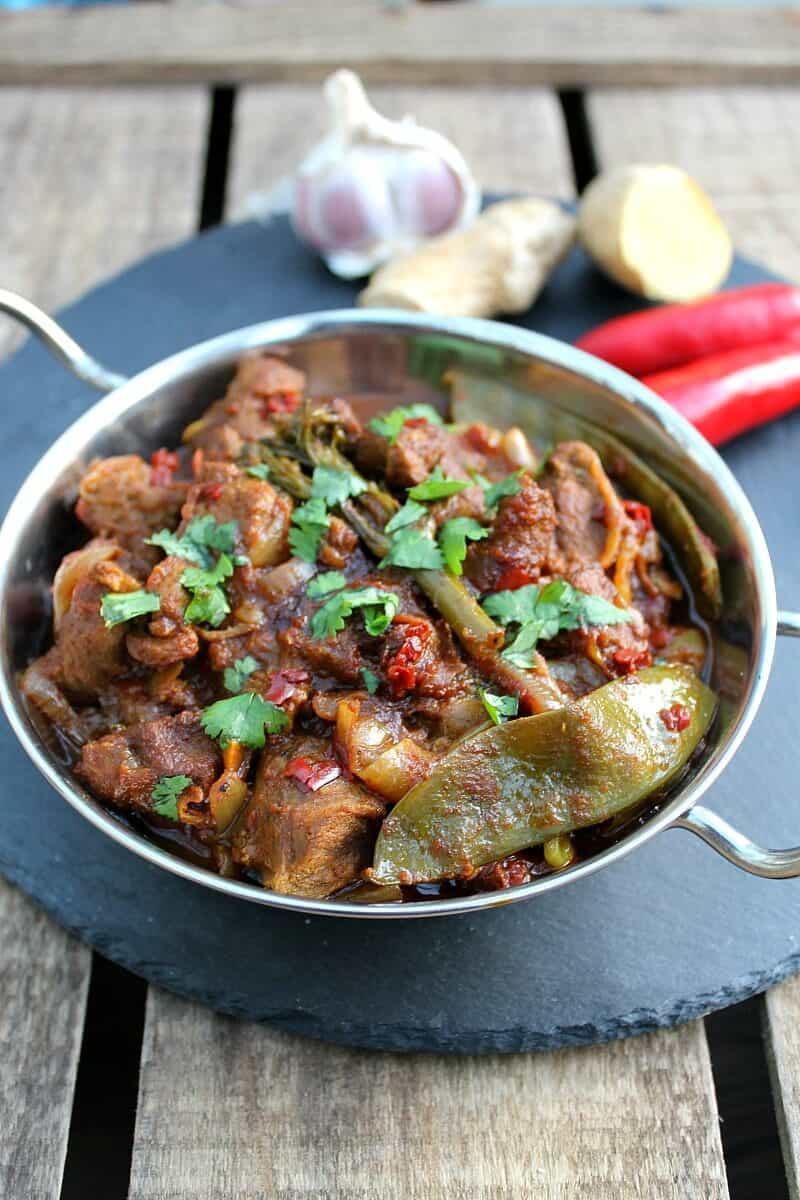 Pin this slow cooker lamb curry for later!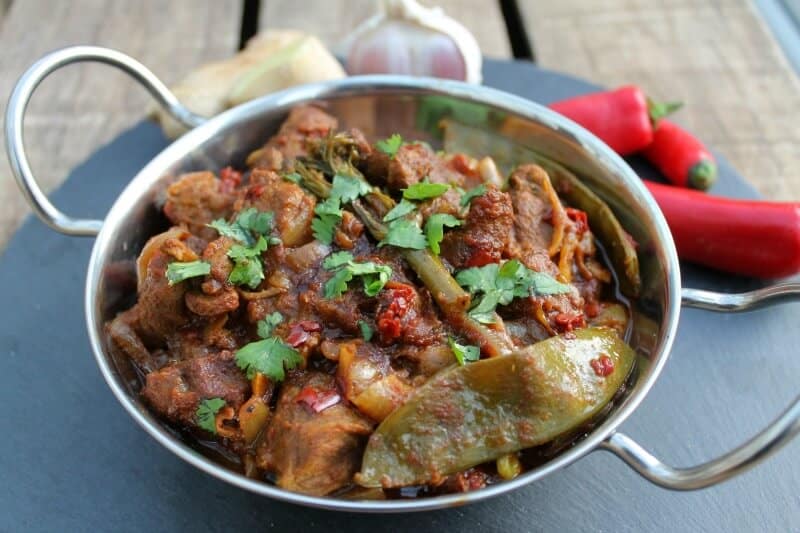 Slow Cooker Lamb Curry
A delicious warming lamb curry cooked in your slow cooker.
Print
Rate
Total Time:
5
hours
20
minutes
Ingredients
4

small onions

sliced

2

tsp

vegetable oil

2

cloves

garlic

crushed

2 cm

piece

fresh ginger

grated

2

tsp

ground cumin

1

tsp

ground coriander

1

tsp

ground turmeric

1

tsp

garam masala

1

red chilli

chopped finely, I remove the seeds

1

400 g

tin chopped tomatoes

1/4

can

cold water

salt

to taste

550

g

lamb neck fillet

diced in cubes

75

g

mange tout

100

g

broccoli

fresh coriander, to serve

chopped
Instructions
Heat the oil in a wok or frying pan and fry the onions for 2-3 minutes. Add the garlic and ginger and fry for another minute or two.

Add the spices and red chilli and fry for another minute or two, then add the tin of chopped tomatoes and water and bring to the boil. Turn down to a simmer and cook until the sauce has thickened, and most of the water has evaporated. Add salt to taste.

Once the sauce has thickened, transfer it to your slow cooker pot.

In the same wok or pan, fry the lamb cubes for 4-5 minutes (no need to add any more oil) until brown all over.

Add the lamb and vegetables to the slow cooker pot, stir to combine, and cook for 4-5 hours on high or 7-8 hours on low.

Garnish with fresh coriander and extra red chilli, if you like, and serve with basmati rice.
---
---