Read on for my recipe for a slow cooker strawberry scone! Bake one in your slow cooker today to beat the heat in the kitchen.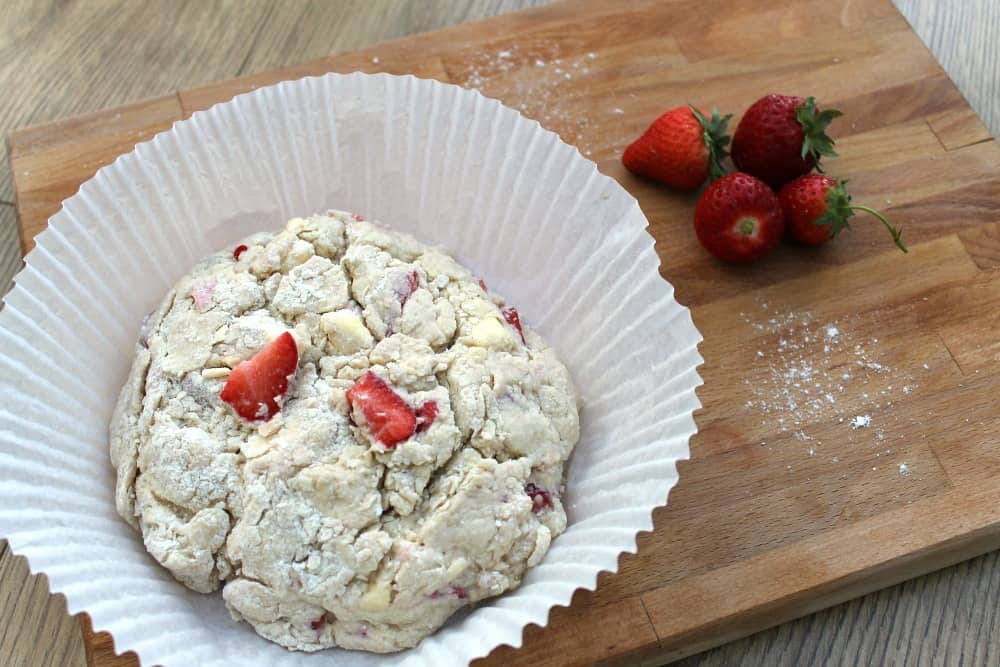 Why Bake in a Slow Cooker?
If you come here a lot you will have noticed I bake in the slow cooker a lot. Why, you might ask! A visitor this week did in fact ask Google "why would you bake a cake in the slow cooker?" to reach my blog, which amused me a bit. There are various reasons why I like baking in a slow cooker:
1. It takes a while (usually about a couple of hours), so you can do something else while you wait (I have a rather long to-do list like many busy working mums!).
2. In the summer, the slow cooker won't heat up your kitchen even more.
3. Running a slow cooker is cheaper then using an electric oven.
4. It's fun.
5. It tastes good.
I do bake in the oven too naturally but this is just an extra way of doing it, and I see no reason to stop!
So now you know why I do it, let me tell you about my big slow cooker strawberry scone. When pondering scones, as I might often do, I would tend to think of individual cut-out scones, as are traditional in Britain.
If you frequent Pinterest as I do you will find that in the USA they make one large round scone, which is then scored and cut into triangles before baking. My giant Nutella scone is also on the same theme.
Why not make one big round scone which you can then slice up and serve with strawberries and cream!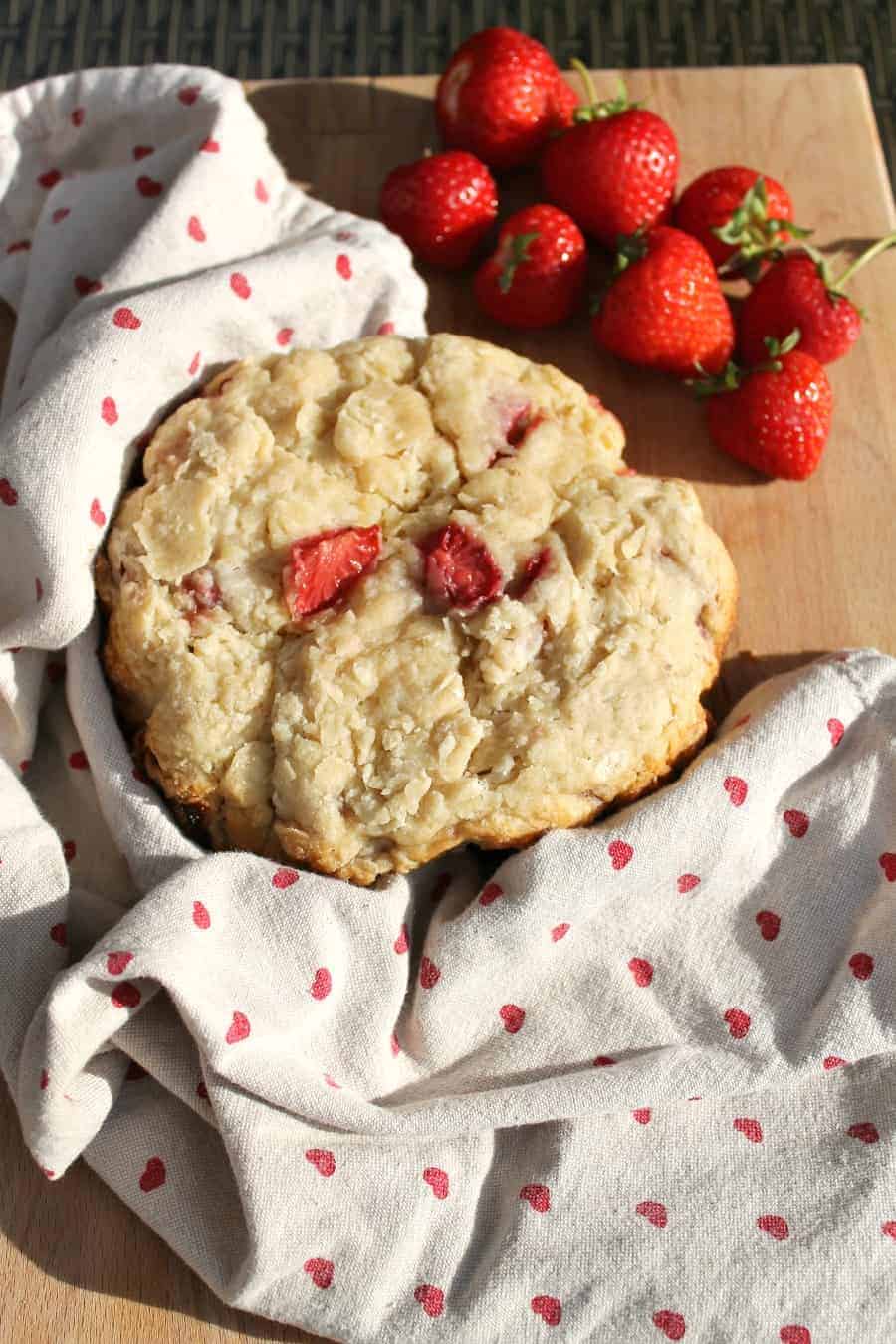 Soft inside, with a nice buttery crust, the big strawberry scone just calls out to be devoured, perhaps for afternoon tea.
Clotted cream would be lovely spread over a slice, with some jam or more fresh strawberries. I got six filling triangle slices from my big scone so it will feed a few people.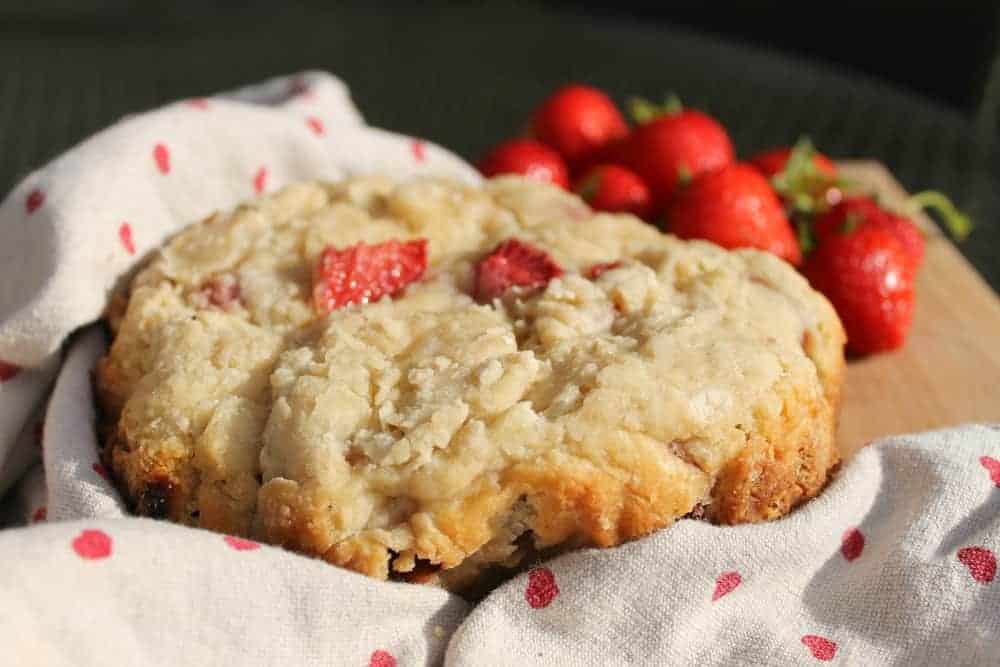 Ready to bake: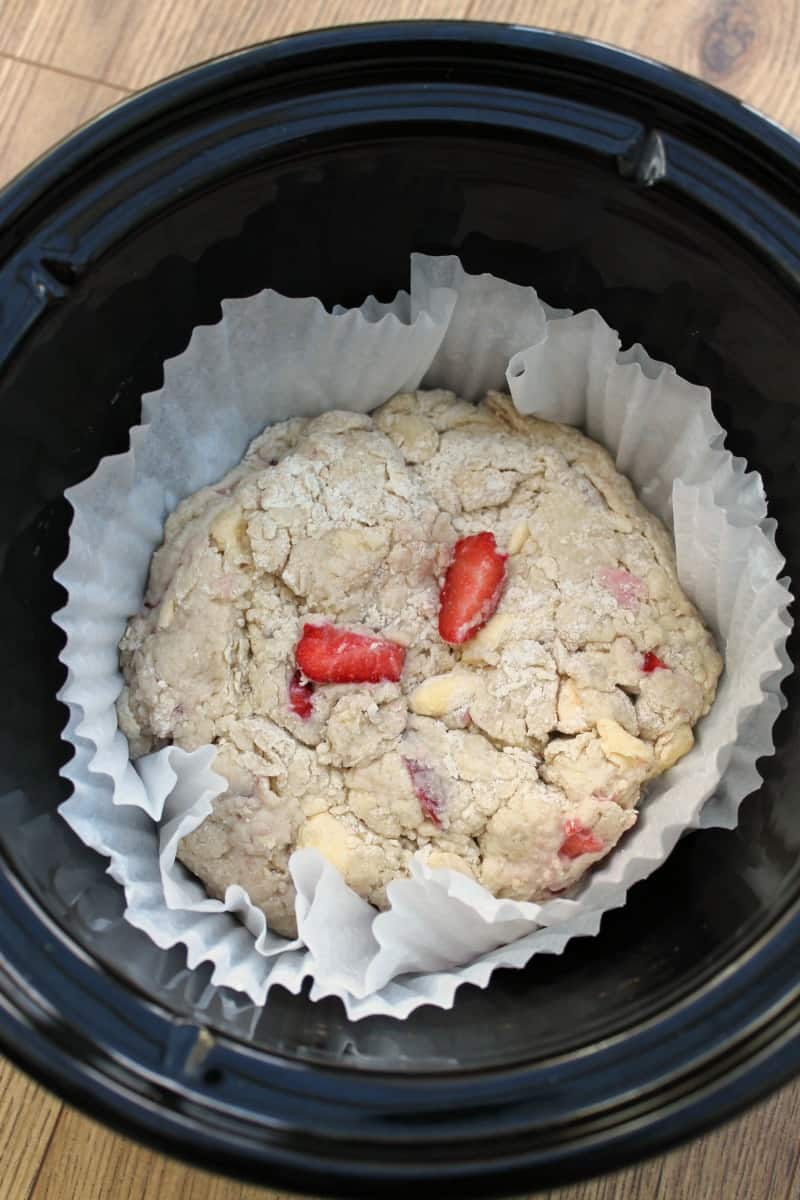 Served for a delicious treat.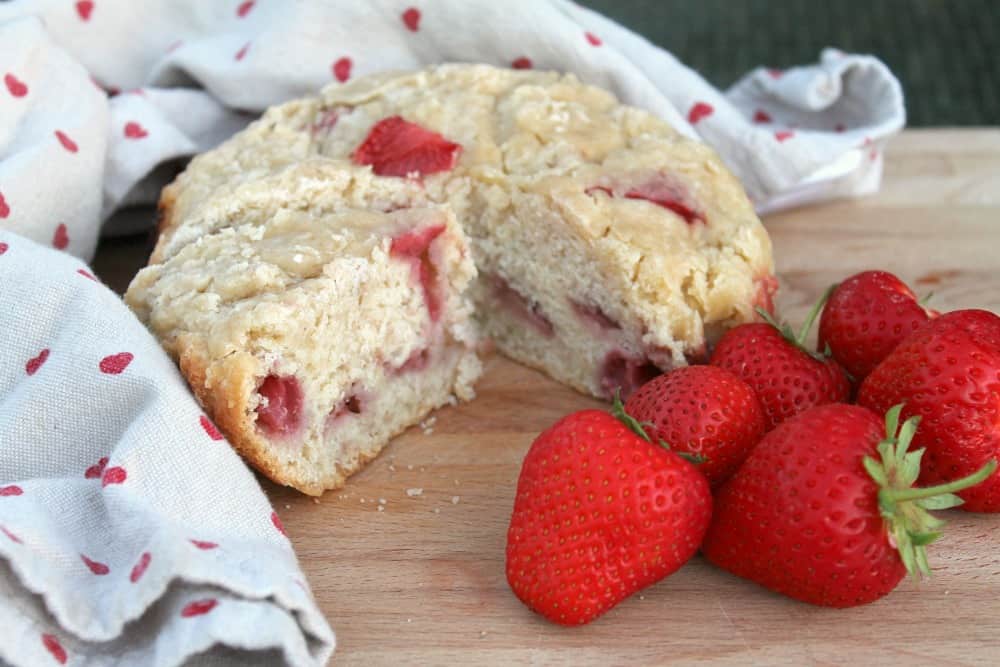 More Scone Recipes to Try
If you like this you might also like these on the blog:
More fruity scone ideas from some food blogger friends:
Loads more slow cooker desserts here too!
On Pinterest? Pin the slow cooker strawberry scone for later: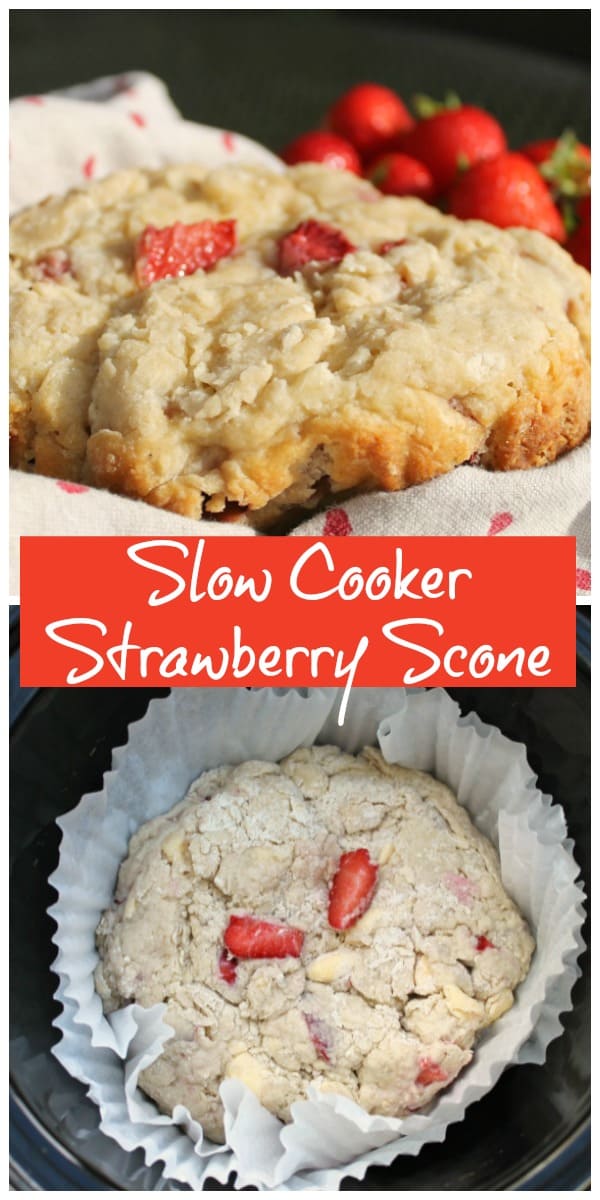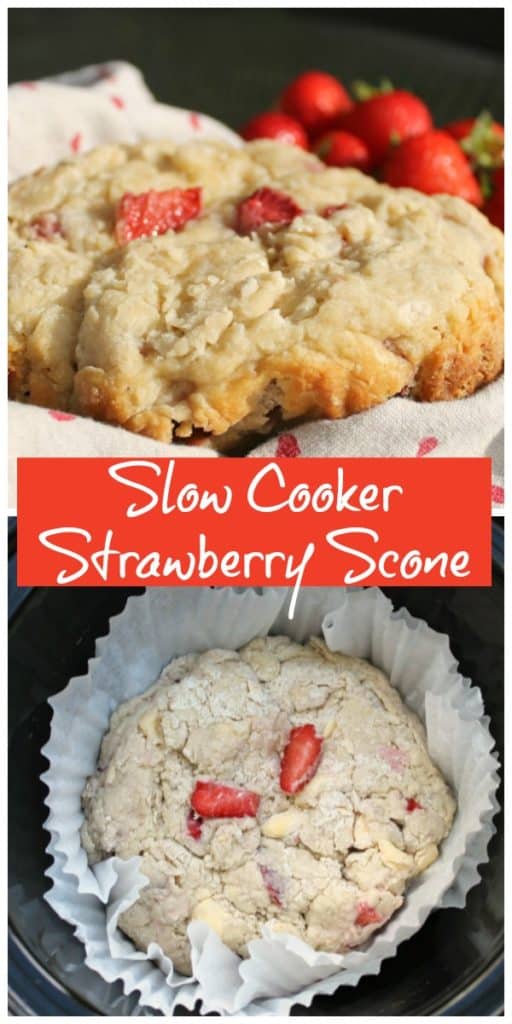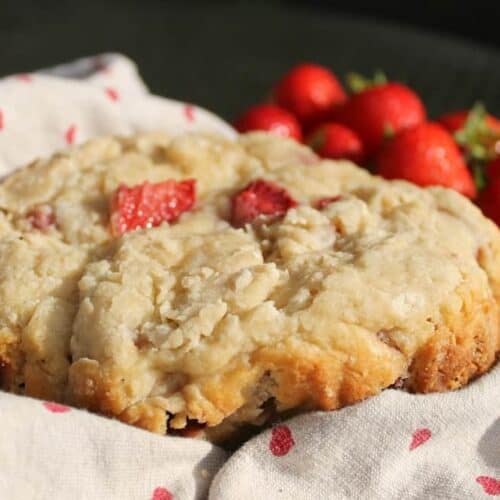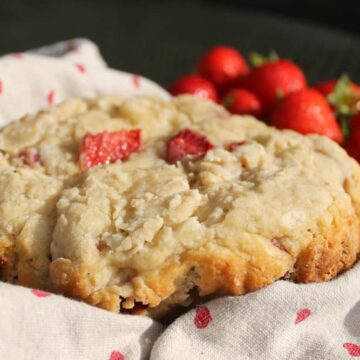 Slow Cooker Strawberry Scone
Bake a delicious strawberry scone in your crockpot
Print
Pin
Rate
Ingredients
225

g

self-raising flour

1

tsp

cream of tartar

or baking powder

55

g

unsalted butter

cold

30

g

caster sugar

150

ml

milk

I used semi-skimmed

150

g

fresh strawberries

in small pieces
Instructions
Place the flour, cream of tartar, and sugar in a large bowl. Mix.

Cut the butter into cubes and rub it gently into the flour and sugar mixture. Don't overmix. You want to leave a rough, not fine, texture.

Add the strawberry pieces then pour in the milk.

Stir together then tip onto a floured surface and form into a round.

Lift the scone round onto a large baking case.

Place a second large baking case in the slow cooker pot. Note I used my round 3.5 litre slow cooker for this. If you have a bigger slow cooker you might need to double your quantities or use a cake tin inside the pot.

Put the case with the scone into the pot inside the other case. This adds an extra layer to prevent burning at the sides.

Cook on high for 1 hr 30 to 1 hr 40 minutes. Use a tea towel or squares of kitchen roll under the lid to prevent moisture dripping onto the cake.

Use the case to pull the scone out of the pot and leave to cool.
Slow Cooker Recipes Emailed to You
Get my new recipes and newsletters for free when you subscribe. Click here to subscribe!
Summer Slow Cooked Challenge!
Do you still slow cook in the summer? If you do, join in here with Farmersgirl Kitchen and me.