I love it when the sun shines, it brightens up the working day and makes getting up in the morning so much easier. We eat more fruit in the summer especially when the British strawberries, blackberries and raspberries are in season. In fact I like to go and pick our own in the farm in our town (one of the perks of living in Surrey!), the kids have fun and we end up with punnets and punnets of fruit to use. It isn't quite that time of year just yet, but I added fresh fruit to these blackberry mini bundts to give them flavour and colour as an added bonus.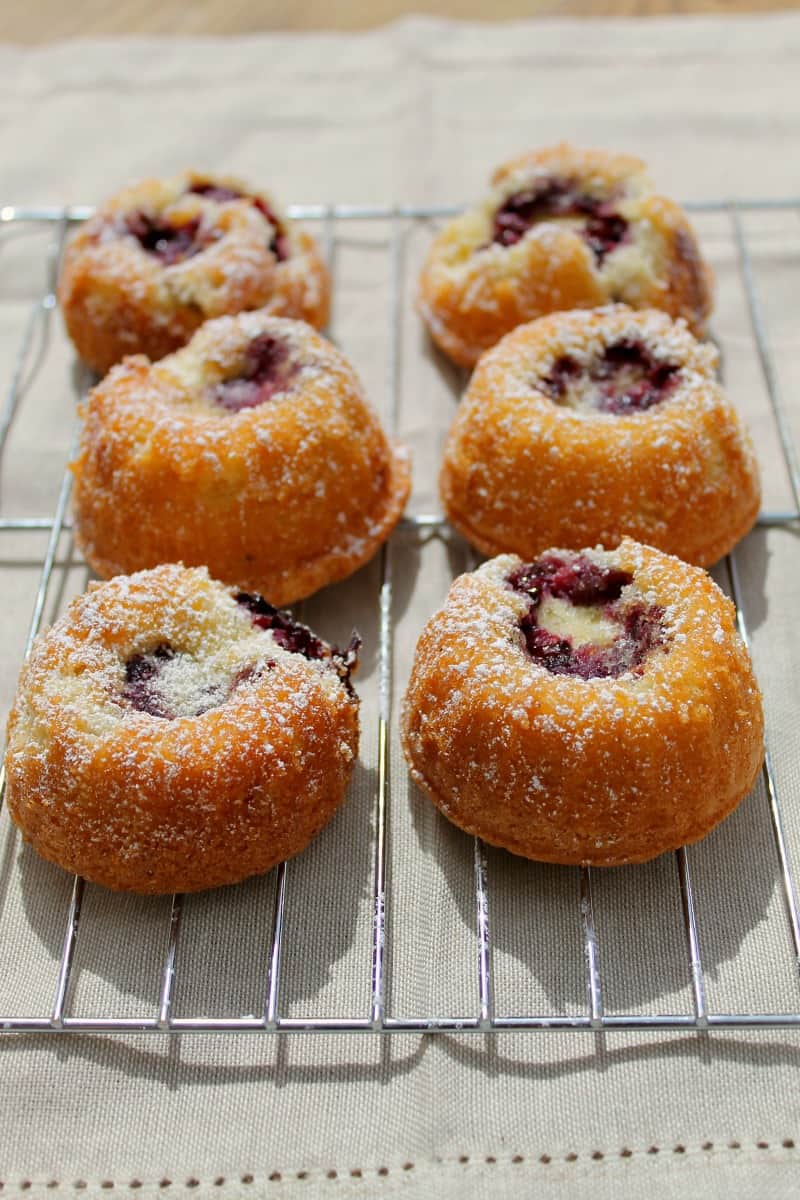 My kids love to bake with me though their interest wanes a bit when it is sunny and they can go and play in the garden. We made these blackberry mini bundts quickly together so there was still time for outside play and then a nice treat for after the school run for them too. Using a mini bundt tin just makes them a bit more exciting than plain old fairy cakes, of course you could also make them in a cupcake pan if you don't have a bundt tin.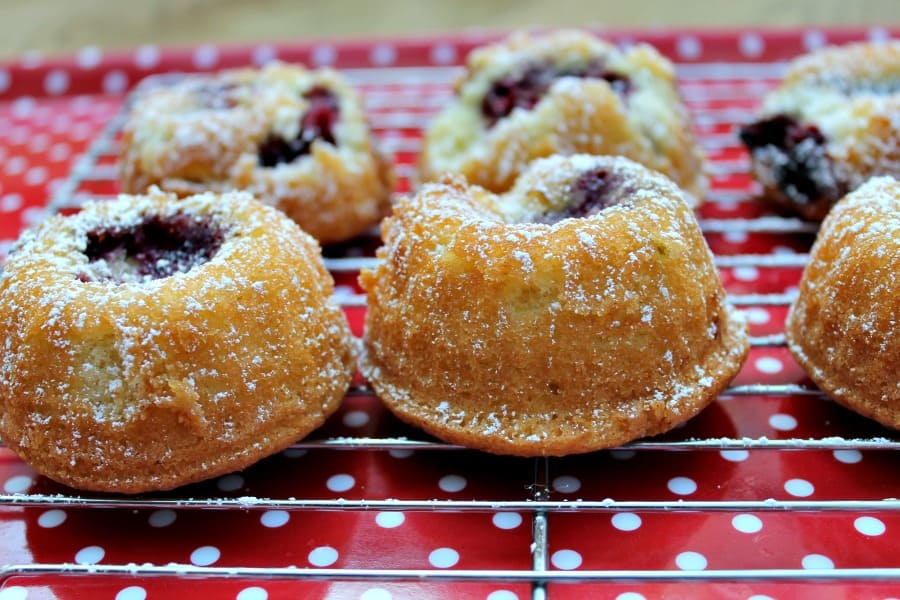 Recipe:
110 g butter
110 g caster sugar
2 medium eggs
110 g self-raising flour
100 g blackberries (plus 1 tsp caster sugar)
zest of a lemon
Equipment:
Notes:
makes approx eight mini bundt cakes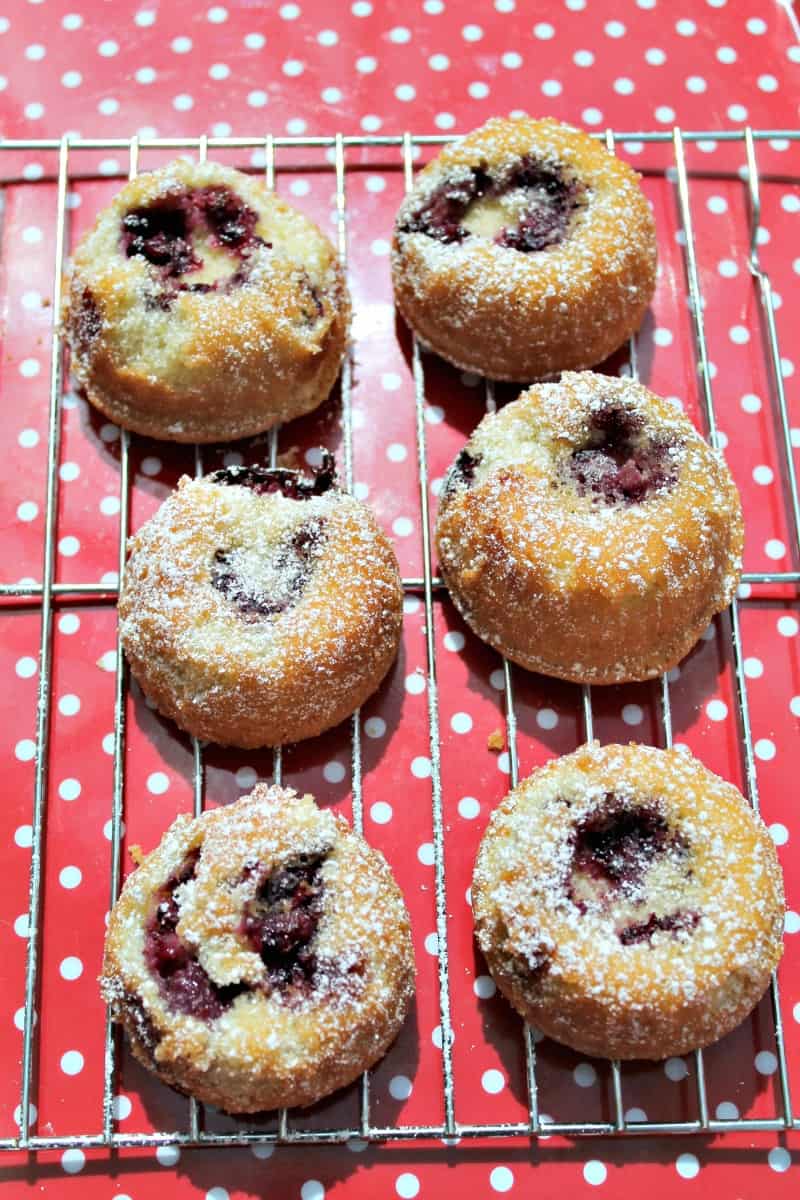 Method:
Cream the butter with the sugar and then beat in the eggs one by one.
Fold in the flour and mix until combined.
Add half the lemon zest and mix gently.
In a separate bowl, mash the blackberries with the back of a fork, add the other half of the lemon zest and a teaspoon of caster sugar to sweeten. Mix.
Lightly spray the cake moulds to prevent sticking then fill each hole about a third of the way up.
Using a teaspoon, add a little of the blackberry puree on top of the cake batter. You won't use it all up and could drizzle the rest over the cakes after baking.
Add more cake batter on top of the blackberry puree, ensuring you don't overfill the holes. They should only be approx two thirds full.
Bake at 180 degrees in a preheated oven for 15-18 minutes or until golden brown and a cake tester comes out clean.
Allow to cool in the tin and then remove gently and leave them to cool fully. Dust with icing sugar and serve.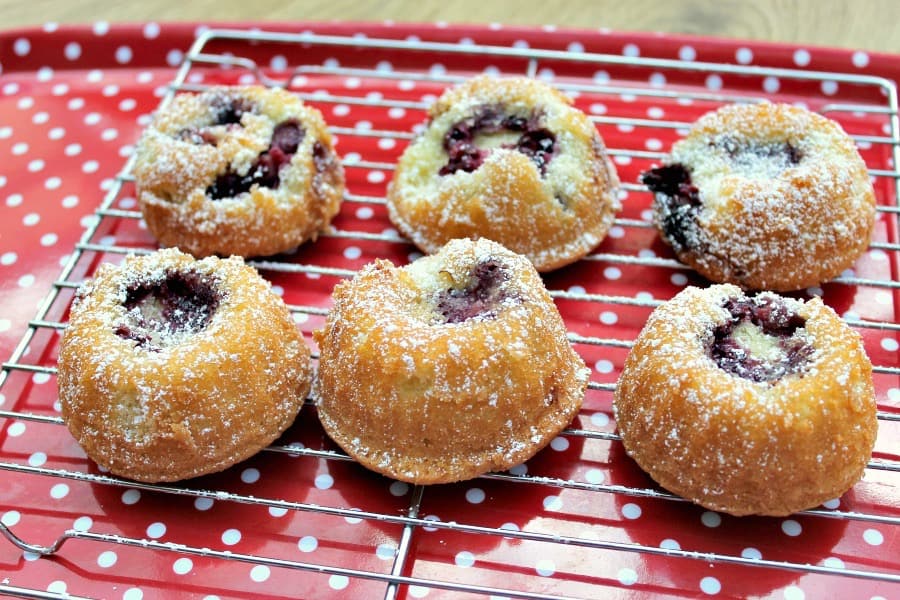 These were delicious and will be great for after school snacks for a couple of days. I might have to sneak one too when they aren't looking. Baker's perks right?
More cake ideas with blackberries:
Pin it for later: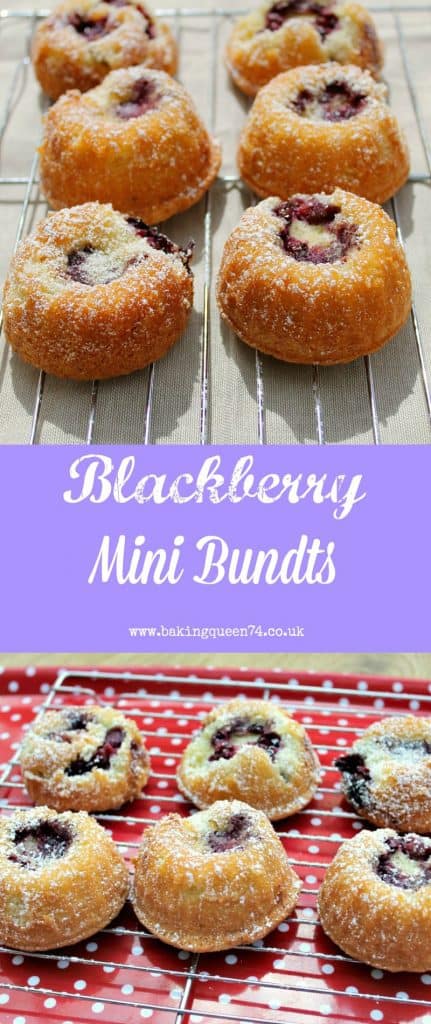 Linking up with Treat Petite with The Baking Explorer (hosting) and Cakeyboi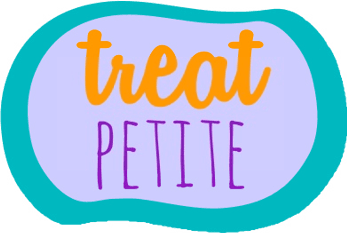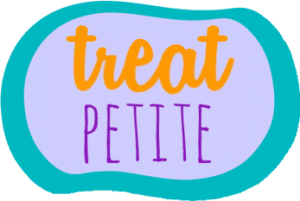 Disclosure: This post contains an affiliate link.